NHL Rookies
AHL WEEKEND: The AHL playoff picture is a beautiful mess
Weekends mean a busy AHL schedule. EP Rinkside has this look around the NHL's top developmental league to set you up for this weekend's slate as the AHL regular season comes to a close before the Calder Cup Playoffs hit next week.
LET'S SETTLE THIS
It all comes down to the final weekend of the regular season, and none of the AHL's four divisions are determined in full yet.
With three days to go, only nine of the AHL's 16 invitations to the Calder Cup Playoffs have been issued. Five Western Conference berths still remain unclaimed. Here is the rundown that you need to know for this weekend:
WHO IS IN
Eastern Conference: Bridgeport Sound Tigers, Charlotte Checkers, Hershey Bears, Rochester Americans, Syracuse Crunch, Toronto Marlies
Western Conference: Bakersfield Condors, Chicago Wolves, San Jose Barracuda
WHO IS STILL ALIVE
Belleville Senators, Cleveland Monsters, Colorado Eagles, Grand Rapids Griffins, Iowa Wild, Lehigh Valley Phantoms, Manitoba Moose, Milwaukee Admirals, Providence Bruins, Rockford IceHogs, San Diego Gulls, Texas Stars, Tucson Roadrunners, Wilkes-Barre/Scranton Penguins
WHO IS OUT
Binghamton Devils, Hartford Wolf Pack, Laval Rocket, Ontario Reign, San Antonio Rampage, Springfield Thunderbirds, Stockton Heat, Utica Comets
WHO IS LOCKED IN PLACE
Charlotte clinched the Macgregor Kilpatrick Trophy (best regular-season record) last weekend and would have home-ice advantage through the Calder Cup Final. The Marlies are set in the North Division's third-place slot.
NEED TO KNOW
Among teams that have clinched or continue to chase playoff spots in the Eastern Conference, Hershey, Providence, Rochester, Syracuse, and Wilkes-Barre/Scranton all have 3-in-3 weekends. The Wolves and the Manitoba in the Western Conference also have three-game weekends.
REMAINING BATTLEGROUNDS
Bridgeport-Hershey: The Sound Tigers (93 points) and Bears (88) are fighting for second place in the Atlantic Division, though Bridgeport holds a five-point lead. Hershey has a game in hand, and two of them are against Hartford, the Atlantic Division's last-place club. Hershey is also trying to fend off the P-Bruins, who trail the Bears by three points.
Providence: The 85-point P-Bruins host the Phantoms on Friday night needing one point to clinch a playoff spot. They also play Saturday and Sunday. Lehigh Valley (81 points) and Wilkes-Barre/Scranton (80) remain alive, but barely. They can be eliminated as soon as Friday night.
Syracuse-Rochester: The North Division title could come down to a Saturday night fight in Syracuse. With each team facing three games, the Crunch lead the Amerks by one point, 97-96. Each team hosts a non-playoff team on Friday night – Binghamton-Rochester and Laval-Syracuse. The Amerks have a Sunday matinee at Belleville while the Crunch finish against the Comets.
Cleveland-Belleville: That takes the discussion to the battle for fourth place in the North Division. Each team has a pair of games remaining as Cleveland holds a two-point edge, 82-80. Cleveland will complete a two-game home set against the Checkers before going to Toronto on Sunday afternoon. The Marlies could have a lot of say in this race as well. The B-Sens will be in Toronto as well, playing the Marlies on Saturday afternoon, before going back home to greet the Amerks. If the decision comes down to tie-breakers, Belleville currently holds the advantage. The first tie-breaker is regulation/overtime wins, and Belleville is ahead, 32-31. The second tie-breaker would be season-series points (Cleveland holds that tie-breaker with the season series finished).
Grand Rapids: Thanks to a seven-game losing streak, the Griffins (87 points) are still stuck at a magic number of one. They have two more chances to do the job themselves.
Central Division: Good luck trying to sort out this mess, where six teams are wrestling over three available playoff openings. Along with the Griffins, Milwaukee (84 points), Iowa (83), Manitoba (81), Texas (80), and Rockford (80) remain in the fight.
Milwaukee's home finale comes against the Griffins on Saturday night before the Admirals go to Rockford on Sunday. Iowa hosts the Wolves on Friday night before ending at home against the IceHogs a night later. Iowa has reclaimed fourth place in the Central Division thanks to the arrival of forwards Ryan Donato (2-3-5), Luke Kunin (3-1-4), and Jordan Greenway (0-2-2) in their first game after being returned by the Minnesota Wild. The Moose go to Grand Rapids before facing back-to-back road games against the Wolves. However, they did receive number-one goaltender Eric Comrie from the Winnipeg Jets. Texas has a home-and-home with San Antonio, the Central Division's last-place team but one that handed the Stars a defeat this past Wednesday.
San Jose-Bakersfield: With a two-point lead on the Barracuda for the Pacific Division lead, the Condors will need help from Colorado on Friday night. The Barracuda finish with two games at Colorado, and an Eagles regulation win against San Jose would give Bakersfield the Pacific Division crown. If not, the Condors are still in good shape with a home date against last-place Ontario and a Sunday trip to Stockton.
San Diego-Colorado-Tucson: The Gulls (77 points), Eagles (75), and Roadrunners (74) are all battling for two playoff spots with two games to go. A Gulls-Roadrunners two-game showdown in Tucson will help to solve the equation. A win on Friday night at Tucson would put the Gulls into the postseason. If not, they need help from the Barracuda. The Eagles can also clinch Friday with a win, but they need Tucson to lose in regulation.
Western Conference title: While the Wolves have clinched a division title, they are still battling Bakersfield and San Jose for first place in the Western Conference. Because the AHL does not utilize a uniform schedule, Pacific Division teams only play 68 games. That means that point percentage will determine the Western Conference winner, even though the Wolves lead the Condors by 10 points, 95-85. The Wolves hold the lead with a .651 point percentage, just ahead of the Condors (.644) and Barracuda (.629).
CHARLOTTE CHECKING THE BOXES
The Checkers have checked off another item on their regular-season list. Their 4-3 overtime win at Cleveland put them at the 50-win mark going into their final game of the regular season on Friday night, also at Cleveland.
At 50-17-7-1, the Checkers can finish within one win of the Hartford Whalers/Carolina Hurricanes organization's record for most regular-season wins by an AHL affiliate. The 1984-85 Binghamton Whalers finished with 52 wins and 112 points playing an 80-game schedule. That season's Binghamton team included Ray Ferraro, Kevin Dineen, and Ulf Samuelsson among its cast. However, their season ended in a second-round sweep. That same spring, someone named Patrick Roy also showed up in the AHL and won a Calder Cup as a Montreal Canadiens prospect.
With the regular-season title clinched last weekend, the 1984-85 Binghamton club is the Whalers/Hurricanes organization's only other AHL affiliate to do so. The organization's lone Calder Cup championship was in 1991 when the Springfield Indians won it after a 96-point regular season.
Carolina's 2004-05 affiliate, the Lowell Lock Monsters, had a 47-win season; that club was in a dual affiliation with the Calgary Flames, however. That season's roster featured future Hurricanes stars Eric Staal and Cam Ward, but the Lock Monsters were eliminated in the second round. Last season the Checkers posted 46 wins before Lehigh Valley knocked them out in the second round.
Charlotte's 50 wins marks the fifth consecutive season that an AHL team has reached that lofty level. Last season the Marlies reached 54 wins, survived a first-round elimination scare, and then took the Calder Cup in seven games against Texas. In 2016-17, Wilkes-Barre/Scranton hit 51 wins. The 2015-16 Marlies had 54 victories. Before that, the Manchester Monarchs capped a 50-win campaign with a Calder Cup championship in 2014-15, and the 2012-13 P-Bruins climbed to 50 wins.
In 2011-12, the AHL shifted from an 80-game schedule to 76 games, and the Norfolk Admirals spun off 55 wins (including a league-record 28 consecutive victories) on their way to the Calder Cup with a team featuring Jon Cooper, Tyler Johnson, and Ondrej Palat among its most familiar names.
The AHL record is 60 wins, set by Hershey in 2009-10 playing an 80-game schedule. The following season, Wilkes-Barre/Scranton threatened that feat with 58 wins.
Charlotte will also fall short of the 1992-93 Binghamton Rangers, who had an AHL-record 124 points. In the days before the AHL veteran rule, the Rangers had an extensive list of veteran AHL stars, a top rookie goaltender in Corey Hirsch, and abbreviated stints by the likes of Alexei Kovalev and Sergei Zubov. However, Binghamton went down in the second round.
SUCCESS ACROSS THE BOARD
As of last Saturday, four NHL organizations had qualified for the Stanley Cup Playoffs as well as earning postseason invitations at the AHL and ECHL levels (https://twitter.com/pwilliamsNHL/status/1115014591652802563):
–Carolina (Charlotte, Florida Everblades)
–Tampa Bay Lightning (Syracuse, Orlando Solar Bears)
–Toronto Maple Leafs (Marlies, Newfoundland Growlers)
–Vegas Golden Knights (Wolves, Fort Wayne Komets)
The Washington Capitals subsequently joined that group when both Hershey and the South Carolina Stingrays, their ECHL affiliate, joined their respective postseason parties. Three more NHL organizations have an opportunity to join the group this weekend.
The Dallas Stars need Texas to qualify. Dallas is in a first-round series with the Nashville Predators. The Idaho Steelheads, their ECHL affiliate, are playing the Utah Grizzlies. Also in contention for membership are the Colorado Avalanche, who are playing the Calgary Flames in the first round. The Eagles' postseason fate is still undetermined, but their Utah affiliate is in the Kelly Cup Playoffs. Last in the group are the Jets, who are facing off against the St. Louis Blues. If the Moose qualify, they would join the Jets and their ECHL affiliate, the Jacksonville Icemen.
THE END IS HERE
Thirteen pro seasons is enough for Comets defenseman Jaime Sifers.
The 36-year-old defenseman told the Utica Post-Dispatch that he will retire after his final three games this weekend. His career has taken him through the NHL, AHL, and DEL. If he plays all three games this weekend, he will finish at 842 regular-season contests in a pro career that dates to the end of the 2005-06 season when he finished his four-year NCAA career at Vermont.
Along the way he played 37 NHL regular-season games between the Leafs and Minnesota, 10 AHL seasons, and in another three seasons in Germany with Adler Mannheim. He played a key role in helping the then-Lake Erie Monsters win the Calder Cup in 2016 while he was in the Columbus Blue Jackets organization.
Durability has long been one of the American blueliner's strongest assets. He had three AHL seasons in which he did not miss a game, including his first two pro seasons while with the Marlies, along with two more ironman seasons in the DEL. In two other seasons, he missed ironman status by only two games. This season he is on pace to dress for 70 of the Comets' 76 games.
"I'm definitely going to miss that energy and getting your heart racing, your chills down your body," Sifers told the Post-Dispatch. "Things like that you can't find really anywhere else."
AROUND THE A
Nine AHL players have already reached 30 or more goals. Chris Mueller (Toronto) and Alex Barré-Boulet (Syracuse) each have a league-leading 33 goals, and Zac Dalpe (Cleveland) is at 32. Next is Carter Verhaeghe (Syracuse) and Riley Barber (Hershey). Four players have 30 goals – Daniel Carr (Wolves), Sam Carrick (San Diego), Aleksi Saarela (Charlotte), and Joel L'Esperance (Texas). At 29 goals, Chris Terry (Grand Rapids) and Michael Sgarbossa (Hershey) could join that group. Four more players are in the 28-goal club.
Roster-shuffling hits AHL teams even with playoff spots and positioning on the line. Hershey lost goaltender Ilya Samsonov on recall to Washington. Cleveland defenseman Adam Clendening also continues to bounce between the Monsters and Columbus and will not be available for the Monsters on Friday night. The Barracuda will fight without rookie goaltender Josef Korenar for now. He changed places with Antoine Bibeau and went to the San Jose Sharks. Syracuse also received top defenseman Cameron Gaunce back from Tampa Bay. Tucson has forward Conor Garland back from the Arizona Coyotes. He dressed this week for the first time since December 10th.
Cleveland received a big boost with the return of forwards Sonny Milano and Alex Broadhurst in series-opening game against Charlotte. Milano, who had been out of the line-up since January 26th, delivered a 1-1-2 night. Broadhurst had not played since February 12th. Cleveland is still without goaltender Jean-Francois Bérubé and captain Nathan Gerbe.
Wolves offensive force Daniel Carr (30-41-71 in 52 games) remains out of the line-up after his March 5th injury at San Antonio. His return status remains unknown.
The AHL will be represented in Mexico later this month. AHL referee Andy Thackaberry is working at the IIHF World Championship Division II Group B tournament in Mexico City, which starts April 21st. Along with host country Mexico, the other participating countries are Georgia, Iceland, Israel, New Zealand, and North Korea.
IN THE LEAD
POINTS – 78
JEREMY BRACCO – TORONTO
GOALS – 33
ALEX BARRÉ-BOULET – SYRACUSE
CHRIS MUELLER – TORONTO
ASSISTS – 58
T.J. TYNAN – WOLVES
PENALTY MINUTES – 150
ANDY ANDREOFF – SYRACUSE
GAMES (GOALTENDERS) – 51
ALEX NEDELJKOVIC – CHARLOTTE
MINUTES – 2,798
ALEX NEDELJKOVIC – CHARLOTTE
WINS – 34
ALEX NEDELJKOVIC – CHARLOTTE
GAA – 2.26
ALEX NEDELJKOVIC – CHARLOTTE
SAVE PERCENTAGE – .922
COLLIN DELIA – ROCKFORD
CHRIS DRIEDGER – SPRINGFIELD
SHUTOUTS – 6
CONNOR INGRAM – SYRACUSE
KAAPO KAHKONEN – IOWA
QUOTEBOOK
Having to dig out of that first-half hole has meant that Hershey has been playing intense hockey for months as they move into the postseason next week. Long before the heat of the playoff drive had really picked up, Hershey head coach Spencer Carbery had his Bears in a playoff mentality.
"We've been in a mindset of playing meaningful games for a long, long time," Carbery said back in February.
THIS WEEKEND
Friday – San Jose at Colorado: One team is gunning for the Pacific Division title. One team is trying to pin down a playoff spot.
Saturday – Rochester at Syracuse: The North Division regular-season title may well come down to this game. The second-place finisher gets a first-round date with the Marlies.
Sunday – Manitoba at Chicago: Is this a first-round preview? Manitoba's play on Friday and Saturday may in part answer that question.
ON THE MOVE
Through Thursday, 106 AHL players have made their NHL debuts this season.
You may also be interested in: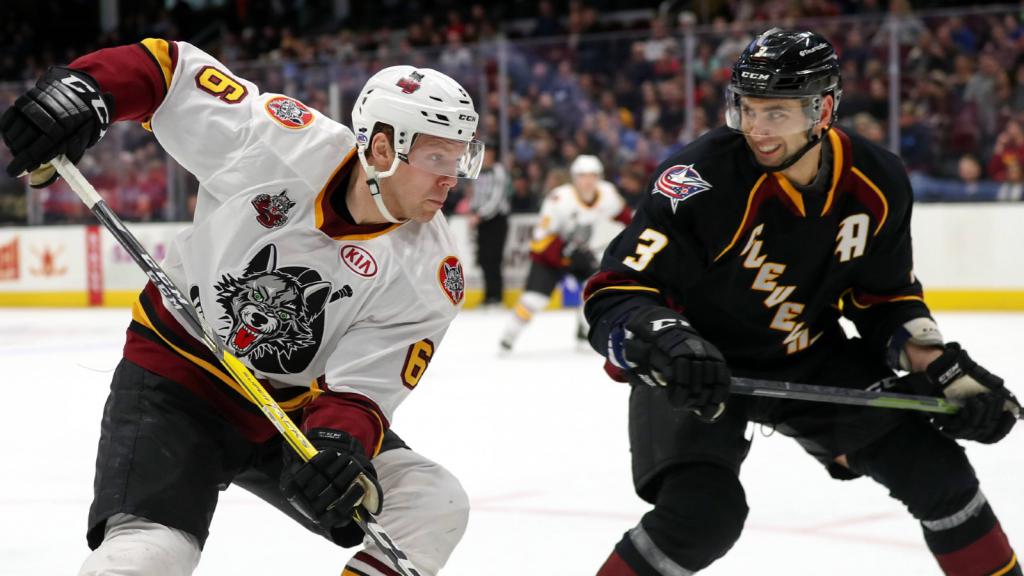 AHL POWER RANKINGS: Nine down, seven to go, 14 in pursuit
This article is about: