NHL Prospects
COHEN: Center Stage Post Draft Lottery Talk
We now know that Jack Hughes (Devils) and Kaapo Kakko (Rangers) will likely go in that order at the 2019 NHL Draft. With most of that drama out of the way, for now, the run on centers will be very important. Centers and defenseman are the positions most teams need to fill, and the draft is the best way for that to happen. The way it happens will be up for debate between now and June. Let's see how it may turn out.
Dylan Cozens is the most talked about center aside from Jack Hughes. At 6-3, 185, there's a frame that can be built up over time and the obvious skill makes him a potential target for the Chicago Blackhawks with the third overall pick. Chicago will be looking for a pivot with guaranteed top-six potential. While Evan Barratt is a fine center with a lot of potential, and he's been putting up very solid numbers at Penn State University, but the chance of him being filling this role down the road is slim so they have to get someone else in the mix.
During the regular season, Cozens had 84 points and 34 goals. He was running more than a point-per-game early in the playoffs with the Lethbridge Hurricanes. The fact that he'll go to the net along with his other gifts is something that will be very hard for the Blackhawks to pass up.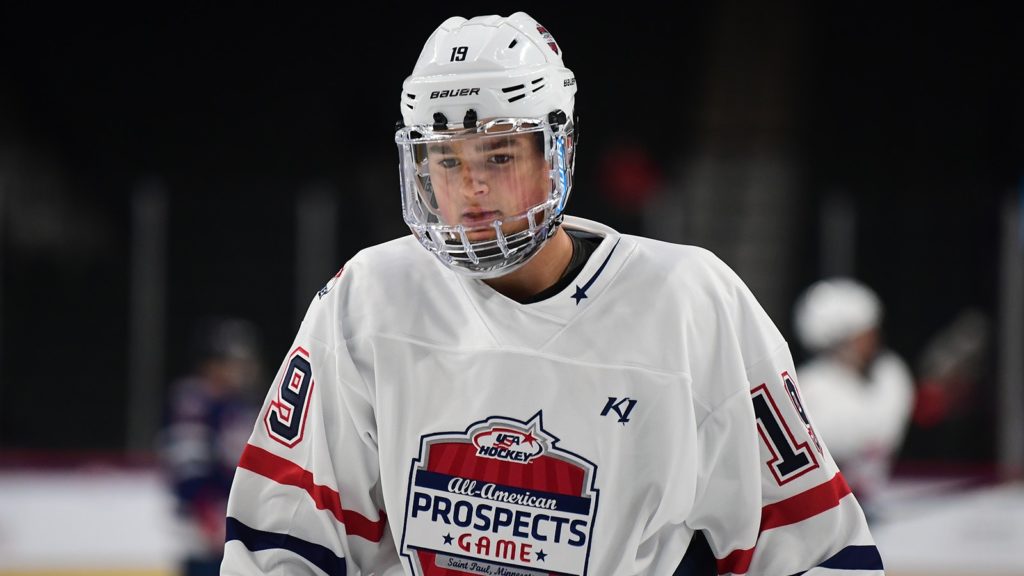 Alex Turcotte. Photo: Dan Hickling/Hickling Images
The Colorado Avalanche have the fourth overall pick. With center Tyson Jost up with the big club, an argument can be made that the Avs will be looking for another defenseman in their system. With the need being identified now to potentially choose the next center off the board can be difficult. Not a lot of teams have a Hall of Famer as a general manager, but the Avalanche do. Joe Sakic was a 5-11, 194-pound center who was a captain and an understated talent who just got the job done night after night with great consistency. Of the centers that remain, I could see them selecting Alex Turcotte.
Turcotte is listed at 5-11, 194. I won't dare compare him to Sakic, but his production this season with the NTDP has been Sakic-like. He had 63 points in 53 games. He's had a few injuries this season and that's currently keeping him off the U18 roster but that could change if he heals quickly.
This prospect is comfortable being a scorer or a playmaker. He's smart, strong on his skates and it's hard to get the puck off his stick. Who couldn't use a player like that? He's committed to the University of Wisconsin, that will aid in his development too. The Avs are getting better and getting a player like this could make them very formidable when he's ready to play in the NHL.
The Kings are loaded with centers so I think they could go with something else. I think the Red Wings will take the best player on the board. They have a lot of spots to fill so they need talent more than anything. Trevor Zegras could be a good fit there.
This center is hiding in plain sign. The experts know about him, but he doesn't get mentioned a lot otherwise. The NTDP roster is maybe the best they've ever had and he's the second leading scorer on the team. His 78 points in 55 games stands out and his 26 goals show that he can snipe a bit too. He's on the very crowded, very talented U18 roster too and that experience will help him, and his draft stock could move him up after the tournament.
So, who wouldn't want a 6-0, 169-pound center who has a ton of upside? He plays a solid two-way game. He has great hockey sense, a wicked wrist shot, and his stick is always down in the offensive zone ready for action. He is a catalyst out on the ice and the Red Wings would love to get a player like this. He's a Boston University commit so after a few years there they could see where his game is at. At that point, he will put on some more muscle and he could be a scary player at that point.
There's a lot of talent in this draft. We scratched the surface talking about the bigger, more obvious names here. A lot of fans probably overreacted to the draft lottery results and now they've been out there reading lists and reports on these players so they can pin their hopes and dreams on them. Honestly, a small amount of them will play in the NHL right away. It's up to the player and the team's development team to make the rest happen and turn them into future NHL roster players and hopefully much more than that.
This article is about: