NHL Prospects
COHEN: NCAA players who could turn pro
The NCAA season is officially over, and Minnesota Duluth has won back-to-back NCAA titles. There are a few players who played for them, and UMass, who could attract NHL attention in the coming days. First, they'll want to get this weekend out of their system and then we could start to hear some signings being made.
Nick Wolff is a junior defenseman for Minnesota Duluth. He plays on the top pairing and at 6-4, 230 pounds, he's garnering some attention. He has a physical side and can swing the momentum to his team with a well-timed hit. If he hits you, chances are you're going down.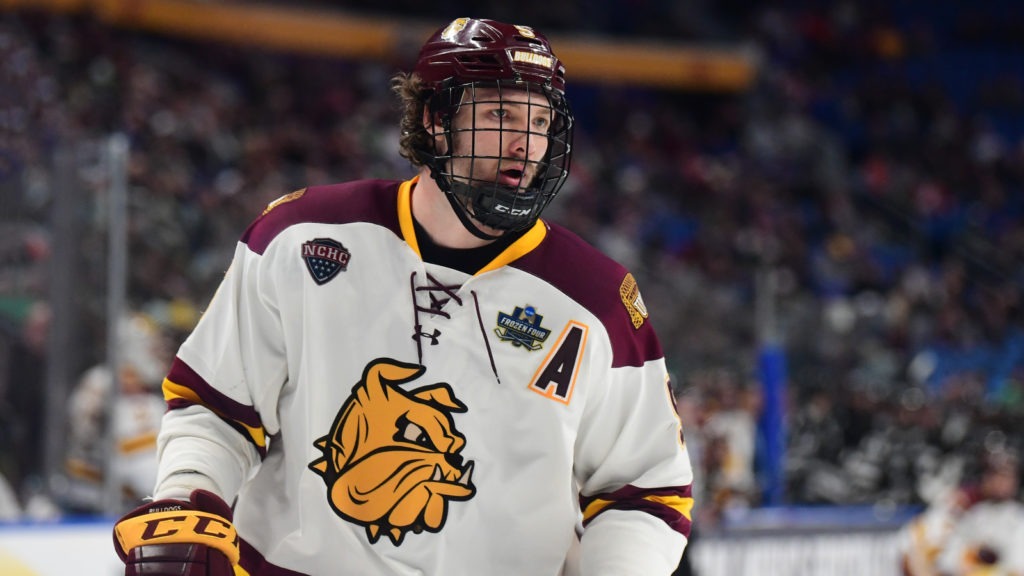 He's not the fastest player but he covers his area well. He has a good first pass and can make a nice pass in traffic. He wore the "A" and he really knew his role and never strayed from that. Coaches love these types of players. This year his goal total down a bit, he only had five goals (he had seven the year before) and fourteen points in 40 games. He can play a bottom pair role with not much offensive expectations in the AHL or possibly the NHL.
Justin Richards is the son of former Columbus Blue Jackets and Minnesota Wild head coach, Todd Richards who is currently an assistant with the Tampa Bay Lightning.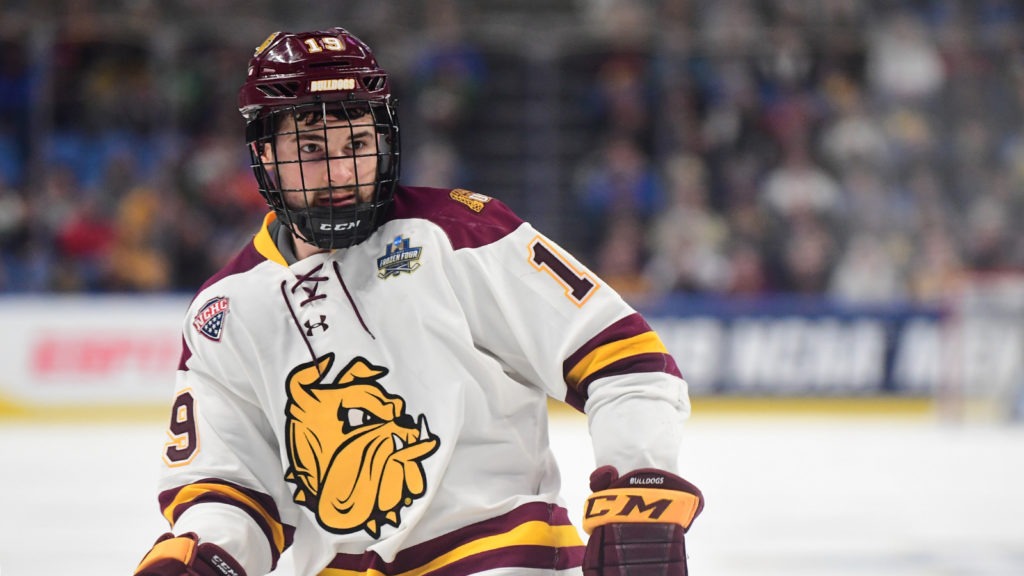 This 5-11 second-line center with Minnesota Duluth is a shark on face-offs and has great drive to the net since he weighs a sturdy 190 pounds. He had a two-goal game against Providence to help his team advance to the Frozen Four final. The sophomore will probably return to be with his dad in college but if an NHL team comes calling, he will surely listen. This year he had 12 goals and 32 points in 42 games. He may have the highest upside of any player in this article.
Parker Mackay was the captain for Minnesota Duluth. He's a graduating senior. He played second line right wing and the 5-11, 185-pounder has a solid all-around game.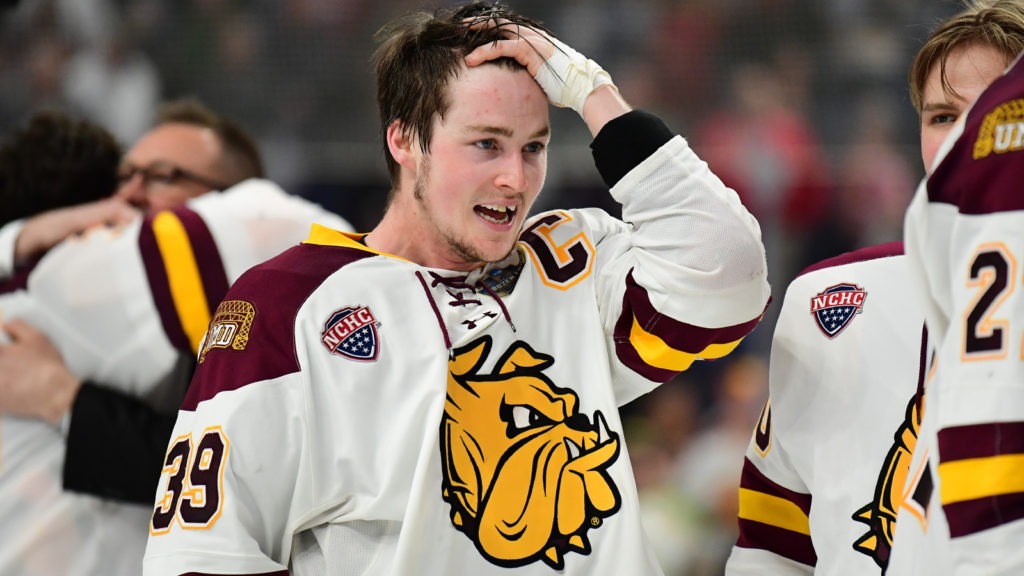 He knows how to get a goalie moving with a patient shot. He had a game-winning goal against Bowling Green in the Midwest Regional or they couldn't have won another national title. He has a good wrist shot and he's always around the net looking to cash in on rebounds. He's good at keeping the puck in the offensive zone on the power play and is very good on the penalty kill. Again, a sure-fire AHLer and possible NHL 4th line material. He is 25, and that may work against him but he's a winner and worthy of some attention.
Jacob Pritchard is a senior left winger who played for UMass. He transferred from St. Lawrence and had a career year in Massachusetts. In 41 games he had 16 goals and 47 points. The 6-0, 193-pound scorer had a shown a hard and accurate one-timer against Denver to advance to the Frozen Four final.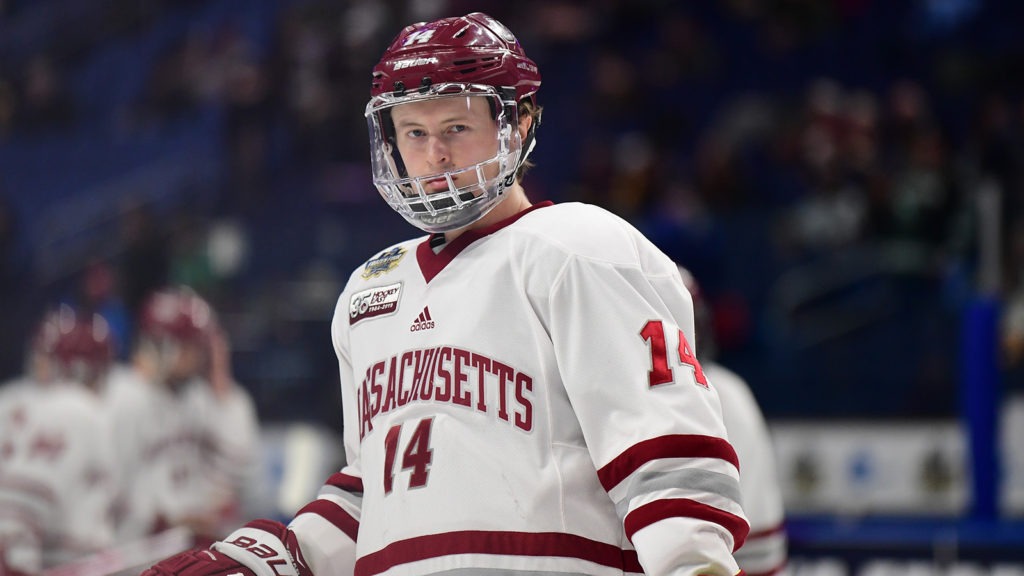 He had a two-point game with two assists, and he was a big part of the team's offensive success that game. He was set up from the circles in all game long. He has a good 200-foot game and will block shots when called for. At 24, a team could get a developed player who just needs to get more reps to see what he can be at the professional level. Cale Makar grabbed a lot of headlines, but Pritchard was a very important player for his team as well.
Jerid Lukosevicus is a senior and now that he will be graduating from the Denver Pioneers program, he's experienced winning, and now he'll have a chance to move on and possibly start a professional career. This season he had 19 goals and 29 points in 40 games.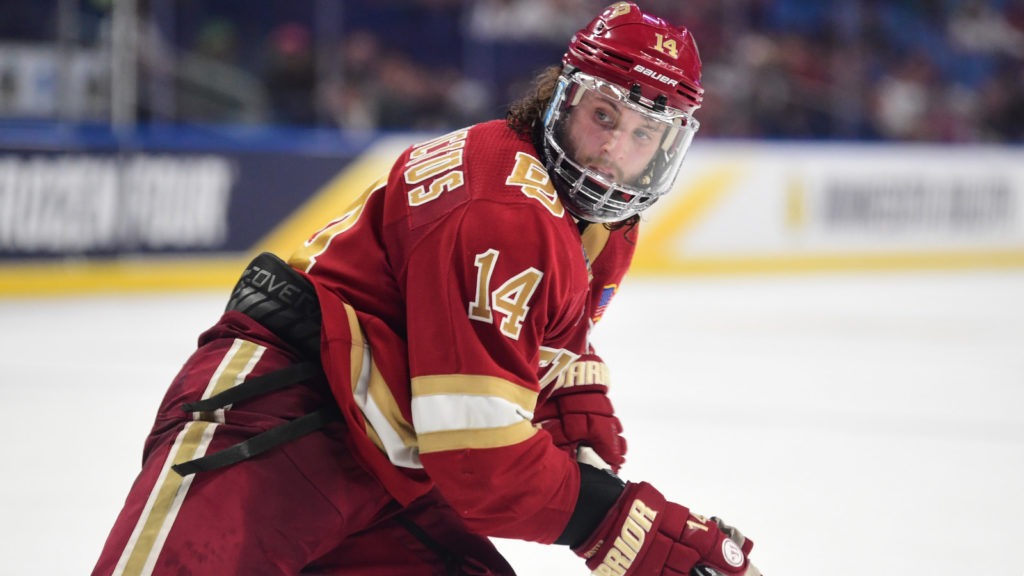 In his four years there, he scored 62 goals in 158 games and amassed a .066 PPG average, that's nothing to sneeze at. He never met a shot he didn't like. The 5-10, 184-pound winger is 24. He gets to pucks first in the corners and he has very good hockey sense. He gets in the high scoring areas around the net and buries his fair share. He's an emotional player who can harness that when he's on the ice. He's played with freshman and made them better. A lot of teams could use a player like "Luko".
The college free agent signings really help teams that are close to the cap or teams that are looking to stock their system. A lot of these players won't play in the NHL, but they do have nice AHL careers. It's not all about the NHL but getting a player like this, on the cheap, if he plays in the NHL and possibly gets to the 200-game mark, that's what makes it all worthwhile.
This article is about: