NHL Rookies
COHEN: BU, BC or Wisconsin – who has the best batch of commits?
Some schools can lose more than a few players each season when they turn pro and they would have to wait years to be back in contention.
Boston University isn't one of those schools. They may have lost goalie Jake Oettinger (Dallas Stars), captain Chad Krys (Chicago Blackhawks) and Joel Farabee (Philadelphia Flyers), but they still have some talented players possibly coming in for the 2019-20 season.
They have quite a few listed for this new season but here are some of the potential stars:
Robert Mastrosimone – In his second season with the Chicago Steel of the USHL he has 60 points in 54 games. 31 of them are goals. Two points in one playoff game. This talented pivot will be drafted, and he'll have a good freshman season.
Dominick Fensore – A talented 5-7 defenseman who should get drafted in June. He skates well, can score and has been used in the shootout. He has two points in three games at the U18s as well.
Luke Tuch – His brother, Alex, is a pretty good player for the Vegas Golden Knights. He's 6-1, not sure if he'll be 6-6 like Alex. He's a developing winger who is 2020 NHL Entry Draft eligible.
Alex Vlasic – Is a 6-6, almost 200-pound defenseman who plays a Top-4 role with the NTDP. He's not big on points but he has a long stick that gets pucks out of the corners and makes some great clears. He's physical and terrific on the penalty kill. He will be a huge asset to the team in his freshman season.
Trevor Zegras – After ripping it up with the NTDP this year and finally getting to see some U18 action. He got a point in his first game. He's a stud center who is a draft riser. He could be their next big star player.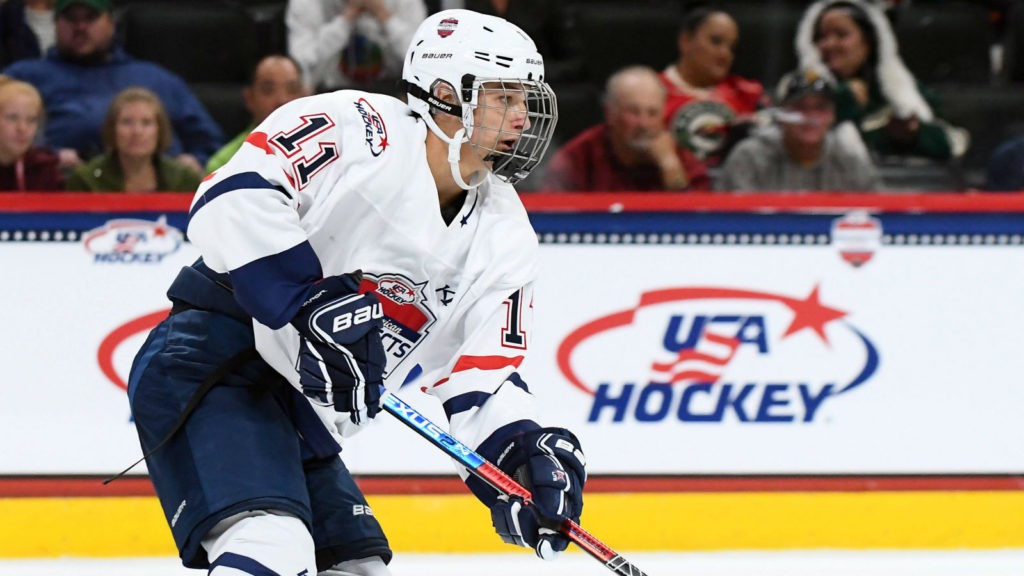 Trevor Zegras
Boston College 
Spencer Knight – He should go in the first round of the 2019 NHL Draft. He's very athletic and even though Joseph Woll signed with the Toronto Maple Leafs he will easily replace him. After two games in the U18s he has a stellar .925 save percentage. He's the best goalie in the draft in regard to handling the puck around the net and with clears. He will be a star for them next season.
Marshall Warren – The 5-11 defenseman out of Long Island, New York will be a top four defenseman at BC. He had 33 points and eight goals with the NTDP this season and two points in three games early in the U18s. He's fast with the puck and and a strong defender. He wants the puck in offensive situations and even though he's only 168 pounds right now he's deceptively strong. That will get even better when he hits the weight room.
Danny Weight – He's the son of Doug Weight who played for Lake Superior State University for two seasons. He put up massive numbers. His son isn't following in his footsteps. He's a work in progress and it may take him a few seasons to show his worth.
Matthew Boldy – Already one of the best power forwards in the 2019 NHL Draft, he will be a top liner for this club. The college game will suit him and he will be one of the team's top scorers if all goes according to plan.
Alex Newhook – is a draft riser. The Canadian center Had 38 goals and 102 points in 53 games in his second year with the Victoria Grizzlies of the BCHL. In the playoffs he had 11 goals and 24 points after 15 games. Already good on draws he's an extremely dangerous passer from behind the net. He can open up the ice with his passing and play the give-n-go, if he needs to finish, he'll finish. He's very dangerous around the net. This player has a high ceiling and should be a top line guy even as a freshman.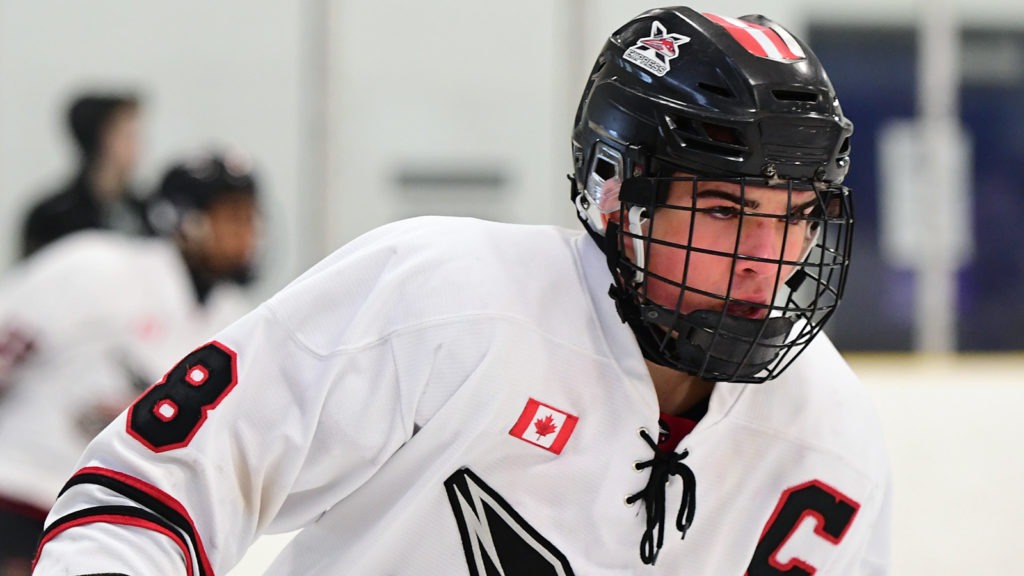 Drew Helleson – Nobody should be surprised that he's another successful defenseman who played for the NTDP. His defensive ability, especially puck retrieval is very good. He really excels on the penalty kill. He has an excellent first pass and is a very safe passer. He doesn't take too many risks and many times he gets on the scoresheet because of his smart play. In the current U18s he had two assists in his first three games.
Wisconsin
Cole Caufield – The talented winger has nine goals and 11 points in three games in the U18s. If there was any doubt about him being the best goal scorer in the draft, this tournament should alleviate those concerns.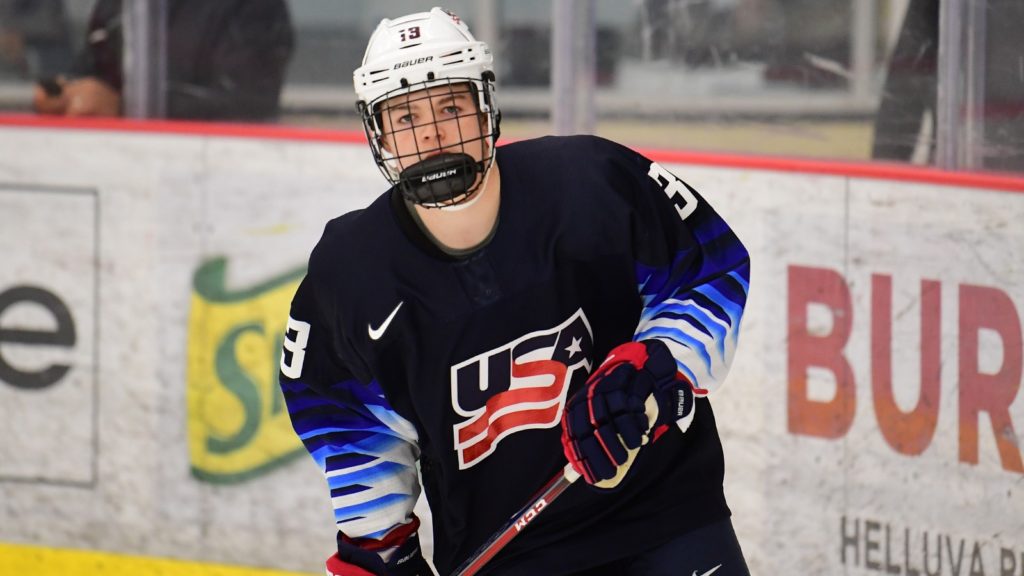 Cole Caufield
Dylan Holloway – He could be the first overall pick in the 2020 NHL Entry Draft. If not, the winger should be in the Top 3 for certain. At the U18s he's a point-per-game player so far for Team Canada.
Ben Helgeson – This Minnesota-born left winger was once on the radar for USA hockey. He's slipped a bit and never got drafted but his play for the Vernon Vipers has been decent so maybe he can recapture what he once had.
Alex Turcotte in 2020-21 – Who knows if Caufield will be there when he gets there. But if they both play there in 2020-21, watch out! That would be special.
I have to give the edge to Boston College.
You may also be interested in: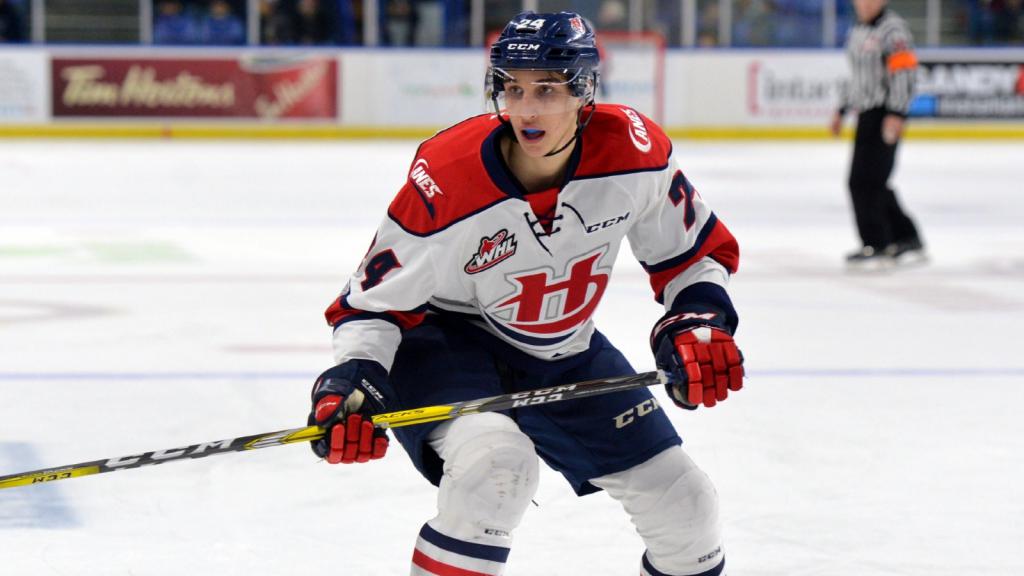 COHEN: Center Stage Post Draft Lottery Talk
This article is about: