NHL Prospects
AHL PROSPECT WATCH: Youth building something in Iowa
Monday is when AHL teams catch up after another hectic weekend on the ice and on highways across Canada and the United States.
The first weekend of the Calder Cup Playoffs is complete with all four regular-season division winners having lost at least once. Two of the AHL's top three teams are already facing elimination. As always, Monday here is a day to catch up on and assess some of the weekend's best performances and news from top prospects across the AHL in our AHL Prospect Watch.
YOUTH IN NET IS CENTRAL
The Iowa Wild barely survived a late-season stumble through the Central Division standings, but the rest of the Western Conference could have a problem on their hands as the Calder Cup Playoffs intensify.
Just ask the Milwaukee Admirals, who took a 7-0 beating from Iowa this past Sunday afternoon in Game 1 of the teams' Central Division first-round best-of-five playoff series. Fourteen Iowa players picked up a point, with seven of them registering multi-point games. Iowa also chased veteran Milwaukee starter Troy Grosenick after the game's fourth goal.
Iowa's Game 1 victory was the first for a Minnesota Wild AHL affiliate since May 3, 2013. That year, the Houston Aeros dropped a first-round playoff series in their final season as Minnesota's AHL affiliate. After 12 seasons in Houston, Minnesota management relocated the affiliate to Iowa.
The road in Iowa has been a long one, with the AHL club missing the postseason five consecutive times. In that period, Iowa had 50- (2014-15) and 59-point (2015-16) seasons that landed them last overall in the AHL. The 2014-15 club lost 53 of 76 regular-season games and had a .329 point percentage. A Minnesota AHL affiliate has not won a Calder Cup Playoff series since the Aeros took the Western Conference Final in 2011 before dropping a six-game Calder Cup Final series.
This year, however, Iowa looks dangerous, especially with Minnesota inserting three top young prospects into the Iowa line-up for late-season help.
With the parent Nashville Predators in their own first-round fight with the Dallas Stars in the Stanley Cup Playoffs, the Admirals brought a 14-game point streak (11-0-2-1) that had closed out the regular season into the playoffs only to run directly into Iowa. That late push had carried the Admirals from the fringe of the Central Division playoff field into a second-place finish and first-round home-ice advantage.
Iowa, meanwhile, had occupied territory well above the Central Division playoff line for much of the season. One point out of the Central Division lead on March 16, Iowa looked to be in solid shape for a trip to the Calder Cup Playoffs. But their descent started near the end of a stretch of 17 of 24 games on the road. The Wild came through that road journey without too much damage, all things considered, going 11-8-3-2 in that stretch. But the final leg, a four-game trip out to the Tucson Roadrunners and Stockton Heat, dented the Wild. They lost three of four contests to a pair of non-playoff teams before coming home and being swept on a five-game homestand.
They went on to stumble to an eight-game losing streak, taking just one point out of a possible 16. That left them scrambling in the final 10 days of the regular season in a pack of six Central Division clubs fighting over three playoff spots.
But then Minnesota's season ended without a playoff spot, and the NHL club sent forwards Ryan Donato, Jordan Greenway, and Luke Kunin to Iowa for additional seasoning. The trio's arrival made trip to the postseason possible as Iowa spun off three wins in a row in the final week of the regular season to finally secure a playoff spot.
Donato, who had spent 18 games (7-5-12) with the Providence Bruins earlier in the season before the Boston Bruins sent him to Minnesota for forward Charlie Coyle at the NHL Trade Deadline, quickly adjusted to the Iowa line-up. He posted a 2-3-5 effort in his Iowa debut, a road win that stopped the eight-game losing streak.
Boston had selected Donato in the second round of the 2016 NHL Draft. He blossomed after the trade, going 4-12-16 in 22 games for Minnesota to finish with 10-15-12 in 56 games as an NHL rookie.
Kunin, 21, had the strong previous connection to Iowa after going 12-8-20 in 28 games earlier this season. As a rookie out of the University of Wisconsin, he was 10-9-19 in 36 AHL games in 2017-18 before a left-knee ACL tear ended his season. This season he recovered from that injury and had a 6-11-17 season in 49 games for Minnesota. Like Donato, he was also a member of the 2016 draft class, going to Minnesota as the 15th overall pick that year.
Greenway is 22 years old and put on a lot of regular-season miles in his rookie pro campaign. Along with 81 games for Minnesota (12-12-24), he added another five games (3-3-6) for Iowa. If Iowa plays the maximum 26 games in the Calder Cup Playoffs, he would finish with a combined 112 contests this season. Minnesota selected him as a second-round pick in the 2015 NHL Draft and has packed a lot into his career already. He skated for the United States at the 2018 Winter Olympics, won gold medals for the American team at the under-18 and under-20 IIHF World Junior Championship levels, and played three NCAA seasons at Boston University.
Greenway chipped in a pair of assists in Donato's Iowa debut. That same night, Kunin contributed a hat trick and an assist.
The Greenway-Kunin-Donato line gave Milwaukee trouble in Game 1. They combined for 10 shots, including six from Kunin. Along with an assist apiece for Greenway and Donato, Kunin served up a goal and assist.
But Milwaukee's challenges go beyond Iowa's top line. After a 26-goal regular season that ranked second on the team, forward Kyle Rau's two goals in Game 1 led Iowa. The 26-year-old is part of a very solid third line with Mason Shaw and NHL veteran Matt Read. They also have Gerry Mayhew (and his team-leading 27 goals in the regular season), leading scorer and proven veteran Cal O'Reilly, and Will Bitten, plus a deep fourth line.
That skill, along with a quality back end, helped Iowa finish with the second-best power play in the AHL at 23.8 percent. Veteran Andrew Hammond is net certainly has shown in his career that he can take a team on a roll.
The Milwaukee penalty kill finished fourth in the regular season, but the Admirals will need to stay out of penalty trouble. They held Iowa to one power-play goal in Game 1, but they put the Wild on the man-advantage nine times. In all, Iowa outshot the Admirals, 42-29. Iowa had a 4-0 lead by the second period's midpoint before they ripped the game open with three third-period strikes.
Game 2 goes on Tuesday night in Iowa, before the Admirals take the series back to Milwaukee for what would be the final three meetings of the series.
AROUND THE A
After finishing second in regular-season scoring, Toronto Marlies forward Jeremy Bracco is continuing his production in the postseason. Bracco, who was 22-57-79 in 75 regular-season appearances, has gone 2-2-4 to help the Marlies move out to a 2-0 series lead against the Rochester Americans. The Amerks finished third overall in the AHL at 99 points. Toronto broke Rochester's 2-0 second-intermission lead in Game 2. Bracco's first goal tied the game early in the third period before he finished a rush 2:20 into overtime for a 3-2 victory. Toronto will host Game 3 on Wednesday. Bracco is 2-2-4 through his first two playoff games.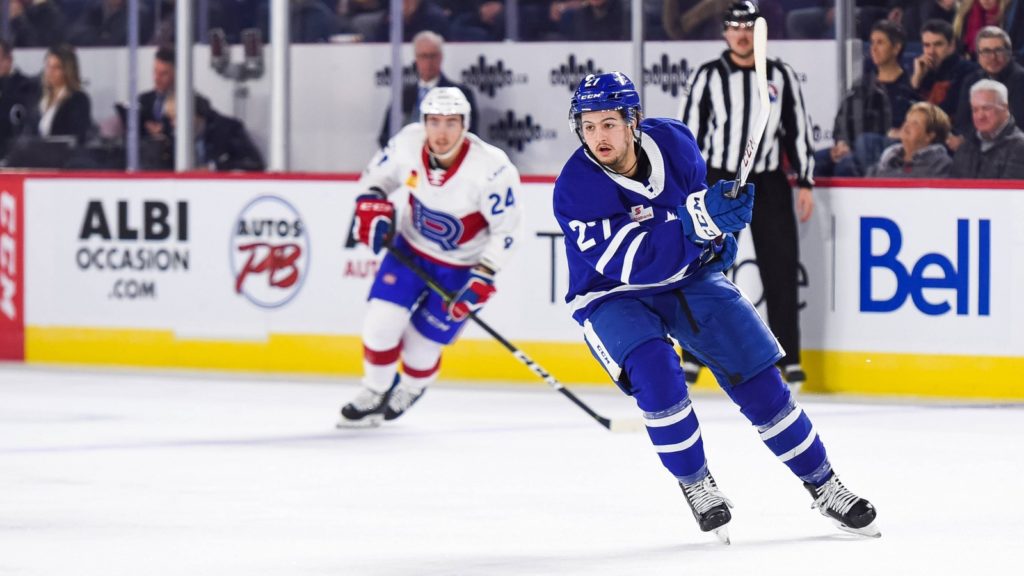 Jeremy Bracco. PHOTO: Icon Sportswire.
With veteran Michael Hutchinson on recall to the Toronto Maple Leafs, the Marlies' net belongs to Kasimir Kaskisuo. He is running with the opportunity and stopped 40 of 42 Rochester shots in Game 2. He is 2-0-0 | 1.48 | .958.
Toronto rookie defenseman Rasmus Sandin has four assists against Rochester.
Rochester is not the only top regular-season team in a bind. The North Division regular-season champion Syracuse Crunch are facing elimination after 102 points and a second-place overall finish in the regular season. They lost Games 1 and 2 on home ice to the Cleveland Monsters, who will host the Crunch in Game 3 on Tuesday night.
Cleveland's Sonny Milano has heated up quickly. Milano missed much of the second half with an injury before returning in the final week of the regular season as Cleveland tried to edge out the Belleville Senators for the North Division's final playoff spot. Along with playing his agitating style, he had a three-point effort in the Monsters' 5-1 win in Game 2. After assisting on Cleveland's second and third goals, he helped to finish off the Crunch with an empty-net goal. He is 1-3-4 through Cleveland's first two games.
Providence rookie defenseman Cooper Zech has scored both of his team's two power-play goals in their series against the regular-season champion Charlotte Checkers. The P-Bruins split the first two games against the Checkers, who will host the remainder of the series. Zech, 20, signed an AHL contract with Providence after just one NCAA season with Ferris State. There, he was 8-20-28 in 36 games and earned a spot on the All-WCHA First All-Star Team. After joining Providence in March, he had four assists in 12 appearances.
Charlotte's Aleksi Saarela became the first player in Carolina Hurricanes history to make his NHL playoff debut before his regular-season debut after playing in Game 5 for the Hurricanes against the Washington Capitals this past weekend. His 30 goals led Charlotte in the regular season.
Bridgeport Sound Tigers rookie Kiefer Bellows has two goals in his team's first-round series against the Hershey Bears. The series is tied 1-1 going into Game 3 at Hershey on Tuesday night.
Hershey netminder Ilya Samsonov had 49 saves in a 3-2 double-overtime loss in Game 1. The following night, Vitek Vanecek provided a 39-save shutout for the Bears that evened the series.
Vegas Golden Knights top prospect Cody Glass continues to handle the adjustment to the pro game well. The sixth overall pick in the 2017 NHL Draft, Glass joined the Chicago Wolves after his WHL season ended. He has two assists in two playoff games for the Wolves after he went 3-2-5 in a six-game late-season audition.
San Diego Gulls rookie forwards Sam Steel and Kiefer Sherwood are supplying offense in the team's first-round series against the San Jose Barracuda. Steel is 1-2-3 while Sherwood has struck for two goals. Barracuda rookie forward Ivan Chekhovich has delivered 2-1-3 against San Diego. Fellow rookie Dylan Gambrell is 1-2-3.
This article is about: