Column
WILLIAMS: Who is out there behind the AHL benches?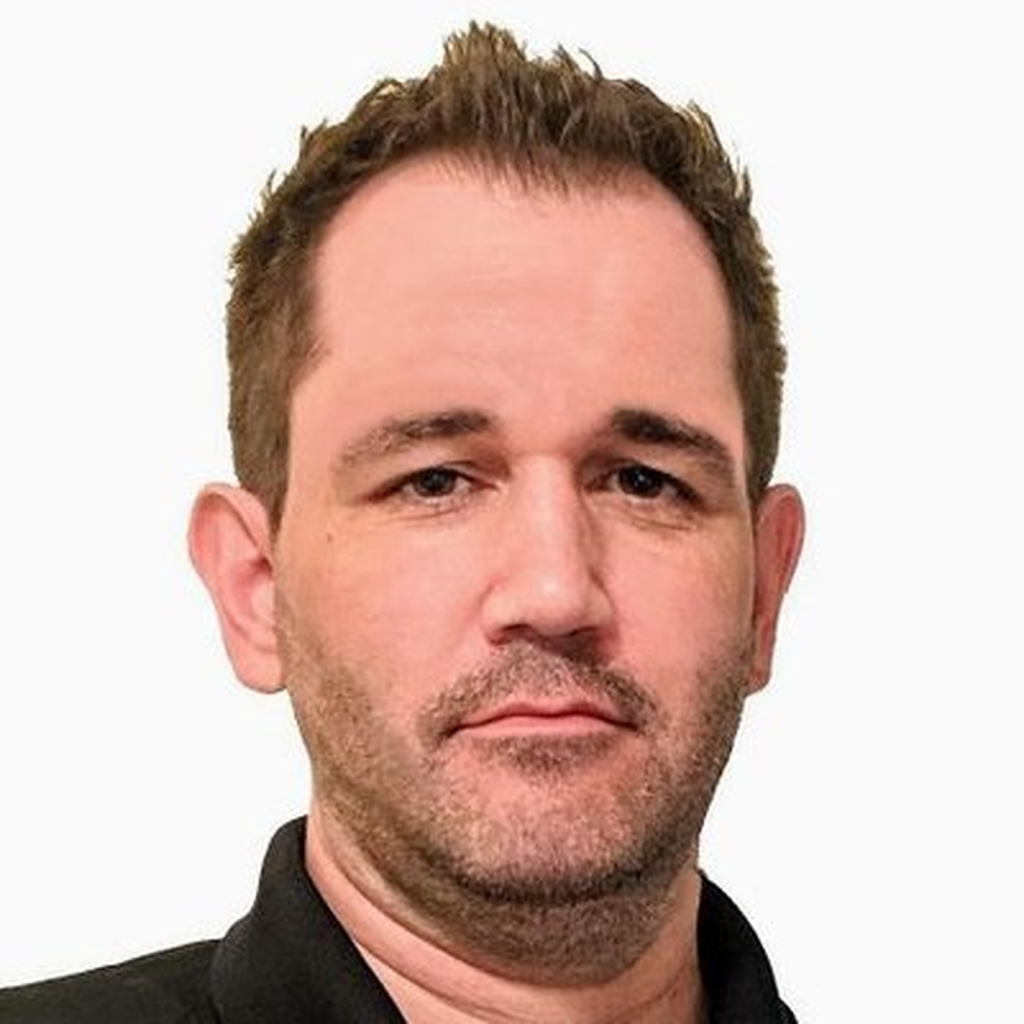 Patrick Williams
"Who is out there?"
That is a question that plenty of NHL fans and media ask when trying to line up head-coaching candidates to replace the poor soul that your team just fired. If not a familiar NHL name for a second or third go-around, then is there another option out there?
The Buffalo Sabres have a vacancy. Out in Anaheim, Bob Murray mopped up the season as an interim head coach. After a number of first-round flame-outs in the Stanley Cup Playoffs, there could be even more head-coaching positions that open.
When filling those positions, the AHL is a natural place to look. At the moment, 23 NHL head coaches are AHL head-coaching alumni, including the likes of Joel Quenneville, Barry Trotz, and Mike Babcock.
Here are some AHL head-coaching candidates:
WHO'S OUT THERE?
SHELDON KEEFE – TORONTO MARLIES
Perhaps no AHL head coach emerges more in job-vacancy rumors than Keefe does, and for good reason.
He has succeeded at each of his coaching stops ranging from Junior A all the way to the AHL in perhaps the most high-profile bench job in the league. He added another line on his resume last June when he led the Marlies to a Calder Cup championship, but his success started long before that.
After a complicated playing career cut short by injury, he went into the coaching ranks with the Pembroke Lumber Kings of the Central Canada Hockey League. That is a long way from the NHL, but there he established a strong foundation and coaching style that has served him well.
Along with current Toronto Maple Leafs general manager Kyle Dubas, he built the Sault Ste. Marie Greyhounds into an OHL standout franchise. Since coming to the Marlies for the 2015-16 season, he has 189 regular-season wins in four seasons, including a pair of 54-victory campaigns. Along with last year's Calder Cup team, he advanced to the Eastern Conference final in 2016.
With his considerable AHL, OHL, and CCHL experience, he knows how to relate to today's young players. Players today expect open dialogue and give-and-take much more than during Keefe's playing days, and the 38-year-old head coach has changed with the times. But he brings just enough of that old-school bite to keep his Marlies – always well-compensated and well-treated playing in that organization – hungry and on their toes.
TROY MANN – BELLEVILLE SENATORS
Everybody saw that Mann could lead a perennially strong club like the Hershey Bears, a well-structured team that has sent multiple classes of talent on to the Washington Capitals.
But the Ottawa Senators' AHL affiliate? The one that had missed the Calder Cup Playoffs in 10 of the 13 seasons before the Ottawa organization hired Mann last summer?
That provided a much different puzzle to solve altogether for Mann. But this season Mann showed that he can direct a team and begin the process of installing a winning culture with an AHL affiliate that had had minimal success beyond a Cinderella run to a Calder Cup championship in 2011. If Ottawa is to go anywhere in the future, a considerable portion of that success will depend on Belleville being a reliable source of player development. In some ways, this may have been Mann's most impressive effort yet even without a playoff spot for Belleville.
In this season of nearly non-stop distractions, trades, and a barrage of injuries throughout the Ottawa organization, Mann kept pushing the right buttons in Belleville. He led Belleville on a 17-game point streak (12-0-1-4) that put the B-Sens into the thick of the North Division playoff race. A late-season stumble amid a crush of injuries and line-up disruptions ultimately doomed their playoff chances, but Ottawa's AHL picture took a significant step forward this season.
Mann is a stickler for details, and his teams play a patient, responsible style. Despite all of the upheaval to his line-up, Mann's Belleville team finished 14th in the AHL in shots-against per game at 28.9 even while playing in a division that featured the AHL's top two teams in shots per game (the Cleveland Monsters and Rochester Americans).
JAY WOODCROFT – BAKERSFIELD CONDORS
Woodcroft has long been a right-hand man for Todd McLellan and had three NHL stops (Detroit Red Wings, San Jose Sharks, and Edmonton Oilers) spanning 13 seasons.
This year he has shown that he can run his own show as well after shifting from Edmonton to Bakersfield. He took Bakersfield from a mid-pack team at midseason on a charge through the grueling Pacific Division. The Condors' 17 consecutive wins were the second-most in AHL history, and he did so relying on rookies to making up much of the core in Bakersfield.
Rather than depending on his players' considerable skill and simply chasing wins to the detriment of development at the start of Bakersfield's season, Woodcroft took a long-range view. He implemented a commitment to detail and two-way hockey that gave his roster a reliable foundation even if the wins did not arrive immediately. Once that was in place, Bakersfield's inherent talent took off from there and made the Condors one of the top Calder Cup favorites this spring.
MIKE VELLUCCI – CHARLOTTE CHECKERS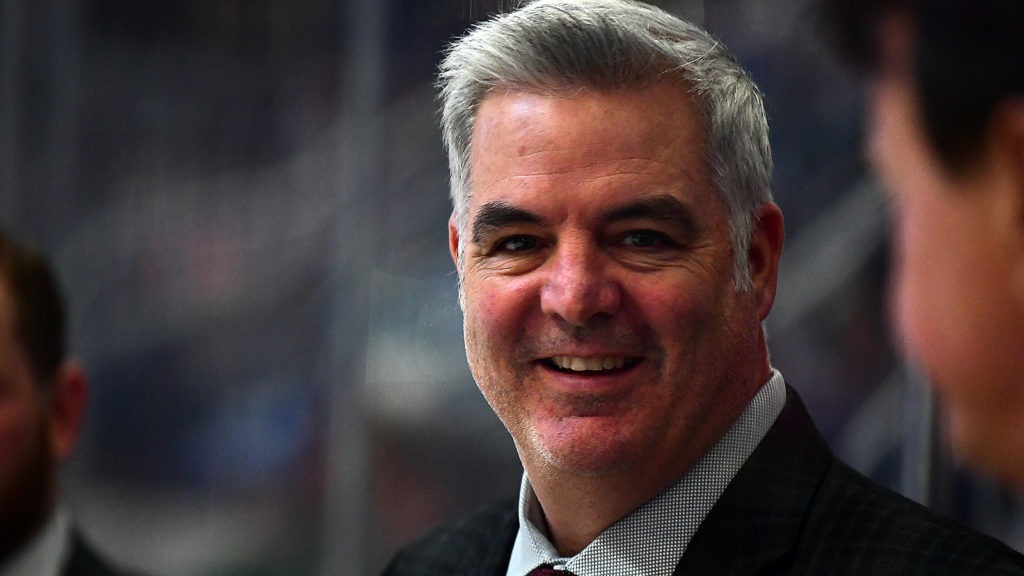 Vellucci's work earned him the Louis A.R. Pieri Award as the league's outstanding coach this season, and it was a well-deserved honor.
Much like Keefe, Vellucci knows how to walk the fine line between new-school and old-school. His long OHL tenure served him well with today's player, and he fits the father-figure role well in Charlotte. In a business that can be cut-throat, that sort of guidance cannot be overlooked, especially with a young team.
And much like Woodcroft, he had considerable skill on hand but had to harness it and shape it into a team. That is difficult enough for coaches at other levels to do. But in the AHL? With constant turnover and roster disruptions? That is even more impressive.
For all of their deep base of skill, the Checkers just simply play hard. He has gotten buy-in from his players, something that can be a challenge in a league in which players are chasing their own objectives and trying to play their way to the NHL as quickly as possible. Charlotte owned the AHL's top penalty kill in the regular season, and they can play a gritty game if an opponent takes a game in that direction.
PASCAL VINCENT – MANITOBA MOOSE
Vincent checks all of the necessary boxes, and then some. QMJHL head coach? Check. NHL assistant coach? Check. AHL head coach? Check.
To those who are not familiar with him, his calm outward demeanor is a contrast with some NHL head coaches, including Winnipeg Jets head coach Paul Maurice. You certainly will not see someone overly animated behind the Manitoba the bench, so if that is what you are looking for, keep going. But Vincent is very clear on exactly what he wants, expects, and demands. He has been a key part of the Winnipeg's transition from the Atlanta Thrashers era of haphazard player development toward an organization able to boast of deep internal competition and proven draft-and-develop success.
Last season with a strong roster, the Moose finished with 92 points and went to the second round before falling to the Rockford IceHogs.
But much like Mann, he saved his best work for a much more challenging season. Manitoba had fallen to last in the AHL on December 29th after a crush of injuries and personnel losses. Rather than folding up for the final half of the regular season, Manitoba went on a 28-14-3-2 tear, a .649 clip. Their 39 wins tied them for seventh overall in the AHL and ranked above seven clubs that qualified for the Calder Cup Playoffs. They did not feast on shootout wins, either, also finishing tied for sixth place in regulation/overtime wins at 37.
DALLAS EAKINS – SAN DIEGO GULLS
Eakins is hardly unfamiliar to NHL fans.
His Edmonton tenure did not fare well, though that position has doomed many a head coach through the years. Before that, he worked in the same hothouse that Keefe occupies in Toronto.
However, he has remade himself after going to San Diego to guide the Anaheim Ducks' base of strong prospects. But do not think for a second that playing in San Diego is an easy AHL assignment. The Gulls play in the tough Pacific Division, one filled with strong rivalries and some of the deeper prospect pools in the AHL.
Throughout a turmoil-filled Anaheim season, Eakins had to deal with that fallout in San Diego. His roster changed on a near-daily basis. But he led San Diego out of early-season doldrums through a midseason surge through to contention. The roster changes eventually pushed the Gulls down to a third-place finish in the Pacific Division, but they are looking like a very difficult out this postseason.
His job this spring is to balance one of the deepest group of forwards in the entire AHL, keeping a deep bench fresh and utilized yet ensuring that the cache of top young players that Anaheim sent to him after the regular season are able to develop properly and experience a deep playoff run. Easier said than done, but Eakins could very well be the next head coach in Anaheim.
JOHN MADDEN – CLEVELAND MONSTERS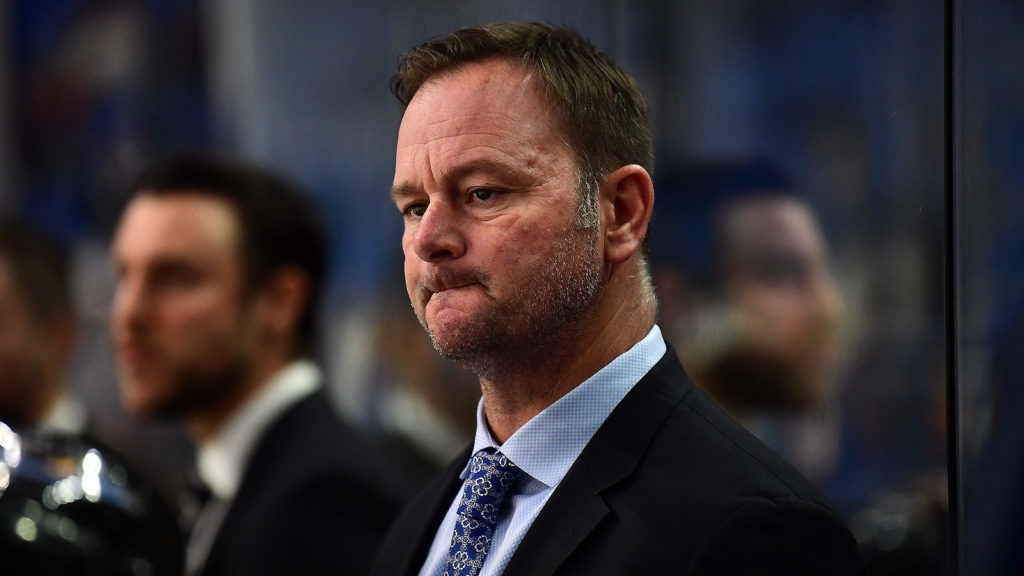 With a Selke Trophy (along with three more nominations for the award), Cleveland forwards would be well-served to listen to Madden on the finer points of responsible two-way hockey.
Madden's own AHL path as a player took him through the New Jersey Devils' powerhouse development program of the 1990s. One of the best-ever NHL-AHL pipelines in the post-1967 expansion era, the Devils brought the likes of Martin Brodeur, Patrick Elias, Sheldon Souray, Steve Sullivan, Colin White, and a slew of other future NHLers came through that system.
So, Madden saw successful player development up-close. Now as a head coach, he has guided Cleveland through an up-and-down season as long-term injuries to multiple key veterans hampered the Monsters.
But Madden's work is paying off for the Monsters in the Calder Cup Playoffs now. Through the first two games of Cleveland's first-round series with the powerful Syracuse Crunch, Madden's game plan has stalled one of the AHL's most dangerous offenses and left it thoroughly frustrated. Cleveland has consistently smothered Syracuse's speed, disrupted passing options, and frankly outworked the Crunch.
CHRIS TAYLOR – ROCHESTER AMERICANS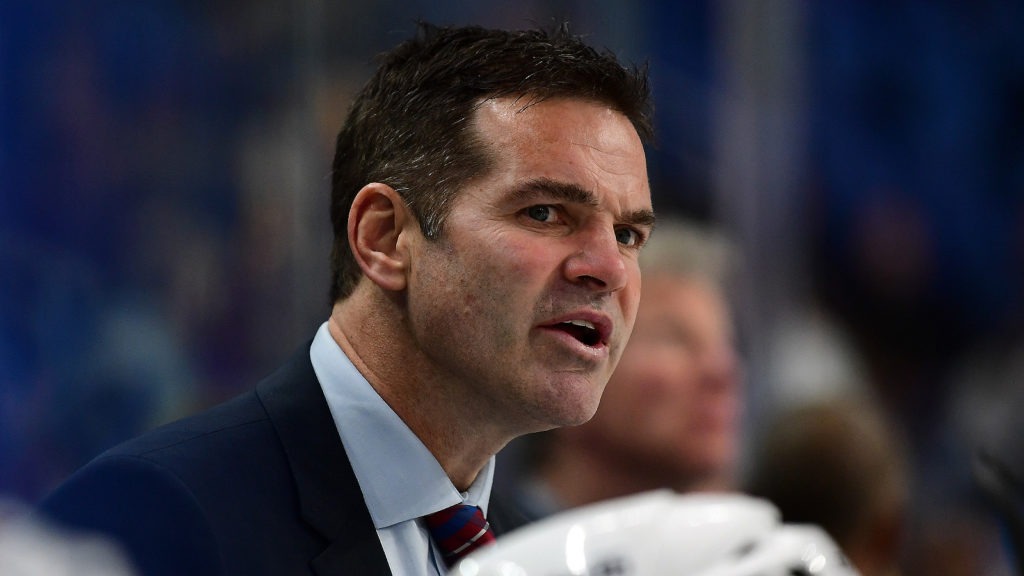 Taylor, a long-time Amerk during his playing days, came back to Rochester along with Buffalo Sabres general manager Jason Botterill.
The two had spent time with the Wilkes-Barre/Scranton Penguins, long one of the AHL's best suppliers of talent to the NHL. Taylor's first task in Rochester was to eradicate a losing culture that had lingered for years. That he has done, as the Amerks have reached the postseason in each of his seasons leading the team. Plain-spoken and direct, his players will be clear on where they stand with him and the organization.
After another unsuccessful season in Buffalo, pressure is intensifying throughout Western New York. Rochester's 2-0 first-round series deficit to the Marlies certainly is not helping matters. Expectations for Rochester were high after a 99-point regular season, and he will be asked to help the Amerks dig out of this mess.
BENOIT GROULX – SYRACUSE CRUNCH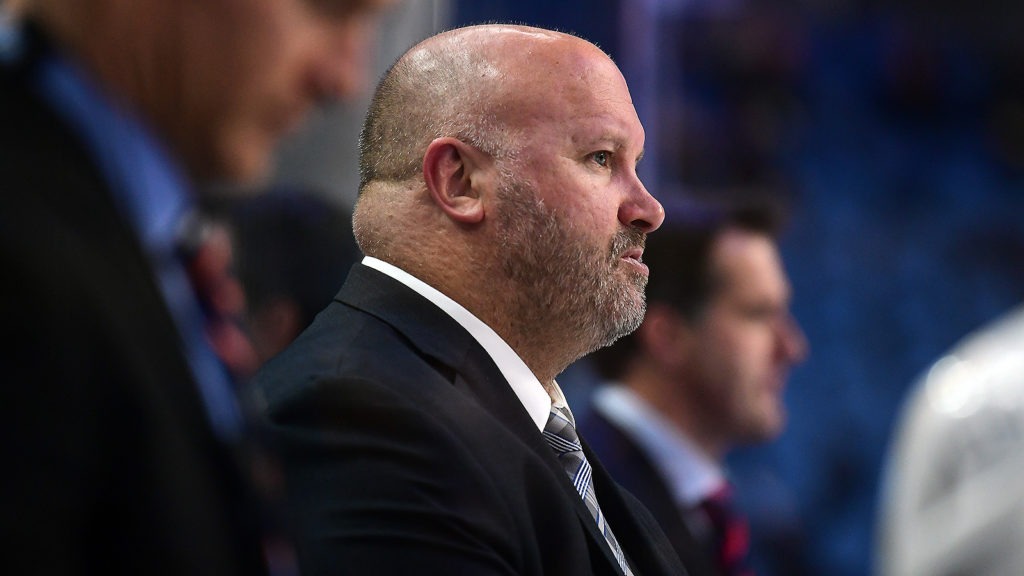 Groulx can relate to his New York State counterpart, Taylor, these days.
Rochester's long-time rival, Syracuse is in a similar bind. It may well be the biggest challenge of Groulx's pro coaching career that has known plenty of success. He went back to the QMJHL after an difficult AHL stint in the Florida Panthers organization a decade ago and retooled there. Along with gaining Hockey Canada international experience, he returned in 2016-17 season by taking the Syracuse job and working for one of the premier NHL organizations, the Tampa Bay Lightning.
Development-wise, Groulx has done his job well, sending several key players from the Crunch on to the Lightning. He also took Syracuse to Game 6 of the Calder Cup Final in 2017.
But this year after finishing second overall in the AHL, the Crunch are down 2-0 to Cleveland. With shock already ripping through the Tampa Bay organization after the Lightning's first-round ouster by the Columbus Blue Jackets, all involved could use some positive news. Like Taylor, he will have to guide his skilled team out of a deep playoff predicament.
BRENT THOMPSON – BRIDGEPORT SOUND TIGERS
With Thompson, you will not get a smooth talker.
But what you will get is someone who is very direct, blunt, a bit of a father figure. Always a leader during his playing days as a hard-nosed defenseman, Thompson brought those same qualities behind the bench with him and has taken a long path through roles in the NHL, AHL, and ECHL.
Thompson's teams have long been hard-working, well-structured groups that often fell a bit short on game-breaking talent. But the parent New York Islanders invested in a number of established AHL veterans last summer, and it led to a 95-point season in Bridgeport.
During his time in Bridgeport, the Sound Tigers have graduated a number of players to the Islanders. Along with Ryan Pulock, Thompson has been tasked with bringing along critical first-round picks in Michael Dal Colle and Josh Ho-Sang. While Ho-Sang's path still remains murky, Dal Colle has been able to turn around his career after two difficult pro seasons and earn time with the Islanders.
KEEP AN EYE ON….
The following head coaches are still early in their AHL bench careers, but they have shown promise already.
JOEL BOUCHARD – LAVAL ROCKET
Bouchard certainly had his work cut out for him as a rookie AHL head coach this season in Laval.
Extremely intense to the point that it is one of the first qualities that his players will note about him, Bouchard brought plenty of credibility with him after a long playing career and considerable QMJHL success.
Injuries and recalls knocked the Rocket out of contention and hampered their offense, but Bouchard put a stamp on Laval. The Rocket finished second in the AHL in shots-against per game (26.5) despite missing the playoffs. With some time, it is not beyond the realm of possibility that the Montreal Canadiens could build a development program similar to the one that the Leafs have created in Toronto. Certainly the pieces are there, starting with Bouchard.
SPENCER CARBERY – HERSHEY BEARS
For someone who is only 37 years old, Carbery has packed a lot into his coaching career.
He went into the business at 28 years old and has had coaching roles in the AHL, ECHL, and OHL.
He replaced Mann in Hershey this season, no small task. With a young and inexperienced team, the Bears endured a difficult first half. But Carbery kept the team afloat through that difficulty and doubt and set it up for second-half success.
As a rookie head coach, his Bears put together a 27-5-4-2 (.789) second half, one of the most dominant runs in the AHL in years. His patient work took the Bears from a one-line team to a team capable of being a major headache for opponents in the Calder Cup Playoffs.
JAY LEACH – PROVIDENCE BRUINS
A captain during his playing days on the NHL-AHL bubble, Leach has an outgoing personality and almost cuts a big-brother figure to his players.
Leach's team plays a lot like he did as a reliable defenseman. The P-Bruins led the AHL in shots-against per game (26.1), finished sixth in goals-against (2.79), and had the league's third-best penalty kill.
Providence has long supplied the NHL with some of its top-name head coaches (Peter Laviolette, Mike Sullivan, and Bruce Cassidy among them). While Leach is still early in his head-coaching career (and is the first to admit that he is still very much learning), he bears watching.
ROCKY THOMPSON – CHICAGO WOLVES
Thompson has revamped himself from an elite late-1990s enforcer into a modern-day head coach.
Always an interesting interview during his playing days, he brought time spent as an AHL assistant coach and CHL bench time before coming to the Vegas Golden Knights organization. With the Golden Knights starting as an expansion franchise, it was a fresh canvas for Thompson, but being with the Wolves always means having pressure to win as well.
Last season as a rookie pro head coach, he navigated having players from the St. Louis Blues organization playing with the Wolves along with his Golden Knights prospects, a sometimes-tricky arrangement. In general, that set-up can mean competing organizational agendas and politics along with player cliques. Those factors are among the reasons that these arrangements have become extremely rare as NHL organizations have sought out sole affiliations. With Seattle's NHL expansion team expected to bring its own AHL affiliate into play in 2021, those sorts of set-ups look like they will become extinct.
This season, his Wolves overcame multiple major losses, including sniper Brandon Pirri and elite set-up man Daniel Carr (who remains injured). Elite rookie defenseman Erik Brännström departed in the Mark Stone trade as well yet the Wolves continued to pile up wins and points.
You may also be interested in: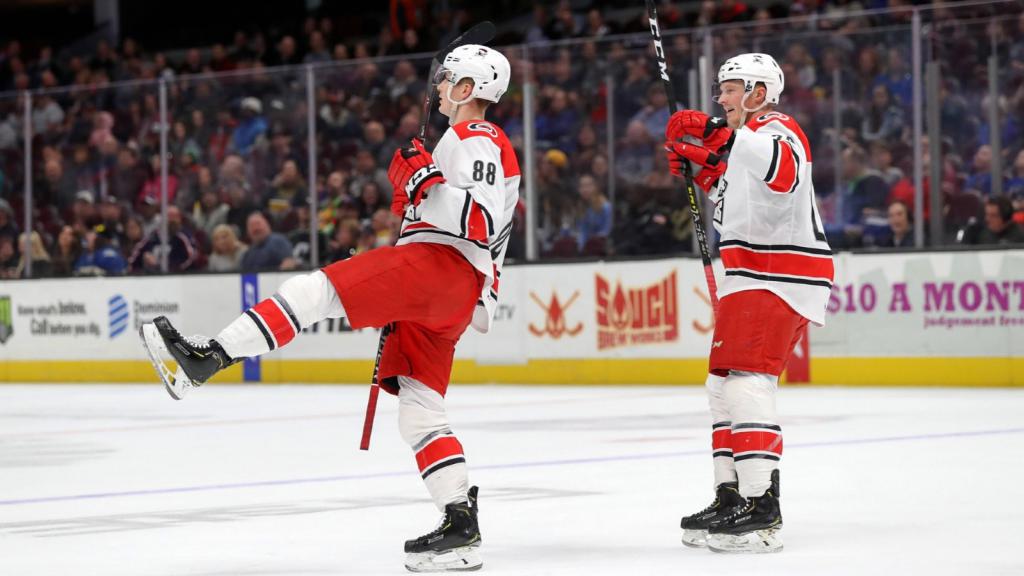 AHL POWER RANKINGS: Checkers conquer regular season, playoffs next
This article is about: