World Juniors 2019
2019 DRAFT: Draftin Europe's Top 15 European Prospects
At Draftin Europe we focus exclusively on scouting prospects playing in Europe. This is the last ranking for the 2019 draft that we are going to publish before the final Top 100. You can find the rest of our April Top 30 in the new issue of the Blue Dispatch that was released here in the previous days.
You will obviously find much more on all the relevant draft-eligible players available in Europe inside our 2019 Draft Guide, to be published a couple of weeks ahead of the draft.
Right from the beginning (we released our initial ranking for the 2019 NHL draft on August 6th 2017) the 2019 class has been a difficult one to rank, and to some extent it still feels that way with only two months left before the draft. Especially after the top 10, the rankings remain pretty fluid even this late into the season, which means the U18 World Championships might bring more overturning than usual on our list.
Editor's note: this ranking was put together before the start of the U18 World Championships.
#1 – KAAPO KAKKO
At the top of our April Top 30 we obviously find Kaapo Kakko. Along the last two seasons the Finnish forward has kept further separating himself from the rest of the European-based pack. So much that he's now deserving consideration to go #1 overall even if Jack Hughes has been living up to expectations.
We won't have the chance to see them go one against the other at the U18 World Championships because the Finn is busy trying to make the men's national team to play in the senior World Championships in May, like Patrik Laine did in 2016 when he was chasing Auston Matthews at the top of the rankings ahead of the Entry Draft.
That speaks for the tremendous season Kakko had in the top Finnish league. His ability to control the puck and make plays under pressure is something very few prospects has shown at his age in past years.
#2 – VASILI PODKOLZIN
Podkolzin's numbers may not be alluring for a forward expected to go high in the draft, but all you need to do to appreciate him is watching him play and compete in all situations. It's hard to find flaws in his game and he is extremely strong on the puck, usually finding a way to keep possession for his team even on tough plays.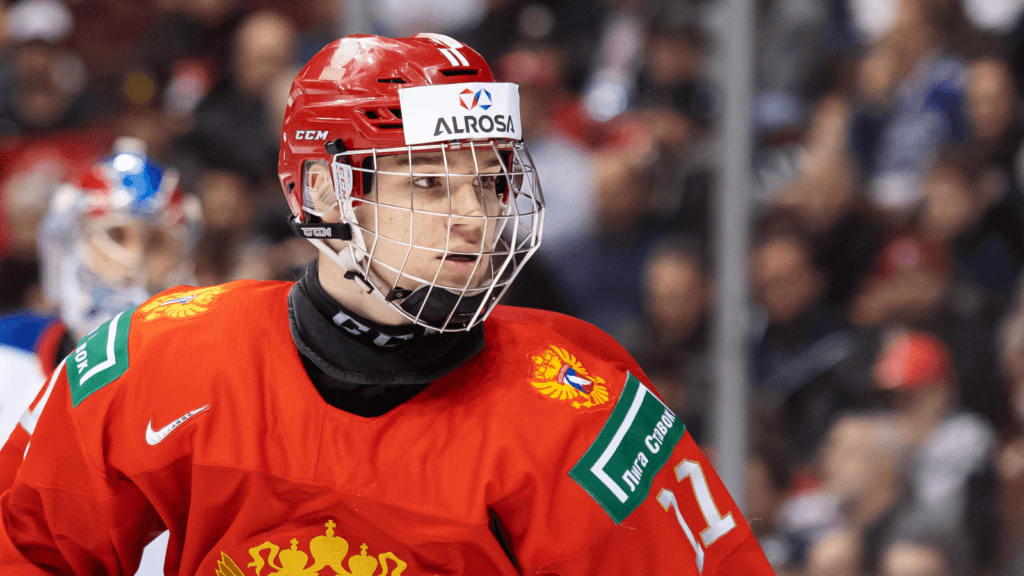 Photo: Joel Marklund, Bildbyrån
#3 – MORITZ SEIDER
We think Moritz Seider is the safest bet to be a solid contributor in the NHL out of the pool of defensemen available in Europe this year, that's why he has been the highest ranked defenseman on our list since last season. In fact, we have been scouting him for three years now and everything we have seen both in terms of capabilities and projection suggests to us he will be at least an NHL top-4 defenseman for a long time.
#4 – VILLE HEINOLA
Despite the knee injured suffered at the WJC that sidelined him for more than a month, Heinola kept his steady rise through our rankings going, looking good in our viewings since his comeback.
Heinola can move the puck efficiently and we feel like he has the upside for more in the future. He should be Finland's number one defenseman at the U18 World Championships.
#5 – TOBIAS BJORNFOT
We have always been higher than most on Bjornfot and his recent play has convinced us to put him back in our top 5, where we already had him back in November. He is a defenseman that can already play a complete game and, while not flashy, we think he's able to contribute in the offensive zone more than he is usually credited for.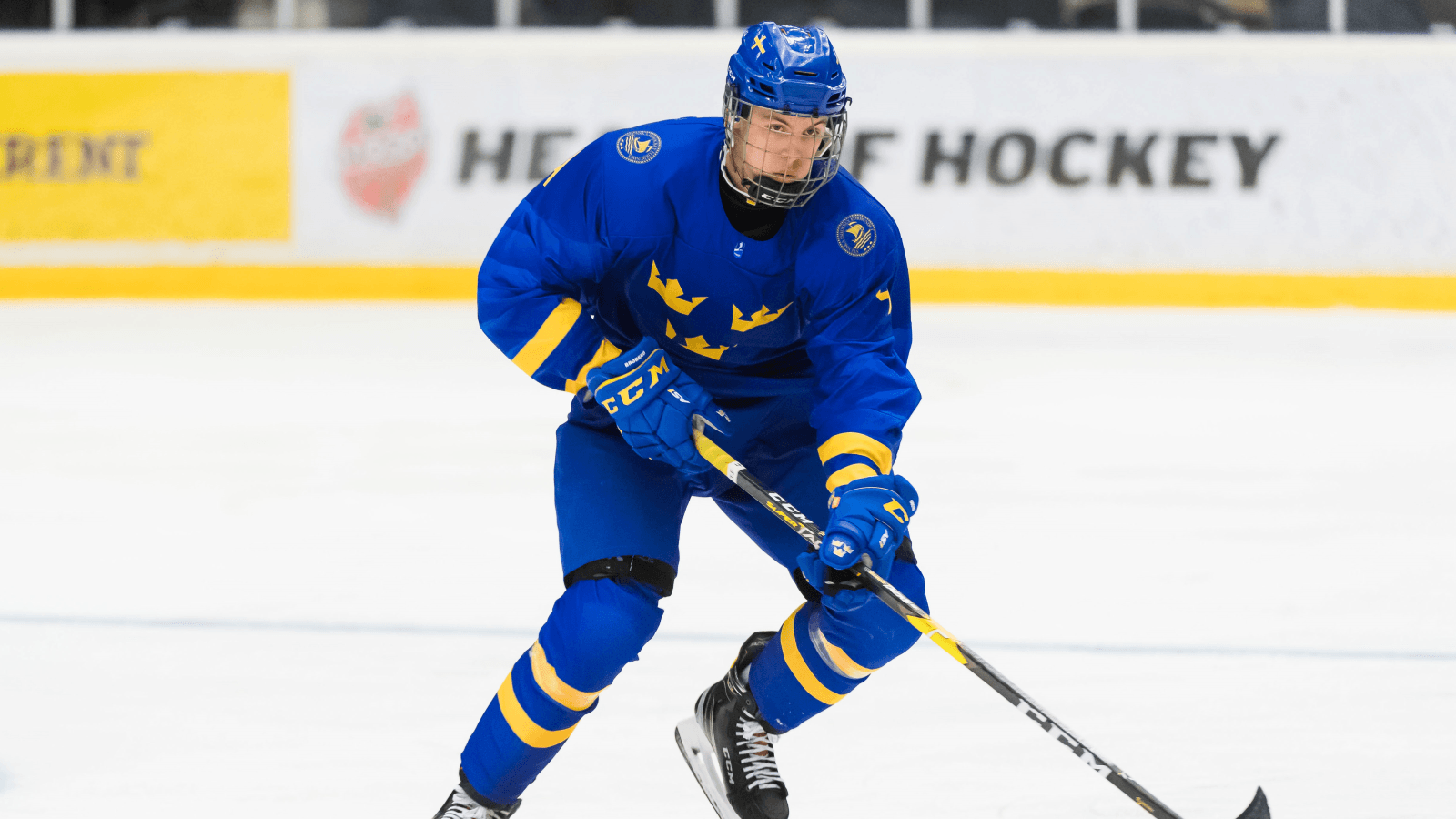 Tobias Bjornfot. Photo: Jonas Forsberg, Bildbyrån
#6 – PHILIP BROBERG
Broberg has been a bit living off the explosive performance he had to start the season at the Hlinka Gretzky Cup. He has yet to display the ability to translate his offensive game when facing higher levels of competition, but with his tremendous skating ability and projectable frame he remains an appealing package.
#7 – MICHAL TEPLY
The big Czech winger has had a so-so season and could really use a good showing at the U18 World Championships to boost his chances to be a 1st rounder in June. If he won't be able to bring in Umea his A game, which we have only occasionally seen so far, he's more likely to go in the second day of the draft, even if we like his upside enough to still consider him a legitimate 1st -round candidate at this stage.
#8 – PAVEL DOROFEYEV
The skilled Russian is another European forward who could be worthy of 1st round consideration. Even if without putting up the numbers on the scoreboard, Dorofeyev has looked better than we expected in KHL games this season, and the ability to score he displayed at the junior level is certainly encouraging for his future.
#9 – PATRIK PUISTOLA
We find Puistola to be a very interesting player, even when we catch him in games where he makes several mistakes we keep liking his offensive instincts and long-term potential.
#10 – DANIIL MISYUL
One of the main risers since our last release is Russian defenseman Daniil Misyul. We did have him in our pre-season Top 30, but after a good start he didn't impress enough to move up through our rankings in the fall. That changed with the new year, where he managed to play some games at the KHL level and unexpectedly was able to earn a spot on Lokomotiv KHL team during the playoffs. His performances against that kind of competition have been overall a pleasant surprise.
#11 – VICTOR SODERSTROM
This ranking is a mix between the best viewings, where Soderstrom did look worthy of a higher position, and the poor ones where his play wasn't up to his reputation and skills. We are eager to watch him compete at the U18 World Championships and see what kind of impact he will be able to make on both sides of the puck.
#12 – ANTTI TUOMISTO
What last season looked at times like nothing more than a very raw project, this season has been shaping up into a very interesting prospect. Tuomisto is a big right-handed defenseman who is able to move the puck and to fire it from the offensive blueline.
#13 – HENRI NIKKANEN
Nikkanen really hasn't played much this season and after missing months of action in the new year he didn't manage to make Finland U18 team for the World Championships. While this will hurt his draft stock, we liked him enough in the previous seasons to keep him inside our top 15, while we wait to see how his peers will fare in their most important tournament of the season.
#14 – SIMON HOLMSTROM
Another player whose season has been heavily affected by injuries is Swedish winger Simon Holmstrom. When he's been able to play he hasn't looked as good as in his best moments last year, and his showing at the U18 World Championships will probably go a long way in determining at what point in the draft NHL teams will feel comfortable about taking a chance on his obvious talent.
#15 – NILS HOGLANDER
Hoglander is a small winger who may not possess the pure offensive talent to be a big points producer at the next level, but he managed to contribute for Rogle in the SHL this season and he can play with the intensity needed in competitive contests.
You may also be interested in: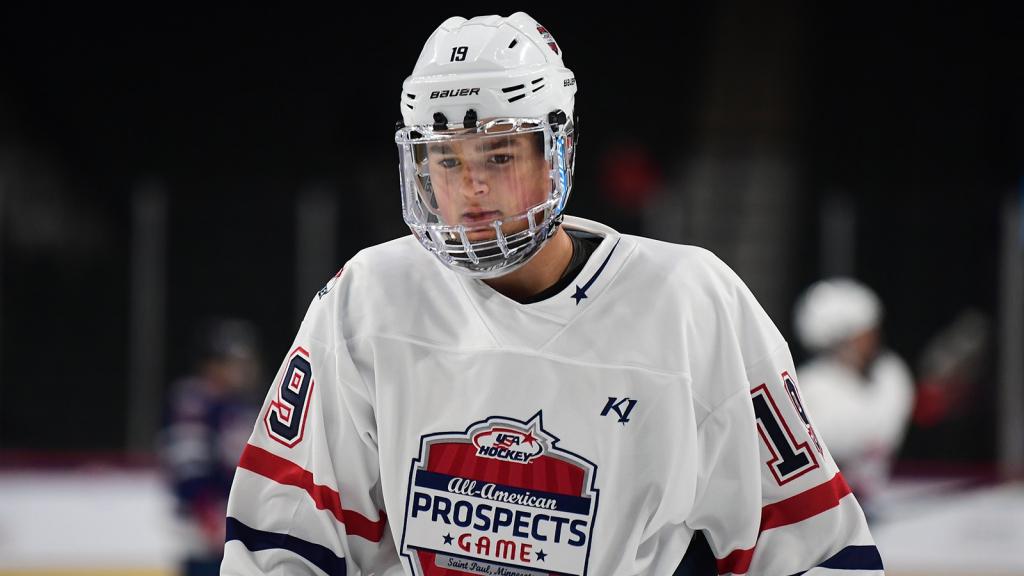 COHEN: After Hughes and Kakko – who's going third?
This article is about: