NHL Rookies
From college fame to Stanley Cup action – whirlwind month for Cale Makar
Forgive Cale Makar if he's just now catching his breath.
He's had a whirlwind run for the reigning Hobey Baker Memorial Award winner.
"It's been a long week," Makar said last Friday. "I'm excited. This group has done such a great job just in terms of incorporating me into things here.
"I can't thank them enough."
'This group' is now his new home, new family, new environment.
New experience.
Makar, who just completed his sophomore season at the University of Massachusetts — helping the Minutemen reach the NCAA Frozen Four Championship Game — inked his three-year, entry-level contract with the Colorado Avalanche on April 14.
The 20-year-old then parachuted right into Colorado's Western Conference First Round series win against the Calgary Flames.
Naturally, he scored in his debut — the eventual game-winner.
Fitting, for the Calgary, AB native.
"He's unbelievable," Colorado forward Nathan MacKinnon said. "He's better than I thought he was going to be, for sure. The comfort he has early…he's got everything. He's got no weaknesses that I've seen. I know he was a very physical player in college as well. We haven't really seen all of it but we know it's there. He's gritty. He's even-keel. He's very mature.
"He's a very mature 20-year-old. It's amazing to have an addition like that. He's controlling the play out there at times on the ice."
Makar has averaged over 17 minutes of ice time in five games.
He has that game-winner, and two helpers, to show for his efforts in helping the Avalanche to a five-game series win over his hometown team.
He's made it look so effortless.
"I look back at college and I've been in playoffs for the last couple months now and playing in the championship Frozen Four…it's a fast pace," Makar said. "I think this is even faster.
"You just go with the flow and see where it takes you."
It's a calm approach, no doubt.
"That's the thing," started Avalanche defenseman Patrik Nemeth, often paired with the fresh-faced rookie. "It doesn't seem like it phases him. He just comes in and plays his game. He's been doing a great job at that. You can see he's got a lot of talent, especially offensively. He's really gifted.
"It's cool, but he's been handling it really good. He just doesn't seem like he's bothered by all the attention. That's a good asset to have."
Makar is no stranger to the spotlight.
He's been firmly fixed in it all season at the collegiate level.
Just two days before inking his contract, Makar was named the Hobey recipient — the first from his school to net the honor and the first underclassman to pick up the accolade since Boston University freshman Jack Eichel in 2015.
Makar, who had 49 points (16 goals and 33 assists) — the most among nation D-men and one off the overall scoring lead (50), helped UMass to a record season and a trip to the NCAA National Championship game for the first time in its history.
Massachusetts won its first-ever regular-season championship in Hockey East, and the team's 31 victories so far are the most in program history, too.
It'll seem like a lifetime ago as he's now an important piece of a Colorado Avalanche team returning to Denver with their Conference semifinals against the San Jose Sharks tied at 1.
Airlifted into the biggest pressure-cooker imaginable.
Not that you could tell.
"I don't think I'd handle it as good as him," MacKinnon confessed. "You can just tell the confidence he build this year in college, winning the Hobey Baker and being the best player in college hockey.
"He's brought it to the NHL. It just shows you can make the leap. There were lots of questions if he could. Even some of us were wondering. It's tough coming into the playoffs.
"He's been one of our best defensemen."
Not bad for the No. 4 pick in the 2017 NHL Draft.
And, now, a key piece in Coloardo.
"I think all that internalizing will come after the fact," said Makar, a First-Team All-American (East) and the recipient of the Leonard Fowle Award as the New England player of the year and the Bob Monahan Award as New England's best defenseman.
"I'm trying to stay in the moment now and experience everything as it goes."
You may also be interested in: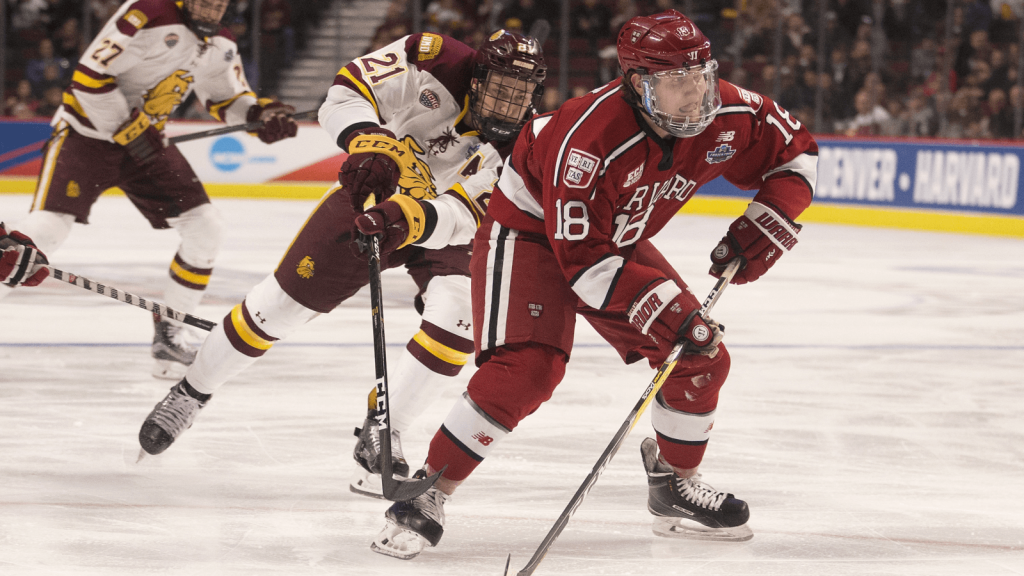 Going for Hobey – Makar, Fox part of growing trend in NCAA hockey
This article is about: