NHL Rookies
AHL SECOND-ROUND PREVIEW: Playoff field down to eight
Like father, like son.
The AHL has long tried to emulate the NHL as closely as possible.
Players play an NHL-type schedule, teams largely employ the same systems with only a tweak here or there as necessary, and prospects are closely monitored by an ever-growing collection of coaches, development coaches, video coaches, nutritionists, and so on. The sharp shift toward geographically convenient affiliations has only intensified that dynamic. It is quite common to see NHL general managers and other front-office personnel in arenas across the AHL to gain an up-close look at the young talent that these NHL organizations have invested in heavily.
Apparently those similarities have tricked through to the Calder Cup Playoffs, where upsets have cut powerful teams' seasons short and shaken up the postseason field. It even featured an AHL affiliate matching its NHL parent team by sweeping a heavily favored first-round opponent. After the Columbus Blue Jackets swept the Tampa Bay Lightning, their prospects with the Cleveland Monsters knocked out the Syracuse Crunch (Tampa Bay's AHL affiliate) in four games.
In the aftermath of the first round of Calder Cup Playoff, the second- (Syracuse) and third-overall clubs (Rochester Americans) in the AHL exited quickly, the fourth-overall Chicago Wolves had to sweat out a first-round series that went the distance, and the fifth-overall Bridgeport Sound Tigers fell to the Hershey Bears in a hard-fought Atlantic Division conflict.
Two more teams that finished second in their respective divisions in the regular season also are done for the season. The San Jose Barracuda, knocked out by the San Diego Gulls in the Pacific Division, and the Central Division's Milwaukee Admirals, a victim of the Iowa Wild, joined the elimination club in the past week.
With eight teams still alive, here is a second-round preview:
CHARLOTTE CHECKERS (1) VS HERSHEY BEARS (3)
For a team that marched through the regular season, put up an AHL-best 110 points (the highest total for a Carolina Hurricanes/Hartford Whalers AHL affiliate since 1984-85), and handled a quality first-round opponent like the Providence Bruins in four games, the Checkers are staring at some second-round challenges against resilient Hershey.
CHECKERS
"Hope is not a plan." "If you fail to plan, you plan to fail."
Those mantras have the potential to dance through any AHL management team's collective heads throughout the long haul of an AHL season. Sure enough, Carolina came calling Monday. The Hurricanes summoned goaltender Alex Nedeljkovic and defenseman Jake Bean from the Checkers as reinforcements for a battered NHL roster trying to advance to the Eastern Conference Final.
Fortunately for the Checkers, they planned long ago and then some. If Nedeljkovic, an AHL First-Team All-Star and Aldege "Baz" Bastien Memorial Award (AHL's most outstanding goaltender), is lost for any considerable time, the Checkers can turn to a very strong insurance policy in veteran Dustin Tokarski. Needing to firm up the back-up goaltending position, the Checkers acquired Tokarski on loan from the Hartford Wolf Pack in February. Tokarski provided Nedeljkovic, a workhorse for the past two seasons, with rest down the stretch and went 7-0-0 | 1.14 | .956 for the Checkers. The 29-year-old also has big-game experience; he has had playoff action with the Montreal Canadiens, as big a stage as any in hockey, and won a Calder Cup with the Norfolk Admirals as a Tampa Bay prospect in 2012.
Bean's calm, composed game would be a loss for any team. If he does not return to Charlotte in short order, however, the Checkers will have veteran Trevor Carrick back in the line-up for Game 2 against Hershey. He received a three-game suspension for a late-game altercation at Providence in Game 2, but he brings a top-pairing AHL defenseman.
The Checkers have some time on their side to learn whether Bean and/or Nedeljkovic will be back in time, however. They do not play Game 1 against the Bears at home until Friday night.
Forward Andrew Poturalski had a superb series against the P-Bruins with nine points (5-4-9) in four games. Charlotte also managed to crack quality defensive club for 14 goals in four contests. Head coach Mike Vellucci, the Louis A.R. Pieri Award winner as the AHL's most outstanding coach this season, has put in the work to harness the club's considerable skill and shape it into a well-balanced machine.
BEARS
Hershey has been in playoff mode for months now, and a grinding five games against Bridgeport will only solidify that further. They ousted a stubborn Bridgeport opponent, rallying after a Game 1 overtime loss and missed chance to end the series in Game 4.
Overlooked because they finished third in the grueling Atlantic Division, the Bears put together one of the finest second halves imaginable. Stuck in last place in the Atlantic Division as late as mid-January, the Bears tore through the AHL in the second half with a 27-5-4-2 mark, amassing 60 points in 38 games for a .789 percentage. That topped even Charlotte's second half. In the process, the Bears also cut their goal differential from minus-30 to minus-four for the season and sliced almost a goal from their first half's goals-against average.
Defenseman Aaron Ness returned to the line-up for Game 5 after a scary fall into the end boards in Game 1. He posted a league-best 55 points among defensemen (5-50-55) in 71 regular-season games and gives Hershey an elite puck-distributor and power-play presence.
Rookie head coach Spencer Carbery has grown very comfortable with the formidable Ilya Samsonov–Vitek Vanecek goaltending tandem. Samsonov earned three of the five starts against Bridgeport, including the deciding Game 5 road victory. Still, Vanecek delivered a crucial 39-save Game 2 road shutout. With either option, the Bears have someone who could be an undisputed number-one with many other AHL clubs.
Hershey will need a better power-play performance after going 1-for-18 against Bridgeport. Charlotte had the AHL's top regular-season penalty kill.
This looked to be a rebuilding year for Hershey as the parent Washington Capitals turned several rookie prospects pro. Instead the Bears have reached at least the second round for the fourth time in their past five seasons.
TORONTO MARLIES (3) VS CLEVELAND MONSTERS (4)
The Marlies' marketing campaign "Back For More" is ringing especially true after they took out the 99-point Amerks in a tidy three-game sweep.
With last season's Calder Cup championship, Toronto is attempting to become the first club to repeat as Calder Cup winners since the Hershey Bears (2009 and 2010).
But to reach the Eastern Conference Final for the third time in four seasons, the Marlies will first need to barge past this stubborn Cleveland opponent that absolutely frustrated a powerful club like Syracuse.
Game 1 is set for Wednesday night at Coca-Coliseum, where the Marlies went 9-2 in last season's run. After Game 2 in Toronto, the series will move to Cleveland for two games.
MARLIES
Two days after finishing off Rochester, the news brightened even further for the Marlies when Toronto Maple Leafs general manager Kyle Dubas took care of them by returning goaltender Michael Hutchinson, defenseman Calle Rosen, and forward Trevor Moore to his AHL affiliate. All three had spent much of the season in the AHL, but they were on recall with the Leafs while the Marlies faced Rochester.
In Hutchinson, the Marlies have a proven top-flight number-one netminder. He has been down the long path to a Calder Cup Final before, going on a 2014 run while in the Winnipeg Jets organization. Hutchinson, 28, came to the Marlies from the Springfield Thunderbirds as the team searched for an effective goaltending tandem and quickly solidified it, going 14-5-3-2 | 2.70 and becoming a viable first-recall option for the Leafs as well. Hutchinson can become an unrestricted free-agent this summer, and quality playoff run would add a few more dollars to that haul.
But Kasimir Kaskisuo will have something to say as well. He flourished against Rochester, shutting down the Amerks (3-0 | 1.32 | .960). Either way, head coach Sheldon Keefe has options in net.
Moore is another major injection for the Marlies after a 23-16-39 effort in 46 regular-season games. He tormented opposing AHL defensemen in the 2018 postseason with his tenacious forecheck and seemingly endless supply of energy. Veteran sniper Chris Mueller continued to excel in the postseason, and Adam Brooks fired in four goals against Rochester.
Add in Rosen to a strong back end that includes top young prospects Rasmus Sandin, Timothy Liljegren, Andreas Borgman, and veteran Vincent LoVerde (a two-time Calder Cup winner), and these are looking like the dangerous Marlies after a solid, if unspectacular, regular season.
MONSTERS
While it looks like the parent Columbus Blue Jackets could be in for a long playoff series against the Boston Bruins, the Monsters have managed to keep elite scorer Zac Dalpe in Cleveland so far.
Defenseman Adam Clendening has drawn into the Columbus line-up, so one should not count on his return to Cleveland any time soon.
No matter, though, given the way that Cleveland completely neutralized one of the top offenses in the AHL. Cleveland has a master of defensively responsible hockey behind the bench in head coach John Madden, a Selke Trophy winner during his NHL playing days. Using relentless commitment to neutral-zone play, the Monsters shut down the Crunch and frustrated them in the process. After finishing third in the AHL at 3.46 goals per game in the regular season, Syracuse scored only six goals in four games (with only two of them at even-strength).
Even with goaltender J-F Bérubé out, the Monsters thrived thanks to stout veteran Brad Thiessen. The 33-year-old showed that the AHL is not just a place for twenty-somethings, stepping into the number-one role after Bérubé's late-March injury and posting a 3-1 | 1.52 | .942 mark against Syracuse.
Forwards Sonny Milano and Kole Sherwood are an aggravation for opponents; avoiding them will be a test for the Marlies. Defenseman Tommy Cross is a top-tier shutdown AHL defender.
And should the Blue Jackets be eliminated, Cleveland could add forward Clendening and Alexandre Texier to a line-up that has already worked in 2018 first-rounder Liam Foudy.
CHICAGO WOLVES (1) VS IOWA WILD (3)
The Wolves, whose 98 points led the Western Conference in the regular season, have already jumped one hurdle – they survived the first round.
Last season they saw a finish atop the Western Conference amount to nothing after a first-round sweep by the Rockford IceHogs. And this spring, they had to navigate two first-round elimination games before finally putting the series away this past weekend. Starting Wednesday, they have to deal with the Wild at Allstate Arena.
Iowa's roller-coaster regular season extended straight through to the first round against Milwaukee. Iowa pounded Milwaukee by a combined 13-1 count in taking the first two games before losing Games 3 and 4 at Milwaukee. That set up a deciding Game 5 that the Wild won via a bank shot off the end boards.
WOLVES
It speaks to the Wolves' offensive depth that they averaged three goals per game in the first round even without Les Cunningham Award winner (most valuable player) Daniel Carr in the line-up. Brooks Macek (26 goals in the regular season) also has been out, and Gage Quinney was limited to three games, going without a point. Offensive blueliner Dylan Coghlan missed the first round as well.
But the Wolves have relied on a scoring-by-committee approach, especially after late-season injuries to Carr and Macek. Power forward Tye McGinn apparently saves his best work for spring. Two seasons ago with Syracuse, he produced 5-11-16 in 22 playoff games to help the Crunch to the Calder Cup Final. But he has struggled since then, cycling through the Tucson Roadrunners and Manitoba Moose before coming to the Wolves in January. He only had 12-6-18 in 52 regular-season games, but he broke loose in the first round with 3-3-6 in the five-game series.
Up front, Keegan Kolesar (a team-leading four playoff goals), Tomas Hyka, and T.J. Tynan had excellent first-round performances. Veteran Curtis McKenzie, who captained the Texas Stars to Game 7 of the Calder Cup Final last season, only had two assists, but he was a constant forechecking presence and irritant. Newcomer Cody Glass, the sixth overall pick in the 2017 NHL Draft, has further eased the line-up losses and had 2-2-4 in five playoff games. The power play, sixth overall in the regular season, continued to do its job, going 5-for-23.
Head coach Rocky Thompson divided playing time between Oskar Dansk and Max Lagacé before going with Dansk to close out the series. Dansk went 2-1 | 2.68 | .914.
WILD
Captain Cal O'Reilly stepped forward, leading the Wild with 3-3-6 against Milwaukee. Right behind him was Gerry Mayhew, who generated four goals.
Iowa needs Ryan Donato to heat up again after Milwaukee held him scoreless in the final three games. But Jordan Greenway rallied and produced four assists while Luke Kunin was 3-2-5. Those three late-season assignments from the Minnesota Wild have shown that they can be dominant and explode at any time.
Iowa got into penalty trouble at times against Milwaukee, something that must be avoided against the Wolves' power play. But Iowa did shut down 22 of 23 Milwaukee power-play opportunities.
And in net is veteran Andrew Hammond. As Ottawa Senators fans saw, when Hammond gets hot, he can be a dominant goaltender. Well, he got hot against Milwaukee, going 3-2 | 1.94 | .930.
The Wild do find themselves in tough schedule crunch. They will only have one day off between their first- and second-round games, play three games in four nights, and have four games in a seven-night span in all. But if they can pull out at least a split on Wolves ice, they will be able to take the series back to Iowa for three consecutive games.
As this Iowa team has shown repeatedly this season, they can be at their most dangerous when they seem most vulnerable.
BAKERSFIELD CONDORS (1) VS SAN DIEGO GULLS (3)
The path out of the Pacific Division – and out of California, for that matter – is going to be far from easy.
This could be one of the best match-ups of the entire AHL postseason when it gets underway in Bakersfield on Friday night.
Bakersfield, the Pacific Division regular-season champion, took care of the Colorado Eagles. After a split in two games on Colorado ice, the Condors took over the series back in Bakersfield. For the Gulls, they already had to contend with the formidable Barracuda and dispatched of that team in four games.
These are a pair of clubs stacked with top prospects – and with each team's NHL parent team done for the season, there are no recall issues to handle.
CONDORS
Bakersfield's 3.56 goals per game led the AHL in the regular season, and that was before they added blueliner Evan Bouchard to the roster for the postseason.
The 10th overall pick in the 2018 NHL Draft, the 19-year-old Bouchard joined the Condors for their first-round series and entered the line-up for Game 3. He quickly delivered a three-point performance (1-2-3) to help break a 1-1 series tie at the time.
Some of the Condors' biggest regular-season weapons had relatively quiet performances against the Eagles. Tyler Benson was held to two assists, and Cooper Marody went without a point. But veteran Brad Malone (2-3-5) offers the Condors an answer to a San Diego club that can utilize a physical approach.
Goaltender Shane Starrett, excellent all season in his first AHL campaign, performed when needed against Colorado. But Bakersfield's ability to control the puck often held the Eagles at bay; the Condors allowed 23.5 shots per game, second-best of all first-round teams.
GULLS
San Diego head coach Dallas Eakins may have the deepest group of forwards of any team in the AHL, a mix of young legs with veteran guile, of finesse with power. The Anaheim Ducks delivered a haul of talent to San Diego for the first round, and that group performed.
Rookie Sam Steel had an excellent first round against the Barracuda, posting a league-best six points among rookies (3-3-6). Sam Carrick, who hit the 30-goal mark in the regular season, chipped in six more points (2-4-6). Chase De Leo offers down-low energy and popped in four goals.
That line-up could improve even further with the expected assignment of top prospect Maxime Comtois from the QMJHL's Drummondville Voltigeurs to sunny San Diego. Comtois, who captained Canada at the under-20 IIHF World Junior Championship earlier this season, just finished his postseason with the Voltigeurs (11-4-15 in 16 games). That followed a 48-point (31-17-48) effort in 25 regular-season games after he returned to Drummondville. Before that, he had skated in 10 games for the Ducks (2-5-7) along with four AHL contests (1-0-1).
Add in a skilled back end, and there is plenty to like about the line-up that Eakins can employ. San Diego's 4.5 goals per game led all first-round teams, and their 34.5 shots per game ranked second overall. It is a well-balanced attack as well. Other than defenseman Josh Mahura, every San Diego skater posted at least one point in the four-game series.
In net, Jeff Glass took over for Kevin Boyle in Game 1 and finished the rest of the series, putting in a solid 3-1 | 2.32 | .917 line for the Gulls.
You may also be interested in: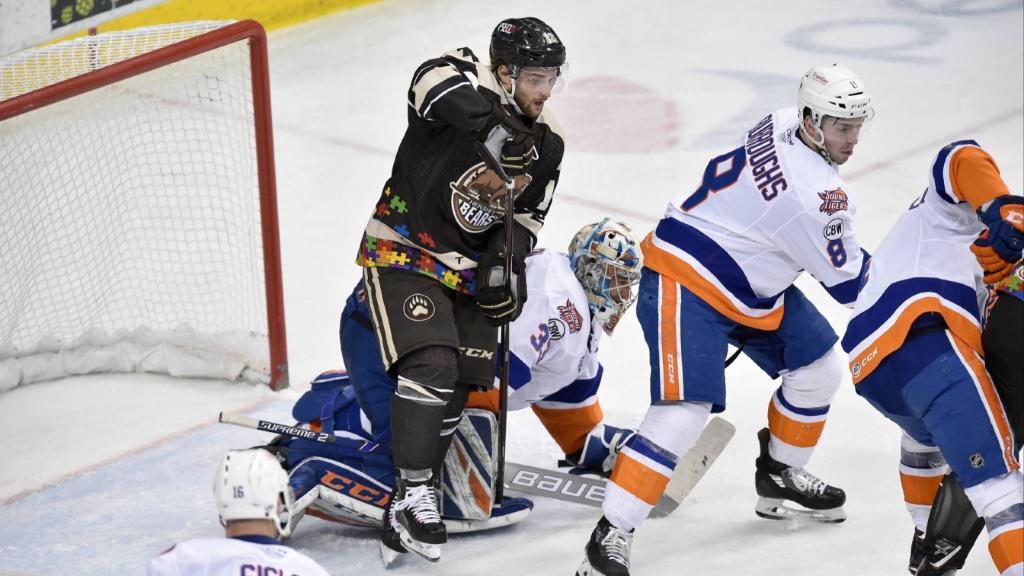 AHL WEEKEND: Upsets already underway in Calder Cup playoffs
This article is about: