NHL Rookies
AHL PROSPECT WATCH: Help continues to land in San Diego
With the first round of the Calder Cup Playoffs nearing its conclusion, plenty of rookies are affecting series around the AHL. As always, Monday here is a day to catch up on and assess some of the weekend's best performances and news from top prospects across the AHL.
COMTOIS, LUNDESTRÖM DELIVER QUICKLY IN SAN DIEGO
This past weekend was a game of numbers for the San Diego Gulls.
San Diego needed four overtimes in the fifth-longest game in AHL history to pull out a Game 1 win against an opponent with the AHL's second-longest winning streak ever. Going on the road against the Pacific Division regular-season champion Bakersfield Condors in the second round of the Calder Cup Playoffs, the Gulls took that Game 1 four-overtime victory and then snagged a decisive second win some 21 hours later for good measure and a 2-0 series advantage.
Now the Gulls go back home to one of the AHL's rowdiest environments for two games, owning a chance to put the Condors away and advance to the Western Conference Final. San Diego hosts the Condors in Game 3 on Wednesday night with Game 4 scheduled for Friday. They would face the winner of the Chicago Wolves-Iowa Wild series; the Wolves have a 2-1 lead in that series.
In Game 1 win that lasted 124:20, the Gulls defeated a Bakersfield team that had a 17-game winning streak in the regular season, the second-longest in AHL history.
The parent Anaheim Ducks have not had an AHL affiliate reach a conference final since 2008. Ducks prospects (including Ryan Getzlaf, Corey Perry, and Dustin Penner) also reached a 2006 conference final, but Anaheim has never had an affiliate advance to the Calder Cup Final.
Reinforcements also continue to arrive for the Gulls, who added top Anaheim forward prospects Maxime Comtois and Isac Lundeström before the Bakersfield series.
Immediately after Anaheim's non-playoff season ended in April, the Ducks had returned top forward prospects in Max Jones and Sam Steel along with defenseman Jacob Larsson to San Diego. Experienced blueliners Jaycob Megna and Andy Welinski also arrived from stints. Elite rookie forward Troy Terry would have been another addition, but he broke his leg on March 29th while with the Ducks.
The 20-year-old Comtois, taken in the second round of the 2017 NHL Draft, arrived back in California fresh off an excellent QMJHL performance with the Drummondville Voyageurs. That run, which stretched to the third round, featured 15 points (11-4-15) in 16 playoff games for Comtois. After spending the first half of the season in Anaheim, San Diego, and at the IIHF World Junior Championship with Canada, Comtois went back to the Voltigeurs in January. He piled up 48 points (31-17-18) in 25 regular-season games.
Before that trip to the QMJHL, Comtois had gone 2-5-7 in 10 games for the Ducks while also squeezing in four games and one goal with San Diego.
Playing on a line with Lundestrom and Kevin Roy, Comtois won Game 1 on a beautiful effort. He came off the left side, drove the Bakersfield net, and flicked a backhanded shot past Condors netminder Shane Starrett.
"Just gave it to [Roy], and he made a sick play to get both (defensemen) to him and give me some space," Comtois said to the Gulls website afterward. "Just find a way to put it in."
Veteran Adam Cracknell took Roy's place on the line for Game 2, and Lundeström broke loose. The 19-year-old, selected 23rd overall in the 2018 NHL Draft, had started this season splitting time between Anaheim and San Diego. Along with two assists in 15 games for the Ducks, he chipped in six assists in 12 San Diego games. From there he also went to the IIHF World Junior Championship to compete for Sweden. After a 1-3-4 tournament, the Ducks sent him on loan to the SHL with Luleå. He went 2-7-9 in 17 regular-season games there, added 2-6-8 in 10 SHL playoff games, and then received the call back to North America.
Lundeström, who had taken a heavy open-ice hit in Game 1 against the Condors, assisted on the Game 2 winning goal by Comtois in the second period that put San Diego ahead, 2-0.
Then with the offensively potent Condors threatening and having cut the San Diego lead in half early in the third period, Lundeström gave the Gulls some space again. He ripped a far-side shot from the left circle under the crossbar past Condors goaltender Dylan Wells with 5:15 to go in regulation. That rebuilt San Diego's two-goal lead before Lundeström then picked up an assist on Cracknell's empty-net tally to put away a 4-1 win. That made Lundeström the youngest player in Gulls history to notch three points in a playoff game.
At 33 years old, Cracknell has 210 NHL regular-season games to his name and remains a top-tier AHL forward, and he welcomed the new faces alongside him.
"It's great to have those guys, they're obviously great players with bright futures ahead of them," Cracknell told the San Diego website. "It's great experience for them to be a part of this culture right now in playoff hockey. They've responded the last two games the way that we want them to, and they should be proud of themselves."
Jones and Steel, each a pair of 21-year-old Anaheim first-rounders, have not registered a point against Bakersfield yet in the postseason. But they had a strong first-round series against the San Jose Barracuda. Steel, taken 30th in the 2016 NHL Draft by the Ducks, went 3-3-6 in four games against the Barracuda. Jones, the 24th pick in that same 2016 class, had four assists in that four-game first-round series.
AROUND THE A
Iowa's Luke Kunin continues to produce. The 15th pick in the 2016 NHL Draft, the forward came back to Iowa after the Minnesota Wild's season ended. His goal in Game 3 this past Sunday set up Iowa's 2-0 home win against the Wolves. He has struck for three tallies against the Wolves and is up to 6-2-8 in eight playoff games.
Toronto Marlies forward Adam Brooks has his team in a 3-0 series lead against the Cleveland Monsters after a win this past Sunday. Brooks gave the Marlies an early lead at Cleveland that they held in a 2-0 victory. He posted 21 goals in 61 regular-season games in his second AHL season. Toronto can complete the sweep with a win at Cleveland on Tuesday night.
Forward Martin Necas of the Charlotte Checkers noted two goals in a 7-3 rout of the visiting Hershey Bears in Game 2 this past Saturday night. The 12th choice in the 2017 NHL Draft, the Carolina Hurricanes forward prospect put the Checkers ahead to stay early in the second period. From there, he added Charlotte's seventh goal. Before Game 2, he had managed only one assist in five playoff games; in 64 games, he picked up 16 goals in his first AHL season. The Checkers go to Hershey for Game 3 on Tuesday night ahead 2-0 in the series.
You may also be interested in: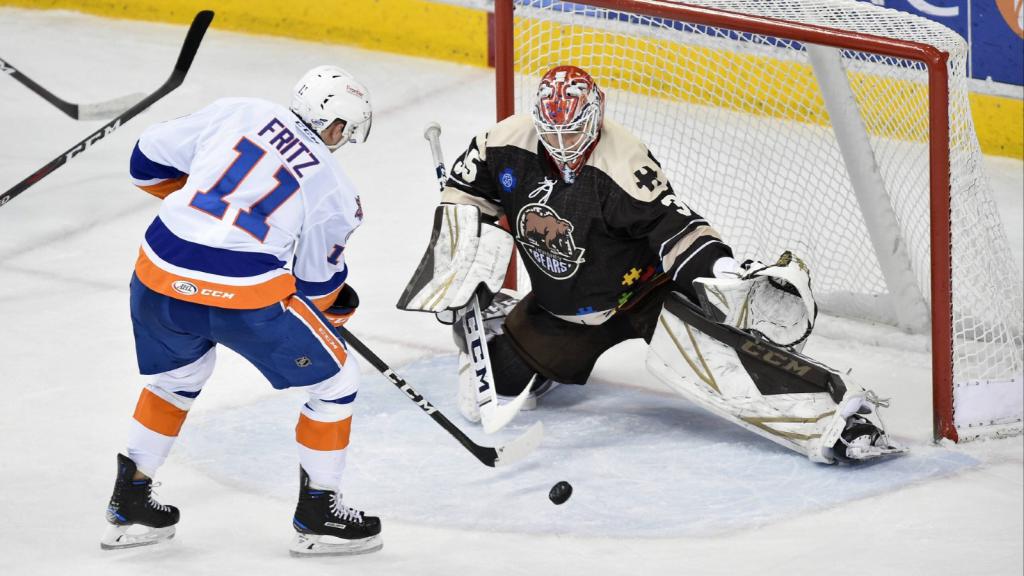 AHL ON THE ROAD: Samsonov's evolution is like "night and day"
This article is about: