NHL Prospect Report
COHEN: Rookie Ozzy Wiesblatt looking to clinch his first big title
Ozzy Wiesblatt hails from Calgary, Alberta Canada. He's a 17-year-old who plays for the Prince Albert Raiders in the WHL, who are currently one win away from being league champions. He in the midst of his first full season with the club and he's already having an impact.
"It's been incredible. I don't know how to really explain it. It's been amazing. It's been such a big learning curve for me, personally, on and off the ice," Wiesblatt admitted. "There will always be ups and downs but it's just a matter of staying consistent. Especially in the playoffs. I think we have the holy grail in our hands and it's just a matter of us going with it."
Prince Albert has done a ton of traveling this year. Players have to find things to do on the bus to keep them occupied.
"We're a tight-knit group in the dressing room. All the older guys are all good friends with the younger guys. Sometimes we'll just play cards on the bus. Just simple things, sometimes playing video games together."
This 2020 draft hopeful was selected to play in the U17s this past November. That shows that he was already looked at as a player on the rise and this year he's been that and more.
"I think not too much is different. Just growing as a person. Just maturity. I think just sticking with my game plan with what I do best. It helps me the most," he opined.
His home life is a bit different than most. He didn't go into great detail about it because he doesn't want to use it as a crutch. If anything, he talked about his upbringing like a benefit and it may have been just that.
"My upbringing was pretty much the same as everyone else with two older brothers and one younger brother. We'd all compete very hard against each other and I think that's a big part of where I am," Wiesblatt stated.
Ozzy's brothers Oasiz, Ocean and Orca are also hockey players, as well as having pretty unique names.
It's a little unusual and we did ask his mom what the reason behind the names is?
"I'm not too sure what the story behind it is. I've asked my mom a couple of times. I think she just wanted unique names and that's what she got," he quipped.
His mom is deaf. Some would say that was a challenge, but Ozzy doesn't see it that way.
"I didn't really have to face any challenges. That was mostly her. She worked unbelievable hours just to keep us in hockey. She takes us everywhere we need to be. It hasn't really affected me at all," said Wiesblatt. "My first language is sign language. She taught us. As I got better, I learned English, and we learned that in school. It's kind of unique. It's something you don't hear often. We're all fluid in French too."
It's said it's easier to learn languages when you're younger and this family is certainly proof of that theory.
"As a kid, my mom put us in a French school, and we were pretty young. It carries with me. I haven't really forgotten any of it. It's something that I have in my back pocket for traveling and communication. It's pretty cool," he added.
With younger siblings at home, and work, mom doesn't have a ton of free time to see his games but when she does it's very special to him.
"She does her best. She's with my younger brother and sister. She's going to try and make it to my next two home playoff games. It will be really neat. On television, she watches with closed captioning. She doesn't know the most about hockey. She knows a little bit and that's good enough, I guess."
Like all moms, she doesn't like to see her son taking hits.
"Sometimes she gets mad," he laughed. "Even though she doesn't play hockey she always tells me to brace myself. It's really funny and pretty cool."
She doesn't want him to lose any teeth.
"She was freaking out, "he laughed harder. "I've never really gotten an injury to the face, so she gets pretty worried. We Facetime all the time to see how it's going. I used to have some pretty teeth but losing teeth is a part of hockey. I expect it to happen more. At least I'm used to it I guess."
Like most people his age the best movie he's seen lately is 'Avengers: Endgame'. The hockey player really appreciated the Marvel Universe assembled for this epic movie.
"I personally think it's the best one. It was kind of sad though," he stated. "It's kind of cool that they all lined up."
This season the right winger had 15 goals and 39 points in 64 regular season games. He has five goals and eight points so far in the playoffs. On Friday, he can win the first major trophy of his career as the Prince Albert Raiders looks to beat the Vancouver Giants in game five of the WHL finals.
You may also be interested in: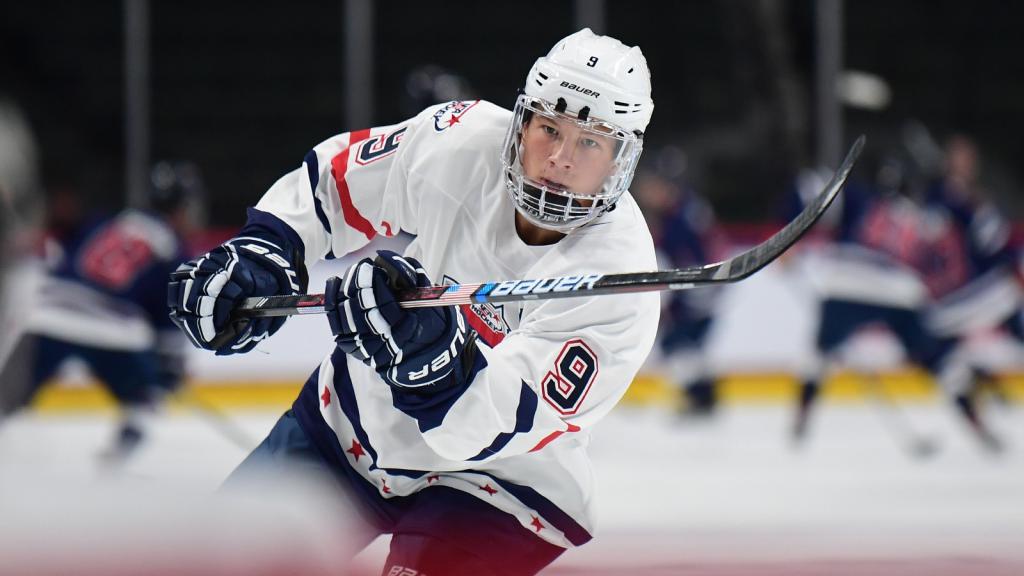 COHEN: Who's the Best Power Forward in the 2019 NHL Draft?
This article is about: