Rankings
COHEN: Chicago Steel Have a Pair of Talented Draft Hopefuls in Nick Abruzzese & Robert Mastrosimone
Chicago Steel forwards Nick Abruzzese and Robert Mastrosimone are moving up in the 2019 NHL Entry Draft. They both produced late in the playoffs for the Steel and went on a real run to win the Clark Cup. And even though they didn't win they gave themselves a longer period of time for scouts to get an extra look at them.
Both are from New York and both should hear their names called at the Draft this June in Vancouver. Mastrosimone is the higher ranked player of the two — he's the 43rd ranked draft prospect in the Elite Prospects Top 93 Skaters ranking. Both can play the center position but Abruzzese was the top line center on the Steel, and yet not the higher ranked player.
Our interview with the new @EPRinkside Editor-In-Chief @JDylanBurke Is now LIVE!

Learn about his new role, his path to becoming a seasoned sports journalist, and his methodologies for the new https://t.co/E2C27kYlhf top 93 2019 NHL Entry Draft skaters!https://t.co/OslHOOw8c9

— Fantalytica (@fantalytica) May 21, 2019
For Abruzzese, he really started to make a jump when he travelled to play for the North Jersey Avalanche.
"There's a lot to balance when you play travel hockey. You miss a lot of school but doing all that travelling helps you work on time management," Abruzzese opined. "I owe a lot to the guys there, the coaches there. I think they helped me become a better player and help shape me to become the player I am today."
The biggest issue in regard to Abruzzese is his age. He's soon to be 20 and some aren't giving him the credit he deserves even though he led his team in scoring.
"I think with scouts there's definitely that because it's my third year going through the draft process and not getting a lot of exposure the first two years. I think I'm just a late bloomer and I am patient with the process just trying to focus on getting better every day and not focusing on whatever players are in front of me and just trying to be the best player I can be."
He also led the USHL in scoring as well with 29 goals and 80 points in 62 games. He had seven goals and seven assists in 11 playoff games as well. Some teams like older players because there's a chance they can get to the NHL a bit quicker because they're a bit more physically mature. Some worry that a player has reached his zenith by this age and then upside won't be as high as a player a few year's younger.
Mastrosimone will play as a winger in Boston College as he did with the Steel this season. At 5-foot-10, and maybe 158 pounds; some may worry about his measurements. His speed, stickhandling, and goal scoring touch should attract teams somewhere in the second round of the draft. He had a solid year; in his draft year and he already had a solid reputation as a hockey player and most of the scouting world has followed him from early this season in Pittsburgh at the USHL Fall Classic to the Clark Cup Final. He led all scorers in the playoffs with 15 points in ten games.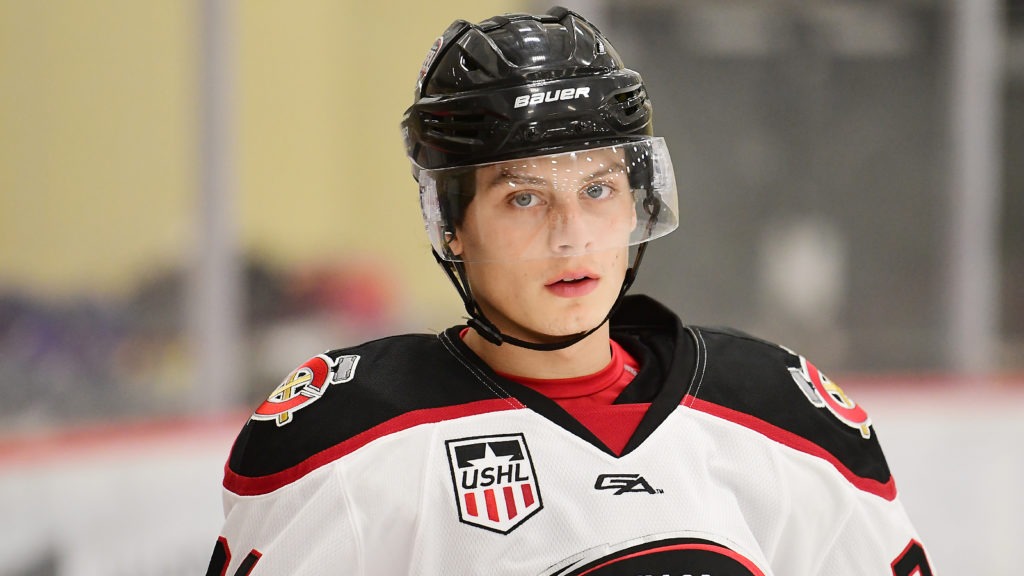 "He's a really good player. I think he makes the game easier for me just by the way he works," Abruzzese said about his linemate. "He's like a dog on a bone out there. He has tremendous offensive ability. He's a really good goal scorer and I think that I'm more of a playmaker, so it helped our chemistry and ironically enough he's been dishing more in the playoffs and I've been more of a finisher. He's a lot of fun to play with.
"I've always been a pass-first guy. I don't have a blazing shot that can beat goalies from anywhere. My goals come from situational play. Putting myself in good areas of the ice that have helped me have success."
As he heads to Harvard to play for head coach, Ted Donato, he has one eye on hockey and the other on the classroom.
"I'm really excited to be going there. Away from the hockey side, which is pretty unbelievable, academics for me and my family are very important," Abruzzese revealed. "To be able to go there and potentially get a degree there is pretty enticing as well. I'll be able to go there and work with a guy like Donato who has had NHL experience, I think he will help me grow my game. In college, I'll definitely play on the wing to start. I was recently committed to the University of Vermont but there was a bit of a falling out there and the opportunity of Harvard came to be, and I was pretty sold on it right away."
Abruzzese wasn't invited to the combine. But other players have missed it and it didn't stop them from being drafted.
"I think these things will take care of themselves," he added.
Will he go to the upcoming draft in Vancouver?
"I haven't made that decision yet. After the year is over, I'll make a decision."
His season in Chicago has been very memorable.
"it's a ton of fun. It's arguably one of the most talented teams I've ever played on. Being one of only two teams playing reminds you how lucky and fortunate we are."
It's a draft story worth following. Let's see where the chips fall for both of these players.
This article is about: