Scouting Reports
Samuel Fagemo Once Passed Over, Now a Sure Thing for the NHL Entry Draft
There is perhaps no more interest or talked about an overage player in the 2019 NHL Entry Draft than Frolunda forward Samuel Fagemo.
So, let's lean into it and give Fagemo our full attention. I'll provide some insight into the potential reasons that Fagemo was passed over at last year's draft and how he became one of the most improved players in this year's class. We'll have to take a look at the strengths in Fagemo's game and areas where this ample room for improvement, too.
We're going to start by looking at Fagemo's 2017-18 season.
As far as traditional statistics are concerned, Fagemo's season wasn't that bad at all. He finished last season with 19 goals and 11 assists in 37 games, playing for Frolunda HC J20 in the SuperElit. When the games mattered the most — in the post-season — Fagemo contributed six points (five goals and one assist) in six games. Fagemo even contributed offensively playing against men, scoring once during a three-game loan to Sodertalje in the Swedish second-tier of men's hockey, the Allsvenskan. Then there's the matter of Fagemo's two games playing with Frolunda in the SHL, a rarity and a good sign for first-time draft-eligible skaters.
Now, Fagemo wasn't nearly as effective with the Swedish national team as he was playing in the J20 SuperElit. Scouts that came to see Fagemo's U18 performance last year had to leave disappointed, as he only produced two assists in seven games.
These are just numbers, though, and numbers can only offer so much insight into Fagemo's game. There are other parts of his game which are just as if not more revealing to Fagemo's draft day disappointment last year. I've broken them down into three separate categories. Let's dig in.
Skating
While Fagemo's skating wasn't a distinct weakness, there were technical flaws that kept him from achieving a threatening top speed. A lack of power was the primary culprit, as Fagemo had to work that much harder to gain speed and build separation. For someone, like Fagemo, whose style of play requires a base level of quickness, it was an apparent, almost fatal flaw.
It's one thing in the SuperElite J20, where Fagemo's skating is more than good enough to get by. It's another entirely when scouts are trying to project this player many years down the road against NHL competition.
Flaws like the ones that plagued Fagemo's skating stride aren't easily corrected. Nor are they corrected quickly. For some players, it can haunt their entire careers. It's why so many players that skate like Fagemo find themselves on the outside looking in at the draft.
Competitiveness
There are several different ways for competitiveness to manifest itself in any given player's game. Generally, though, scouts find that a lack of competitiveness is present when a player doesn't give their all every shift; when a player's interest wanes from game to game. Makes sense!
While I'm not sure that Fagemo would qualify as lacking competitiveness by these definitions, his effort was more selective on a micro-level. Fagemo possessed a high compete level in the offensive zone but struggled to effectively track players through the neutral zone and seemed wholly disinterested when the puck crossed his own blue line. Furthermore, Fagemo had a nasty tendency to fly the zone before his team had full control of the puck.
Simply put: Fagemo seemed more interest in furthering his own interests in the form of lofty point totals than playing a style of hockey that was conducive to winning games. This is, likely, the main reason Fagemo went undrafted last year.
Hockey sense
While it's difficult to pin down what 'hockey sense' means from one scout to another, there's no doubt about the importance it plays for every scout in the evaluation process. In the case of Fagemo, it would be untrue to suggest he had poor hockey sense generally, but by that same token, there are aspects of his game in which a lack of anticipation was noteworthy — particularly in the defensive zone.
I'm also of the belief that Fagemo is guilty of tunnel vision, particularly with the puck, often missing obvious passing lanes or open teammates entirely. Occasionally, Fagemo would try and force passes in the neutral zone, the type that would often result in turnovers.
Why Fagemo is Going to be Drafted This Time
So, what happened since then, and why is Fagemo nearly a sure-thing as a mid-round draft pick this go around?
It was apparent almost from puck drop this season that Fagemo identified the flaws responsible for his first-year non-selection. It seems that Fagemo's skating, in particular, has benefited the most from this self-assessment and corrective measures. Now Fagemo can challenge and beat defenders with speed on the outside; he can gain separation in transition.
To Fagemo's credit, the progression didn't stop there. His skating continued to improve as the season wore on, right to its conclusion. Not just Fagemo's speed, but his agility and edge work as well. It got to the point where Fagemo was able to generate offence effectively for Frolunda at the SHL level.
That said, there is still room for growth. Fagemo's first two steps, in particular, have major room for improvement.
Samuel Fagemo avgjorde med sitt 2-1 mål för Frölunda i förlängningen. #J20gifs #J20SESödra #LHCJ20 #FHCJ20 pic.twitter.com/Z5QgYSCHWk

— Anton Johansson (@antonj85) September 21, 2018
Any lingering concerns about Fagemo's competitiveness or investment in the game slowly faded as the season progressed. One could barely recognize the Fagemo of this year compared to the one of last season. This was especially true in the playoffs when the games mattered most, and Fagemo's compete level was through the roof in all three zones. He also scored ten points in 16 games.
We can attribute at least some of Fagemo's growth in this regard to the work of Frolunda head coach Roger Rönnberg, along with the rest of the coaching staff. They wouldn't give an inch. If Fagemo wanted to take shifts off, then he'd be doing so from the bench. Most of the credit, though, should go to Fagemo, the player who did all of the real work in this regard.
The effort level has improved, but Fagemo's defensive game remains a work in progress. I'd hardly describe him as a good two-way player; his positioning in the defensive zone remains suspect.
The most difficult attribute for a player to improve upon is their hockey sense. So it shouldn't be too surprising that Fagemo's defensive zone aware remains spotty.
On the bright side, Fagemo is playing with his head down far less frequently. It's made him a constant threat with the puck on his stick, both to shoot and to find his teammates.
Oscar Engsunds tackling på Samuel Fagemo. #LHF pic.twitter.com/g1Rw1Og2bm

— Anton Johansson (@antonj85) April 12, 2019
There's still plenty of pros left on the ledger of Fagemo's game for us to delve into, though, so let's start. His shot was a strength last year but now it's a legitimate threat. Fagemo's wrist shot has a fluid, quick release that produces a lot of power and precision to beat opposition goaltenders. Even by the lofty standards of the SHL, one of Europe's premier professional men's leagues, Fagemo's shot is high-end.
Samuel Fagemo reducerar till 4-1. #J20gifs #J20SESödra #FBKJ20 #FHCJ20 pic.twitter.com/dgarQiH4uf

— Anton Johansson (@antonj85) October 22, 2017
Fagemo also owes to a fantastic slap shot. It would be nice if Fagemo would use it more often. When he does, it's something to behold. Fagemo tends to use this weapon when he's at the top of the faceoff circle, with time and space to unload. I'm also a fan of his one-timer.
Samuel Fagemo skjuter 1-0 till Frölunda mot Djurgården. #2019NHLDraft pic.twitter.com/UG57Q3mcPg

— Anton Johansson (@antonj85) May 2, 2019
Another special part of Fagemo's game is his ability to find loose pucks around the opposing net. Similarly, Fagemo does a good job of making himself available to his teammate by finding space in the offensive zone. It's one of the main reasons Fagemo has been so successful in the SHL this season.
Framspelning av Samuel Fagemo till Frölundas 1-0 mål. #2019NHLDraft pic.twitter.com/RRhsE3Rzsn

— Anton Johansson (@antonj85) November 20, 2018
Even though Fagemo's game has evolved, significantly, and he's more willing to utilize his linemates offensively, it hasn't come at the cost of his 'take the puck to the net at all costs' ethos. Fagemo still challenges defenders 1-on-1 in the offensive zone and is quite forceful about getting to the high-danger parts of the ice. This helps his team out in two ways: it helps create space for his linemates and it generates havoc around the net.
It's an area where Fagemo's impressive, mature frame shines, even against men in the SHL. His upper and lower body strength are both great, and it gives Fagemo great balance, along with the ability to shield the puck from oncoming defenders.
Wow! Great moves by Samuel Fagemo but no goal. #SHL #2019NHLDraft pic.twitter.com/zI3ZADxIoc

— Eliteprospects (@eliteprospects) November 27, 2018
It's been a great season for Samuel Fagemo. He took the slight of last year's draft and used it as motivation to build for this June in Vancouver. It's made Fagemo a more diverse player, with steady improvement in the parts of his game that were already strengths. The numbers Fagemo produced this season as a pro in the SHL are of the quality that most NHL teams would be happy to see from their first-round prospects of last year's draft.
Not only is Fagemo going to get drafted this June; he's going to get drafted early.
You may also be interested in: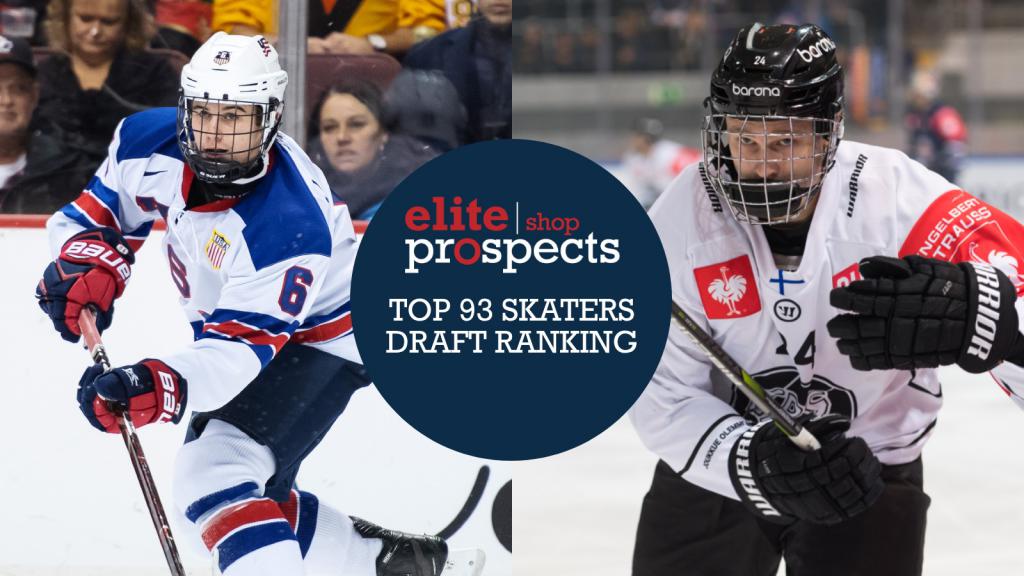 EXCLUSIVE: EliteProspects Top 93 Skaters 2019 NHL Draft Ranking
This article is about: