NHL Prospects
AHL PROSPECT WATCH: Carolina Hurricanes Draft & Develop Blend Takes Another Step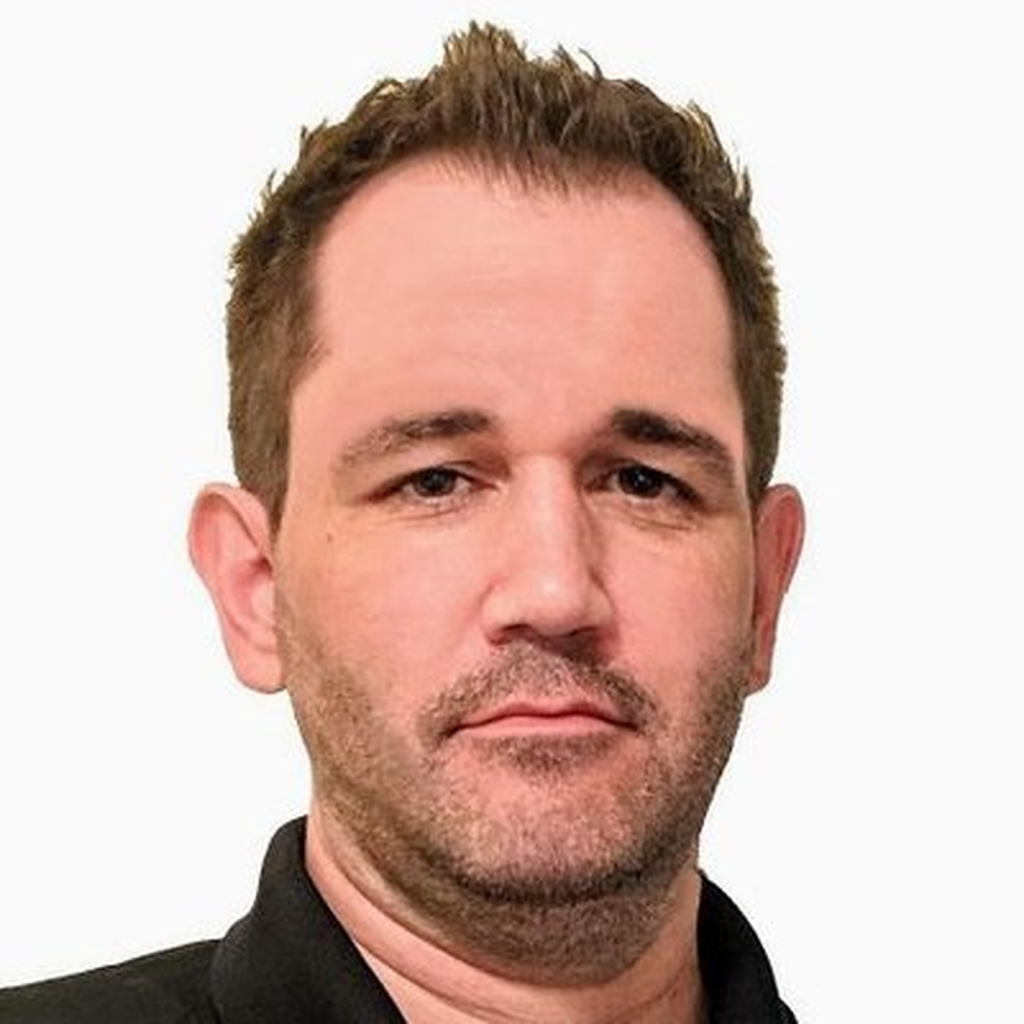 Patrick Williams
On a hot and steamy Sunday night in Charlotte, the Carolina Hurricanes' future took another step forward.
The Charlotte Checkers, Carolina's AHL affiliate, are off to the Calder Cup Final after knocking out the defending champion Toronto Marlies in a six-game Eastern Conference Final. Charlotte, the AHL regular-season champion, pulled out a 4-3 series-clinching win on Sunday night thanks to a goal from standout rookie forward Morgan Geekie 1:52 into double-overtime.
WE'RE GOING TO THE FINALS pic.twitter.com/O5UEvIftU3

— Charlotte Checkers (@CheckersHockey) May 27, 2019
Checkers goaltender Alex Nedeljkovic, a contender for a job with Carolina next season, returned after a Game 5 rest and put up a 43-save night for the Checkers. That included Toronto outshooting the Checkers, 28-11, in the final two periods of regulation. The Marlies also had a 9-3 advantage in power-play opportunities. Charlotte built a 2-0 lead before the Marlies rallied with three unanswered goals. Toronto nearly took that one-goal lead into the second intermission, but Checkers captain Patrick Brown's second goal of the game with 1:56 to go in the second period set up overtime.
Charlotte will host Game 1 of the Calder Cup Final this Saturday night against the winner of the Western Conference Final between the Chicago Wolves and San Diego Gulls. The Wolves have a 3-2 series lead going into Game 6 at home on Monday night. They won back-to-back games in San Diego this past weekend. Along the way, the Checkers eliminated the Providence Bruins in the first round and then also took out the Hershey Bears in a second-round sweep. Toronto had swept the Rochester Americans and Cleveland Monsters to set up their Eastern Conference Final date with Charlotte.
Carolina executives have to like what they are seeing to the south in Charlotte, where they have a stash of top-end young skill. Charlotte posted an AHL-best 51 regular-season wins and 110 points, and those wins have also accompanied significant strides for the organization's young prospects.
Geekie holds the AHL rookie playoff scoring lead at 7-8-15 in 14 games. He went undrafted in his 18-year-old year while in the WHL before landing with the Hurricanes organization as a third-round pick in the 2017 NHL Draft. From there he completed his WHL career with the Tri-City Americans, going 17-10-27 in 14 playoff games last season. This season with the Checkers, he posted a 19-27-46 rookie season and has taken off even further in the postseason as a 20-year-old
Forward Martin Necas, the 12th overall pick in the 2017 NHL Draft, helped to set up Brown's game-opening goal in the first period. The 20-year-old has a found a successful home on a line with Brown and established veteran Tomas Jurco, a late-season addition from the Springfield Thunderbirds. After a 16-36-52 regular season, Necas has had a 2-5-7 postseason.
Aleksi Saarela, a key return piece in the Eric Staal trade with the New York Rangers, continues to grow as well. The 22-year-old hit 30 goals in his second AHL season. A stocky forward (5-11, 198) who knows how to push his way into scoring areas, Saarela's hands have also helped him to a 6-6-12 playoff performance so far.
If you want variety — shiftiness, speed, size or assorted other methods of causing headaches for opposing defences — the Charlotte attack offers that. First-round pick Julien Gauthier posted 27 goals in his second pro season and is a prototypical power forward. Nicolas Roy, who is 3-8-11 in the Calder Cup Playoffs, brings speed on a 6-4, 215-pound frame that defines Charlotte's highly aggressive, puck-hungry approach that still stays within the bounds of a heady, intelligent game. Opponents have had difficulty handling him on the forecheck this season, and he had a 17-19-36 second pro season. Before too long, he could slot in nicely as a bottom-six option for the Hurricanes.
Forward Clark Bishop, who had a shorthanded goal in Game 6, plays a hard-working, two-way game that has taken him from a fifth-rounder who required ECHL development time to a player who had a stretch with the Hurricanes this season.
Defenseman Jake Bean needed roughly five to ten pro games at the start of the season before establishing himself as a top-pairing AHLer at age 20. Carolina took him 13th in the 2016 NHL Draft, and he brings the sort of composed, comfort-inducing presence that every head coach seeks. That also earned him a spot on the AHL All-Rookie Team as part of his 13-31-44 regular season. He spent much of this postseason on recall to the Hurricanes before returning for the Toronto series but could very well be a part of the Carolina blue line as soon as next season. Yet another first-rounder, defenseman Haydn Fleury, has his critics, but he has put in 87 regular-season games with Carolina in two seasons.
There is also Nedeljkovic, a 2014 Carolina second-rounder who is now in this third pro season. He has been an AHL workhorse, playing 49 games last season and a league-high 51 games this regular season. Remember that the AHL is a league full of 3-in-3 weekends, the Checkers typically have road trips stretching four to six games, and their home schedule is filled with games on back-to-back nights. His 34-9-5 | 2.26 | .916 regular season won him AHL First-Team All-Star honours as well as the "Baz" Bastien Memorial Award as the AHL's top goaltender. He has carried that through to the postseason, going 8-3 | 2.28 | .914.
The Hurricanes also have a few less-heralded darkhorse prospects in Charlotte. Newcomer Jesper Sellgren has adapted quickly to the North American game on the Charlotte blue line. At 20 years old, he is a sixth-rounder whose stock continues to rise ("NHL potential, without a doubt," Checkers head coach Mike Vellucci said before the series). Undrafted forward Nick Schilkey made significant progress this season and has created a role for himself among a deep group of forwards.
Blend in a modern-day head coach in Vellucci who gives that young talent the freedom to play with skill and pace while also staying within a structured system, plus a good base of quality veterans, and the Checkers represent everything that makes a successful NHL development program today.
Quietly Carolina continues to build one of the NHL's top development systems. Strong work at the NHL Draft table has carried over into the AHL development process, success in Charlotte has followed, and there is reason to think that the Hurricanes soon can bring this talent to the NHL level.
This will be the first trip to the Calder Cup Final for a Carolina/Hartford Whalers AHL affiliate since 1991. That season, their Springfield affiliate won the championship. Journeys this deep into the spring have been rare for the organization at the AHL level, where their only other Calder Cup Final appearance came in 1982 when the then-Binghamton Whalers were a runner-up.
GLASS ON THE FAST TRACK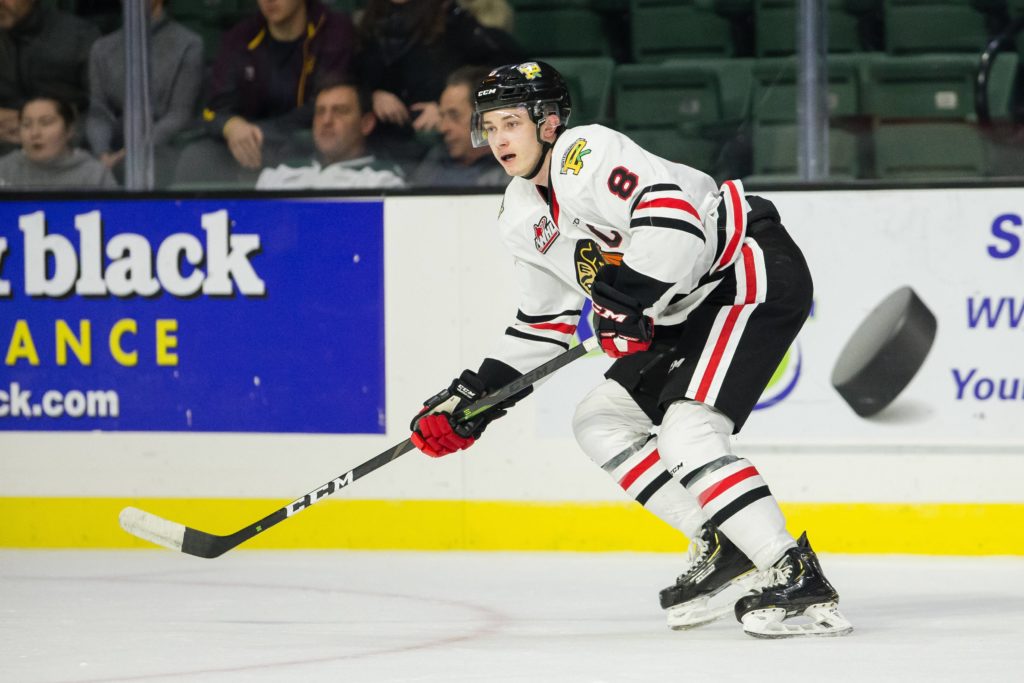 Wolves rookie forward Cody Glass may be fast-tracking his path to the Vegas Golden Knights.
Taken as the sixth pick in the 2017 NHL Draft, Glass holds down third place in AHL rookie playoff scoring at 6-6-12. He joined the Wolves late in the regular season, quickly stepped into a regular role, and has barely slowed down since then.
He had a goal and an assist in the Wolves' 5-2 victory in Game 5 at San Diego that has them one win away from the Calder Cup Final. As the Golden Knights are only in their second season, the Wolves are trying to become their first AHL affiliate to reach the Calder Cup Final. They had a 98-point regular season that topped the Western Conference. They also were the Western Conference regular-season champion but were swept in the first round.
San Diego is also attempting to become the first Anaheim Ducks AHL affiliate to reach the Calder Cup Final. This is the third time in Anaheim's 26 seasons that their AHL affiliate has advanced to a conference final.
The Wolves have also managed to slow down San Diego rookie standout forward Max Comtois, who had wreaked havoc against the Bakersfield Condors in the second round. Comtois, 20, has been held to six shots in his past four games and managed only assist. He had burned the Wolves for a pair of goals in the opening game of the series. Comtois, an Anaheim second-rounder in 2017, has 5-4-9 through 11 playoff games. He is with his fourth team this season after stints with Anaheim, the Drummondville Voltigeurs of the QMJHL, and Canada at the IIHF World Junior Championship.
FROM ROCKFORD TO BRATISLAVA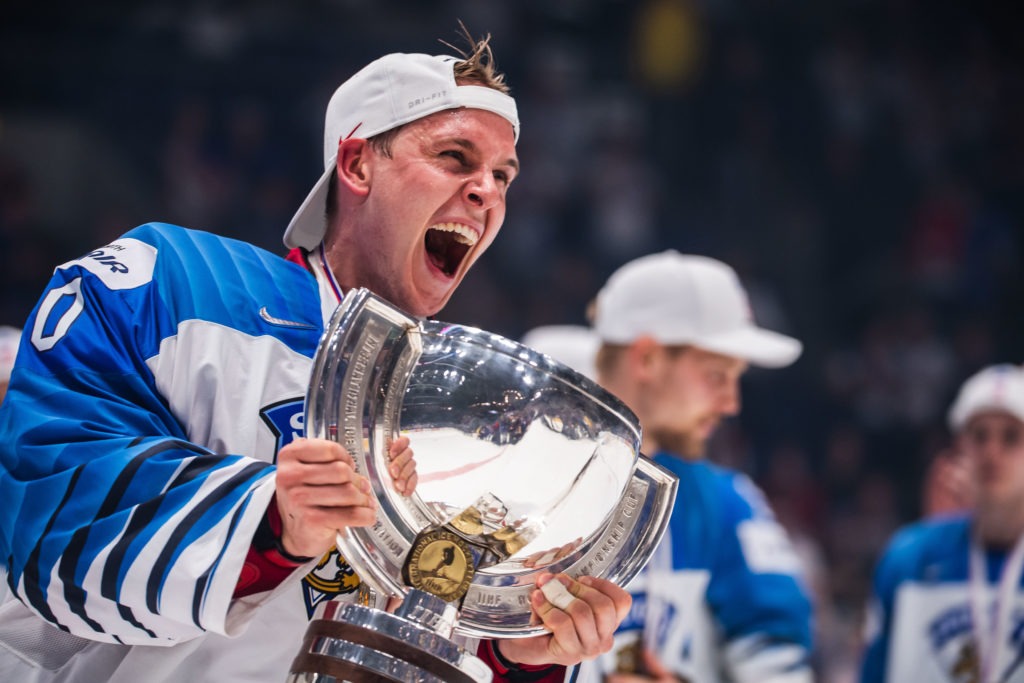 Rockford IceHogs goaltender Kevin Lankinen ran the international gauntlet on his way to gold at the IIHF World Championship in Slovakia. On Sunday in Bratislava, his 43-save night helped lead Finland to a 3-1 gold-medal win against Canada. A day earlier, he shut out Russia and also defeated powerhouse Sweden in the quarterfinal. That completed a 7-1 | 1.51 | .942 gold-worthy feat for the 24-year-old.
Lankinen had signed a two-year deal with the Chicago Blackhawks in May 2018 and remains under contract to the organization through next season. This season, his first in North America, he played 19 AHL games (7-8-4 | 2.50 | .910) while also spending time in the ECHL. That came after a standout 2017-18 season in Finland's Liiga with HIFK, where he posted a 10-3-2 | 1.33 | .946 regular-season line. In 2016-17 with the club he was 13-19-9 | 2.14 | .920 across 42 games.
So where does this performance leave Lankinen in the Blackhawks' organizational goaltending picture going into next season?
Well, it certainly raises some additional questions, good questions, for the Blackhawks. And if there is one truism of the salary-cap era, it is that having options and roster flexibility is a must-have.
Blackhawks mainstay Corey Crawford, 34, has one more season to go on his $6 million cap hit. Collin Delia continues to show progress. Cam Ward is 35-years-old, will be an unrestricted free agent this summer, and seems unlikely to return. Anton Forsberg, who shared Rockford's goaltending duties this season, will be a restricted free-agent.
Collin Delia, 24, has had a quick rise through the Chicago development chain and ended up playing 16 games this season with the Blackhawks. A Crawford-Delia tandem in Chicago with Forsberg-Lankinen working out of Rockford is the most likely arrangement for the Blackhawks next season. But Lankinen might also be ready – and need – to take on a heavier workload with Rockford in 2019-20.
AROUND THE 'A'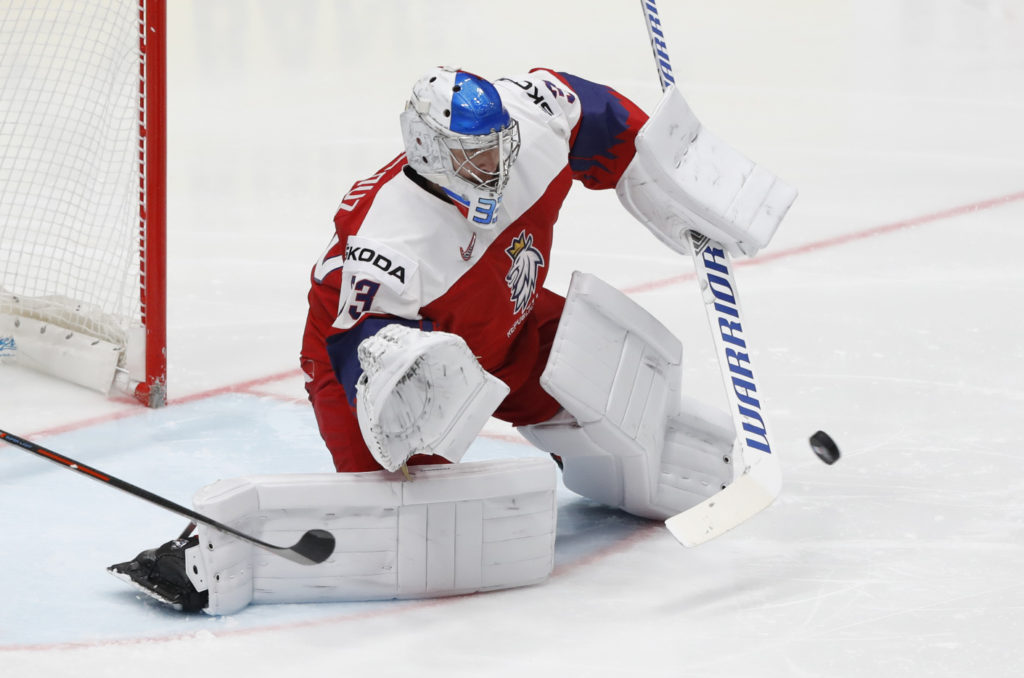 Colorado Eagles goaltender Pavel Francouz looks like he made his year in the AHL pay off for the future. The 28-year-old Francouz is coming off a standout first campaign in North America that earned him a new one-year contract with the parent Colorado Avalanche for next season. Before coming to the Eagles, Francouz had spent his entire career in Europe, where he had three seasons in the Czech Extraliga before another three-season stint in the KHL. Francouz went 27-17-3 | 2.68 | .918 in 49 games for the Eagles and gave the Avalanche a long-needed strong number-three option on the goaltending depth chart. With Semyon Varlamov eligible to be an unrestricted free agent this summer, Francouz looks like an easy fit with Philipp Grubauer in the Avalanche net next season.
The San Antonio Rampage have been finished since April, but defenseman Niko Mikkola is not the only member of the St. Louis Blues organization still playing late into May. Mikkola, 23, played 10 games (2-3-5) for Finland at the IIHF World Hockey Championship, his first time at the tournament. He earlier competed for Finland in international play, including the IIIHF World Junior Championship. A 2015 fifth-round pick by the Blues, he could be in line for a long look at NHL training camp in September after playing 70 games for San Antonio (2-9-11). St. Louis defensemen Michael Del Zotto and Carl Gunnarsson are pending unrestricted free-agents as are San Antonio veterans Chris Butler and Tyler Wotherspoon.
This article is about: