Scouting Reports
BURKE: 5 NHL Prospects That Stood Out at the 2019 Memorial Cup
The Rouyn-Noranda Huskies are your 2019 Memorial Cup Champions after defeating the host team, the Halifax Mooseheads, by a score of 4-2 in Sunday's championship game.
The Rouyn-Noranda @HuskiesRn are your 2019 Memorial Cup Champions, after defeating the host Halifax Mooseheads by a score of 4-2. pic.twitter.com/r4r4AoLwVk

— Eliteprospects (@eliteprospects) May 27, 2019
It's the first time in the history of the Huskies' franchise that they've come away as the winner of the annual CHL showcase, which pits the OHL, WHL, and QMJHL champions, along with a predetermined host team, against each other for the chance at hoisting one of hockey's oldest trophies.
Do they win that trophy without contributions from players like Joel Teasdale or Noah Dobson? It's hard to imagine a way that happens. Drafted and undrafted NHL prospects don't comprise the entirety of the tournament, but they always seem to find a way to place themselves in the centre stage.
It's what makes the Memorial Cup appointment viewing, even for those less than familiar with the CHL product at large.
So with that, let's take a look at the five prospects — drafted, undrafted, available in the 2019 NHL Entry Draft — who distinguished themselves over the course of the tournament.
Jakub Lauko, W, Rouyn-Noranda Huskies
Something about bright lights and the biggest stages brings out the best in Jakub Lauko; a Boston Bruins third-round pick from the 2018 NHL Entry Draft. That penchant for heroics was on full display when Lauko outmaneuvered the Mooseheads defenceman to put the puck on Peter Abbandonato's stick in a prime position to score the go-ahead goal for the Huskies in the Memorial Cup Final game — it would prove to be the game-winning goal, too.
How's this for a goal? Peter Abbandonato sends this one past Alexis Gravel (#Blackhawks) after Jakub Lauko (#NHLBruins) uses some slick moves to set him up in the slot.

The @HuskiesRn lead the Mooseheads 3-2 with 15:30 left in the 3rd period. #MemorialCup2019 pic.twitter.com/UiRWlvyM8A

— Eliteprospects (@eliteprospects) May 27, 2019
It was a nice little cherry on the top of Lauko's exceptional tournament, one in which he led all skaters with eight points (two goals and six assists) in five games. Lauko took his lunchpail, blue-collar game to another level when his team needed it the most, displaying puck skills and vision that I'd scarcely seen from his play in prior viewings.
Where Lauko's game goes from here will be fascinating to watch. His production in the Czech Extraliga for Pirati Chomutov — modest as it was on its face — was suggestive of a player with top-six upside. As a member of the Huskies this year, though, Lauko's production was only good on a Memorial Cup calibre team, playing the second-most estimated minutes at 5-on-5, per the indispensable www.prospect-stats.com.
If a tournament like this one is any indication, Lauko is ready to take that next step. He'll have every opportunity to next season as overage players age out of the league, and others get NHL opportunities.
Noah Dobson, D, Rouyn-Noranda Huskies
It was going to be near-impossible for Noah Dobson to perform an encore worthy of his first Memorial Cup win with the Acadie-Bathurst Titan last season, and yet he nearly did just that. Dobson, the New York Islanders 12th overall pick in last year's draft, was a constant presence on the Huskies blue line, playing difficult shutdown minutes against the opposition's best with aplomb. Even so, Dobson finished with a plus-four rating, and while plus-minus is a clumsy metric, it will have to suffice in lieu of something more precise.
Don't make the mistake of assuming Dobson's contributions were solely defensive in nature, though. Whenever the opportunity presented itself, Dobson used his powerful skating stride to push the pace and attack with the puck, often successfully. Dobson's speed was so overwhelming that Guelph Storm defenceman Dmitri Samorukov was forced to hook him and surrender a penalty shot in Friday's Semi-Finals match — a calculated decision by Samorukov that worked, as Dobson failed to convert.
Noah Dobson (#Isles) is, dare I say, on one. What a set of moves. pic.twitter.com/NufC9BNhiI

— Eliteprospects (@eliteprospects) May 25, 2019
Scouts often compare Dobson to St. Louis Blues defenceman Alex Pietrangelo — talk about lofty praise. If Dobson can crack the Isles lineup next season, a prospect which seems likely at present, that puts him on a faster track to the NHL than his supposed predecessor.
Joel Teasdale, W, Rouyn-Noranda Huskies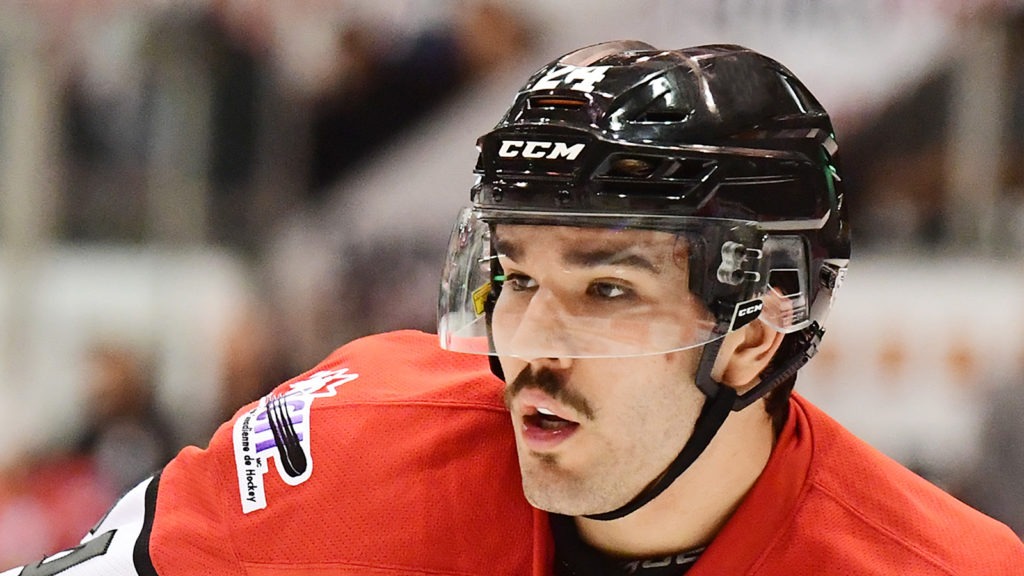 It says a lot about Joel Teasdale's game that he was able to win the Memorial Cup MVP despite trailing his teammate, Lauko, by three points. He was the player that stirred the drink for the Huskies though. When Rouyn-Noranda needed a big hit or a goal to spur them to action, it felt like Teasdale was always first through the breach leading that charge. Sometimes, Teasdale would do both on the same play!
The back-and-forth continues. Joel Teasdale (#GoHabsGo) strips Sean Durzi (#GoKingsGo) of the puck and snipes it top corner.

The @HuskiesRn and Guelph Storm are tied at 2. #MemorialCup2019 pic.twitter.com/iL0uDTh3nV

— Eliteprospects (@eliteprospects) May 24, 2019
It was a tour de force performance from Teasdale who seems to relish living on the line as a rule and crossing it when he deems it necessary. He's the type of player one hates to play against but would love to see on their favourite team.
Joel Teasdale (#GoHabsGo) of the @HuskiesRn is your 2019 Memorial Cup MVP! pic.twitter.com/Pn8d5mLzbF

— Eliteprospects (@eliteprospects) May 27, 2019
For Montreal Canadiens fans, it's less theory than it is an almost realized fantasy. The Habs signed Teasdale to an entry-level contract after the NHL collectively wielded their right of refusal in consecutive drafts. In the time since then, Teasdale has done nothing but reward their investment, with continued growth corresponding with someone who has a real shot at developing into an agitating bottom-six winger some time in the not-so-distant future.
Nick Suzuki, C/W, Guelph Storm
Guelph Storm centre Nick Suzuki was the single-most dynamic offensive threat in the Memorial Cup. The seven points (three goals and four assists) in four games place Suzuki second in overall scoring, but his point per game pace of 1.75 ties him for first in the tournament with his Storm teammate and Los Angeles Kings prospect Sean Durzi.
It's tic-tac-goal for Sean Durzi (#GoKingsGo) and Nick Suzuki (#GoHabsGo) who connect for the goal. It's Suzuki's second of the game.@Storm_City lead the Huskies by a score of 5-2.#MemorialCup2019 pic.twitter.com/GIAJATCvqT

— Eliteprospects (@eliteprospects) May 18, 2019
Nobody worth their salt as an analyst has ever doubted Suzuki's skill. He's an elite playmaker with high-end vision and creativity with the puck. During the Storm's post-season run, Suzuki also displayed finishing ability that we'd only seen rare glimpses of previously. There isn't anything missing from Suzuki's toolkit.
The only real question for the Canadiens, who acquired Suzuki from the Vegas Golden Knights in exchange for Max Pacioretty last summer, is whether he's physically ready for the challenge of the NHL. At 5-foot-11 and only 183 lbs., it's a fair question to ask, particularly for a rebuilding team that doesn't necessarily need to force him into the lineup and harm's way even a second earlier than he's ready for it.
Noah Gregor, W, Prince Albert Raiders
There was no shortage of players on the Prince Albert Raiders who failed to meet even the most modest of expectations at the Memorial Cup. Noah Gregor, a San Jose Sharks fourth-round pick in the 2016 Draft, wasn't one of them.
The Raiders only played three games in Halifax, but that didn't stop Gregor from placing 12th in tournament scoring and tied for second in the tournament in points per game, with two goals and three assists. Gregor was everything for the Raiders attack, from a net-front presence to an elusive puck-carrier to a half-wall triggerman.
The @PARaiders have made it a one-goal game! Noah Gregor (#SJSharks) deflects the shot past Alexis Gravel. @HFXMooseheads lead 2-1.#NHLEntryDraft #MemorialCup pic.twitter.com/RKWtsaqoHN

— Eliteprospects (@eliteprospects) May 18, 2019
Gregor, who remains something of an NHL long-shot, will join the San Jose Barracuda next season. In all likelihood, that's where his season will end, too. With continued refinements in his game, though, Gregor could become a serviceable middle-six forward at the NHL level.
Honourable Mentions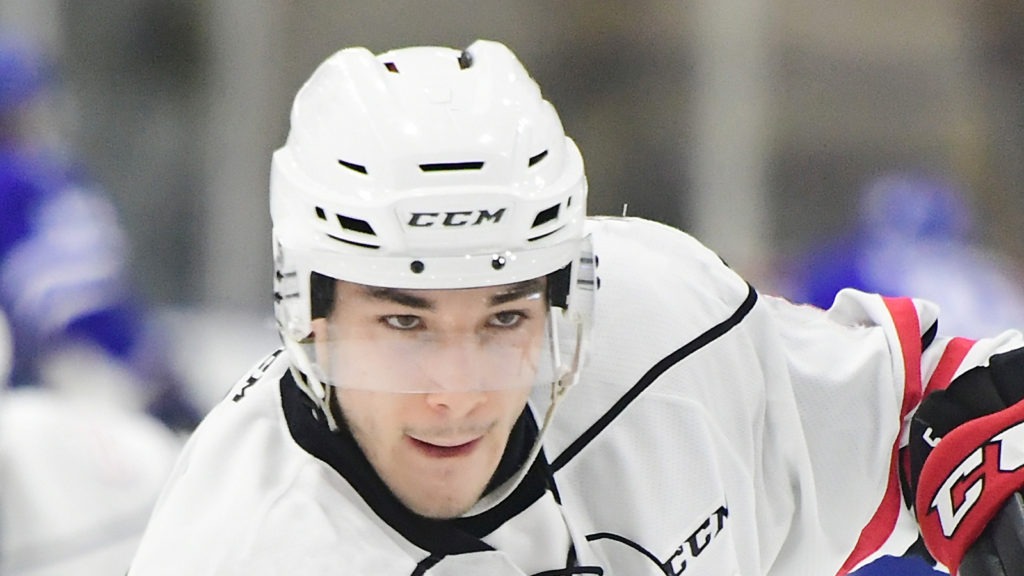 Sean Durzi, D, Guelph Storm
It's hard to ignore Durzi's production. The Kings defensive prospect acquired before this year's deadline as a part of the return in the Jake Muzzin trade put up seven points (three goals and four assists) in seven games. It was also hard to ignore how poorly Durzi looked on some of the goals scored with him on the ice.
As always, the question with Durzi is whether he can get his game in the defensive zone to even an average level.
Raphael Lavoie, C/W, Halifax Mooseheads
Raphael Lavoie was, by far, the best draft-eligible prospect at the Memorial Cup — first-time draft eligible or otherwise. While one might hope for more production from Lavoie, who only scored two goals and added one assist, it's hard to fault his effort — Lavoie put 17 pucks on net, third-most in the tournament.
Bo Groulx (#GoDucksGo) exits the penalty box, separates the puck from the Huskies defender, and Raphael Lavoie (#2019NHLDraft eligible) does the rest, burying the breakaway opportunity.

The @HFXMooseheads lead 2-0 in the #MemorialCup2019 Finals match. pic.twitter.com/mc7jA8XWZI

— Eliteprospects (@eliteprospects) May 27, 2019
It will be interesting to see where Lavoie goes in the draft this June. Many pegged him as an early first-round pick coming into the year. Concerns about whether he's a driver or a passenger on a stacked Mooseheads team seem to have dulled some of that shine for most, but I still view him as a high-end prospect and rank him accordingly in the teens.
Alexis Gravel, G, Halifax Mooseheads
It's hard to fault Alexis Gravel for the Mooseheads loss on Sunday. He barely had a chance, if any on each of the four goals that the Huskies scored — which says nothing of the sheer volume of shots he had to face in that game period.
Patrik Hrehorcak goes in all alone for the @HuskiesRn, but Alexis Gravel (#Blackhawks) flashes the leather to preserve the tie for his @HFXMooseheads.#MemorialCup2019 pic.twitter.com/sVnZJzl5Lq

— Eliteprospects (@eliteprospects) May 27, 2019
Gravel, a Chicago Blackhawks sixth-round pick from last year's draft, finished the tournament with the best save percentage (.918) and goals-against average (2.78) by sizeable margins, and ultimately was rewarded with Memorial Cup Most Outstanding Goaltender and Memorial Cup All-Star honours. Deservedly so.
You may also be interested in: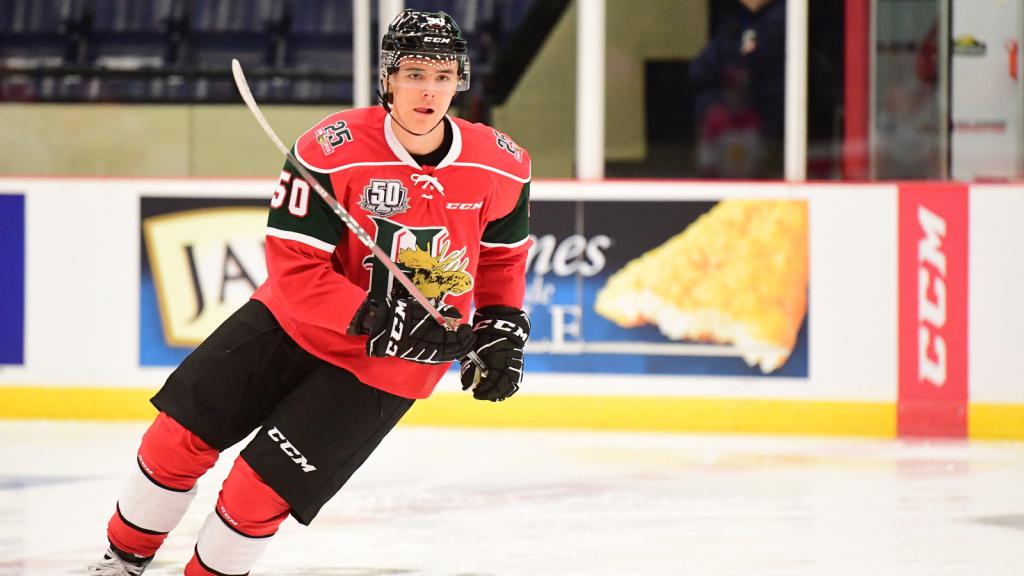 THE PIPELINE SHOW: Memorial Cup Coach's Show
This article is about: