NHL Entry Draft 2019
EP Rinkside NHL Draft Retrospective; All our Draft Coverage, Analysis in One Place
The NHL Entry Draft may still be over two weeks away — at the time of writing this, anyway — but we've been hard at work since EP Rinkside's launch in November providing thoughtful, detailed analysis and reporting on the annual showcase.
Chances are that even our most dedicated readers haven't had a chance to read all of those articles, though. It's a lot of content. By my reckoning, there are no fewer than 65 pieces that are, at the very least, draft adjacent.
We are proud to present the first ever EliteProspects Draft Ranking. Our draft analyst @JDylanBurke has scouted, analyzed, ranked and presented the Top 93 skaters available in the 2019 NHL Draft. Sit back and enjoy. It's out NOW and FREE for one hour! https://t.co/MvDx3O1rhj pic.twitter.com/ZhHBazqR5T

— Eliteprospects (@eliteprospects) April 17, 2019
So, as a solution, we've consolidated all of our coverage of the NHL Draft into one convenient space, and you're in it. Think of this article as a constantly growing and dutifully maintained space where you can catch up on every EP Rinkside article that relates to this year's Draft.
Let's dig in.
Albin Grewe – the 'T-Rex' who is a Pain in the Ass by Uffe Bodin
"A skilled, fast winger with a physical edge. That's how draft eligible winger Albin Grewe would like to present himself. The 17-year-old made his debut with Djurgården in the Swedish Hockey League in mid-October and made quite the impression right before the league had its national team break in early November."
TOP 10 – USHL: The Jack of All Trades a Bonafide Star by Aaron Vickers
"USA Hockey's National Team Development Program is a force for developing NHL Draft talent."
"The 2019 NHL Draft is poised to be no different, with the NTDP dominating the list of prospects available from the United States Hockey League."
"It should come as no surprise."
…
"This June should be just as fruitful for the NTDP, who have produced 310 NHL Draft picks since first eligible in 1999, including 72 first round picks. The NTDP dominates the United States Hockey League in terms of potential first round picks and is almost certain to improve upon their mark from 2018."
TOP 10 – EUROPE: Kakko Leads the Class of '19 – Is He the Next Laine? by Aaron Vickers
"The ties Europe has had to the NHL Draft have unquestionably been strong."
"The ties to the first overall pick have been of late, too."
"In 2018, it was standout Swedish defenseman Rasmus Dahlin who was nabbed by the Buffalo Sabres at first overall. The Frolunda defenseman was unanimously the consensus heading into draft weekend last June. In 2017, it was Switzerland's Nico Hischier, though skating with the Halifax Mooseheads of the Quebec Major Junior Hockey League, who emerged as the first overall selection of the New Jersey Devils. In 2016, Auston Matthews who the Toronto Maple Leafs selected with the first pick. Matthews, an American-born player, spent his draft season in Zurich."
"Kaapo Kakko of TPS will have a hill to climb to continue the trend. Regarded unanimously as the consensus second overall pick, Kakko has a task in unseating Jack Hughes of the United States National Team Development Program as the first overall pick on June 21."
"But Kakko isn't all that Europe has to offer."
"Here are some of the names you need to know."
"I see This as my Revenge" – Fagemo Bounces Back After Being Overlooked by Uffe Bodin
"It wasn't what Samuel Fagemo expected. Sure, the 18-year old Swede had a 2017/18 season that was plagued by injury and some inconsistencies, but he figured that he had shown enough to be one of the 217 players chosen at the 2018 NHL Entry Draft in Dallas."
"To his surprise and great disappointment, the 31 teams in the league didn't agree."
"When everything was said and done, the right shooting forward from Frölunda remained untouched throughout the seven rounds."
Avenging Laine: Time for Kakko to Show the Finn can beat the American by Hampus Duvefelt
"Stop me if you've heard this story before: an American center with electrifying, game-breaking ability goes up against a skilled Finnish winger in a battle to be drafted first overall. The American; the consensus #1 pick among scouts and the clear-cut favorite throughout the season, and the Finn; slowly but surely working his way into contention through impressive performances in the top Finnish league, Liiga."
"Am I describing the 2016 NHL draft battle between eventual #1 pick Auston Matthews and #2 pick Patrik Laine, or the ongoing 2019 battle between Jack Hughes and Kaapo Kakko? You tell me. The similarities are there, if not striking."
TOP 10 – QMJHL: Lavoie Leads Strong Batch of Prospects by Aaron Vickers
"The Quebec Major Junior Hockey League could be on the verge of an uptick at the NHL Draft."
"After back-to-back seasons of producing just a pair of first round picks, and 14 selections in total, the 2018 NHL Draft class saw four players — Filip Zadina (No. 6; Detroit Red Wings), Noah Dobson (No. 12; New York Islanders), Nicolas Beaudin (No. 27; Chicago Blackhawks), Joe Veleno (No. 30; Detroit Red Wings) — nabbed in the opening 31 selections from the QMJHL and 23 in total. Both figures are bests since 2015 reached five first rounders and 30 total draftees."
"The 2019 NHL Draft could see even more improvement when it comes to top-end talent."
Next in Line – Söderström the Latest Swedish D-Man to Rave About by Måns Karlsson
"When the SHL season started, it was said that Brynäs had the best group of defensemen in Sweden. That was even though Chicago Blackhawks first-rounder Adam Boqvist had left the team to play for the London Knights in the OHL.Still, the season started in a miserable way, and a couple of key D-man were injured. Suddenly, 17-year-old Victor Söderström was called upon to play. And he did it well beyond expectations. It only took the young Swede a couple of games to prove himself as one of the biggest surprises in the SHL this season, and he had an immediate effect on the struggling team."
Making amends – improved Hugg sets his eyes on the World Juniors by Uffe Bodin
"It was a summer he would like to forget. In April of 2017, Rickard Hugg had captained Sweden to a silver medal at the U18 World Junior Championships. Much to his chagrin, that didn't help him get drafted in Chicago a few months later.  A big disappointment to the center, who early on was touted as one of the best players to come out of the Swedish class of 1999."
Bobby Brink Entering First Round Conversation by John Gove
"Bobby Brink, an Excelsior, Minnesota native, began making a name for himself playing hockey for Minnetonka High. In his first season, 2016-17, he made an immediate impact, posting 26 points in 25 games. Brink co-led the team in points with Jack Bayless the following season with 44. Additionally, he contributed to Minnetonka obtaining the state championship, a highly regarded feat in Minnesota."
Trevor Zegras: Elite Centre Lurking in the Shadow of Jack Hughes by John Gove
"However, [Hughes] is far from the only center available in the 2019 NHL Entry Draft that deserves your undying attention. The second-best center is not only close behind Hughes regarding skill and potential, but he also happens to lace his skates for the same team. That player is none other than Bedford, New York Native, Trevor Zegras.
A Call to Arms – Broberg Gets the Chance to Show he Belongs at the WJC by Uffe Bodin
"When the phone rang, Philip Broberg was quite surprised to hear Tomas Montén's voice on the other end of the line. Sure, he knew that he was one of the reserves for the Swedish World Juniors' team, but he didn't know if there were other defensemen ahead of him on head coach Montén's list of reserves, nor had he heard of injuries to any player on the preliminary roster."
From the U.S. WJC Selection Camp – Can Jack Hughes Live up to the Hype by Julie Robenhymer
"USA Hockey is holding their selection camp ahead of the World Juniors in Everett, WA right now. EP Rinkside's Julie Robenhymer was joined by NHL.com correspondent Mike Morreale to talk about the process that the Americans are going through to create a gold medal candidate."
Bloodlines – Bertuzzi Acknowledges the Pressure of his Last Name by Aaron Vickers
"The photo remains on display, proudly, in the Bertuzzi household."
"Todd Bertuzzi, at the time a grizzled National Hockey League veteran in his 18th — and final — season, in the locker room getting ready for a regular-season twirl against the Nashville Predators."
"Mike Babcock, Bertuzzi's coach with the Detroit Red Wings, holding court with his crew."
"And Tag Bertuzzi, Todd's youngster, sitting attentively in the stall — decked out beside his dad in a Red Wings tracksuit."
Moving Christmas to Vancouver – Leason Hopes to Celebrate Holidays with Gold by Aaron Vickers
"Brett Leason – Calgary product and standout star of the Prince Albert Raiders in the Western Hockey League – didn't imagine his family would have to make the pivot to Vancouver just six months ago."
"Then again, the past six months has been pretty crazy for the kid, anyway."
Draft Eligibles to Watch: 2019 Prospects From Group A by Aaron Vickers
"The general rule of thumb as it pertains to draft-eligible participants in the IIHF World Junior Championship is that a good showing can only help, and a subpar showing will still guard against a dip."
"That doesn't mean, however, that there aren't some heavy expectations on some regardless of draft stock."
"And though Group B will feature the most dramatic matchups as it pertains to entrants in the 2019 NHL Draft class, there is still plenty of talent to sift through when it comes to the likes of Canada, the Czech Republic, Denmark, Russia and Switzerland."
Taking Andersen's advice – Sogaard looking to be next great Dane by Dhiren Mahiban
"VANCOUVER, B.C. – – Mads Sogaard needed just one soccer practice to know the game wasn't for him. As a child growing up in Aalborg, Denmark Sogaard became a hockey fan early on thanks to his father and was playing goal before his fourth birthday."
"Now the 18-year-old has aspirations of joining Frederik Andersen as the only other Danish goaltender in the NHL. "
Why You Should Watch the CHL/NHL Top Prospects Game by Dub Network
"2019 marks the 24th edition of the CHL/NHL Top Prospects game that has seen hundreds of players pass through to go on to successful hockey careers. It brings 40 of the best draft eligible players out of the Canadian Hockey League together to showcase themselves to an abundance of NHL scouts.
This game is a great event for both junior hockey fans and NHL fans that are interested to see who their favourite NHL team could be drafting come June as well for fans around the country to get a glimpse of players that they may have heard of but have yet to have the opportunity to watch play."
BLOG: Helge Grans Top Prospect in J20 Continuation Series by Christoffer Hedlund
"Today I will continue with what I started in my last post. For those of you that missed it, I went through the teams in J20 SuperElit, and started with those that qualified for J20 SuperElit Top10 (if you want an explanation of how J20 SuperElit's system works you can find it in my last text). Today I will continue to go through the teams, but now it is time for the teams that did not qualify for J20 SuperElit Top10, and will have to play in J20 SuperElit "Fortsättningsserien" (the Continuation series)."
Not Just Kakko: An Introduction to Finland's 2019 Draft Class by Miika Arponen
"In recent years, Finland has quickly risen to be one of the hockey superpowers when it comes to World Junior Championships or the NHL Draft."
"Finland has had a top 3 pick in the draft for three consecutive years now and the upcoming 2019 Entry Draft doesn't seem to be making an exception for that rule. Kaapo Kakko is virtually a lock to be picked as one of the first three players in Vancouver."
"In 2017, Finland had its best draft crop ever. Six Finns were picked in the first round, another six in second. The 2019 group is not going to be breaking these records, but it's an impressive bunch of players nonetheless."
VICKERS: Slump Doesn't Slow Self-Improvement in Dach by Aaron Vickers
"New year. Improved Kirby Dach."
"Dach, fourth overall in Future Considerations' Winter ranking for the 2019 NHL Draft, has more than rebounded from a difficult holiday season that saw the 17-year-old hit his first major speed bump in an otherwise dazzling draft season in the Western Hockey League."
Brimming With Confidence – Moberg Evolving Into Offensive Threat by Dub Network
"Cole Moberg has gone from just your average defenseman in the Western Hockey League to an offensive threat in just over one full season – all thanks to what he says is his confidence."
Newhook Wise Beyond Years – Looking to Make History by Aaron Vickers
"Newhook, who paces the British Columbia Hockey League in scoring with 69 points (24 goals, 45 assists) in just 38 games, knows he needs to be productive to stand out."
Rising to the Top – Leason, Podkolzin, Broberg Peaking at the Right Time by Aaron Vickers
"And, perhaps, there's no bigger jumper than Brett Leason of the Prince Albert Raiders of the Western Hockey League."
SCOUTING REPORT: Holmström, Holtz, Björnfot dominant in Swedish Juniors by Christoffer Hedlund
"Before the game, while looking through the line-ups, it was hard to not get excited for the first line that Hv71 had put together. 2019 Draft-eligible Simon Holmström and 2020 draft-eligible Zion Nybeck, two players that very well could be picked in the first round of each of their drafts, were put on the wing of Lukas Isaksson – which is about as much speed and offensive firepower a top-line in J20 SuperElit will have. But that line was not more than decent throughout this game, they spent almost all their shifts in the offensive zone, but Djurgården defended well and often kept them on the outside. It looked more like three good players playing together, rather than one strong line, but if they are given some more time and they find some chemistry between them that line could be a force to be reckoned with in the future."
Ryan Suzuki following in older brother Nick's footsteps: "He shows me the ropes" by Aaron Vickers
"After recording 44 points (14 goals, 30 assists) as a rookie last season, Ryan has emerged as one of Barrie's primary offensive threats with 46 points (15 goals, 31 assists) in 43 games."
Draft stock up for healthy Turcotte: "It's such a big year in your life" by Aaron Vickers
"This is definitely the biggest year of my life. You definitely think about it, but honestly, in a sense, my injury at the start of the year helped me where I don't really think about it too much. I'm just trying to go out there and do my best, play my best, and have fun. I'm not really paying attention to it as much as I think other people are."
Captain Krebs: "It was definitely a pretty crazy honour to have" by Aaron Vickers
"What Krebs has done to this point has him talked about as a surefire first round pick — and potential top-10 selection — in a 2019 draft that is ripe with plenty of top prospects in the West."
COHEN: Has Cole Caufield Moved Into the Top-15? by Russ Cohen
"Cole Caufield is a 5-7, 170-ish pound member of the NTDP.  He has some great teammates on that team including Alex Turcotte and Jack Hughes. He's always the third name mentioned, and that's fine, but he's elevated his play to the point that a Top 15 selection is possible in the 2019 NHL Draft in Vancouver."
Moritz Seider – Germany's Next First Rounder? by Aaron Vickers
"Seider, born in Zell (Mosel), Germany, has developed into one of the top prospects for the 2019 NHL Draft despite hailing from a country of just 20,938 registered hockey players."
Grizzlies Rookie Alex Campbell Stepping Into Draft Spotlight by Aaron Vickers
"Alexander Campbell of the Victoria Grizzlies has found plenty of spotlight as one of the sharpest risers in the 2019 NHL Draft."
All he does is win – Blaisdell keeps adding to impressive trophy case by Aaron Vickers
"Because, it seems, all Blaisdell — a 2019 NHL Draft eligible skating with the Chilliwack Chiefs of the British Columbia Hockey League — does is win."
Harley turning heads in Mississauga – "I think he's been underrated" by Aaron Vickers
"The 17-year-old, who has 51 points (10 goals, 41 assists) in 59 games as a sophomore in the Ontario Hockey League, has left plenty turning heads with his play."
Swift defender Johnson following in fathers footsteps: "The bloodlines are good" by Aaron Vickers
"I have to continue keeping that one of my strengths. I just have to keep on working on that and keep it my strength, then I'll have that extra step on a guy. It helps with defending. It helps with all aspects of the game. Nowadays guys are really fast. After practice, sometimes, I don't even pick up a puck. I'll just skate around the rink. I just find it fun.
Maxim Cajkovic's long journey to QMJHL stardom by Aaron Vickers
"The 18-year-old Bratislava, SVK native has made stops in the Czech Republic, Sweden and, now, New Brunswick with the Saint John Sea Dogs of the Quebec Major Junior Hockey League in his young career, with the hopes of chasing his National Hockey League dream."
Ethan Keppen looking to make lasting impression by Aaron Vickers
"The 6-foot-2, 212-pound left wing has 31 points (18 goals, 13 assists) since Jan. 1, and in those 27 games, Keppen has been held off the scoresheet just four times."
COHEN: Is Moritz Seider the Most Interesting Player in the Draft by Russ Cohen
"The Adler Manheim defenseman had two goals and six points in 29 games this season as a 17-year-old. He had a point in his first two playoff games as well. At 6-4, 198 pounds, he has the kind of frame teams love. He's at the start of his potential, not the end. There's a lot of room for growth."
"There have been a few teams scouting him recently. He plays a good, simple game and he's a very down to earth guy. Many are talking about his calmness on the ice, another really good 21st-century trait that teams really like. To potentially draft a defenseman, who is low maintenance, with this kind of size, that puts him on a lot of teams' radar for sure."
"He could be a top 15 pick before it's all said and done."
Professional pedigree, family ties big boost for Samuel Poulin by Aaron Vickers
"Samuel, No. 27 among North American skaters in NHL Central Scouting's midterm ranking and No. 22 overall in Future Considerations Spring ranking for the 2019 draft, leads Sherbrooke with 71 points (27 goals, 44 assists) this season, after all."
BLOG: Swedish Junior SuperElit season summary by Christoffer Hedlund
"The last rounds of J20 SuperElit were played this past weekend, so I wanted to take a closer look at some of the things that has happen since the Christmas-break and to summarize J20 SuperElit's regular season. Just like last time I will split it in half and start with the Top10-series and the have a follow-up text with "Fortsättningsserien" (the Continuation series), will try my best to give a good overview of them both, and bring up a few players that I feel have performed well on each team. If you want a full explanation of how J20 SuperElit's system works you can find it here (https://www.eprinkside.com/2018/12/31/blog-a-deep-dive-into-the-swedish-under-20-development-leagues)."
Extra season in Midget boosted confidence, IQ for Tracey to make an impact by Aaron Vickers
"Tracey, who led all WHL freshmen — commandingly — with 81 points (36 goals, 45 assists) this season, is flourishing after spending an extra season with the Calgary Northstars Midget AAA program last season."
BLOG: 2019 eligibles and NHL prospects leading the way in Swedish J20 Playoffs by Christoffer Hedlund
"As expected, we got to see a few upsets as early as this round and knowing how the playoffs usually goes, we should expect a few more upsets before it is all said and done. In this update I want to go through the eight finals and make a short preview of each of the quarterfinals."
Tomasino learning from slow start – building a strong draft case by Aaron Vickers
"Tomasino, one of the top prospects for the 2019 NHL Draft from the Ontario Hockey League, didn't quite get off to the best first step, after all."
Gifted goal scorer Kaliyev takes aim at first-round selection in 2019 NHL draft by Aaron Vickers
"No Major Junior player has produced more goals in his draft season this year than Kaliyev, the 6-foot-2, 190-pound winger from Staten Island, NY."
COHEN: Who is the Next Star From New York? by Russ Cohen
"Once upon a time the Mullen brothers, Joe and Brian were the two poster children for New York-born hockey players. That was a long time ago and since I've been covering the sport a lot more players from New York State and specifically Long Island have made it to the show. Charlie McAvoy is maybe the best example these days."
"Here's a look at who's next."
The burden of No. 1 draft pick hype hasn't slowed Jack Hughes down by Aaron Vickers
"For as long as scouts and pundits have been discussing the 2019 draft class, they've been discussing Hughes."
"Dissecting the 5-foot-10, 168-pound center, too."
"Rarely, though, is it the other way around."
Fairbrother, Spence and Lundmark three underrated defenders to watch by Ryan Biech
"Most impact players are found in the first round of the NHL Entry Draft but to truly win at the draft, a team must be able to unearth talent in the later rounds."
"There must be value found in players that have seeming slipped through the cracks. Every team will value different things about players and how they might project and thus there will always interesting names in the later rounds that we can look back at and wonder – "How did he fall to there?"
"The first step in that process is identifying players that stand out from an underlying and analytical standpoint and then dissecting if the flaws to their games can be overcome."
"Here is a couple defenceman for the upcoming 2019 NHL Entry Draft that are ranked quite low but provide some intriguing value. They all have concerns to their game but stand out enough that they may be worth a mid to late round flyer."
LIST: Ten Players To Watch At The U18 Worlds by Aaron Vickers
"Outside of a poke and a prod at the NHL Draft Combine in May, the 2019 IIHF World Under-18 Championship will be the last opportunity for eligible prospects for the 2019 NHL Draft to leave a lasting impression on scouts, general managers and executives alike."
No I In Team For Broberg: "All I care about is winning the gold medal" by Hampus Duvefelt
"But also a mindset that could serve Broberg well when he makes the leap across the puddle known as the Atlantic and plays in North America in the next few years. Ranked in back half of the first round by many publications – J.D. Burke had the defender ranked 33rd overall in EP Rinksides own ranking – Broberg will hear his name called early during the draft weekend in Vancouver, this June."
Podkolzin focused on task at hand, not the NHL Draft by Hampus Duvefelt
"With a somewhat surprising 1-0 lead already in the books, Podkolzin and his linemates from Team Russia charged up the ice on an odd-man rush. Goaltender Spencer Knight made the save on the initial play but Podkolzin had already sniffed out a scoring chance and wasn't about to let it go. The puck stopped to the right of the goal, below the goal line. Podkolzin used both speed and power to jostle for position and beat his defender to the puck. In one fluid motion, he spun around and sent a high-velocity pass across the ice to the other side of the goal, past a Knight scrambling to figure out what was going on. The puck appeared to be headed nowhere in particular… until Rodion Amirov showed up and tapped it into a very empty net."
2019 DRAFT: Draftin Europe's Top 15 European Prospects by Draftin' Europe
"At Draftin Europe we focus exclusively on scouting prospects playing in Europe. This is the last ranking for the 2019 draft that we are going to publish before the final Top 100. You can find the rest of our April Top 30 in the new issue of the Blue Dispatch that was released here in the previous days.
You will obviously find much more on all the relevant draft-eligible players available in Europe inside our 2019 Draft Guide, to be published a couple of weeks ahead of the draft."
"Right from the beginning (we released our initial ranking for the 2019 NHL draft on August 6th 2017) the 2019 class has been a difficult one to rank, and to some extent it still feels that way with only two months left before the draft. Especially after the top 10, the rankings remain pretty fluid even this late into the season, which means the U18 World Championships might bring more overturning than usual on our list."
Speed, skill and goal-scoring: The best forward group Team USA has ever seen at the U18's by Hampus Duvefelt
"ÖRNSKÖLDSVIK, SWEDEN — Comparisons can be tricky and often lead to disagreements. Sometimes even arguments. Certainly when it comes to sports and especially when putting results from two different eras up against each other. Hell, it is not out of the realm of possibility that a statistical disagreement somewhere, somehow – at some point – has resulted in actual punches thrown."
BIECH: Underrated forwards to watch in the NHL draft by Ryan Biech
"This year's crop has some interesting names at the top of the draft board that should give a serious boost to prospect pools lucky enough to pick early. The key after that is to find some intriguing players with varying skillsets that can project into an NHL lineup into the future."
The little team that could – how Sweden captured their first ever U18 gold by Hampus Duvefelt
"ÖRNSKÖLDSVIK, SWEDEN — They weren't the favorites. Not even the second-most favored team. But thanks to strong leadership, a willingness to brush aside egos and a hat trick in the finals from 2020 top prospect Lucas Raymond,  Team Sweden made it out of the U18 Worlds in Örnsköldsvik and Umeå with gold medals around their necks."
"Here's how and why it happened."
BLOG: Broberg or Soderstrom? by Christoffer Hedlund
"With both the J18- and J20-seasons here in Sweden finished, and thus no more games to go to or write about, the blog will shift focus for the remaining time left before the draft in June. During this time the updates will be about Swedish players, with deep dives on some of the most interesting prospects for the upcoming drafts. What would be a more interesting start than to compare two of the 2019 NHL Entry Draft's most talked about defensemen, Victor Söderström and Philip Broberg?"
"They can be called puck-moving, two-way defenseman with good skating abilities, but if we look closer to how they play we will notice how different they are, both when it comes to style, what abilities that stand out in their game and their weaknesses. Because of that I will split this comparison up in different categories and compare the two players in each of them. Let's start!"
COHEN: John Beecher Could be a Surprise First Round Pick by Russ Cohen
"John Beecher is a 6-foot-2, 210-pound centre who played this season for the United States National Team Development Program, known as the USNTDP for short."
"Because of the overwhelming talent down the middle of that roster — with Jack Hughes, Trevor Zegras, and Alex Turcotte — Beecher found himself in a third line centre role. On so many other teams at that level, he would have been a first- or second-line center. As a result, his 15 goals and 43 points in 63 games don't tell the story."
ROBENHYMER: Moritz Seider Flying Under the Radar at Worlds; Just How He Likes It by Julie Robenhymer
"BRATISLAVA, Slovakia — With all the attention around Jack Hughes and Kaapo Kakko at the 2019 IIHF World Championship taking place in Slovakia this month, there's another top prospect that will be selected in the upcoming NHL Draft happily flying under the radar."
VICKERS: Kaapo Kakko 'Thinks [he] can be the First Pick' in the NHL Entry Draft by Aaron Vickers
"Kakko, who politely challenged Jack Hughes at the No. 1 pick in the 2019 NHL Entry Draft at the start of the season, emerged as a legitimate threat at the 2019 IIHF World Junior Championship and beyond."
Samuel Fagemo Once Passed Over, Now a Sure Thing for NHL Draft by Christoffer Hedlund
"There is perhaps no more interest or talked about an overage player in the 2019 NHL Entry Draft than Frolunda forward Samuel Fagemo."
VICKERS: While the Debate of Jack Hughes or Kaapo Kakko Rages Publically, Each is Focused on Themselves by Aaron Vickers
"KOSICE, Slovakia — It's not Jack vs. Kaapo. Nor is it Kakko vs. Hughes. Nada on Finn vs. American."
"The battle, tells the top two prospects for the 2019 NHL Draft, is internal. Not external."
COHEN: Nolan Foote had 'Fun Playing Injured' but he's now 100 Percent and Ready for NHL Draft by Russ Cohen
"Foote is very mature. Growing up in a hockey environment is important. When his season was over. He was watching the Avalanche play in the playoffs with his brother. That's a lifer. He didn't wallow in a season that didn't bear playoff fruit. He continued to watch NHLers, a group he knows he is capable of one day joining."
VICKERS: Kaapo Kakko Turns in Golden Performance at Worlds; Forcing Tough Decision at No. 1 Overall by Aaron Vickers
"KOSICE, Slovakia — Kaapo Kakko turned in quite the performance at the 2019 IIHF World Championship in Slovakia, no doubt. Golden, for the second time in just over four months."
"And there's plenty of reason to be excited if you're a fan of the New Jersey Devils or New York Rangers. Both teams will land a hell of a prospect at Rogers Arena in Vancouver on June 21st."
"Both fan-bases are going to have quite the time rooting on their newest prospect. But whom either is cheering for won't be resolved for another month."
BROWN: Why Trevor Zegras is the NHL Draft's Most Creative Player by Mitch Brown
"The United States National Team Development Program was historically strong this season. They broke records with their play, and they'll set new ones at the draft with as many as five players in the discussion as top-ten picks."
"Each of those candidates for a top-ten selection is the leading player in at least one skill or attribute for the entire class, too. Jack Hughes as the draft's best prospect; Cole Caufield, its best goal-scorer; Alex Turcottethe best combination of power, speed and finesse; and Matthew Boldy as the most skilled player on the backhand."
"This All-Star roster calibre team also has arguably the draft's most creative playmaker in Trevor Zegras."
BIECH: An In-Depth Look at the Biggest Risers for the Draft According to NHL Central Scouting by Ryan Biech
"The NHL Central Scouting Service has been around since 1975, and although it isn't the master list for NHL teams to use when drafting, it does offer insight into how players trend throughout the season."
"Some players will see their stock rise, or fall, as the year goes along and it allows the general public to get an idea of who to keep an eye out for in the later rounds of the NHL Entry Draft."
"This season is no different as there were a bunch of players that saw their draft stock dramatically rise as the year went along and then a few others that suffered the opposite of that."
"We'll look at some of the notable skaters — not the ones that just saw the most significant change — that rose up the NHL CSS draft boards."
BROWN: The Skills Behind Cole Caufield's Record-Breaking Goal-Scoring by Mitch Brown
"If you're a fan of goal-scoring in hockey — and who isn't? — then you've come to the right place. The focus of today's article is United States National Team Development Program forward Cole Caufield, a record-setting sniper."
"Caufield trampled the previous USNTDP record for goals in a season like The Golden Horde, besting the previous high of 55 goals in a season, set by Toronto Maple Leafs centre Auston Matthews, with 72 goals in 64 games this season. If that wasn't enough, Caufield's also the all-time leader in USNTDP goals (126 in 123 games) and goals per game in a single Under-18 World Junior Hockey Championship with 14 tallies in seven games."
"Numbers like those don't even seem possible. How does a player even score that much against legitimate competition? That's the question this piece sets out to answer."
You may also be interested in: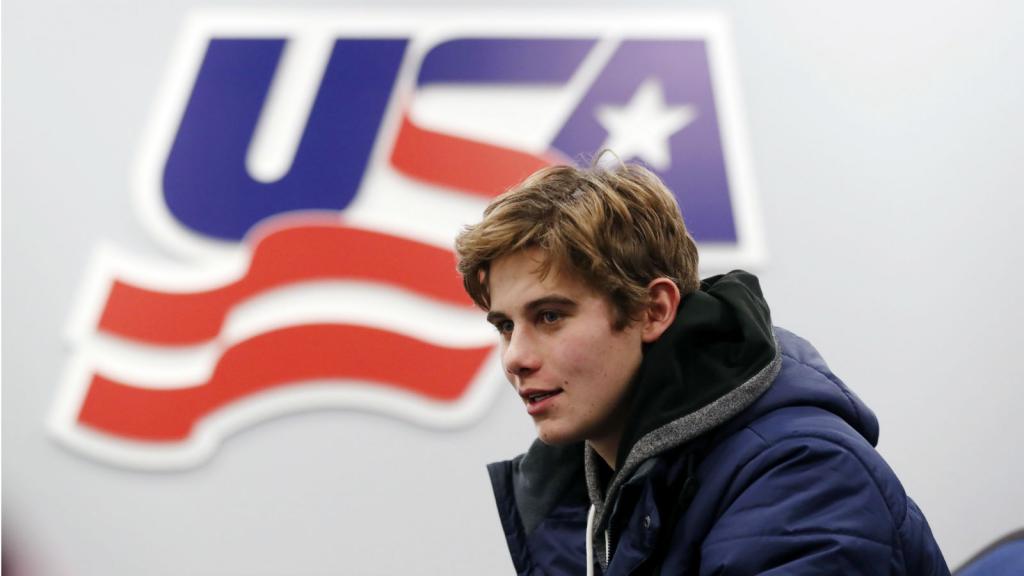 The burden of No. 1 draft pick hype hasn't slowed Jack Hughes down
This article is about: