International Tournaments
'Most Diverse Tournament in Hockey,' Why You Should Check out the Motown Classic
Before St. Louis Blues forward Robert Thomas and Boston Bruins defender Charlie McAvoy faced off in the Stanley Cup Final; they both played in the Motown Classic.
It's becoming a must-visit destination on the long, winding road to the NHL for so many of today's young stars.
Both of Brady and Matthew Tkachuk, Luke Kunin, Jack Roslovic, Zach Werenski, Dylan Strome, Alex DeBrincat, Troy Terry, Colin White, Noah Hanifin, Jeremy Bracco, Lawson Crouse — these are just some of the other NHL'ers that made a pit stop at Detroit's Motown Classic en route to achieving their life long dream of making it in professional hockey.
Some of the premier names in Women's hockey made a stop their, too. Take Cayla Barnes, for example. She dominated among '99 born players in the tournament.
Diversity is the name of the game at the Motown Classic. It's a driving principle
"I'd probably say it's the most diverse and competitive tournament in North America," the Motown Classic Director and Co-Founder Sasha Ristic told EP Rinkside.
"Last year, [the Motown Classic] had 350 teams and we're on target to be there again this year. Because of our location — being in Detroit — we're able to easily attract Canadian teams, midwest teams, teams from out east, teams from the south come, we get west coast teams, teams as far as Alaska come, and Europeans team, obviously, as well have made the trek out here."
Ristic started the tournament in 2005 to help create an inclusive environment for players from all sorts of socio-economic backgrounds. Everyone in the Hockey World has the opportunity to access this tournament.
"So, it's funny — the motivation is that I was a first-year manager for my son's hockey team, and we had a very expensive rink, and we had families who just couldn't afford to pay the ice bills. And I didn't know what to do," Ristic told EliteProspects.
"So I approached — my son played for Little Caesars at the time — the director and said 'what do you do?' He said, 'you need to run a tournament.' I said 'Uh, I've got a job, no thanks — I don't have the time for that!' He says 'Oh, don't worry; I'll put you up with some guy' and he set me up with a tournament director, and I expected him to do most of the work, but I ended up recruiting and selling the event to 32 teams."
"So it was the '97 age-group was the first year. They were majors — for Canadians, that would be novice. I was able to get 32 teams across North America to come to this event in the first year, and that was in 2005. So this is the 15th year. In that time, basically, people told me that it was such a great tournament that you need to do it again. I said *laughing* 'no, I have a job'. It ended up — I really did enjoy it, and I really did a good job, and people came because of the reputation. Then we started adding age groups, every year after that. So what started with 32 teams because of the financial needs for the one-team ended up being a career for me, and this is what I do now."
It's a tournament that's revitalizing the accessibility of hockey in an area that's experiencing a renaissance as a community. Ristic couldn't stress enough the joy that parents and supporters of the tournament can get out of just visiting the area, and taking the time to form their own notions of what Detroit is as a city and where it's headed.
"One of the best things that people should know is about the revitalization of Detroit. Coming to Detroit, the bad connotations that have been there in the past — if you come now, you will see a renewed downtown," Ristic said.
"You will see a fabulous new arena. A lot of the times, when people come here, they're able to see a Red Wings game when they're in town. That's huge. Because of our proximity to — where we're located, we've got college hockey within an hour at Ann Arbor, we've got the OHL and all of Sarnia, Flint, and Saginaw within an hour, and then we've got the USNTDP, which is in Plymouth. IF you're interested in seeing some high-level players and some high-level games, we certainly offer that. It's not just a hockey tournament. There's things to do. For the parents, there's three casinos. There's a lot of high-end shopping malls, outlet malls."
It's the complete package for hockey fans, players, and supporters alike. This year's tournament starts October 18th and runs through October 21st. You can register a team, find tickets, or even look into ways one might support the tournament by following this link.
You never know — you just might see the NHL's stars of tomorrow. Or perhaps you'll make a significant difference in an underprivileged hockey player's life by supporting this grassroots, accessible, competitive, and most of all, diverse tournament.
That's more than worth the price of admission.
You may also be interested in: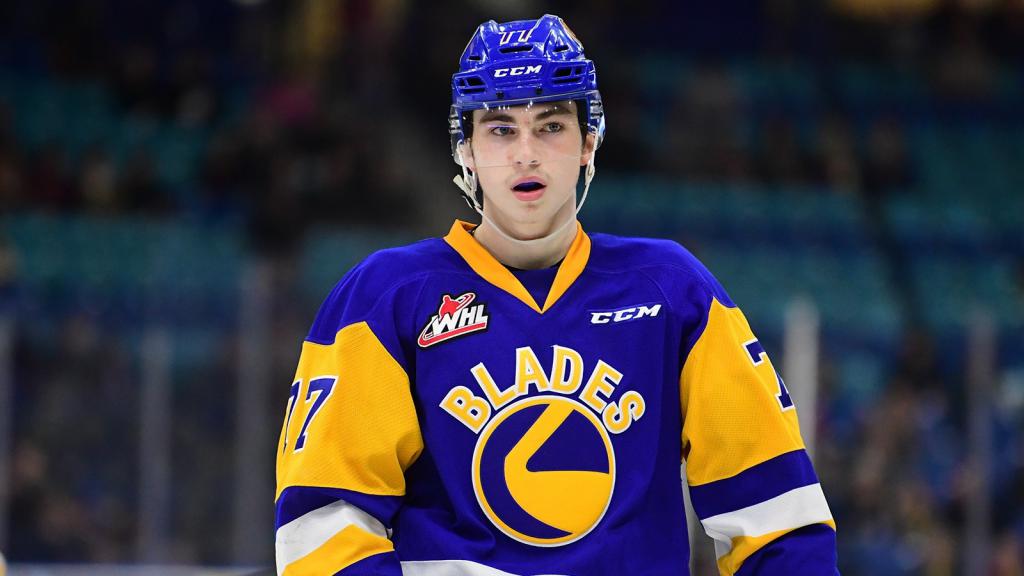 BROWN: Comparing WHL's top prospects; Dylan Cozens, Kirby Dach, & Peyton Krebs
This article is about: