NHL Entry Draft 2019
Post-Draft Prospect Profiles: Philip Broberg No. 8 to Edmonton Oilers
AIK defenceman Philip Broberg established himself as one of Sweden's top prospects for the 2019 NHL Entry Draft with a fantastic performance at the Hlinka Gretzky Cup in August of 2018.
Since then, Broberg has mainly played with AIK's senior team in the Allsvenskan, Sweden's second-best professional men's league, before finishing the club season in the J20 SuperElit. Broberg played a crucial role when Sweden won the gold at the U18 World Championship in April of 2019, and as a result, was selected to the All-Star team and named "Best Defenseman" of the tournament. Broberg also represented Sweden at the World Junior Championship in December of 2018.  
Scouting Report
Broberg has been a dominant defender when playing against junior-competition this season. He drives play from the back-end with his dynamic skating and offensive instincts; he is often the center of attention with his offensive playstyle and strong transition game.
Broberg is often the player that starts the play from the defensive zone, and he does not hesitate to lead or join the rush if he sees a chance to make an offensive jump from his own zone. He is a great north-south skater, that takes long powerful strides and possesses a high-end top speed but also he also has above-average agility and balance, which helps him to protect the puck when he moves it coast to coast, but he could become more evasive while skating close to top speed.
Broberg's confidence when it comes to puck possession and plays in the offensive zone is notable — he rarely seems to doubt himself and his actions seem to come very naturally. He actively uses his skating and mobility to create or find open ice in the offensive zone and quickly spots opportunities to create odd-man rushes from his position on the blue line. The only thing lacking regarding the usage of his skating is that Broberg could show a bit more determination when he gets physically challenged as he tries to beat his defender on the outside, as he sometimes has the chance to challenge the net but instead decides to go down below it.
Vacker uppåkning av Philip Broberg, mål av Oscar Lawner. #U18Worlds #2019NHLDraft pic.twitter.com/HC4MR2B6ZQ

— Anton Johansson (@antonj85) April 21, 2019
Broberg has other offensive abilities as well, he has a strong first pass from his own zone and doesn't necessarily need to transport the puck from his own zone to start an attack. In the offensive zone Broberg is a good short-range passer, he has the ability to spot passing lanes quickly and he can also technically make a complicated pass with accuracy to find a teammate and he can open up passing lanes by moving laterally along the blue line. He would rather make a high risk/high reward pass than playing it safe, which can lead to great setups but also turnovers against him. When he transitions the play he could increase his willingness to distribute the puck in the neutral zone, to become a bit more diverse in the way he starts the attack for his team as he once he has decided to carry the puck himself he rarely makes a pass before entering the offensive zone.
He rarely utilizes his teammates in the neutral zone and instead of making a give-and-go-play to get past an opponent or to enter the blue line Broberg will almost always try to handle the situation by himself. As a follow up-issue to this mindset combined with Broberg's high speed while transporting the puck he sometimes ends up all alone in the offensive zone after he has made the zone entry, way ahead of his teammates, so he has to either dump the puck or take it to the net by himself, thus not fully utilizing on his own strengths.
En länge sekvens på målet av Zion Nybeck som assisterades av Philip Broberg och Jesper Wallstedt. #U18Worlds pic.twitter.com/nYeNGvGhKS

— Anton Johansson (@antonj85) April 21, 2019
Broberg has a strong shot from the point, he prefers to use his wrist shot rather than his slapshot. His wrist shot is very accurate but requires a bit of wind up time to set up, if Broberg is given a little bit of time to aim he can fire off a well-placed shot that goes past the blocking forward, through the traffic in front of the net and past the goalkeeper, even when there's barely any open net to shoot at. With his mobility along the blueline he can find openings on his own and the blocking forward will be forced to stay close to cut off angles for him to shoot at. Broberg can also score from a bit further into the zone, and he cannot be left unattended for long if he has moved down from his position on the blue line to look for an opening or when he joins an attack as the second wave.
Philip Broberg skjuter 1-0 till Småkronorna mot Ryssland. #HlinkaGretzkyCup pic.twitter.com/QiS9BiHaQ7

— Anton Johansson (@antonj85) August 10, 2018
One apparent strength to Broberg's game is his size, and the advantages that comes with it. While playing against junior competition he is much stronger than most of his opposition, both when it comes to upper and lower body strength. He doesn't always fully utilize this advantage defensively but when he carries the puck he takes advantage of his large frame and strength to protect the puck and to squeeze himself past weaker defenders on the outside. Defensively Broberg is hard to beat around his own net due to his size and the advantages that comes with it, and he is very effective if he manages to catch an opponent and pin them up against the boards. He could add more aggressiveness and be more confident in the way he uses his body in his own zone as he can be a bit hesitant when he is up against men and not player that are significantly smaller than himself.  
Philip Broberg utökar till 4-2 för Småkronorna. #HlinkaGretzkyCup pic.twitter.com/vunApw36FH

— Anton Johansson (@antonj85) August 6, 2018
Overall, Broberg's defensive game is not bad but it is far from being superb. He has decent awareness and can anticipate plays, but he can also make simple yet crucial mistakes while positioning himself while defending because he doesn't pay attention to his surroundings. He has an active stick while defending and with his size he has very good reach and can make pokechecks to steal the puck from an opponent that is trying to protect it. Broberg is a strong defender at the U18-level, but against U20-competition and against full grown men, when his size and strength advantage isn't always enough or non-existent, his defensive flaws much more often get exposed. A an example Broberg can struggle with gap control when playing versus men, due to that he is not the best backwards skater and he can be caught off-guard when the opponent makes a quick move but when playing against U18-competition he can quite easily neutralize the opponent with his superior size and strength. Overall, he needs to become more consistent with his defensive game, and tone down the amount of simple mistakes he does and increase his awareness.  
There are a few other concerns regarding Broberg's game, mainly surrounding his hockey sense. He can sometimes be a bit frustrating to watch, due to the fact that he repeatedly makes the same mistakes and rarely adapts to his surroundings. This is mainly a problem when he tries to carry the puck coast to coast and is about the enter the offensive blue line. The way he transitions the puck works well against U18-competition when he can overwhelm his opponents with his size, strength and skating but even against U20-competition, when defenders are stronger and smarter, Broberg can cause a lot of turnovers with is unwillingness to adapt to his opponents.
This also leads to another aspect that Broberg can improve, which is his creativity. He doesn't play with a lot of finesse to his game and is quite easy for defenders to read as he almost always tries to challenge on the outside and push/skate past to gain the inside. Once his opponents learn his pattern they adapt and thus Broberg becomes a much easier threat to neutralize due to how one-sided he is when he attacks. While playing against men it can sometimes look a bit silly when Broberg skates directly into the first forechecker with the puck, due to his size and speed it is possible for him to play like that against junior competition and get away with it but it does not work in a league that is as good as HockeyAllsvenskan. A bit more diversity and added surprise factor together with more smartness and adaptability will be needed for Broberg if he wants to transition his game to become efficient versus smarter and stronger opponents once he permanently takes the step from junior hockey.
Some of the concerns can be seen as blown of proportion but due to his playstyle revolving around having the puck and transitioning from offense to defense Broberg often makes or breaks his line, if he succeeds with his game he will lift the whole line to another level and when his game doesn't work the whole line notably suffers because of it. The key will be for him to realize his own limitations and to be more willing to adapt to his surroundings, if he did that, he would be able to better use and take advantage of his own strengths.
Outlook
Broberg has signed a one-year deal with Skellefteå AIK in the SHL for the 2019/2020-season, so it seems likely that he will have a chance to develop his game for at least another year in Sweden before taking the step to North America. Based on his play this season, and the struggles he had in the second half of the season in HockeyAllsvenskan, Broberg might need two or three more seasons to polish his game and figure out how to transition from playing against junior players to playing against men before he could be seen as "NHL-ready". Broberg could be the defenseman with the highest upside in this year's draft, but he should be seen as a bit of a project as it will require a lot of time, effort and maturing for him to get there. In the nearest future Broberg will play with Sweden's U20 team in Plymouth in July/August.
You may also be interested in: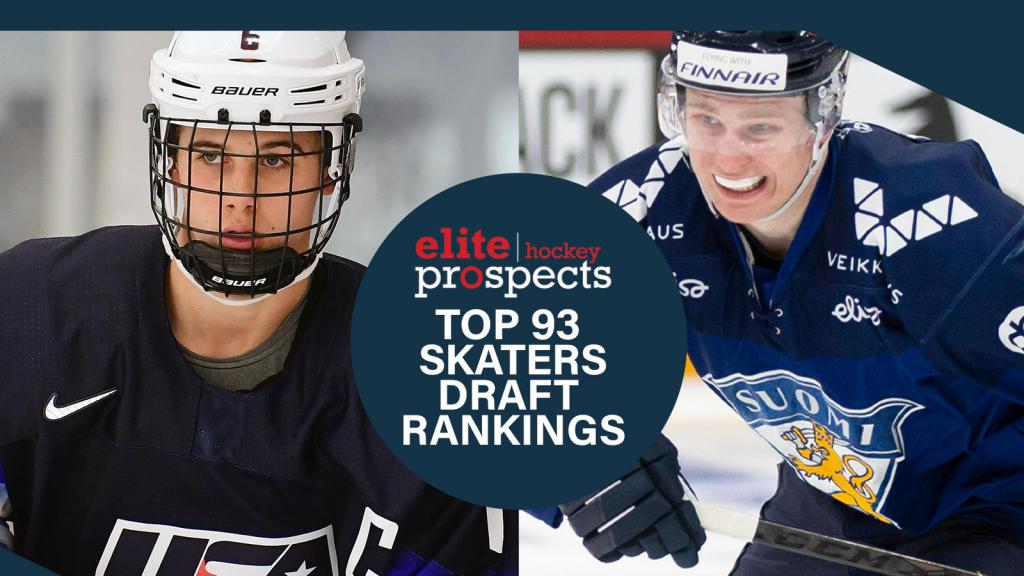 EXCLUSIVE: EliteProspects Top 93 Skaters for the 2019 NHL Entry Draft
This article is about: