NHL Entry Draft 2019
Post-Draft Prospect Profiles: Simon Holmström No. 23 to the New York Islanders
After a highly impressive U17-performance during the 2017-18 season, Simon Holmström went into his draft year as one of Sweden's highest ranked players for the 2019 NHL Entry Draft.
Then injuries happened. Lots of them. Holmström suffered hip surgery, then two other minor injuries mid-season, resulting in a lot of missed time. Holmström still finished strong, earning a spot on Sweden's Under-18 World Hockey Championships gold-winning roster and having a strong tournament, finishing with six points.
Scouting Report
Holmström's skating is the product of several standout abilities. He has an explosive first step and generates bursts of speed that allow him to gain separation as he rushes the puck from one zone to another. I like Holmström's top-end speed, and his ability to change directions, maintain balance and hold strong on the puck also rate highly. Holmström's strides are strong and fluid, which offers him added elusiveness even as he carries the puck.
Simon Holmström 2-0 mål för HV71 mot AIK. #J20gifs #J20SETop10 pic.twitter.com/nLcFhCZk9M

— Anton Johansson (@antonj85) January 20, 2019
Holmström's a fantastic playmaker. He has good hands, a creative mind, and the puck skills to make it all work. He is a dangerous 1-on-1 skater, capable of maneuvering past defencemen with a deke to the inside or challenge to the outside with his speed.
HV71 avgjorde matchen efter straffar 4-3, avgörande straff av Simon Holmström. #J20gifs #J20SESödra #VäxjöJ20 #HV71J20 pic.twitter.com/pXlY2d3YMu

— Anton Johansson (@antonj85) September 17, 2017
Unlike most speedy forwards, Holmström doesn't rely entirely on his speed to threaten the defence. Holmström often changes speeds as he drives into the offensive zone, and once he's lessened the tempo, does a great job of finding his teammates.
On the power play, Holmström uses his vision and slick hands to set up his teammates. He's particularly wont to setup shop behind the opposition goal. From there, Holmström makes incredible, deceptive passes or choose to skate to either side of the goal.
Zion Nybecks 1-0 mål för HV71 mot Modo, assisterad av Simon Holmström och Max Wennlund. #J20gifs #J20SETop10 #2019NHLDraft #2020NHLDraft pic.twitter.com/6MOaHPnt1a

— Anton Johansson (@antonj85) February 23, 2019
Even though Holmström is first and foremost a playmaker; he still has a decent wrist shot. If the opponent gives Holmström too much space when they try to cut off the angles for a pass — he will not hesitate to take advantage of it and challenge the goalkeeper. His wrist shot has a quick and deceptive release and he does not need much room to handle the puck before pulling the trigger. So when Holmström gets an opportunity close to the net, there's a good chance he will beat the goaltender. With speed, Holmström can make a creative dangle to force the goaltender sideways before making his finishing move.
Simon Holmström 1-0 mål för HV71 mot Växjö. #J18gifs #J18AllsvenskanSödra #2019NHLDraft pic.twitter.com/l3Vw0fFeS5

— Anton Johansson (@antonj85) February 20, 2019
You'll never mistake Holmström for a Selke candidate. That said, he's a smart checker that utilizes his speed well to engage opponents. He can win puck battles and because of his ability to read and anticipate the game well, often finds himself in the position to intercept passing plays. I've also found that Holmström does a better job of defending on the penalty kill than at 5-on-5; he's capable of playing in a box-formation, using his speed, mobility and vision to pressure opponents.
Simon Holmström gav HV71 ledningen med 3-2 över Frölunda. #J18gifs #J18SM #2019NHLDraft pic.twitter.com/oYJ9en0I6u

— Anton Johansson (@antonj85) March 30, 2019
There are a few weaknesses present in Holmström's game. His decision making with the puck is not always as sound as one might hope, and he can be prone to making unnecessarily complicated plays, often in the neutral zone.
I've also found that Holmström can let himself float to the outside, passing up opportunities to drive to the high-danger areas of the offensive zone. He's not necessarily soft, but he does have a propensity to avoid contact rather than to absorb a hit and get to a more sensitive part of the offensive zone for the trouble.
Defensively, Holmström has his work cut out for him. His engagement level in the defensive zone leaves a lot to be desired.
Outlook
Moving forward Holmström needs to play more hockey. His development this season was hampered due to the injuries he suffered, so staying healthy is the most important component to next season. While he has many exciting and entertaining tools it will most likely take another one or two seasons for him to transition his game from junior to senior hockey and to become an impact player in the SHL before heading overseas.
You may also be interested in: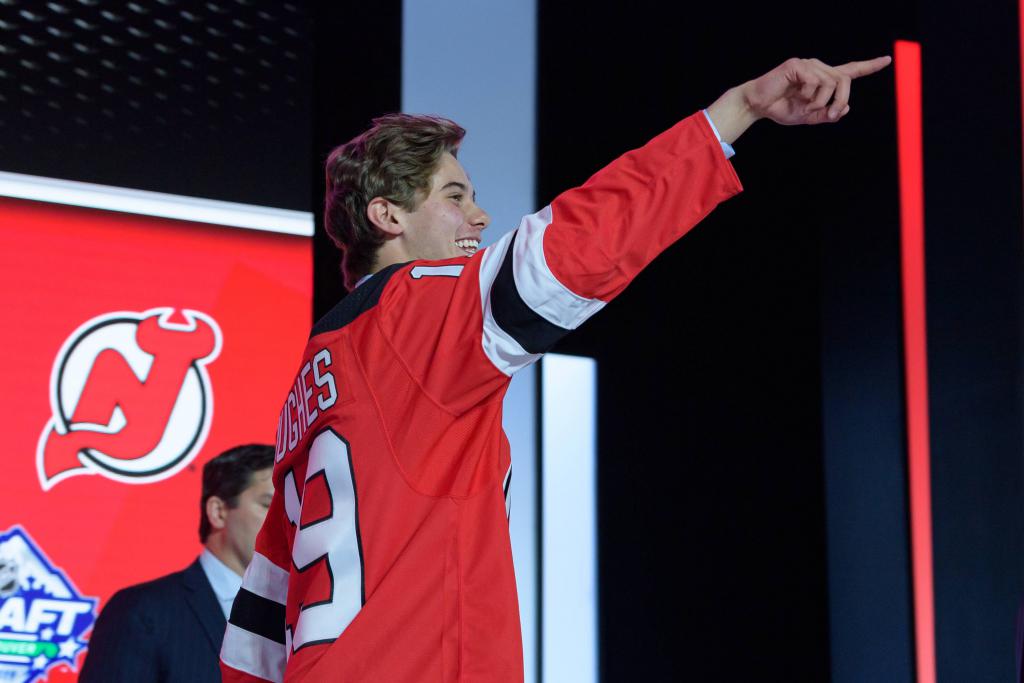 BURKE: Winners and Losers from Day Two of the NHL Entry Draft
This article is about: