NHL Entry Draft 2019
Post-Draft Prospect Profiles: Karl Henriksson No. 58 to the New York Rangers
Karl Henriksson was one of the SuperElit's best offensive players last season and helped form the league's most dangerous duo with 2020 NHL Entry Draft Top prospect Lucas Raymond.
Henriksson's 36 assists were the most of any player in the SuperElit this past season and his 49 points were more than any other U18-player. While he did not play much U18-hockey this season he was one of several players to step down from Frölunda's J20-team during the J18 SM Playoffs when Frölunda won the J18 gold. Henriksson was later selected to play for Sweden at the U18 World Championship, where he was one of the tournament's premier scorers, playing a big role in Sweden's gold medal victory.
Henriksson also got to make his debut in the SHL this season as he played two games for Frölunda's men's team. An interesting fact about him is that he was selected to a national training camp for the Swedish soccer national team in 2016, as he was one of his age groups best talents.
Karl Henriksson 5-3 mål för Frölunda mot Örebro, framspelad av Lucas Raymond. #J20gifs #J20SESödra pic.twitter.com/iR93pjF5ep

— Anton Johansson (@antonj85) November 18, 2018
Scouting Report
If there's one area in Henriksson's game in need of dire improvement; it's his skating. It has to improve for Henriksson to transition from being a good junior player to an effective contributor against men.
Henriksson's first steps are quite good, and he can cobble together decent bursts of speed in short distances, but his acceleration and top-speed are average. The lack of a separation gear, especially, is noteworthy. Henriksson takes short strides as a result of his smaller stature, and his technique isn't the smoothest.
The main focus of Henriksson should be increasing the power of his strides. Just getting a little bit more push out of each step should help him become a much better north-south skater. Now that Henriksson will shift the entirety of his attention to hockey without the added strain of soccer, improvement might be attainable.
On the other hand, there's more to skating than just maximizing speed and that's where Henriksson shines; he has quick feet, excellent mobility and is very agile. Henriksson uses his edges well when he quickly pivots to avoid contact and even with his low top speed, isn't easy to catch — even at tight spaces — due to his evasiveness and lateral quickness. Henriksson's low centre of gravity and width between his skates helps him gain balance to hold off bigger and stronger opponents when he carries the puck. So even when he gets caught by a faster and/or quicker opponents, Henriksson has the ability to use his skating to protect the puck as long as he doesn't get pinned up against the boards.
Isac Anderssons 1-0 mål för Frölunda mot Växjö, framspelad av Karl Henriksson. #J20gifs #J20SESödra pic.twitter.com/GUZ4iLxsDo

— Anton Johansson (@antonj85) November 25, 2018
Offensively, much of Henriksson's game revolves around his hockey sense. He is a highly intelligent player, on and off the puck. He anticipates both his teammates and opponents' movements well and often seems one step ahead of things. Henriksson is great at spotting open teammates and that helps him make quick one-touch passes to set up a teammate before the defenders have a chance to react or close the passing lane.
Filip Persson kvitterade för Frölunda mot Modo 3-3, assisterad av Lucas Raymond och Karl Henriksson. #J20gifs #J20SETop10 pic.twitter.com/yxfwCeVxiJ

— Anton Johansson (@antonj85) January 27, 2019
Henriksson also has good hands and he handles the puck well. While he's not the type of slick stickhandler that will try to weave his way through traffic with the puck; Henriksson uses his puck skills well to protect the puck and open up options as a passer. His ability to control the puck in small spaces is part of what makes Henriksson good on the cycle; he keeps the puck close to his body before making good, smart passes to help his team maintain possession. Also noteworthy is the fact that Henriksson was among the best players in the SuperElit last season on the draw.
Lucas Raymond reducerade för Frölunda till 3-2, framspelad av Karl Henriksson. #J20gifs #J20SETop10 pic.twitter.com/2fG15nAsN9

— Anton Johansson (@antonj85) January 27, 2019
Henriksson's quick thinking, excellent hands, and sound decisions with the puck make it possible for him to dictate the passing pace offensively, be it at even strength or on the power play. Even under pressure, Henriksson appears calm, composed, and confident with the puck on his stick; he'll rarely throw the puck away.
Alexander Holtz 3-1 mål för Sverige mot Lettland, assisterad av Max Wahlgren och Karl Henriksson. #U18Worlds #2019NHLDraft #2020NHLDraft pic.twitter.com/3GA57rpvdc

— Anton Johansson (@antonj85) April 21, 2019
On the negative side of the equation, Henriksson can at times appear nonchalant with the puck, even in dangerous positions, like at the offensive blue line. He can attempt unnecessarily complicated plays, many of which result in turnovers. To make matters worse, Henriksson is very nonchalant about getting the puck back afterward.
Furthermore, Henriksson has a nasty habit of holding onto the puck for far too long and skating it directly into trouble. His decision making when discerning whether to try and outmanoeuvre the defenders or not isn't quite as sound as when he's distributing the puck.
While Henriksson first and foremost is a playmaker; he can still put the puck in the back of the net if given the opportunity. With his awareness and vision, Henriksson can spot openings in the offensive zone to put himself in prime scoring positions and if he is set up with a pass he often has opened up his hips in advance making himself ready to shoot a one-timer. Often, he goes down on one knee in order to more accurately place the puck past the goaltender for these shots.
As he usually plays with Lucas Raymond —who often is the player that drives play from his position on the right wing of the offensive zone — Henriksson often looks for the spot on the right side of the goal when Raymond has the puck, in order to get an open net once he's received the pass. When he is off the puck Henriksson also is a good net-front presence, despite his small frame he doesn't hesitate to work hard and fight defenders to block the view of the goaltender or to have a good chance at finding a loose rebound.
Karl Henriksson gör 2-1 till Sverige mot Tjeckien, framspelad av Lucas Raymond. #J18gifs #5NationsU18 #2019NHLDraft #2020NHLDraft pic.twitter.com/mUwVHy55ca

— Anton Johansson (@antonj85) February 7, 2019
Henriksson's wrist shot is precise and with a bit of time around the slot — he will beat the goaltender. The quality of his shot gets slightly worse when under pressure, but Henriksson is still able to score given the opportunity. His smartness, quick mind, puck skills, willingness to work hard around the opposing net, and great hand-eye coordination results in a lot of goals around the net or the slot.
So, Henriksson is not directly in need of a more powerful wrist shot that can challenge from out far. That said, if he would add that to his already strong offensive arsenal he could become an even more diverse threat with the puck in the offensive zone. It also would not hurt if he shot the puck more. Sometimes he gets a bit too focused on making a play and throws away a decent chance at challenging the goalkeeper.
Karl Henriksson gör 2-1 till Sverige mot Slovakien. #U18Worlds #2019NHLDraft pic.twitter.com/ty426Unpau

— Anton Johansson (@antonj85) April 21, 2019
One thing Henriksson will have to learn is to play with his is size disadvantage. He has a very small frame and doesn't possess enough strength to physically fight for the puck against bigger opponents. Once he is pinned up against the boards when he has the puck, he struggles to force his way loose. If Henriksson gets hit by a heavier and stronger opponent; he will most likely be thrown off the puck.
His smartness, mobility, good hands and give-and-go playstyle helps him to be able to keep and transport the puck well and be efficient in the offensive zone against junior players, but he could run in some trouble once he regularly will play against senior players.
Defensively, Henriksson has all the tools to become a very good two-way player. He reads the game in a very smart way while defending and is able to intercepts passes in all three zones. The ability to spot passing and/or skating lanes combined with his high work rate and quickness makes him a good forechecker. When he is "on" with his defensive game, Henriksson has a very high work-rate and will fight for pucks, backcheck intensely, cut off angles, pressure his opponents and even bring a full effort against bigger and stronger opponents.
The main issue with Henriksson's defensive game is the lack of consistency in his competitiveness. It is usually high but when he isn't "on" he is a quite poor defensive player; he can look lacklustre, cheat while backchecking, become passive and stationary in his own zone and shy away from physical contact.
He had a great defensive tournament during the U18 World Hockey Championship, but the consistency level he kept then was a lot better and more stable than what I've seen in the SuperElit. The difference between when he is interested in playing defence and when he is not is very notable and even if he has all the right tools to become an efficient defensive piece in the future he is not there yet. 
Outlook
Henriksson is a very interesting prospect, with a few high-end tools and areas that need improvement to match. For the 2019-20 season, Henriksson will hopefully play more on-loan in the SHL or with Frölunda in the Allsvenskan. He's already dominated at the SuperElit level, and facing more difficult competition would be beneficial for his development. First things first, Henriksson will join Sweden for the World Junior Hockey Championships Summer Showcase in Plymouth this late-July.
You may also be interested in: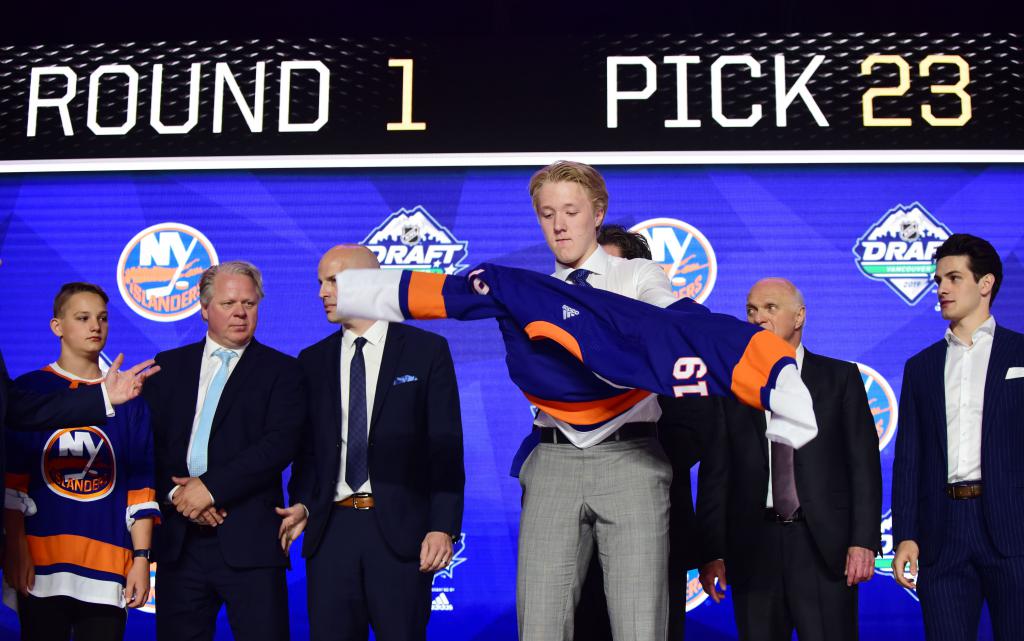 Post-Draft Prospect Profiles: Simon Holmström No. 23 to the New York Islanders
This article is about: