Video
Film Room: Quinn Hughes is the Player You Think He Is
You don't need me to tell you that Quinn Hughes is good at hockey. That much is clear. The question on everyone's mind is this: how soon will he be consistently good at the NHL level?
It appears the answer is: pretty damn soon.
Hughes played in just five games with the Vancouver Canucks this season, and that's a pretty small sample size. But if you take a close look at those five games, you'll find evidence of his ability to translate to the NHL those skills that made him such an attractive prospect at the University of Michigan.
His first NHL point, recorded in his debut NHL game on March 28th against the Los Angeles Kings, provides an impressive display of that skill set.
After receiving a pass from defence partner Luke Schenn, Hughes heads straight for the net. You can see his puck moving ability, and the agility that is such an important part of his skating, with the way that Hughes changes direction quickly when necessary, especially once he's behind the net. That and the way he's able to protect the puck with his body allows him to pass to himself behind the net and keep the puck away from his opponent.
Hughes' shot doesn't go in, but Brock Boeser sends the rebound home, and just like that, Hughes has his first NHL point. It's a play that really shows off his elite hockey IQ and the way he's able to use it at full game speed — not always a given with guys who have high-end hockey smarts.
Hughes nabs another assist in the Canucks' April 4th game against the Nashville Predators. Watching the game, it appeared as though the Predators were challenging Hughes more than his prior opponents, yet he still remained poised and competent throughout.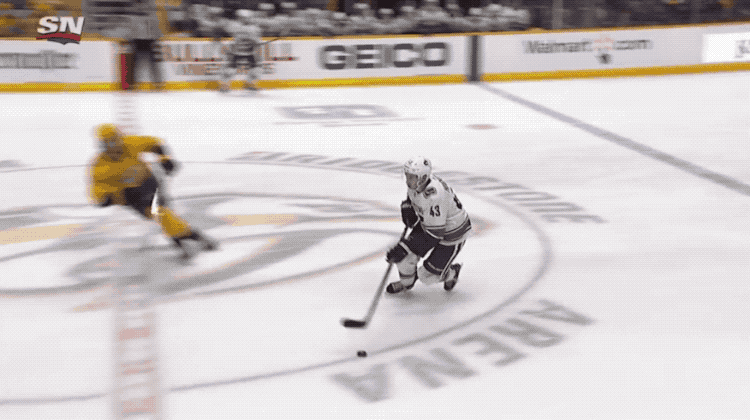 Hughes skates the puck in through traffic, passing to Markus Granlund and then making sure he's in position to retrieve Granlund's pass. Hughes then passes the puck back to Granlund, who scores. It's a fairly simple play, but it's made through heavy traffic. Hughes not only protects the puck when he has it but also finds a lane for that final pass. It's just another example of his high-end vision and decision-making.
Hughes also assisted on a Tanner Pearson power play goal against Nashville in that same game. Prior to the shot in this clip, Hughes went in to retrieve the puck from Markstrom to start the breakout. He dropped it back to Pearson, who passed to Gaudette, who immediately turned the puck over, causing Hughes to sprint back to his own end and defend Filip Forsberg shorthanded.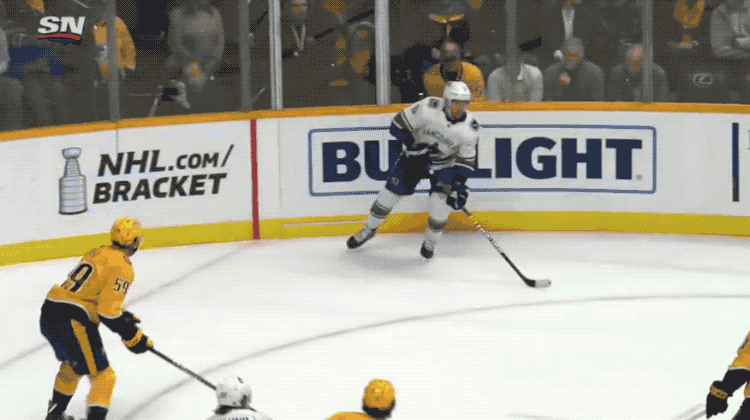 Afterward, Hughes breaks the puck out again and it goes much better, leading to the play you see here. He corrals the pass, shooting from the blue line. Pearson is there to make sure that it goes in. This play is a prime example of how Hughes's mobility and vision allow him to be effective at both ends of the ice — sometimes in the same sequence.
Returning to the Kings game, there's a nice moment where Hughes uses his body and stick to keep Jeff Carter on the perimeter and unable to shoot on net. Carter has the puck and is itching to attack the centre lane and score. Hughes — in his first NHL game, no less — decides Carter isn't going to do that and takes him all the way outside and around the back of the net. Carter then passes to Kurtis MacDermid and Hughes goes into a board battle against MacDermid, freeing the puck.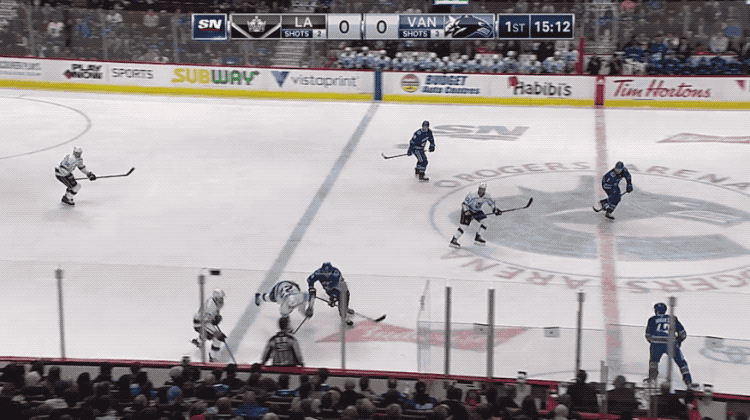 Hughes is so adept at reading the play and reacting quickly, and he pairs that with elite skating and high-quality puck skills. It's moments like this that give a glimpse into the kind of long and effective NHL career Hughes should have.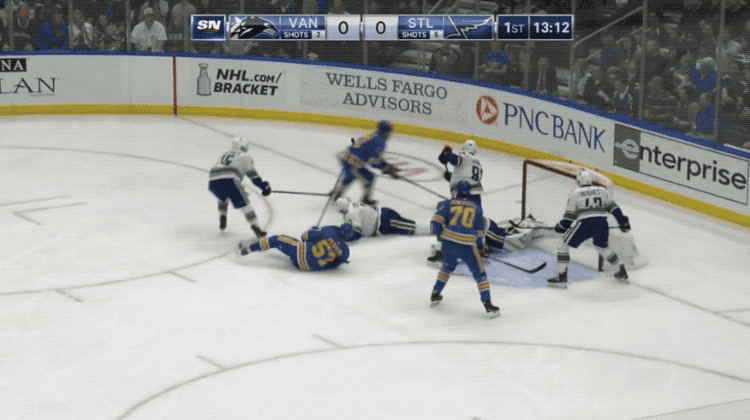 In the final Canucks game of the season, April 6th against the eventual Stanley Cup champion St. Louis Blues, Hughes played 21:42, the highest mark of his young NHL career. While he recorded no points, other facets of his game — namely his hockey sense and skating ability — were on full display.
Before the play shown above, there was another sequence involving David Perron moving in and Hughes obstructing his shooting lanes, trying to cut off his scoring opportunities. Here Perron has finally made it to the net, but there's a scramble after he shoots. Hughes, with his almost preternatural knowledge of not just where the puck is but where it will be, is almost immediately behind the net retrieving the puck from his opponent to skate it out of danger. He passes to teammate Adam Gaudette and the two exit the zone (though their efforts are foiled when Gaudette promptly goes offside).
Small sample sizes shouldn't be used to make sweeping pronouncements. What this five-game sample tells us about Hughes, though, is that he's a quick thinker. His skating stands out even on NHL ice.
Hughes' size shouldn't really concern anyone. He's proven himself capable of playing beyond his measurables for the USNTDP and USA internationally, at the University of Michigan, and now on the NHL surface itself.
It's a promising start.
You may also be interested in: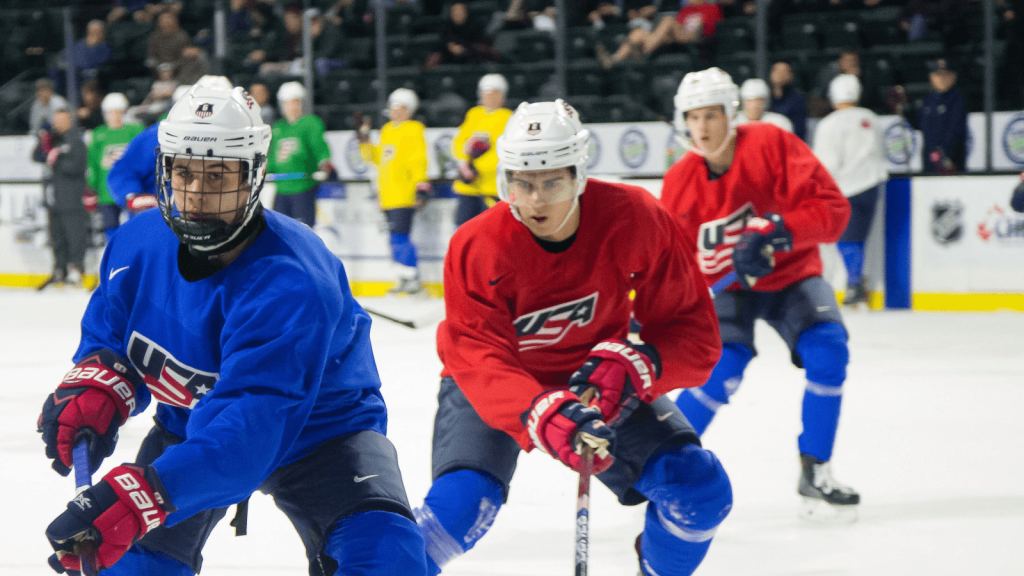 World Juniors Stats: Checking in on Team USA
This article is about: