NHL Entry Draft 2019
Post-Draft Prospect Profiles: Erik Portillo No. 67 to the Buffalo Sabres
Erik Portillo just finished his first year of draft eligibility ahead of the 2018 NHL Entry Draft, but a strong season with Frölunda's J18-team was not enough for him to cross the stage. Instead, Portillo went into the 2019 NHL Entry Draft as one of the most interesting goalie prospects after a fantastic season in J20 SuperElit.
Statistically, there were no other goaltenders close to Portillo's .931 save percentage. It was not only clearly ahead of anyone else this season, but it was also the sixth-highest recorded save-percentage by a goaltender with at least 25 games played in the SuperElit, and third-highest by a U19 goaltender. Save-percentage might not always be the best indication of how well a goaltender has performed, but in Portillo's case, the numbers were backed up by consistent great performances.
Scouting Report
Portillo has a slightly different style than the typical butterfly goalkeeper. He doesn't instantly go down on his knees to let his 6-foot-6, 207 lbs frame work as a wall, doing most of the work for him.
Instead, Portillo's style is more like that of a hybrid. He keeps a low stance that allows him to make good use of his agility and reflexes to make reactionary saves. It also makes it easier for him to stay mobile, to more quickly come out to cut off angles, and to work the edge of his crease in a more effective way. Portillo stays quite active and even when he goes down in butterfly early, he rarely gets passive with his arms and legs or stuck sitting on his knees for long.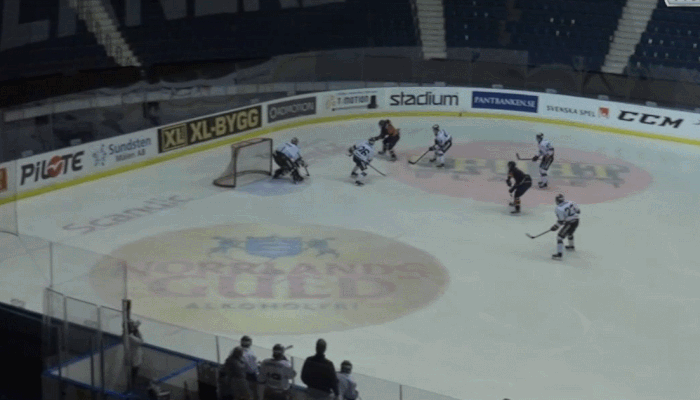 Overall, Portillo knows when to stand up, when to be more flexible, and when to go down in butterfly to become more stationary, while leaving little to no net for the shooter. His decision making is influenced by strong awareness either as a result of communicating with his defenseman or keeping his head on a swivel.
There are a few negatives that come with Portillo's hybrid style. First off, the combination of his style and size makes the five-hole more exposed than it is for a smaller butterfly goaltender. He also has a lot further to fall than most when a well-places shot finds its way between the pads. Even when he manages to stop the initial shot by getting his pads down, he can struggle to control the direction of the rebound.
Portillo could also better use his stick to cover the five-hole, as it sometimes goes up too high in the air when he quickly has to go down in butterfly.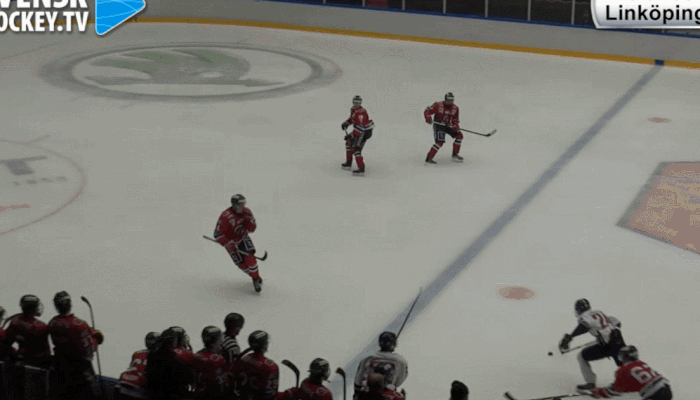 Second, with Portillo's normally high stance and length, it can lead to disadvantages while tracking the puck through traffic. He often has to look over top of the screen and the other players in front of him. This leaves him less time to react than if he had looked between the legs of the same players. With that said, Portillo is not a poor puck tracker — he works very hard to find the shooter and to spot the puck. But his style combined with his size does not do him any favours in situations where there is little time from the point when he can start to track the puck until he needs to make a save.
Portillo's positioning in and out of the crease is generally strong. Against a lone shooter, Portillo comes out well from his net and makes good use of the mobility that his hybrid style allows him to utilize. He rarely goes very far out of the blue paint, but if he makes the read that the shooter has no other option he can go out a bit of his crease to cover as much net as possible and leave little to no angles for the shooter to take advantage of.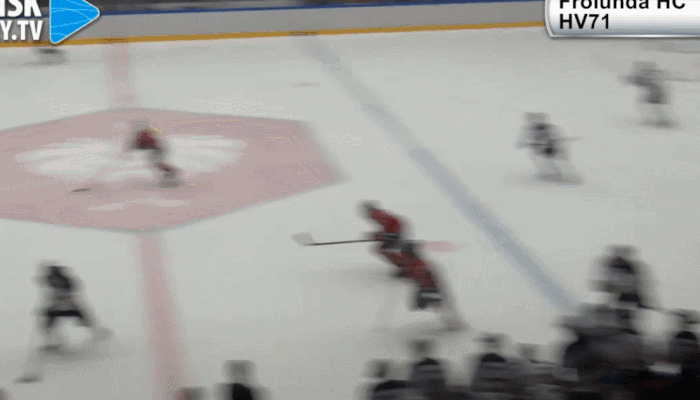 When the opponents have a more controlled attack Portillo often works with slightly shorter distance towards his net. At times, he can fall a bit towards the net. This makes him more vulnerable as he covers less of the net but makes his lateral movement much faster as he can make a push from either post. While his lateral movement usually is on point, there are cases where Portillo overextends — which can put him in a tricky situation if there's a rebound after making the initial save. While moving laterally Portillo doesn't only show off above-average quickness but also good strength, as he often is able to keep square towards the puck at shorter movements and hold his upper body up well to cover a lot of net when he has to go post-to-post.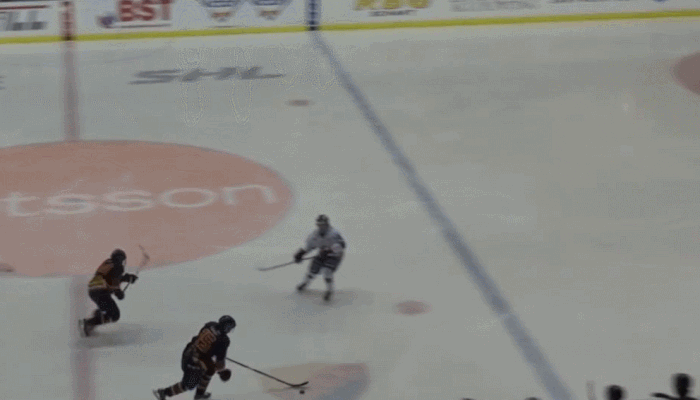 That brings us to rebounds and rebound control. Portillo has a few weaknesses when it comes to giving up a rebound. While he has good reflexes and can make incredible saves with his glove, it is not that uncommon that he leaves soft rebounds when he makes a glove-save — even while making simple saves from far out. While Portillo covers the ice incredibly well, he can struggle with steering low shots to the corners or with enough speed that the puck leaves the area around the net. This forces him to either make great saves or compete hard for the rebound as if the opponents get to the puck first, he could be in big trouble. Another part which can cause Portillo some issues is when he gets down on the ice with his body after making a save, he then has quite a long recovery time before getting back up and in position again.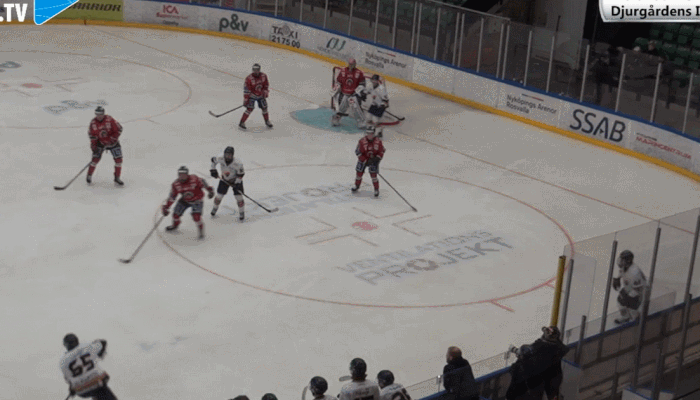 Besides the above-mentioned situations, Portillo rarely gives up soft goals and has good control of his rebounds; he is very good at using his blocker to steer puck where he wants them and on high shots up against his shoulders, he often manages to hold the puck against his body. A big strength for Portillo is the way he works with his stick when he leaves a rebound, as he often is quick to poke the puck away from the danger area, sometimes it even gives his team a chance to quickly turn the play. In general, Portillo is quite active with his stick and he does not hesitate to make a poke-check if he sees a chance to do so, it does, however, make him vulnerable as it lowers his mobility and leaves more open net to shoot at above his shoulders.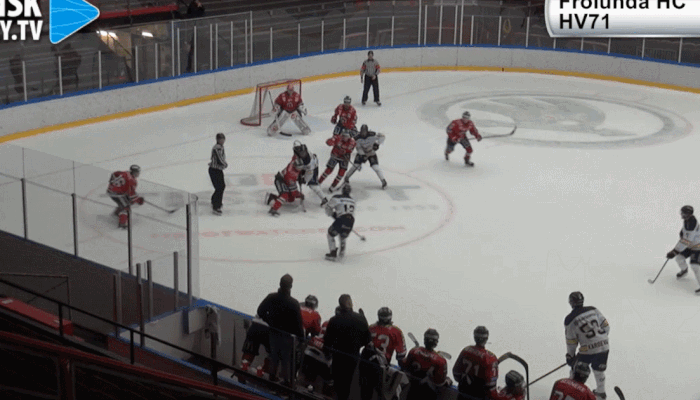 One of the main stand-out attributes to Portillo's game is his hockey sense; he reads the game exceptionally well and his general awareness is also very high. His smartness allows him to have a calm, composed and confident behaviour in net. It is easy to spot, as Portillo's movements usually are calm and clean, that calmness also often seem to spread to the rest of his team while defending.
Portillo rarely makes any flailing moves or shows any other signs of panic or not being in control of the situation he is in, even when he might be in trouble. The way he reads the game leads to that you typically never see Portillo where he is caught out of position or in need to make an incredible save because of a situation that could have been avoided by better understanding the game. It also enables him to make saves that for some goalkeepers would be very complicated to make, as a quick post-to-post movement, look quite simple at times.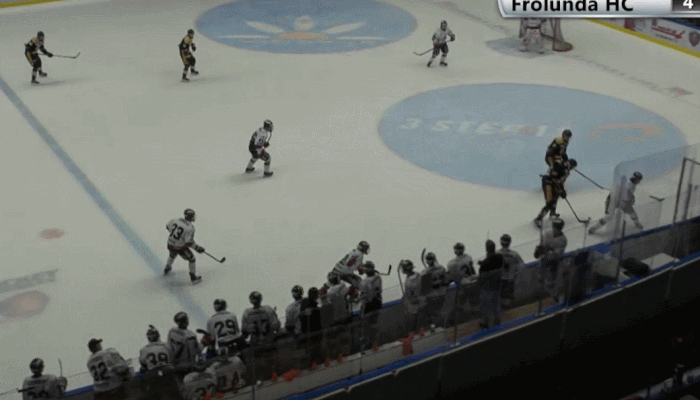 Another good way Portillo makes use of his awareness and understanding of the game is how he constantly uses his stick to take away passing lanes for his opponents. He'll use his stick or make a poke-check on a pass that goes close to him. He is often able to cover up for positional mistakes by his defenders or when they lose the physical battle around the net by simply taking away the possibility of the puck reaching that area of the ice.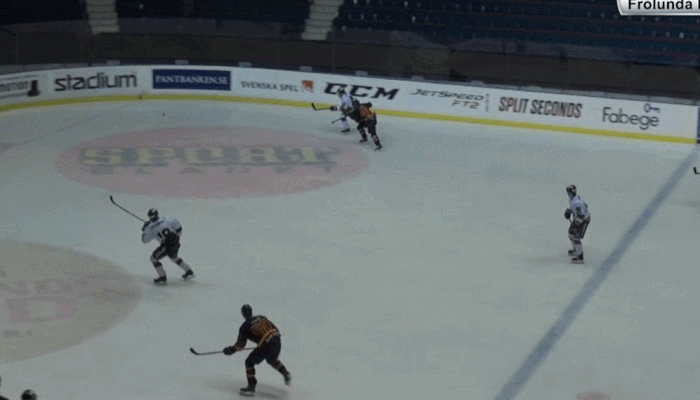 His hockey sense and composure also allow him to come out on top on breakaways or penalties. Portillo often stays calm to the point that he forces the shooter to make the first move before he reacts, which often is enough for Portillo to come out on top. Even when the shooter manages to make a dangle to force Portillo sideways, he has the flexibility to come back and make a stop just before the puck finds its way into the back of the net.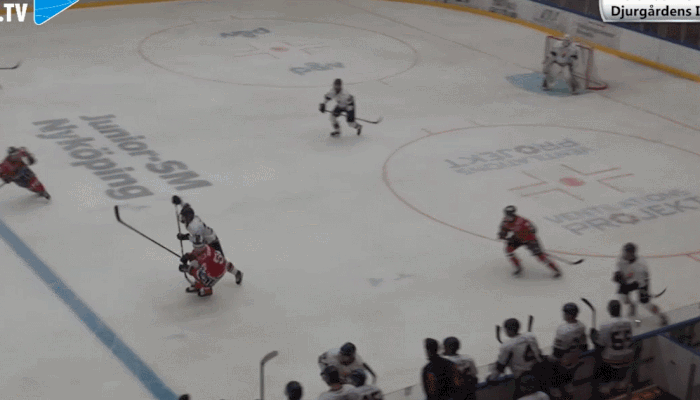 Another aspect to take note of regarding Portillo's mental attributes is his ability to bounce back after a mistake, an allowed goal or an opponent trying to get him off his game. He rarely seems to let things get to him; he does not get shaken off his game and his focus- and concentration-level does not drop by any significant amounts during games. That ability also plays it part in that Portillo can have those games where he just seems to be unbeatable, where he oozes confidence and focus to the point that you can almost feel the vibe from the stands. It should be noted that Portillo has a little bit of a temper, but it rarely affects his performance on the ice in a negative way.
Unlike many Swedish or European, goaltenders Portillo has excellent stickhandling and puck control. He does not hesitate to leave his crease to play the puck and is quick to stop dump-ins.
That skill is also very useful when his team is on the powerplay, as Portillo's ability to quickly send the puck back to the offensive zone leaves less time for the opponents to make a line change and get to their positions. His ability to handle the puck and quickly start the play for his team by sending a hard, precise pass up the ice or to a teammate in his own zone is at the level when it is better than what some of his defenders in SuperElit are capable of.
Another characteristic part of Portillo's game is how communicative he is. He talks – a lot. He constantly informs defenders on their surroundings and what he wants them to do. He points out where the puck is or if he wants to know something himself. He can dish out critique to his teammates but also encourage them when things don't go their way. He also engages in trash-talking with opponents and it is not uncommon for him to give his opinion or slightly mock an opponent when they make a simple mistake.
Outlook
For the 2019-20-season, Portillo will make the move from Frölunda to the Dubuque Fighting Saints in the USHL, the club that drafted him No. 5 overall in the 2019 USHL Draft. Portillo has committed to the University of Michigan and will play in the NCAA starting in the 2020-21-season.
Before anything else, Portillo has been selected to play for Sweden's U20-team at the World Junior Summer Showcase in Plymouth, USA, at the end of July.
You may also be interested in: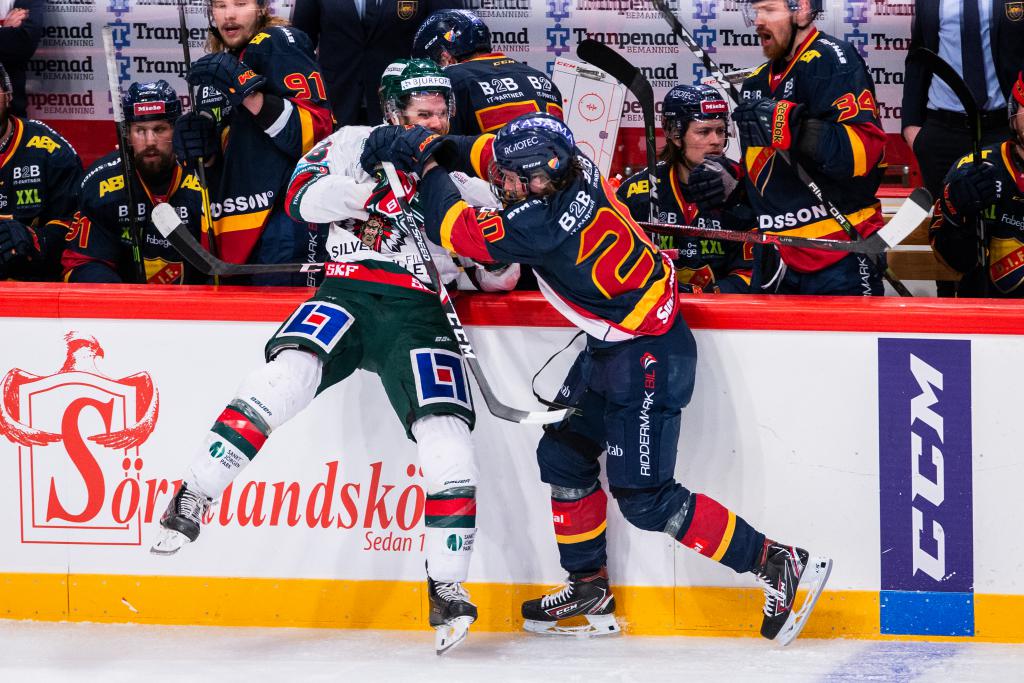 Post-Draft Prospect Profiles: Albin Grewe No. 66 to the Detroit Red Wings
This article is about: