The Pipeline Show
THE PIPELINE SHOW: WHL Season Previews for Red Deer, Victoria, Spokane, Prince George, and Swift Current
Our tour around the Western Hockey League continues as The Pipeline Show previews the 2019-20 season for five more WHL clubs with the help of either the team's GM or head coach.
2019-20 Red Deer Rebels Season Preview
Brent Sutter is the owner, general manager and head coach of the Red Deer Rebels; he was also my guest to preview the coming campaign for his club. We began the conversation with an update on the players from last year's roster that won't be back this season — forwards Brandon Hagel, Jeff De Wit, Reese Johnson plus defenders Alexander Alexeyev and Carson Sass.
From there, we discussed how the overage player quota is a non-story headed into camp as the Rebels will return the allotted trio to start. I also got some information about the only import Red Deer will have, at least to start the season, in Finnish defenceman Christoffer Sedoff.
We turned our attention to the goaltenders; the returning duo of Ethan Anders and Byron Fancy and a pantheon of youngsters coming to camp to try and dethrone an incumbent.
Red Deer's blueline will look much different. Younger and not as physically imposing as most years. Ethan Sakowich and Dawson Barteaux will lead the way from the back end.
Offence might be a challenge this year, especially from the forward group that has a lot of holes to fill after player graduations over the summer. Much will be expected of veterans Cam Hausinger and Brett Davis but success will only come if players like Chris Douglas and Alex Morozoff help carry the load.
Lastly, I asked Sutter what he would consider a successful season for the Rebels. He answered the question by comparing his squad to the rest of the WHL's Central division.
2019-20 Victoria Royals Season Preview
Last year was a growth year for the Victoria Royals as it was, outside of Vancouver, for the entire BC Division. Despite that, the club reached the second round of the playoffs and gained some valuable experience in the process. Now, as camp gets set to open this coming weekend, GM Cam Hope says he believes the division will be much stronger and that his team will be competitive once again.
The guys from the 2019 playoff roster that have aged out of the league (Griffen Outhouse, Ralph Jarrat and Kody McDonald) are just a few of the roster departures in Victoria. Whether by pro contract or via trade, gone are Igor Martynov, D-Jay Jerome, Dino Kambeitz and Scott Walford. That means a lot of opportunities have opened up for new blood.
In goal, former Portland Winterhawk Shane Fargas is poised to become the new Royals starter. He'll be pushed by American, Brock Gould, and a couple of youngsters in Connor Martin and Keegan Maddocks coming to camp.
The General Manager says his defensive corps is a mishmash of different types of players. Veterans like newly acquired Will Warm, homegrown Mitchell Prowse and Matthew Smith. Hope suggests there are five experienced players and 5 would-be rookies competing for seven spots. One of the youngsters is Nolan Bentham, Victoria's first-round pick in 2018.
There will be notable change with the forward group with returning top scorer Kaid Oliver leading the way with new arrival Gary Haden. Swiss forward Keanu Derungs will get an opportunity as well as a number of players who spent time in the bottom-six last year.
I asked Hope what he would consider a successful season for his team in 2019-20 and I think Royals fans will be pleased with his answer.
2019-20 Spokane Chiefs Season Preview
One player does not make or break a team's season but boy, a lot depends on whether or not the Spokane Chiefs get Ty Smith back this year. The New Jersey Devils will ultimately decide what is best for the 19-year-old and until then, the Chiefs proceed like their marquee player is gone. At least that's what head coach Manny Viveiros told me during our lengthy discussion.
We didn't start there but I may have been burying the lede.
We began the season preview the same way as with the rest of the WHL teams; by looking at the holes left by departing players. For the Chiefs, that means '98 born Riley Woods, Luc Smith and Nolan Reid plus Los Angeles Kings prospect Jaret Anderson-Dolan and goalie Bailey Brkin.
The goaltending position appears to be locked in with Reece Klassen looking to establish himself as a starting goalie ahead of recently drafted import, Lukas Parik.
The blueline without Smith will obviously be different but the Chiefs do expect Filip Kral to be back from Toronto Maple Leafs camp to go along with Noah King as two of the club's overage players. Other veterans and newcomers will fill out the defence corps but no one can fill Smith's skates except for Smith.
Spokane's forward group also takes an early-season hit with Ethan McIndoe on the shelf after off-season surgery. There are plenty of players looking to take on bigger roles this year including potential top scorer Adam Beckman and undrafted (but motivated) Luke Toporowski. Former first-round pick Jack Finley will be entering season two and expectations are high for him.
I also asked the coach for somewhat of a sleeper in camp and he offered up the name Bear Hughes.
When it came to expectations for the season, Viveiros says that it's not unrealistic to think the Chiefs could go deep into the playoffs once again.
Lastly, I asked him to reflect on his last couple of seasons going from WHL champion in Swift Current, to a single season in the NHL with the Edmonton Oilers and now back in the WHL again. What does he take away from the short stint with the Oilers and does he want to get back to the NHL?
2019-20 Prince George Cougars Season Preview
Last year was a growing season for the Cougars who were coming off of their first-ever divisional title. In many ways, the rebuilding process will continue this year as the team continues to grow from within as young players have taken another step in their development.
General Manager Mark Lamb likes what he has between the pipes as Taylor Gauthier will be motivated to prove NHL scouts wrong by having a strong year after not being selected at the 2019 Draft. There are a couple of goalies to compete for the No. 2 spot in-camp including first-round pick Tyler Brennan.
The Cougars' defence could return a trio of 20-year-olds which is unlikely so expect camp to be competitive. Cole Moberg is coming off a solid season and will take on more of a leadership role.
More changes come to the forwards but the more things change the more they stay the same – someone needs to bring the production for PG's attack and it will have to be guys who were down the depth chart last year that rise to the challenge.
I asked Lamb what he wanted to see from his team this year and he stressed that it's about growth and moving forward but that those take time.
2019-20 Swift Current Broncos Season Preview
It was only 15 months ago that the Swift Current Broncos were the best team in the Western Hockey League but getting there took everything the organization had, including much of its future. The Broncos won just 11 games last season and fans should be prepared for another long, developmental year.
GM and head coach Dean Brockman joined me to discuss his club as camp is about to open. In net, the Broncos will rely on Isaac Poulter and probably Jordan Fairlie who have a combined 25 games of WHL experience between them. Not a traditional recipe for success.
There is more experience on the blueline but it will be newcomers that supply much of it. Jake Kustra, claimed off of waivers, will be one of the team's 20-year-old players and Kasper Puutio arrives via the CHL Import Draft where he was taken first overall. Puutio is also coming off a solid performance at the Hlinka Gretzky Cup playing for Finland.
ICYMI⬇️⬇️⬇️

Scouting Report: Ivan Hlinka Wrap-up With Commentary From Coaches, Players

By @JDylanBurke. Live from Břeclav.https://t.co/w6pgmS4PcL pic.twitter.com/5v8iWHvT5d

— EP Rinkside (@EPRinkside) August 15, 2019
When it comes to offensive production from the forwards, let's be honest, the Broncos are going to need some of last year's depth players to take a massive step forward. It was the lowest-scoring team in the league last season, by a mile, and there are no incoming hero's to take over. It's going to be up to Joona Kiviniemi, Matt Culling and their age group to break out.
Brockman's wish for his team this year is pretty simple; just improve in every way possible. No one is expecting the Broncos to be contenders or even make the playoffs but there has to be an improvement to show that the club is moving in the right direction while recovering from their title in 2018.
You may also be interested in: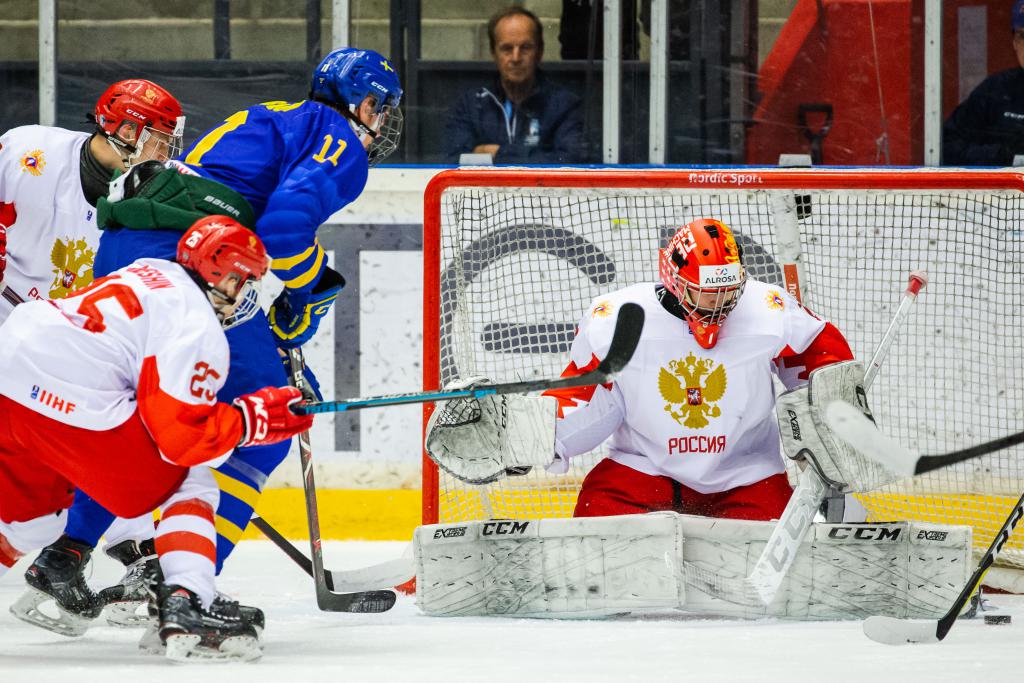 THE PIPELINE SHOW: Talking to NAHL, NCHC, USHL Commissioners & Ivan Hlinka Preview Show
This article is about: