NHL Entry Draft 2019
Post-Draft Prospect Profiles: Filip Cederqvist No. 143 to the Buffalo Sabres
The 2019 NHL Entry Draft wasn't Filip Cederqvist's first kick at the can. The entire league wielded the right of refusal on Cederqvist in rounds one-through-seven just a year prior.
In Cederqvist's first year of draft-eligibility, the list of younger skaters was a short one. He was barely a month removed from qualifying for 2019. Even though Cederqvist flashed impressive skills, the lack of production in a transition year from the J18 SuperElit to the J20 SuperElit proved a critical flaw.
In the 2018-19-season, Cederqvist took several major steps in his development and was among the best players in SuperElit. Växjö rewarded Cederqvist with as many as 33 games in the SHL during the regular season with an additional six in the playoffs. Cederqvist found a way to be productive in both the SuperElit and the SHL, with 32 points (14 goals and 18 assists) on the junior team and eight points (four goals and four assists) in the SHL.
Cederqvist also made his debut with the Swedish national team, as he got to dress up for Sweden at the U19 5 Nations tournament in Finland in early 2019.
Scouting Report
Cederqvist isn't known for his skating, but he has a powerful stride and good balance. There is room for improvement as he can look heavy both in acceleration at short and long ranges. At shorter ranges, Cederqvist's flaws as a skater are mainly due to an average first few steps as he gathers speed. His agility is slightly better, and he is able to change direction and navigate between opponents with the puck through traffic. If Cederqvist could improve his skating; he could be much more consistent in the way he utilizes it in his offensive game. Improvements made to Cederqvist's skating will be necessary for him in order to translate his offensive game from the junior-level.
Filip Cederqvist 1-0 mål för Växjö mot HV71. #J20gifs #J20SESödra pic.twitter.com/S7JFGR8cWI

— Anton Johansson (@antonj85) November 21, 2018
It's Cederqvist's strength, among other qualities, that makes him so effective at the junior level. He outmuscles the opposition regularly and does a good job of protecting the puck under pressure. Cederqvist also has a good sense of when to use his physicality to impact the game on a shift-to-shift basis.
When Cederqvist plays against men in the SHL that physical advantage just isn't there, and he finds himself on the perimeter as a result.
There is also some finesse to Cederqvists offensive game. Brute force isn't the sole driver of Cederqvist's output. He is a decent stickhandler and uses that skill to catch his opponents off guard in 1-on-1 situations on rare occasions.
Overall, though, Cederqvist's puck skills are fairly average. Even if there are times when he can make smart and unexpected plays while maintaining full control of the puck there are several other times where he fails due to not being able to keep the puck on his stick.
Filip Cederqvists 1-1 mål för Växjö mot SSK. #J20gifs #J20SESödra pic.twitter.com/TwoMRiLK2M

— Anton Johansson (@antonj85) December 7, 2018
There are situations where Cederqvist's puckhandling affects other parts of his game — most notably, his passing abilities. Cederqvist has decent vision and awareness — nothing spectacular — but he can spot potential passing lanes and at times find less-obvious ones, too. He often tries to make one-touch passes in order to quickly distribute the puck, but his hands are not always able to match his vision.
Cederqvists passes vary in quality accordingly. His one-time passes are sometimes terrific, but they can also miss the target completely, leading to dangerous turnovers or lost time on the powerplay.
Jakob Heljemo 1-0 mål för Växjö mot Linköping, framspelad av Filip Cederqvist. #J20gifs #J20SESödra pic.twitter.com/kiIs3M5qkS

— Anton Johansson (@antonj85) December 9, 2018
Cederqvist's goal-scoring is at least one degree better than his playmaking. He has a heavy and accurate wrist shot with a decent release; it requires a slight wind up time but that does not stop Cederqvist from beating goaltenders with it. He could utilize his shot more from range, though, as an inordinate amount of his production is from in-tight to the net.
One of the main reasons for Cederqvist's production in that space is his strength combined with his willingness to go there, with and without the puck. At the U20-level he simply outmuscled the opposition to create scoring chances. He does not give up on the puck when it is around the net and keeps on fighting until the whistle is blown.
Filip Cederqvist gör 3-0 till Växjö. #J20gifs #J20SESödra #VLHJ20 #MIFJ20 pic.twitter.com/FBEdMuOBuh

— Anton Johansson (@antonj85) September 19, 2018
Defensively, Cederqvist is no slouch. He usually puts in the effort and is strong along the boards where he can utilize his physical advantage to great effects. He took on more of a defensive-specialist/grinder's role in the SHL, and he showed that he can play that type of hockey well there. He put in the effort to win pucks up high on the forecheck and did not give up on the backcheck, even though he sometimes could struggle to keep up due to his lack of speed over longer distances. Playing against men in the SHL, Cederqvist has continued to use his body and strength and he does not shy away from throwing a hit if he sees a good chance.
Filip Cederqvist fick matchstraff efter denna tackling. #VLH pic.twitter.com/My3uR52tx2

— Anton Johansson (@antonj85) December 30, 2018
At the U20-level Cederqvist is a solid defensive piece in his own zone. He is not brilliant but above average when it comes to playing at his own end. His positional play and awareness could be improved, mostly by turning his head more to check his surroundings. He works with his stick to cut off passing lanes and is strong in the more physical aspects of defending. In the SHL he can have issues with the higher pacing, which can mean that he is not always able to keep up with what is happening around him, and he can lose track of opponents or have problems with his positional play. On the other hand, those are common problems for junior players that take the step up to the SHL-level, so it should not be a big concern regarding Cederqvist right now.
Outlook
Cederqvist will continue to play for Växjö in the upcoming season. He will be looking to climb their roster during the season. Cederqvist will, most likely, need another two or three seasons in Sweden before heading over to North America to challenge for a spot on the Sabres roster.
You may also be interested in: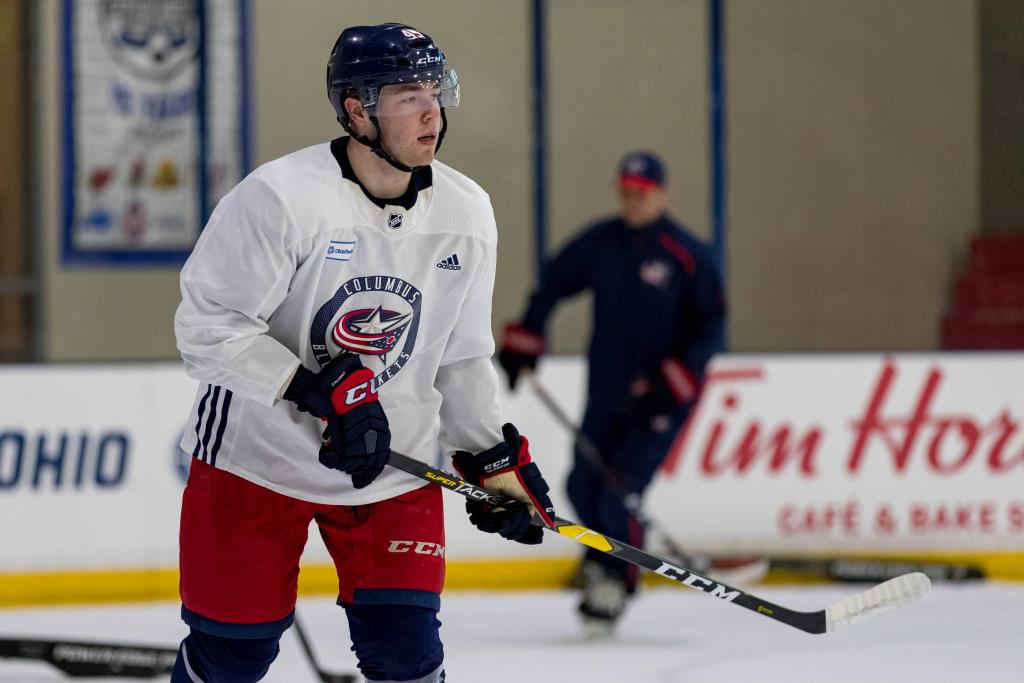 Post-Draft Prospect Profiles: Eric Hjorth No. 104 to the Columbus Blue Jackets
This article is about: