Column
WILLIAMS: Part 3 of a Sit-Down with Bryan Helmer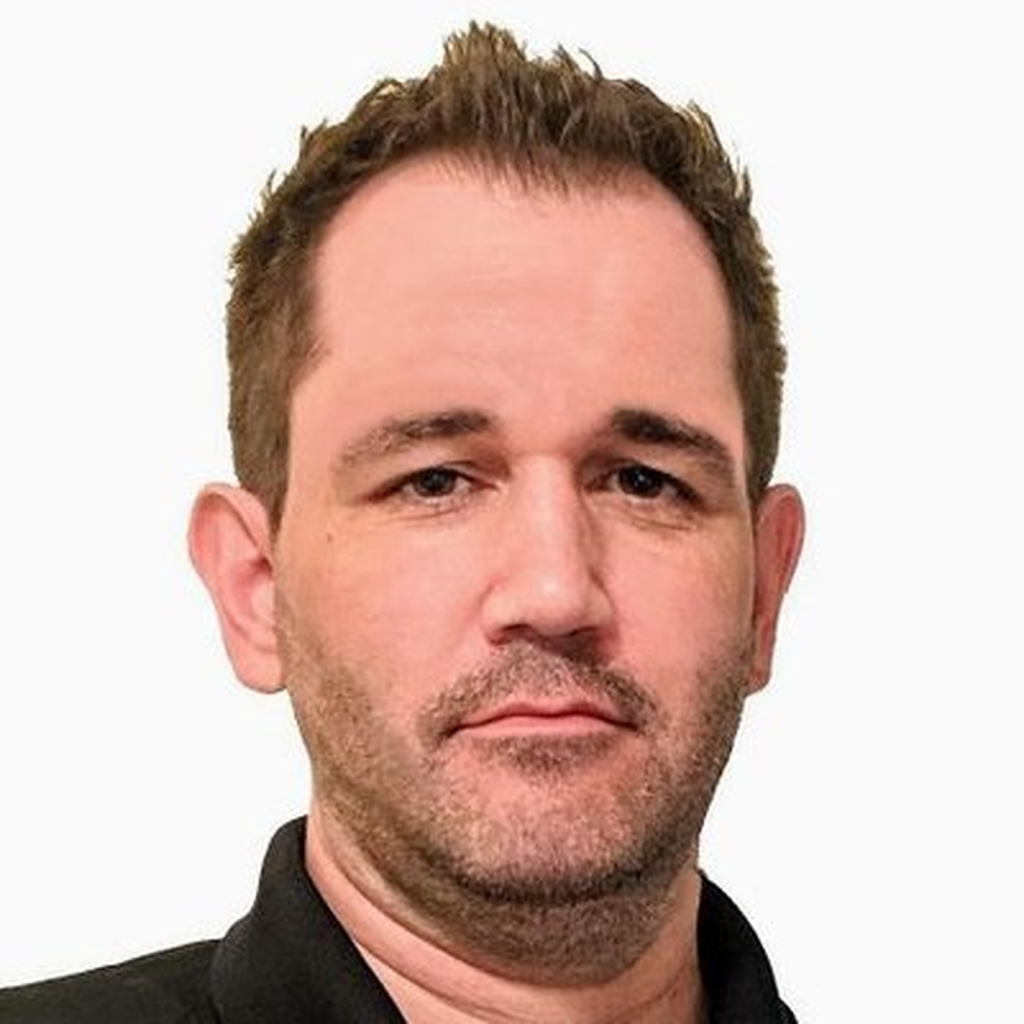 Patrick Williams
Earlier this summer, Hershey Bears vice president of hockey operations Bryan Helmer sat down for an extensive one-on-one interview with EP Rinkside to discuss all sides of the hockey business.
Helmer played 20 seasons of pro hockey, including 146 regular-season NHL games. He won three Calder Cup championships, ranked first in points in AHL history by a defenceman (129-435-564), and landed third in league history with 1,117 regular-season games. Those achievements put him in the AHL Hall of Fame.
Since retiring in 2013, Helmer has not slowed down. He worked as an assistant coach at the OHL and AHL levels before moving into management with one of the top NHL-AHL affiliations in the business. Hershey's affiliation with the Washington Capitals has churned out a parade of NHL talent and produced three Calder Cup championships in 14 seasons.
Part 1 of this series featured a look at Helmer's thoughts on a wild 2018-19 season for the Bears that had them in last place at midseason before a second-half tear carried them into the Calder Cup Playoffs.
In Part 2, Helmer examined the role of experience in player development, his roles in hockey having ranged from a rookie playing on a tryout deal in the AHL to greybeard veteran 20 years later.
Here is the third and final segment of a three-part series with Helmer:
ON THE WASHINGTON-HERSHEY RELATIONSHIP
The Washington-Hershey affiliation agreement is up for renewal after this next summer. The two sides banged out a four-year agreement before the 2016-17 season, shortly after the Bears had reached the Calder Cup Final.
Situated at the Triple-A level of the hockey world, the AHL has experienced dramatic changes to its map and affiliation picture in the past 15 years. But the Capitals-Bears affiliation has been a source of stability in that span. Affiliated with the Capitals since the 2005-06 season, Hershey is tied with the Toronto Marlies for the AHL's seventh-longest NHL affiliation.
Three seasons into their latest affiliation agreement, the Bears have reached the Calder Cup Playoffs twice, reaching the second round both times. Hershey has also continued to send talent on to Washington, and the two sides have combined to make several significant offseason additions for the AHL side.
Going into their 82nd AHL season this fall, the Bears have built a brand and reputation of their own. Side-show marketing does not hold much weight in Hershey, where 11 championship banners hang in the rafters. Winning does. Helmer's task is to help manage that affiliation, to balance Washington's player-development needs with the need to dress a competitive team and pursue the Calder Cup in Hershey.
Helmer has experienced the Washington-Hershey partnership as a captain, assistant coach, and now as an executive in a well-appointed office.
"I think right now that our relationship is probably the best it's ever been," Helmer said.
The AHL's more independent days of the past are largely over. In the past decade, NHL clubs have continued to buy AHL franchises, the aim being to bring their minor-league operations under one roof and have greater control of player development. Hershey and the Chicago Wolves, a Calder Cup finalist this past June, have been two holdouts. The Bears have been an independently owned and operated franchise since their inception.
Situated in Central Pennsylvania, the Bears are located where the Capitals, Philadelphia Flyers, and Pittsburgh Penguins all have at least some hold on the NHL affections of local hockey fans (the Bears have also been affiliated with all three NHL organizations at different points).
But Helmer thinks the Capitals' presence in Hershey for the past 14 seasons has given Washington an edge with those local fans. The Bears had the Stanley Cup on hand for their home-opening weekend this past season. And downtown Washington, D.C. is a quick trip down the highway from Hershey, making for easy road trips for each team's fans.
"I think we're [also] starting to bring in some [Caps] fans to Hershey, because [fans have] seen these guys go up, and they've won the Stanley Cup. They're like, 'Oh, these guys came through Hershey. Well, we're going to shoot down there and check out the next wave [of prospects] coming through."
"I've had many [Capitals fans] come up to me and say, 'You know, this is my first game in Hershey. We live just outside of Washington, and [Giant Center is] a great facility. We love what you guys do down here.'"
ON HERSHEY'S SALE PITCH TO PLAYERS
This summer the Bears signed veteran NHL forward Matt Moulson.
While Moulson's NHL time has likely ended, this is a player who has played 650 NHL regular-season games. This is also a player who remains — at the very least — a top-end AHL scorer with 28-34-62 in 68 regular-season games this past season with the Ontario Reign.
Washington's deep line-up often has meant that NHL opportunities there are scarce for players in Hershey, which can complicate attracting players on the NHL-AHL bubble. The Bears cannot offer the warm weather and palm trees that Moulson had in Southern California, but they had enough assets to craft a successful sales pitch to Moulson.
Although Hershey itself is a small town, it is a major tourist destination. The Central Pennsylvania region is home to 1.2 million people in a combined statistical area (CSA) that makes it a top-50 population market as defined by the United States government. Mix in several major centres nearby for easy day trips, and the Bears can compete with the AHL's top markets off the ice.
Hockey-wise, the Bears are heavyweights. Playing in a league with the likes of Chicago, Toronto, San Diego and other major population hubs, the Bears finished second in AHL attendance this past season.
"The first thing that draws players in is playing in front 10,000 people," Helmer said. "It's a great set-up. The rink's awesome. That stuff goes a long way."
"Hershey is a hockey hotbed."
ON DIVING INTO THE BUSINESS WORLD VIA THE ENTERTAINMENT INDUSTRY
Rare is the pro hockey player who retires and ends up with a life-after-hockey career dealing with the worlds of roller coasters, hotels, and childhood education.
But with the Bears being part of the Hershey Entertainment corporate portfolio and playing in a town first built on chocolate, Helmer has dug into a wide range of learning opportunities that are rather removed from hockey.
Milton Hershey founded his eponymous chocolate company in 1900. The Milton Hershey school opened in 1909; it provides a cost-free education to income-eligible children and has sent a host of successful alumni out into the world. He established what is today Hersheypark, one of the largest amusement parks in the United States. Hersheypark Arena, built during the Depression for his company's employees to watch their local hockey team, hosted the Bears for more than 65 years. With Giant Center often busy with concerts and other events, the Bears sometimes still practice in Hersheypark Arena. They still churn out chocolate in Hershey, but entertainment, hotels, golf, and other ventures also pay the bills.
All of that amounts to a lot of business knowledge around him that Helmer can tap. While he jokes that his move into the business world had a steep learning curve, he has embraced it and started to catch up to his more experienced boardroom colleagues.
"At the start, I was pretty lost in some of those meetings," he recalled laughing. "I'm like, 'What? I'm lost here.'"
"'[Now] for me, sitting in on [business] meetings with the company is not just learning about the hockey part, but also learning about the company. How the park runs, how the hotels run."
ON THE AHL
When Helmer entered the AHL in 1993, it was a 16-team league confined to Atlantic Canada, parts of Ontario, and the northeastern United States. Today's 31-team circuit stretches from Quebec to California, and it is the NHL premier development league.
Helmer played in an era in which the AHL was a rather wobbly operation, business-wise. With AHL president and CEO Dave Andrews set to retire next summer after 26 seasons guiding the league, it is a much more stable venture.
Now that the season is over, there's a lot for AHL President & CEO of the league, Dave Andrews, to consider, including CBA negotiations.

On @EPRinkside, AHL reporter @pwilliamsNHL interviewed Andrews & shares the answers with our readers.

? for 1hrshttps://t.co/bwnb29Rhif pic.twitter.com/EJirtE1aPj

— EP Rinkside (@EPRinkside) June 17, 2019
With those more trying days in the past, Helmer likes where the league sits now.
"It's in great shape right now. And there are multiple cities that would love an [AHL] franchise."
"Now there are teams like us that are making money."
ON DAVE ANDREWS
"[Those are] going to be big shoes to fill with the new [Andrews replacement] coming in."
"Dave is very, very approachable. Very, very knowledgeable."
Much like Helmer now, Andrews worked his way from the ice into coaching and then shifted to management. Building a successful business operation has kept Andrews busy, but his roots are in hockey.
"He loves to talk hockey," Helmer said. "He's passionate about hockey, passionate about this league. He has done so much for me."
"You know, you can call him up any time of the day. He will answer your call and be willing to give you his advice. And he's just an incredible person. The relationships that he has made in every league, and especially with the NHL, he just has such great relationships with everybody."
"It's going to be hard when he steps down. We're definitely going to miss him."
HANGING UP THE SKATES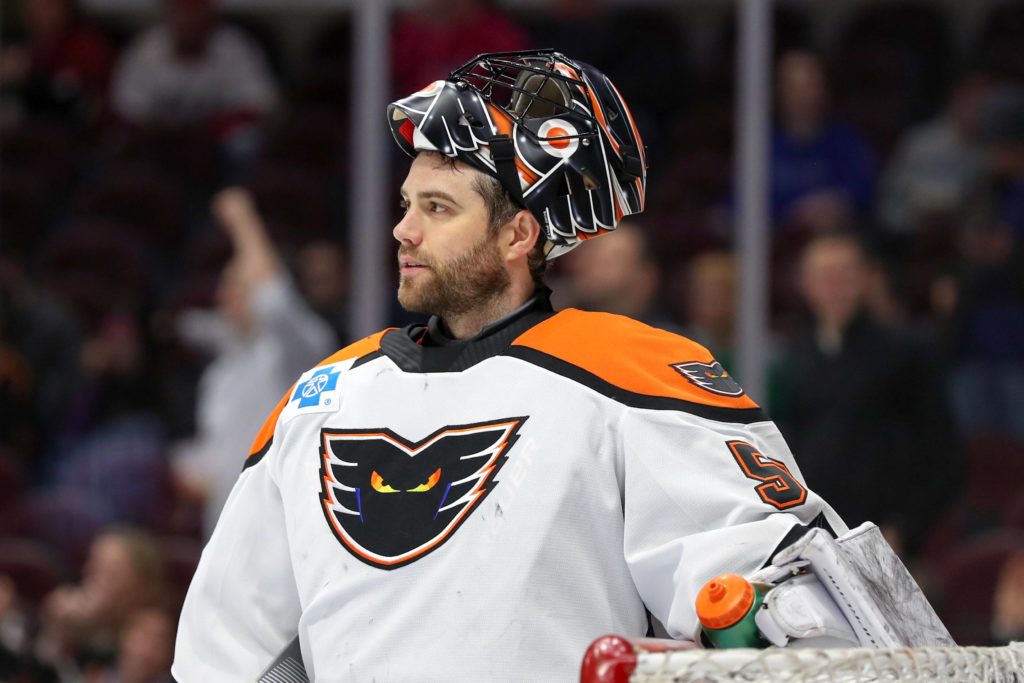 An AHL fixture has decided to call it a career after 14 pro seasons.
Mike McKenna announced this past Tuesday that he is retiring at age 36. He leaves the ice with 231 regular-season wins, the most by a US-born goaltender and eighth overall in league history. In all, he was 231-179-39 | 2.72 | .912 across 477 regular-season games and had 27 shutouts (tying him for 10th in AHL history). He entered the AHL in the 2005-06 season.
Some of his best work came in the postseason, especially later in his career. He went to Calder Cup Final in back-to-back seasons with the Syracuse Crunch (2017) and Texas Stars (2018). In his 2018 run, he helped push the powerhouse Marlies to Game 7. His playoff mark was 34-31 | 2.75 | .912 in 67 games.
After landing with Philadelphia this past season, he went to Lehigh Valley. His final AHL game was a 3-2 home shootout win against the Hartford Wolf Pack this past April 13th.
He also mixed in 35 NHL regular-season games divided between the Tampa Bay Lightning, New Jersey Devils, Columbus Blue Jackets, Arizona Coyotes, Dallas Stars, Ottawa Senators, and Flyers (7-17-3 | 3.60 | .890).
AROUND THE AHL
The collective bargaining agreement between the AHL and the Professional Hockey Players Association expires this Saturday, but do not expect any labour-related fireworks between the sides.
Their CBA signed before the 2015-16 season hammered out several key issues, namely increased playoff compensation for players. Andrews and PHPA executive director Larry Landon have never had a work stoppage. Landon has been in his role since 1993, and Andrews took over the AHL's top job in 1994.
While Landon was not able to be reached in time for comment, Andrews said in a written statement to EP Rinkside that "negotiations have been positive and productive, and they are ongoing. I do anticipate that we will reach a new [CBA] prior to the start of the 2019-20 season."
You may also be interested in: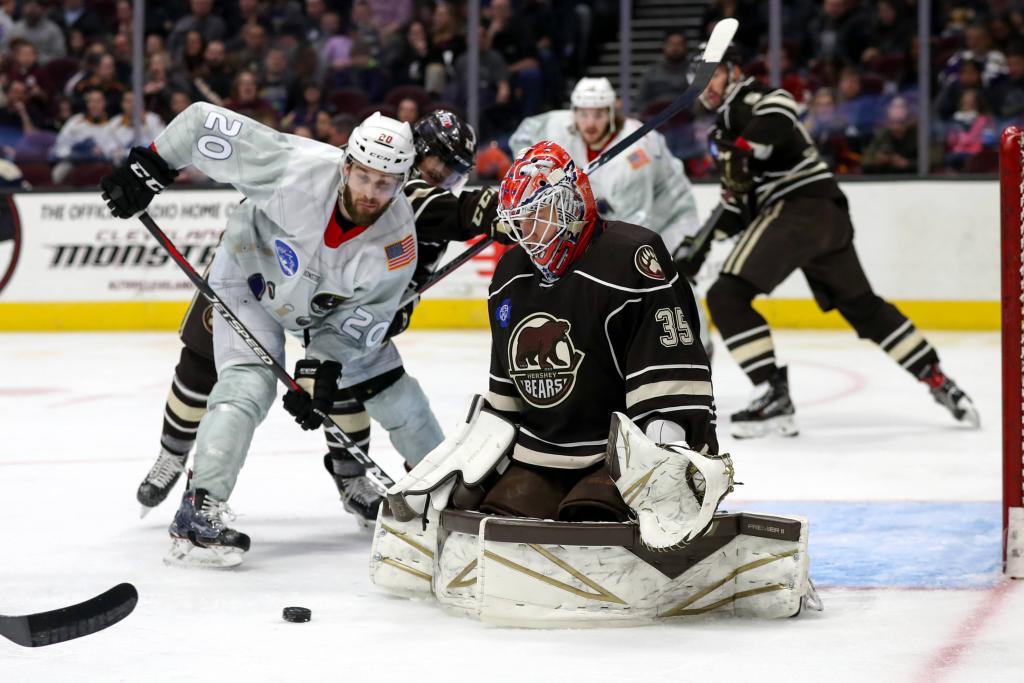 WILLIAMS: Part 1 of a Sit-Down with Bryan Helmer
This article is about: