NHL Entry Draft 2020
How an Unexpected Cut From Sweden's U18 Roster is Motivating Noel Gunler in his Draft Year
When Team Sweden's Under-18 Head Coach Magnus Hävelid released his final roster for the U18 World Hockey Championships, many observers raised one, maybe even two eyebrows in response.
With the likes of Alexander Holtz and Lucas Raymond locked in, one player, in particular, was conspicuously absent: Noel Gunler.
The 17-year-old Luleå sniper tore up the SuperElit league in the regular season and was even beginning to make a name for himself with SHL's Luleå Hockey, where he dressed up for 15 games last season. 
Despite coming off a big regular season showing, scoring 27 goals and adding another 19 assists – a points total of 46 – in 31 games against players mostly one or two years older than him, Gunler got cut from Team Sweden's U18 World Championship team.
"Honestly, there was nothing more to it than that he (Magnus Hävelid) thought there were 13 forwards that were better than me at the time. That was his point of view and nothing much I could do", Gunler says.
"I wasn't on the Hlinka roster earlier during the season, either. Of course, it would've been a blast playing a World Championship in your home country, but there was nothing more that I could do than just clench my fist and carry on.
"I've used the disappointment from getting cut to prove the doubters wrong. It made me work even harder during the offseason and it's really been extra motivation for me, to keep getting better."
This season, Gunler is expected to be a regular on one of the SHL's top sides, Luleå. Luleå head coach Thomas Berglund has put a lot of faith in the youngster during the pre-season friendlies as well as in the Champions Hockey League, where the 17-year-old so far has put up two points in three games during the tournament's group stage. 
"I'm an offensive-minded player with a great shot that likes to be in the areas where the scoring gets done, and preferably score some nice goals", Gunler says with a big laugh.
"My goal for this season is first and foremost to be a regular on the SHL-team. But as I said, I'm an offensive-minded player so of course, I want to be a productive player at the SHL-level as well. I want to chip in with some scoring touch and that's something I work very hard on in practice to accomplish".
Playing with and against men, it's not a given to get big chunks of ice time at age 17 in one of Europe's best hockey leagues, though.
"For me, the most important thing is to work really hard every day to earn a spot. We have a really, really, good team and should be expected to be one of the best teams in the SHL this season, so the competition is really tough. 
"Of course, my goal is to play as high up in the lineup as I possibly can. Regardless if I'm being put on the top line or in the bottom six though, I will just keep playing my game".
As mentioned before, Gunler featured in 15 regular-season games for Luleå last season. He played in his first game for Luleå just eleven days after he turned 17, scoring in his second-ever SHL game only two nights later.  When the season came to a close, Gunler had five points to his name, scoring two and adding another three assists.
"When I got the chance with the men's team in October, I didn't quite know what to expect. I only tried to go out there, cherish the moment and play my heart out", Gunler says.
"It was a bit back and forth. Players were coming and going back from injuries during a big chunk of the season, so I kind of struggled to find a rhythm 
Having got the opportunity to get a taste of the SHL is a real confidence booster for him, the 17-year-old claims. 
"Oh, for sure, it really is. I'm not coming into a locker room or a league I'm completely unfamiliar with, so those 15 games were really important for me. Coming into the offseason as well, kind of knowing what to expect and what's ahead. I know that I can play at this level if I'm being the best version of myself, and that's nice to know coming in".
How high are these three Swedish super prospects for the #2020NHLDraft going to go?

… and would you be all kinds of excited if we told you that there's an exclusive interview with one of them on the way on @EPRinkside?

?????? pic.twitter.com/WJJZb2wbYm

— Eliteprospects (@eliteprospects) September 12, 2019
In less than a year from now, Gunler will have been drafted, most certainly in the first round of the NHL Entry Draft in Montreal. The draft is nothing that keeps Gunler's mind overly occupied, but he admits that it is in the back of his head coming into this season.
"Of course. But I have one of the most exciting seasons in my career, probably, ahead of me right now. You only have one draft year and all I could do is just to make the most of it. 
"Then with the draft rankings and when and where I'm projected to go, that's not really something I can put my energy towards. But I'm not going to lie, it would be pretty nice to be picked fairly high", Gunler laughs.
One player that knows particularly well what the 17-year-old going through this season is his Luleå teammate Nils Lundkvist, the defender that got drafted 28th overall by the New York Rangers in the 2018 Draft.
"I've been talking with "Nisse" a little bit about all of this and I guess that I'm going to reach out more to him when the draft is creeping closer. It feels nice to have someone like him to bounce com ideas and thoughts with. He's been through the same experience fairly recently, so it's nice to have him around.
You may also be interested in: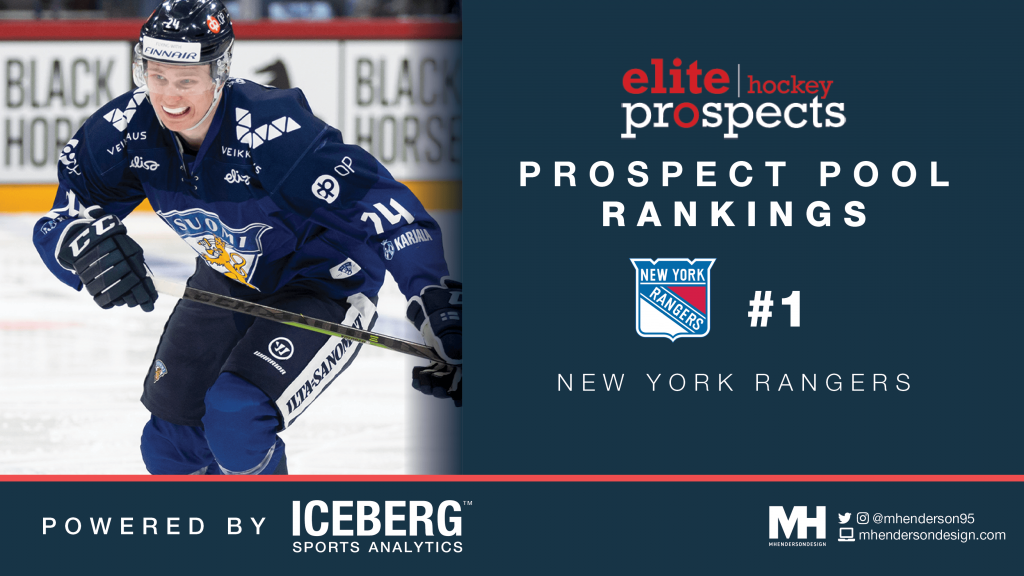 EP Rinkside Prospect Pool Rankings: No. 1 Ranked New York Rangers
This article is about: