Scouting Reports
Scouting Report: Round 1 of Champions League Hockey Wrap-Up
While we anxiously and impatiently wait for training camp and the extensively long pre-season schedule to conclude in the NHL, squads around Europe have been playing for keeps for some time.
The National leagues have all begun, but even before that, clubs from around Europe have been battling it out at the Champions Hockey League tournament. The CHL tourney is a long-standing event that pits 32 clubs against one another in stages throughout the season. The first round concluded on Sunday, September 15.
For those interested in exactly how a team qualifies, here's a quick and informative video
While it would be somewhat interesting to regale you with updates and reports on former NHL stars who have watched their shine diminish, such as Marcel Goc, Andrew Ebbett, and Derek Roy, the main purpose of this piece will be to highlight some very exciting young players – both the drafted and yet-to-be drafted.
Tim Stützle, C – Adler Mannheim (DEL) 2020 NHL Entry Draft Eligible
This year's class of CHL youngsters is well-represented with high-upside talent. And thus far, Tim Stützle has stood out among the crowd. The speed-driven centre has earned the most prominent deployment of any draft-eligible at the event. This has been in part due to the depth of his German club but also his being quite clearly one of the top offensive options.
When breaking down Stützle's game, whether it be last season as a 16/17-year-old in the U20 circuit or the early returns as a professional this year, the first thing you notice is his explosive first two steps followed by a serious top gear. He pushes the needle often but also has the hands and mind to keep up with his feet.
Watch below as he accelerates through the neutral zone, dumps the puck and quickly retrieves it. He makes several quick moves to maintain control and complete the uncontrolled entry. Many players would simply throw a puck around the boards in hopes of the opposite winger getting there. Or attempt to stickhandle in and be pinched off.
In assessing his puck skills, the 17-year-old provides countless examples. Watch his quick move to start the exit from his own end. His head is constantly up.
Below, he uses his processing ability and patience to wait for the oncoming defender to pick a lane to drive Stützle towards. The German teenager waits for that directional decision, then shifts away creating a lane to distribute into an odd-man situation.
The patience that he exhibits is not confined to a standstill on the half-wall. It also slides nicely into his transitional game. Watch below as receives the pass on his outside edge, kicks it up to his blade in a smooth motion. Once he has control he, again, outwaits his opponent before sliding a crisp little cross-crease pass for a primary assist on the power play.
It's the nuances of a play like that that just screams high-upside.
One final look at his ability to think the game at a high-level is represented by what I like to call 'lurking'. In the clip below, you can see Stützle (#8) lurking around the quiet areas of the offensive zone. His stick is on the ice, his head is up and assessing where the play is and where it might lead to. You can watch him deduce where his mate will be forced to go and where he needs to be. In the second half of the clip after losing visual on him, we then see Stützle again in the quiet areas, but this time he is getting his feet and body into a position to quickly get a shot off if it comes. It indeed comes and he buries an even-strength tally.
After the first round of qualifying, Stützle sits tied for second in team scoring with two goals and four points in four contests. His Adler Manheim squad has qualified for the playoff stage by leading Group F — ahead of an elite SHL club in Djurgården.
Tuukka Tieksola, RW – Kärpät (Liiga) – CAR – 121st overall (2019)
Despite averaging just under ten minutes per game, the Carolina draft pick has been buzzing early on in CHL action. Tuukka Tieksola has been one of the tournament leaders in Scoring Chances For on a per-minute basis (SCF/60) and has been one of the more dangerous players for Kärpät. He's accomplished this by playing to his strengths, which is all about speed, puck control, patience, and creativity.
A gifted puck-handler, he has wowed at the U20 level in one-on-one situations. He uses those quick and elusive hands to buy himself time before moving the puck to a mate. He's been showcasing that ability in the professional ranks during early CHL action as well. Below is a look at his poise and puck control as he enters the zone and sets up the play leading to a scoring chance.
The addition of the 18-year-old's great speed creates another layer to his ability to generate offence in transition. Watch below as he can kick it up to top gear in a hurry. In this instance, he was looking to be on the receiving end of a give-and-go, and if his mate was on the same page he would've been in for a quality scoring chance.
Tieksola, whom I had rated as a B-level prospect heading into the draft last June, fell to the fourth round due to traditional knocks. He's small — 5-foot-10 157 pounds, and that leads to his losing more puck battles than he wins. He also lacks zip on his shot. Despite that, his shot mechanics aren't poor, it's simply a matter of strength. Watch below as he sets his hands, drops to one knee for leverage and gets a quality one-timer away.
Despite his shot being a work in progress, and his being known traditionally as a playmaker — Tieksola has found the back of the net twice in two contests thus far. He's driving play in all directions, leading all U20 skaters at the event with a 74.42 Corsi For% rating.
It's an impressive start for Tieksola who will look to see his role elevate as the season wears on. He was always going to be something of a longterm project due to his size and strength, but the traits that he excels at are in high demand.
Nils Lundkvist, D – Luleå (SHL) – NYR – 28th overall (2018)
The smooth-skating Swede has been showcasing his talent with regularity early on at the CHL event. Playing on one of the top teams at the tournaments, the 2018 first-round selection has been leading the charge from the backend. Nils Lundkvist currently sits tied for the team-lead in points with four in as many games. He leads the team in shots on goal (11) while skating 20:13 per game on the top pairing and top power-play unit.
Similar to Tieksola and Stützle before him, Lundkvist's game is predicated on speed, awareness and puck control. He is an extremely efficient transitional defender — capable of moving the puck out with both his feet or his outlet pass. Witness below where he quickly disrupts the offensive play jumps into open ice to receive the pass before creating a chance going the other direction.
His ability to work defensively despite being a tad undersized (5-foot-11, 174 pounds) is possible thanks to the speed and hockey sense. Watch in the clip below where he has his eyes on the forward and waits for him to push the puck ever-so-slightly closer to Lunkvist's side. At that point, he extends and breaks up the play effectively.
He also has the ability to get down and dirty in order to make a play as evidenced by this highlight back in league play.
Noted goalie Nils Lundkvist with the save. #NYR pic.twitter.com/vNeFJLYcsd

— Alex Nunn (@aj_ranger) September 17, 2019
Below is an even-strength tally where he, once again, has his head up, waits for the screen(s) to set up, before quickly wristing the puck short side cheese.
The 19-year-old lacks a howitzer from the point, however, he makes a habit of getting his shots through. By preferring to use his wrist shot, he gives himself more flexibility to work around screens and find lanes.
The Rangers' pipeline is just too good.
We have ourselves a winner. The New York Rangers check in with the No. ? ranked prospect pool in the NHL.@JDylanBurke brings a complete scouting report on their 15 best prospects.

With video, and data from @ICEBERG_Sports.https://t.co/8r7Gflbtg0 pic.twitter.com/CFgYaeWrF3

— EP Rinkside (@EPRinkside) August 19, 2019
Quick Hits
Jesse Puljujärvi, RW – Kärpät (Liiga) – EDM – 4th overall (2016)
The self-imposed exile has been going well for the former fourth overall selection. Jesse Puljujärvi has been one of the better players at this tournament, recording two goals, four points, and 23 shots on net in four contests. That shot rate sits second in the tournaments.
The 21-year-old is skating 16:30 a game while skating on the team's top line and top power-play unit. He's doing his part to elevate his trade value in hopes that GM, Ken Holland pulls the trigger and gets him back into the NHL before the December 1st out-clause expires in his Liiga contract.
Alexander Holtz, LW/RW – Djurgården (SHL) – 2020 NHL Entry Draft Eligible
We've been spoiled with exceptional goalscorers in recent years. Patrik Laine in 2016. Andrei Svechnikov in 2018. Cole Caufield this past June. Now it's time to get ready for the Alexander Holtz show.
Holtz has been seeing some decent deployment during the early stages of the tournament, skating over 14 minutes a night in the top six with power-play ice. He's produced two goals on 12 shots.
? Just as we tweeted about him, Alexander Holtz (@DIFHockeyse) scores again! Maybe he heard us?#ChampionsGoBeyond pic.twitter.com/UyaXK1HXzA

— Champions Hockey League (@championshockey) August 30, 2019
Holtz already owns the U17 SuperElit record for goals and it's expected he'll go out and break the SHL U18 goal scoring record (10) this season.
Noel Gunler, RW/LW – Luleå (SHL) – 2020 NHL Entry Draft Eligible
Let's just keep it going with the Swedes. The oft-overlooked, Noel Gunler is a tremendous finisher in his own right. This kid scored 27 goals in 31 games for Luleå J20 squad last season. In three tournament games thus far, the 17-year-old has one goal and two points while seeing just nine minutes of ice per night.
The adversity Noel Gunler had to face as a snub from Sweden's U18 roster is now fuel to motivate him in his draft year.

And Gunler has his eyes set on a high first-round pick this June.

On Rinkside, @rasmuskagstrom has the story. Keeping it ?https://t.co/fo4ekcRAMl pic.twitter.com/jhuiENb6kh

— EP Rinkside (@EPRinkside) September 14, 2019
Living down the lineup has impeded his ability to consistently generate chances, but you can see the skill and smarts on display. This is a player whose draft stock should elevate throughout the season – especially if he can find a way out of the Luleå bottom six.
Lucas Raymond, RW/LW – Frölunda (SHL) – 2020 NHL Entry Draft Eligible
My personal favourite of the big three Swedes this year. Lucas Raymond is slightly more playmaker than a finisher, but that's no disrespect to his twine-bending ability. Speed and skill are the names of the game with Raymond. He possesses both at an incredibly high-level and should be seriously considered for the pole position next June.
So far at the CHL tournament, the 17-year-old has been utilized in a diminished role despite his very apparent abilities. This is due to the impressive depth of the Frölunda forward corps. While averaging just 9:29 per games, Raymond has managed two goals and three points in four contests.
?! Welcome to the CHL, Lucas Raymond! ???#ChampionsGoBeyond pic.twitter.com/l5NMCyUk0J

— Champions Hockey League (@championshockey) September 5, 2019
His ability to generate chances at a high-level despite playing down the lineup is impressive, to say the least.
Philip Broberg, D – Skellefteå (SHL) – EDM – 8th overall (2019)
The Oilers' most recent top-ten selection returned to Sweden and was loaned from the AIK system in order to facilitate him SHL deployment. Blessed with gifted physical tools, Philip Broberg has been showcasing them during early CHL competition.
BURKE: Weighing the Risk and Reward of Swedish NHL Draft Prospect and AIK defenceman Philip Broberg ??????

By @JDylanBurke, on @EPRinkside.https://t.co/tZFNm2U3iQ

— EP Rinkside (@EPRinkside) June 13, 2019
Despite his penchant for jumping into the rush and forcing the opposition to miss with his tremendous north-south speed, the hulking defender has yet to register a point. He did, however, come close to scoring a goal-of-the-year candidate in his SHL debut.
Broberg är såhär nära på att presentera sig i Skellefteå! ? #shl #twittpuck pic.twitter.com/bs8pByFnDG

— C More Sport (@cmoresport) September 14, 2019
You may also be interested in: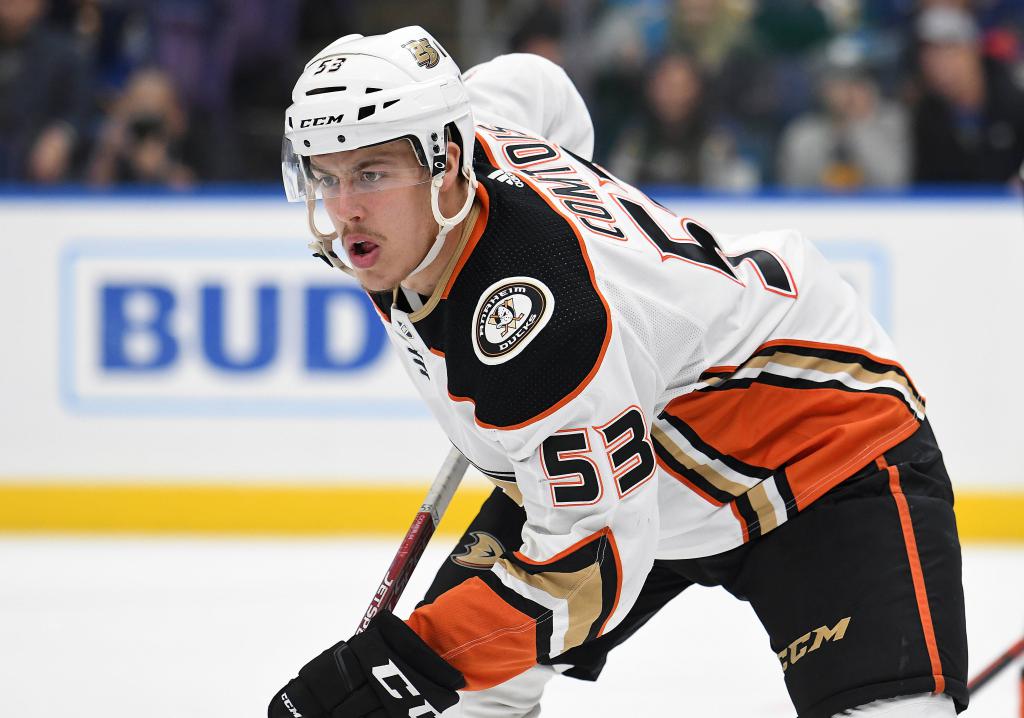 Scouting Report: Anaheim Rookie Faceoff Wrap-Up, With Commentary From Players, Coaches
This article is about: