World Juniors 2019
WJC REVIEW: Disappointing exit for Sweden reflects lack of offensive talent
Ah, what a disappointing finish to a promising start! Sweden started the tournament, like they always seem to do, by winning all preliminary games. But then it all went very wrong.
BY JIMMY HAMRIN, MCKEEN'S HOCKEY
This year they had both Finland and USA, later shown to be the two teams in the final, in their group and beat them both with impressive performances. Sweden were clearly the better team in both those games. Maybe there was some evidence of weakness when they drop a 4-0 lead to a 4-4 tie late in the third period versus USA after having outplayed the Americans for almost two and a half periods. Or, that's just junior hockey being junior hockey.
After the win over USA, Sweden got in trouble when five players were hit by a stomach flu and needed to be quarantined, including some team leaders. In the last group game Sweden had an unimpressive win over Kazakhstan playing with only three lines. It set them back prior to the quarterfinal and they played poorly against Switzerland. The underdog Swiss didn't just win with a heroic defense and goalie, they also created the best scoring chances and even led the shot clock after two periods. Sweden played better in the third but could not score, losing 2 – 0 in their first quarterfinal loss since 2006, which also happens to be the last time the tournament was held in Vancouver.
In my preview, I was concerned for the offensive chemistry given that the defensemen are much more skilled than the forward group. That proved to be the case and that may be a more telling answer than the stomach flu. Swedish forwards only scored seven goals in five games and four of those goals were scored by Emil Bemstrom. In the deciding game against Switzerland it certainly showed in the third period when Sweden got desperate in their attack being down by two goals.
The Swedes just couldn't create enough down low and almost every good attack came through the top defensemen. When defensemen are in on the attack often all ten players are in one end of the rink which makes it harder to score with shots high from d-men having a lower percentage of success. The forwards simply did not show enough creativity or skill. That said, 19 shots on goal in just the third period surely could have bounced better, but with more skill and creativity from forwards the quality of those shots would have been better. Individually over the five games (four wins) there were obviously some good performances. I'll slide the players into three different categories, the good, the okay and the poor (good, bad and ugly didn't seem fair to use).
Let's start with the poor…
As I mention, there were many forwards that did not provide enough on the scoreboard. Jacob Olofsson (MTL), Rickard Hugg (undrafted), Fabian Zetterlund (NJD) and Pontus Holmberg (TOR) were the biggest disappointments.
Olofsson hasn't had a good season so far and it did not get better by putting him on the wing while also playing defense(!) against Kazakhstan. He is a natural center and clearly showed that he isn't strong enough in his board play and needs to improve his ability to cover the puck and to use his frame. His skating is looking better this season though and his best performance came when he played defense, which shows that the hockey sense is there.
Skating is an issue with Zetterlund. He is a goal scorer that didn't score and couldn't create enough on his own due to his skating not being strong. To his defense, he just came back from a tough knee injury. Hugg isn't a flashy player by any means but he produced well in the summer showcase and has been a leading player for this age group and was given a big role but wasn't a difference maker at all in this tournament. Holmberg was supposed to be a creative force with smart plays, but he didn't put up a single point in the tournament getting more and more invisible offensively over the course of the tournament. He has had a good season in Vaxjo though, and still looks like a promising late round pick by Toronto.
The OK…
Samuel Fagemo (undrafted) has had a good season in Frolunda and looks like a player that is a sure bet to be drafted this summer, in his second year of eligibility. In this WJC he showed flashes and created chances with offensive drive but didn't score. Isac Lundestrom (ANA) was okay in his 200-foot game and put up four points but he wasn't as dominant as a player that has played in the NHL should be at this level. In the quarterfinal, he was no-show.  Lucas Elvenes also scored four points and actually showed creativity with the puck but needs to play less on the outside and to shoot more, always seeming to seek a pass. The forwards who were deployed in defense-first roles were also okay. David Gustafsson (WPG) had the most impact, the big center worked hard at both ends of the ice and won big faceoffs among his contributions as a defensive role player in the making.
Filip Hallander (PIT) also performed his role well, although I didn't agree with the way he was deployed. He had about 80% defensive zone starts and played all the penalty kills and none of the power plays. As one of the top junior scorers in the SHL he should have been used more offensively, being strong on the puck and around the net. Other defensive role forwards were Johan Sodergran (LAK), Filip Svenningsson (CGY) and Oskar Back (DAL). None of those three stood out, neither for good nor bad. Philip Broberg (2019 eligible) was the seventh defenseman but got ice time in every game. He played well but couldn't shine in that role.
Nils Lundkvist (NYR) was a bit up-and-down in his performance. He was given a defensive role and played on the penalty kill although his strongest game is making smart plays with the puck. He was over-shadowed by the bigger names on the blueline. Adam Ginning (PHI) is a defensive defenseman and he was also inconsistent in his performance. He is big, strong and poised but was not as strong with the puck as expected – like he can be at his best. Filip Westerlund (ARI) had a somewhat quiet tournament but played simple and well.
The Good….
The best point producer on the Swedish team was Emil Bemstrom (CBJ) with six points. He showed that his success in SHL this season and his strong development is real. He was the best forward on the Swedish team. Bemstrom had better puck skills that I had previously given him credit for. His shot has always been strong but the way he controls the puck in tight areas is impressive. He looks like a solid top six prospect.
Erik Brannstrom (VGK) is a very good hockey player. When he played, he tilted the ice for Sweden, pushing and driving the play. He had one of the more dominant performances I have seen in the first game against Finland. In total he scored four goals and got picked to the All-Star Team.
Rasmus Sandin (TOR) is also starting to look like an NHL player already. Not as flashy as Brannstrom but very smart with the puck. He also drives the play well and doesn't tend to over create.
Adam Boqvist (CHI) was a stud in the game against USA. He is playing smarter both with and without the puck this year. He is an offensive force who also can tilt the ice for his team. His performances weren't as strong after the USA game though. In the quarterfinal he got a bit over creative. Samuel Ersson (PHI) was my pick for net and he got the chance and took it. He had an all-over strong effort and couldn't be blamed for those four quick goals by USA.
He showed calmness, good hockey sense and puck control. He actually kept the Swiss lead down in the quarterfinal during the first two periods of that game to give Sweden a chance.
Get in-depth hockey coverage from McKeen's

You may also be interested in: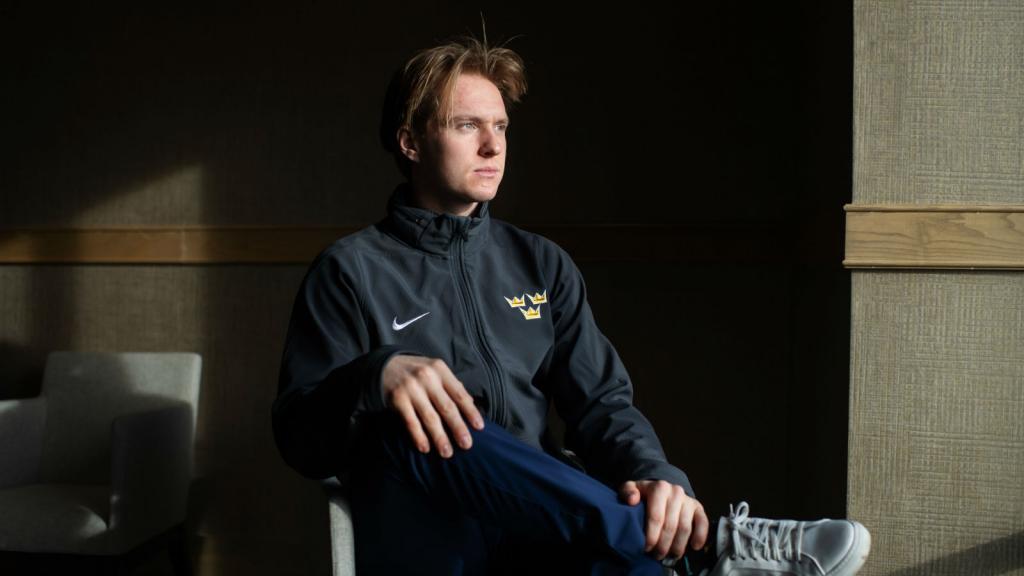 Rasmus Sandin – The Swedish Chameleon: "He always adapts"
This article is about: