NHL Prospects
BODIN: Ottawa Senators Prospect Olle Alsing is Proving Doubters Wrong
Adversity is something Olle Alsing is used to at this point.
The 23-year-old Swedish defenceman has changed teams twice in his young career. Both times, the teams that wound up signing him were criticized for doing so by disgruntled fans. It had happened when Leksands IF picked him up from his hometown team Almtuna in 2016 and it happened once again when Djurgården signed him ahead of last season.
Both times, Alsing let his hockey quiet the doubters.
"There were probably a few people that were wondering why Djurgårdens signed me a year ago and if I was really ready to play here", the Ottawa Senators prospect told EP Rinkside recently. "It's been like that a few times. The fans have been skeptical, but it has made me want to prove that I belong in the SHL and that I'm good enough to play for Djurgården."
This season he has done more than that.
Alsing enjoyed a strong first season with Djurgården last year but has improved even more in this second campaign with last year's silver medalists. After being loaned to Djurgården by the Senators, Alsing has put up nine points in his first eight SHL games of the season and another nine points in five Champions Hockey League games.
[Read more: Scouting Report: Round 1 of Champions Hockey League Wrap-Up]
To summarize: he's taking his game to the next level.
"I'm a calmer player now", Alsing explained. "Going into this year, I've felt like I'm an established player on this team. Last year, it was more of an unsure situation about who was going to be in the line-up and who wasn't. I was lucky and got to prove myself. My self-confidence has grown in this past year and I've gotten more responsibility. I don't feel like I have to prove that I can play hockey this year. People know that I can be relied upon now."
Going into this season, there were a lot of question marks surrounding where he was going to play. Despite signing a two-year pact with the Senators as an undrafted free agent, Alsing pushed hard to play another season in Stockholm. The NHL club was happy to oblige.
"Some teams aren't willing to offer that solution. They want you to come and play in the AHL", Alsing said. "But Ottawa was a team that actually thought this was a good idea. We came to this solution and it feels really good. Had they not agreed to this, I would probably not have signed with them."
Signing a contract with an NHL team and then staying in Sweden for another season is something that has become somewhat of a trend with Swedish free agents. Edmonton Oilers did just that with defenseman Joel Persson after the 2017/18 season. Something they seem to reap the rewards for now as the 25-year-old made their roster out of camp.
[Read more: EP Rinkside Prospect Pool Rankings: No. 9 Ranked Ottawa Senators]
Calgary Flames did the same with Carl-Johan Lerby after last season. Just like Alsing, the 22-year-old defenseman has had a nice start to the SHL season with Malmö Redhawks.
But despite his early success this year, Alsing doesn't want to claim to have made "the right choice" by staying in Sweden.
"The remains to be seen," he said. "This felt like the best solution for me since I like it so much in Djurgården. But it might be just as good of a choice to go to North America, play in the AHL and be on your way. It can never be bad to get used to the small ice surface, get accustomed to life over there and settle in. I don't think that is bad, I just happened to think this was the way to go for me and my career."
He said he wants to get more experience and become stronger before moving overseas.
"I didn't feel like I was done here. I felt like I needed more seasoning, do more work in the gym and get even more confidence in my game so that I would feel ripe when I make the move next year."
One step on the way to getting there would be playing for the Swedish National team.
"That's one of the dreams I have, to wear the jersey of the national team. The real one. I've worn it during two junior tournaments, but this would be different. It would be a blast."
The first Euro Hockey Tournament of the season, Karjala Tournament, will be played in November. If Olle Alsing keeps playing the way he has in the first month of the season, it will be tough for new head coach Johan Garpenlöv to keep him off the roster
You may also be interested in: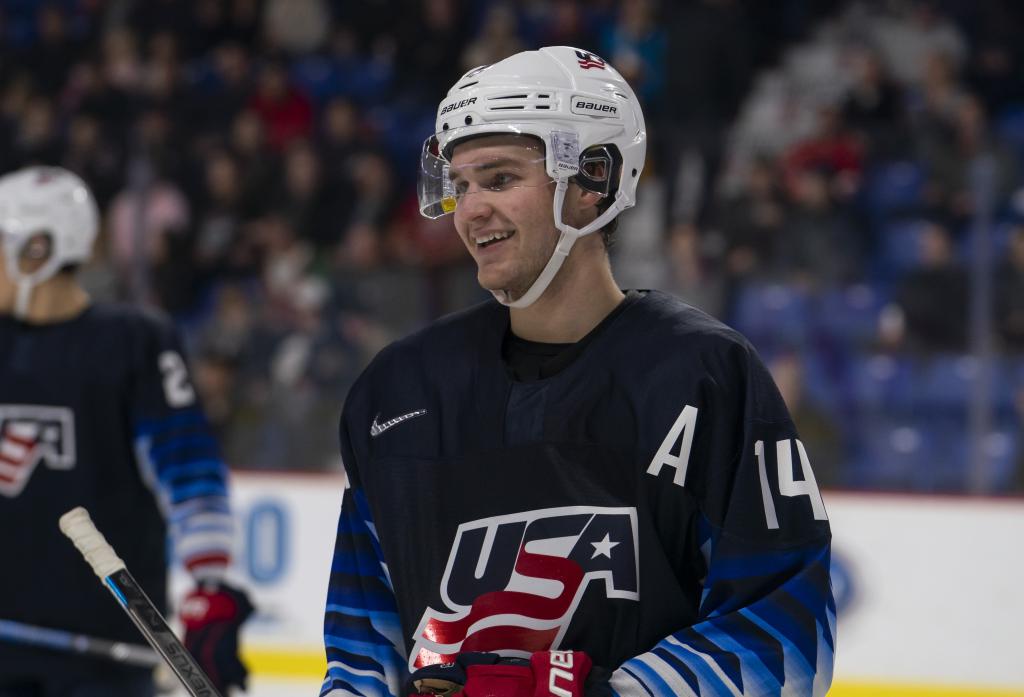 BURKE: What are the Ottawa Senators Getting in Newly Signed Centre Josh Norris?
This article is about: