NHL Prospects
BURKE: Why the Carolina Hurricanes Wanted Dominik Bokk
The Carolina Hurricanes had no shortage of options when they looked at the St. Louis Blues as a potential partner in a Justin Faulk trade. Prospects, draft picks — the Blues held both in spades.
So, that begs the question, then: why Dominik Bokk?
"When you're going through [the Blues] prospects — from an evaluation standpoint — we identified Dominik as a premier prospect and someone to target," Hurricanes Director of Player Personnel Darren Yorke told EliteProspects Rinkside.
"We're looking at players that have offensive upside and can step into a top-six role."
Bokk had among the best hands and individual puck skills in the entire 2018 NHL Entry Draft, and there's always a place for players who profile like that in the Hurricanes organization.
"Obviously, we feel that Bokk has significant upside," Yorke said. "One thing we've done as an organization is to try and get better by any means."
There's your answer.
Had the Hurricanes drawn a different hand at the lottery, Bokk might've already been theirs. Yorke told EP Rinkside that Carolina identified Bokk as someone they wanted to take in either the first- or second-round, circumstances permitting, back in 2018.
Instead, the Hurricanes won the lottery for the No. 2 pick, jumping up from No. 11, and Andrei Svechnikov was theirs for their taking.
Patience, it seems, has rewarded the Hurricanes with another object of their attention in that same first-round. They got their cake, and now they're getting ready to eat it, too.
Bokk is 19-years-old, in his draft-plus-two season playing a meagre 11:34 a night in Rögle, a team that's second place in the entire SHL as of this writing. There's work left yet — lots of it. Nobody is more keenly aware of this fact than Bokk, too.
"Right now, I'm not playing that much. I'm on the fourth line," Bokk confirmed to EP Rinkside. "The coaches haven't really seen from me what they want to see. We want to play [straightforward] hockey. Our game is to play physical and get pucks to the net and stuff like that.
"That's what I've been struggling with right now — the physical game — because I'm not used to playing that way. I play hard, but I'm not the type of guy that throws hits. That's what I'm struggling with now. I've really improved that, though, from the start of the season."
That lack of ice-time and a consistent role has affected Bokk on the scoresheet, where he's stuck one goal and assist apiece through 17 games with Rögle this season.
When one looks at that scoring profile in combination with Bokk's stature through the lens of the pGPS (prospect graduation probabilities system) metric, developed by NextGen Hockey co-founder Jeremy Davis, things don't look especially promising at present.
The pGPS metric looks at a player's statistical- and stature-based profile and then compares it to that of a cohort of players that figure similarly, then determines that player's likelihood of graduating to the NHL based on that cohort.
According to the pGPS system, Bokk's season, as currently constructed, generates a three per cent likelihood of success based on the sample of 84 players that share his cohort.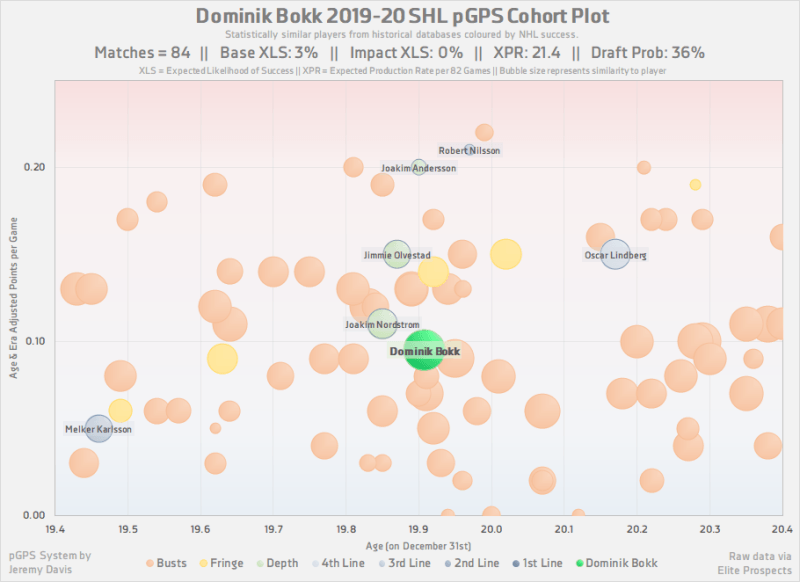 It's a downward trend that started last season. The hope is that it won't last much longer.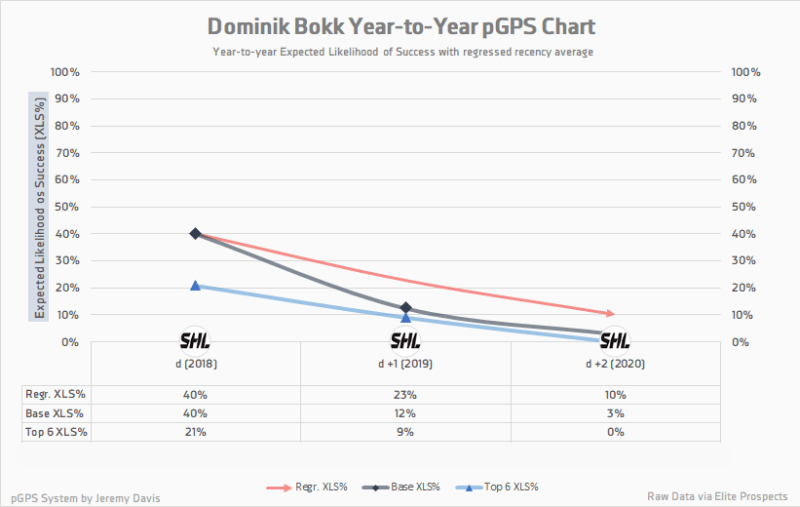 To Bokk's credit, he's generating a healthy amount of shots given his role and ice-time, and that he's only converted one of his 27 attempts strikes me as more luck-related than anything. Furthermore, a fourth-line isn't generally the home of skilled players, so the chance exists that Bokk's on-ice shooting percentage is suffering circumstances beyond his control, too, and his assist rate is the victim.
"Some of the production and the ice-time took place before the trade. As an organization, we're aware of it," Yorke told Rinkside of Bokk's ice-time and production.
"If you watch him play and you go back to where he was in his draft year — the talent remains the same. We're not reacting to what's happening in the short term; we're taking a long-term view."
"Our development staff is getting to know the player on and off the ice better. We're getting feedback from the coaches and trying to develop a plan. We'd like the ice time and production to be higher but we still like the talent there."
After talking to Hurricanes general manager Don Waddel, Bokk heard from the Canes Director of Forwards Development Sergei Samsonov, and they've been in touch ever since.
"I've been in touch with their development coach, Sergei Samsonov," Bokk said. "He watches basically all of my games, and I talk to him about them."
"What they like about me is that I'm a skilled forward that can be a top-six forward in the NHL — that's what I want — but the thing I most need to work on are the physical things, like getting stronger, getting better in battles and stuff. That's what we both think I need to work on"
The Hurricanes and Bokk have their work cut out for them, but the potential payoff is well worth the trouble. Players that can maneuver with the puck like Bokk have the chance to be special entities at the NHL — game-breaking talents, if everything breaks right.
There's no rush for Bokk to get there now, though. The Hurricanes don't have a plan set in stone for Bokk to come to North America at the end of this year. Rögle looks primed for a long playoff run, and then there's the World Hockey Championships afterwards.
It's a situation they're monitoring, but without any rigid, inflexible schedules for the sake of having them. They're serious about taking the long-term approach, and their actions back that up.
Now it's up to Bokk to confirm the worth of their convictions and the strength of their plan.
You may also be interested in: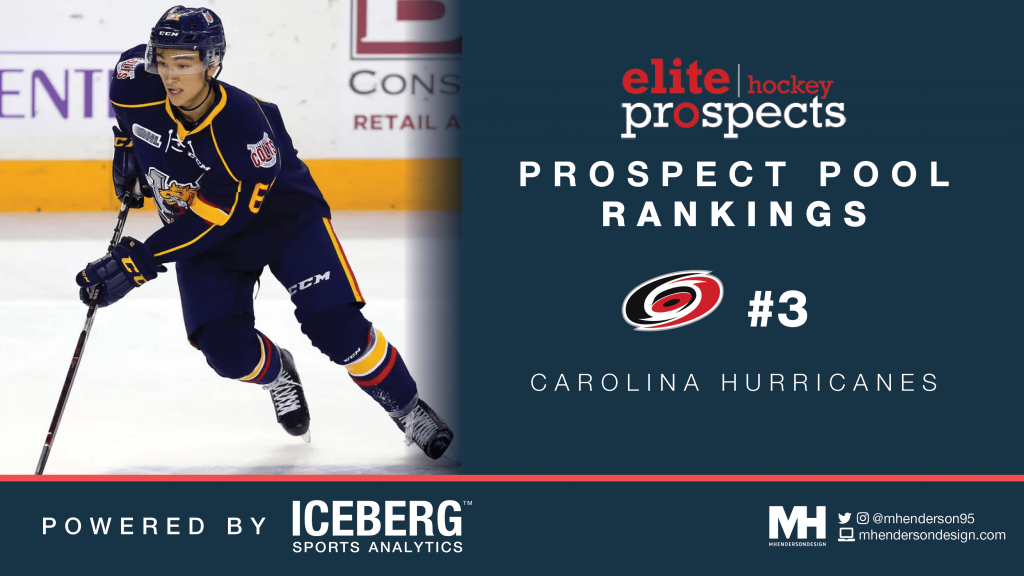 EP Rinkside Prospect Pool Rankings: No. 3 Ranked Carolina Hurricanes
This article is about: