News
An Interview With EliteProspects Founder Johan Nilsson on the Occasion of its 20th Anniversary
Today marks the 20th anniversary of ElitePropsects, hockey's premier statistical database, one that over one million unique visitors check out weekly.
Happy birthday to us! ?? Thank you for all the birthday wishes. The hockey family truly is the best. ❤️ #HBDEP20 pic.twitter.com/GdPXR9S7FL

— Eliteprospects (@eliteprospects) December 2, 2019
The website's beginnings are much, much more humble than that though.
It was this day, December 2nd, 1999, that Johan Nilsson, then a high school student, combined his proficiency with early web design and an encyclopedic knowledge of Swedish hockey to lay the foundation for EliteProspects.
"This all started when I was in high school, back in '99," Nilsson said. "I was always a major hockey nerd, and I also got into websites. I found it fun and stimulating to create stuff online."
They say necessity is the mother of invention, and Nilsson clearly got the memo. In this case, Nilsson observed a need for more information about Swedish NHL Draft prospects on the internet, and he went about addressing personally.
"Basically, what I noticed was that there was very little information about Swedish prospects back then," Nilsson told me over the phone. "I was browsing various message boards in North America, and I noticed a lot of people asking about the Swedes that their teams had drafted, and there was no information at all."
"So I saw an opening to start a website where I would write scouting reports and news articles about the Swedish prospects that were being drafted. So it started out that way. That was the opening idea for the entire website, even if it differs from what it is now."
In many ways, what Nilsson wrote during EliteProspects' infancy mirrors what we're doing on Rinkside. Scouting reports, updates on team prospects, etc.
"We wrote weekly reports, summarized player's stats in the top league, wrote about how they were doing and progressing throughout the season. It was very fun," Nilsson remarks. "It drew some attention, and it was very appreciated by the North American visitors. It was still a minor website back then, though. I doubt we even had 1,000 unique visitors per week."
Nowadays, we might take prospect coverage for granted. It's proliferated to such a degree that getting information about one's favourite team's prospect is as much if not more fun than reading about the actual NHL team itself.
Nilsson was one of the first to notice the absence of that style of coverage, and he made it his mission to fill in the gaps wherever possible. He was a visionary.
While EliteProspects grew to cult fame, particularly in Europe, it didn't grow much beyond that 1,000 unique visitors mark on a weekly basis for years. The best way to put it is that the site's fans were enthusiastic, not numerous.
"It grew quite a bit, maybe four years later in 2003, when I was in college and picking up some serious programming skills — I learned about databases and dynamic websites. Back then, I took some classes, and I learned how to redevelop the website, from a standard HTML website to a Ph.D. website, which means a database and a dynamic website that went smoother and was easier to add stuff. We grew a lot back then content-wise."
Nilsson broke through when he added a player transactions tab. That's when cult fame turned to broad appeal. And before you ask, yes, Nilsson was manually scouring the web for player movement, in nearly every league and at every level.
"It took another year or so before it really picked up. It was when we introduced transactions on the start page of the website. I was basically starting each day by browsing maybe a hundred different websites, from a hundred different countries, trying to pick up rumours about players going somewhere and adding transactions. It became a natural start page for many hockey nerds, especially in Europe back then. They went to EliteProspects and they knew that they would get the latest on who was going where. It was adding transactions that made the website grow"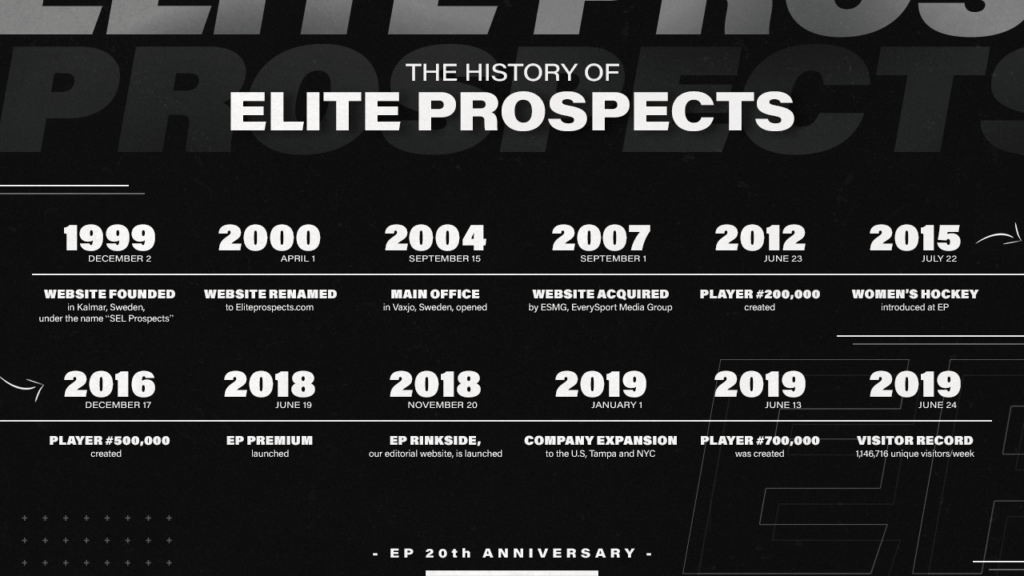 Like many dreamers, Nilsson had to operate his passion project on the side, using whatever spare time was left after working a 9-to-5 as a project manager, working in stocks in Sweden.
"I was working as a civil engineer and a project manager for the stock exchange, and the stocks in Sweden, while I was running the website. I wasn't even getting a nickel for the website. We had no ads, and I really had no other major source of making the website commercially viable back then. I guess I was coming to a point where I was feeling that maybe it took a lot of time, and I wasn't seeing any money generated."
Everyone chasing a dream on the side has to face the reality that it might not work, and Nilsson was no different. He considered shutting the whole operation down at points, admitting that he was moments away in 2007.
Then the EverySport Media Group that now owns the website emerged, right as Nilsson considered throwing in the towel. Five years later, Nilsson made EliteProspects his full-time job. The dream became a reality.
"I was considering closing the website back in 2007, then a Swedish company called EverySport Media Group contacted me and were interested in purchasing the website. It was a very important thing. If they didn't get involved back then, EliteProspects wouldn't still be around. I got a part-time salary while I still had my full-time job, and I continued with that setup until 2012, when I went full-time with EliteProspects."
"By then the website had grown quite a bit, was seeing major traffic and ad revenue, so it made sense. So, 2012 my hobby became a full-time job."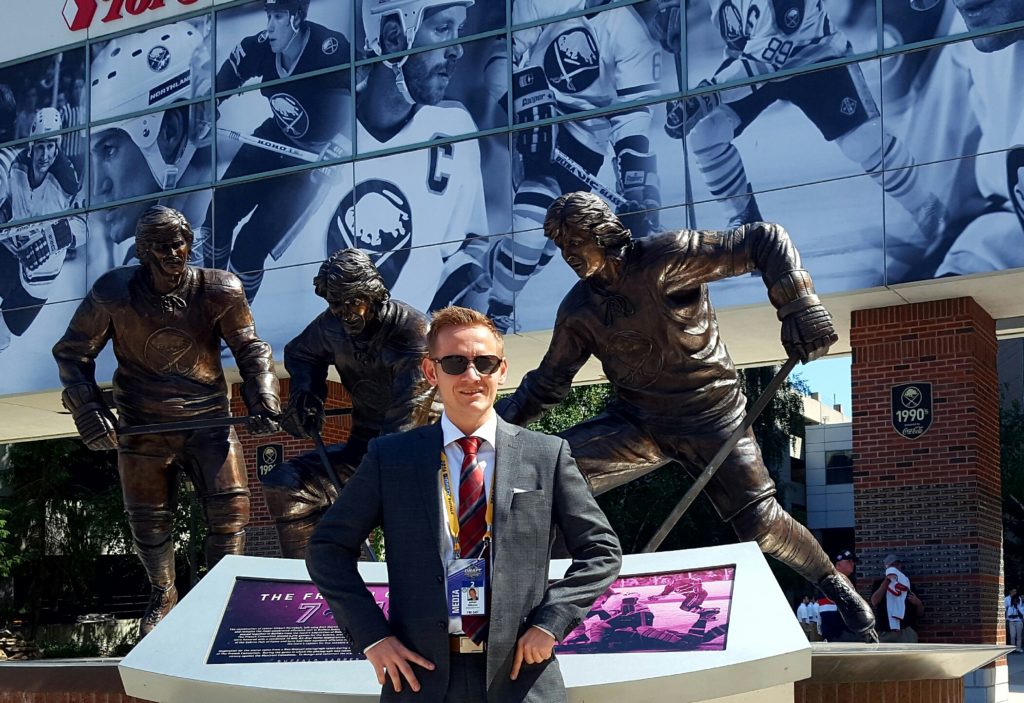 Since then, Nilsson has overseen significant growth, be it in the reception from the hockey community at large, advertisers, and most recently, premium users.
Starting in 2018, EliteProspects opened up a subscription-based model for their hockey-obsessed fans to access more data, easier, and read the editorial content on its sister-site, EliteProspects Rinkside.
Moves like these set the stage for the company's next 20 years. We're a holistic operation, driven by fans of the sport looking to contribute to the hockey community at large in whatever way possible. Premium subscriptions make that vision sustainable.
"What we're focused on right now is our Premium product, where we add unique features that are not found elsewhere," Nilsson told me. "Right now, we have roughly 25 premium features, and the goal is to expand this part of the website so that every visitor's experience will depend on having Premium for the best information possible. We want to make our Premium product much more attractive. It's already going well, but we see the potential for even more growth. There are another 30 or so Premium features that we'll release in the coming year."
"We want to have the reputation of IMDB. We want to be that for hockey."
This article is about: