NCAA
McMahon: UMass-Lowell's Matt Brown is Symbolic of Their Program's Success at Every Level
Matt Brown's hockey story starts like most others.
"I think it was my first birthday," the UMass-Lowell freshman said, "my uncle gave me a hockey stick and I would never put that thing down. I was always playing with it in the living room, and I just kind of grew up like that."
Brown's hockey stick is as busy today as it was back in 2000 when he wandered around the house with that new birthday present.
A freshman for head coach Norm Bazin at UMass Lowell, Brown leads the team with 17 points in 16 games (5 goals, 12 assists). He's the top-scoring freshman in the nation, and it's garnering attention from the rest of college hockey and the National Hockey League.
But Brown, who is an NHL free agent, isn't thinking about the next step. Not yet. He's too focused on helping the River Hawks add more banners to the rafters at Tsongas Arena.
Brown fits the model of what has become a symbolic UMass-Lowell recruit in the Bazin era. He arrived on the campus this fall as a 20-year-old freshman. He had widespread junior hockey experience and he had the reputation as a hard-nosed, hard-working player.
A blue-collar player from New Jersey, Brown was attracted to the blue-collar mentality in the Mill City.
"The first thing that really caught my eye was how professional they handled themselves," Brown said of his recruiting process. "The coaching staff here is amazing and they do a great job with the program; they have set a really high standard here."
Brown has set a high standard for himself.
He's been a goal-scorer at every level, from the lower-tier EHL all the way up to the Tier-I USHL, the top amateur league in North America, where he scored 30 goals last season for the Des Moines Buccaneers.
In 2017 Brown was named an EHL All-Star and the EHL Rookie of the Year. Last season, Brown was named a USHL All-Star.
But those weren't his biggest accomplishments or his favourite hockey memories.
Last season Brown was able to pull the Team USA jersey over his head for the first time, representing USA Hockey at the Jr. A Challenge.
"Any time you get to represent your country, it's a great honour," said Brown. "That was my first time playing for the United States and it's something that I'll never forget. It was a great group of guys and coaches and winning the tournament was the best feeling ever.
"We had a pre-tournament game against Canada East, and Canada is obviously a big rivalry, so putting that jersey on in the locker room, I had an extra pep in my step. Walking on the ice around warmups, the feeling was just unbelievable."
Now Brown has made the biggest jump in his career, playing Division I hockey.
No matter when that jump happened, there's a learning curve, but Brown's patience in his development has made that curve as short as possible. More time in junior hockey not only prepared him to play a more mature style, but it also gave him more time to develop physically.
Even though Brown came to college as prepared as a player could be, there was still an adjustment.
"My first game, I went ahead and tried to hit a kid and I got popped," Brown said. "That was something I was not expecting. But these guys are all definitely stronger and it's an adjustment. Being older, most of them play really smart and they have a developed hockey sense."
Brown has already seen his development flourish in his first few months as a River Hawk. That's due in part to UMass-Lowell's regimented structure and culture.
"We take everything here very seriously," he said. "Workouts are intense, practices are intense and even the video sessions are intense. (The coaches) really focus on making sure that we are as prepared as we possibly can be heading into a weekend. … It was serious from day one. Everyone here carries themselves professionally and seriously and guys on the team know that we need to be serious in order to compete."
That philosophy has paid off well for the River Hawks. The team has won 21 or more games in six of Bazin's first eight seasons, and they've finished with a losing record just once (and it was by two games).
This season, the River Hawks are off to a 9-3-4 start, including a win over Minnesota-Duluth, the defending two-time national champions.
That structure and preparedness gave Brown confidence heading into his first college game, and every game since, and he has personally flourished.
"I came in with some confidence," he said, "but I honestly had no idea what to expect. Some guys come in and handle the transition (to college hockey) well and some guys do not. I was lucky enough to be someone that has handled it well and produced right away."
You may also be interested in: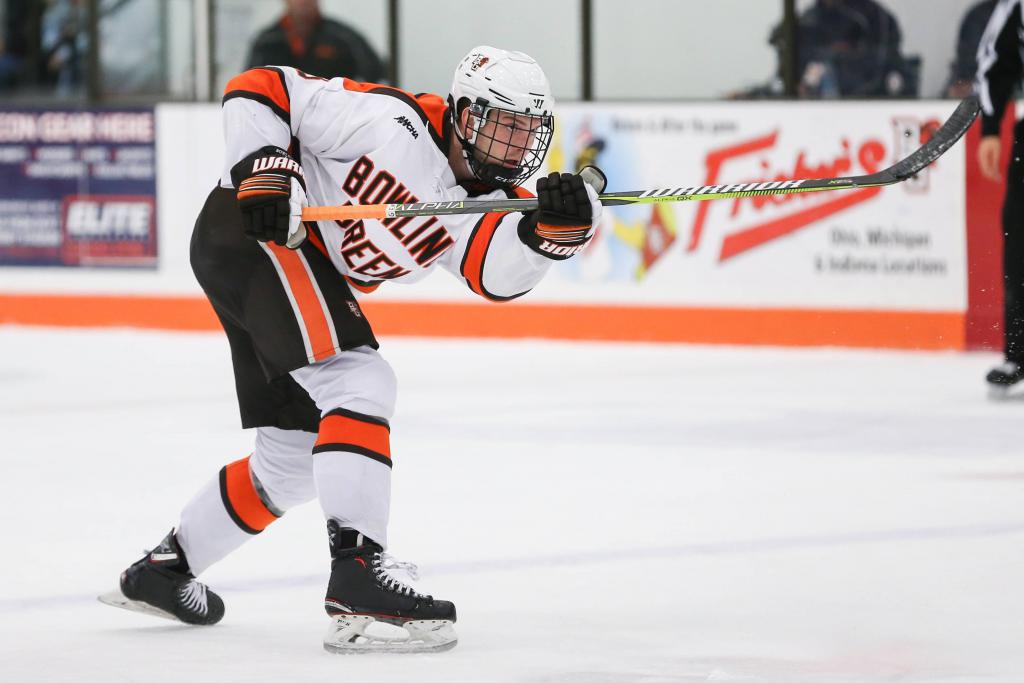 The EliteProspects Rinkside NCAA Free Agent Watch List for the 2019-20 Season
This article is about: