Features
No Ice, No Problem: How the Czech Republic Overcame a Lack of Rinks to Become a Hockey Power
This article was written by Sheng Peng as a guest contribution to EliteProspects Rinkside. Peng covers the San Jose Sharks and Barracuda for Fear the Fin. His work has also appeared at The Point Hockey, The Hockey News, NBC News, and VICE Sports.
Which country loves hockey most?
The Czech Republic has this claim to offer: According to a 2018 Reuters report, there's one rink for every 420 registered hockey players in the Czech Republic. This makes Czech rinks the most crowded, by far, of all the countries that participated in ice hockey at the 2018 Winter Olympics. This is almost four times more crowded than Finland, which followed at one rink for every 121 registered players.
If that isn't love, I don't know what is.
NHL.com Czech correspondent Michael Langr, however, disputed these fantastic figures: "Retired players are still registered, so the real number of adult players is inaccurate."
Whatever the exact numbers, Czech NHL'ers like Tomas Hertl and Lukas Radil can attest to a lack of ice in their native country.
During the summer, Hertl practices with David Pastrnak, Jakub Vrana, and Ondrej Kase, among others. This accumulation of star power, however, doesn't buy them a prime skate time.
"Sometimes, we skate at 7 PM," laughed Hertl. "It's not that easy because we don't have that many rinks. It's not just pro teams skating, young teams, everything is scheduled almost every day."
At least Hertl hails from Prague, where 15 rinks serve about 1.5 million people. San Jose Sharks' goaltender prospect Josef Korenar is from Vystrkov, population: 212.
"There's 50 kilometers without ice," Korenar said, adding that on-ice summer workouts are impossible, "Rinks are hot. They don't have good cooling when it's [95 to 105 degrees Fahrenheit]. They can't keep the ice on the ice."
"I would say it can vary town by town, region by region, " Langr offered. "More and more rinks are being built. In just Prague, two or three are being built this year."
"Always, a couple guys, we talk about building a rink," Hertl said. "Not just for us, but other people. Maybe one day we'll do it and it'll help grow hockey."
Radil agreed, "I think it's getting better. But it can be much better."
A lack of ice clearly hasn't stopped the Czech ascent to international hockey power. From their first World Championships triumph in 1947 to the politically-charged battles versus the Soviet Union in the '60s to Olympic gold at Nagano in 1998 — the Czechs have blown through every obstacle to get to the top.
This isn't just love; it's devotion. It's a dedication instilled in their formative years.
"When I was young, kids had to wake up for practices at around 5 AM. That was the only ice time that we could get as rinks were reserved for older ages during the day," Langr said. "All players of my generation, Jaromir Jagr, Martin Straka, Vinny Prospal, Martin Rucinsky, Patrik Elias, and so on, have experienced this."
Of this current generation, a young Pastrnak regularly rode the bus to practice in a one-rink coal mining town, Havirov. Radek Faksa left his home in industrial Opava at 11 to join a team 50 miles away in Trinec.
"During the summer, there were two practices a day. I always rode a bike," Radil recalled. "It was 25 minutes each way, so it was two hours a day. I rode a bike or scooter to practice until I was 18, when I got my first contract."
Dominik Simon mused, "It makes you stronger, probably. You want it even more because it's harder to get."
"If you love it, you'll do whatever," Korenar said.
The Czechs have certainly proven where there's a will, there's a way. But these days, a little cash would help.
As in most countries, hockey's greatest challenge in the Czech Republic isn't confined to a lack of ice.
"Today, despite some government incentives, hockey has become a pretty expensive sport. This was probably the only thing which was better before 1989 than today," Langr joked. "The state supported clubs financially much more than today and parents could afford to let their kids play hockey."
"You're growing every year, skates aren't cheap," Hertl said. "Parents put their children in soccer and floorball, cheaper sports."
But the love for hockey endures in the Czech Republic, ice or no ice, money or no money.
"Floorball has become increasingly popular in recent years. Kids still love to watch hockey and pretend they're hockey stars, but they do it while playing floorball," Langr explained. "You just need a gym, a pair of shoes, and a cheap plastic stick. They play it in every school. The number of registered floorball players is actually greater than hockey players."
"We're a small country, maybe not as many rinks as the US, but it's not a bad thing," Vrana asserted. "We love hockey. Hockey's probably number-one."
"Hockey and soccer are the number-one sports in the country. There are always discussions which of those two is bigger here," Langr said. "I would compare it to baseball and American football here. All this despite the lack of ice rinks."
You may also be interested in: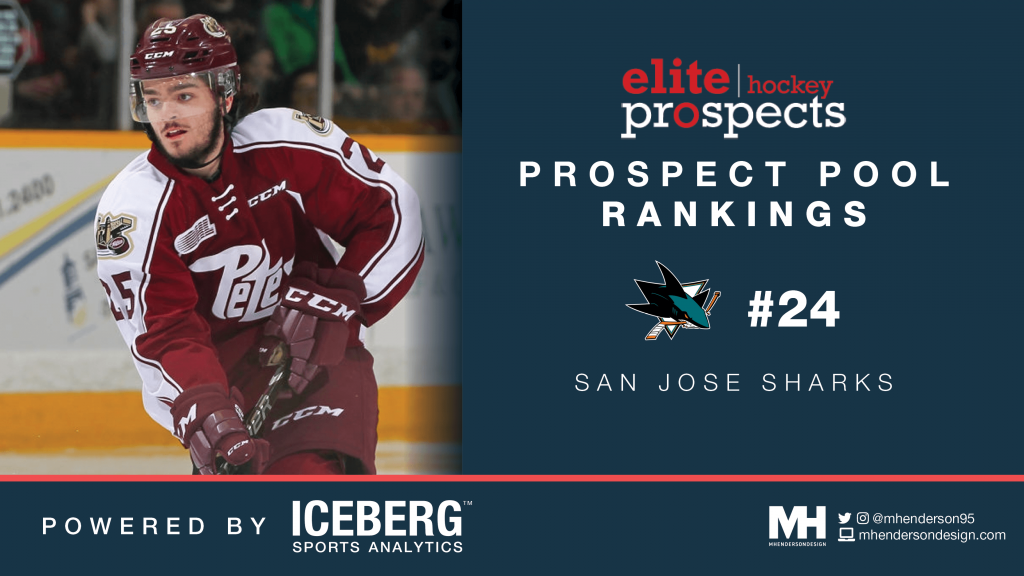 EP Rinkside Prospect Pool Rankings: No. 24 Ranked San Jose Sharks
This article is about: