World Juniors 2020
BOULAY: Which NCAA Skaters Will we see at the World Juniors?
The 2020 World Junior Championship drops the puck on December 26 in the Czech Republic. For NCAA fans, 24 players will participate in the tournament, with the vast majority on the United States roster. In addition, three players will suit up for Finland, Switzerland and Canada, respectively.
The United States finished with the silver last year, losing to Finland in the gold medal game 3-2. While Canada failed to medal last year, it won the 2018 edition of the tournament. The last time the United States won it all in 2017. For Switzerland, last year produced an impressive fourth-place finish, though they only have one medal in the history of this tournament, a bronze in 1998.
With the playoff round beginning Jan. 2, some players will be absent from their team's games as the winter break ends and the second half ramps up, leaving NCAA coaches to adjust without some of their top players. However, the opportunity to play for one's national team is too good to pass up and something that these players dream about at a young age.
Wisconsin has the most representatives in the tournament, with four, while Notre Dame has three and both North Dakota and Michigan have two players each. Here's a breakdown of what college hockey players are suiting up for who during this tournament:
Canada
Defencemen
Jacob Bernard-Docker – North Dakota (2018 Round 1 #26, Ottawa)
There are those who were surprised when Wisconsin's Dylan Holloway and Boston College's Alex Newhook were cut from this team. It always leads to largely unfounded cries of bias against NCAA players by Team Canada. One player has made it impossible to be cut, however. Jacob Bernard-Docker is fourth in scoring for the Fighting Hawks, with three goals and 11 assists in 17 games. He's also the team's most prolific defenseman, helping North Dakota allow just 1.59 goals per game, third in the NCAA. As long as Canada makes the knockout round, Bernard-Docker will miss a non-conference matchup against Alabama-Huntsville but will be back in time to resume NCHC play.
[Read more: Jacob Bernard-Docker's Progression at North Dakota Bodes Well for Ottawa Senators Future]
Finland
Forwards
Sampo Ranta – Minnesota (2018 Round 3 #78, Colorado)
Currently tied for the lead in points for the Golden Gophers, Sampo Ranta has five goals and six assists through 18 games. He's also a factor on special teams, with four power play goals this year. Ranta also has five goals in his last eight games. Minnesota will miss Ranta's offensive abilities during the tournament, as they must take part in the Mariucci Classic — the school's own tournament — without him.
[Read more: Meet the Team: Finland's World Junior Hockey Championships Roster]
Switzerland
Forward
Matthew Verboon – Colgate (Undrafted)
A native of Geneva, Switzerland, Matthew Verboon played 16 games during the first half of his freshman campaign. Through that point, he has a goal and an assist for the Raiders. Verboon will be away during a tough two games for Colgate, as the team heads to Ohio State on Dec. 27.
United States
Goaltenders
Spencer Knight – Boston College (2019 Round 1 #13, Florida)
A highly touted goaltending prospect, Spencer Knight hasn't disappointed during the early games of his freshman career. His .940 save percentage is sixth in Division I. He's also tied nationally for the most shutouts in college hockey, with four, including a 39-save gem against Colgate in his second game. He was on last year's roster, but did not play in a game. He could miss one game with Boston College if he's leading the Americans deep into the tournament.
Isaiah Saville – Nebraska-Omaha (2019 Round 5 #135, Vegas)
The freshman from Anchorage, Ala., posted a .889 save percentage in 14 games this year. Despite the low number, Isaiah Saville has kept the Mavericks in games this year, as the team is 6-5-2 when he's between the pipes. In a victory over Ohio State in October, Saville had 37 saves and just one goal allowed. He missed two games against Arizona State on Dec. 21-22 and will miss a trip to Maine if the U.S. reaches the knockouts.
Defencemen
Ty Emberson – Wisconsin (2018 Round 3 #73, Arizona)
Through 18 games of his sophomore season, the Eau Claire, Wis. native has three assists. Last season, he had four goals and eight assists for the Badgers, including a power play goal. While Ty Emberson is one of four Wisconsin players with the national team, the Badgers won't be too worried about their absence, as beyond a scrimmage with the US Under-18 team, the team doesn't have a competitive game until Jan. 10.
Jordan Harris – Northeastern (2018 Round 3 #71, Montreal)
Jordan Harris took a big step in his sophomore season. In 18 appearances, he has three goals and 10 assists, matching his point total from his freshman campaign. He's also helped Northeastern to 2.39 goals allowed per game, tied for 17th in the NCAA. Harris started the season with points in each of his first six games. The Huskies will miss him during his time with the American team, as he will miss up to two games if the U.S. reaches the knockouts, as expected.
Zachary Jones – Massachusetts (2019 Round 3 #68, New York Rangers)
A big part of the fourth-ranked defense in the nation, Jones helped the Minutemen to a stingy 1.71 goals per game in the first half. Zachary Jones three goals and nine assists proved helpful so far, as he's the top point producer on Massachusetts' defense. His time with the national team comes at an important time for the Minutemen, as they play Renssalaer and Denver twice potentially without his services.
K'Andre Miller – Wisconsin (2018 Round 1 #22, New York Rangers)
The sophomore started strong this season, tallying six goals and five assists in 18 games. The highly-rated Badger defenseman is a weapon on the power play, as two of his goals came from the man advantage this year. K'Andre Miller was a member of last year's World Juniors team, getting an assist in six appearances. He won't miss any NCAA games, being able to focus on improving on last year's silver medal.
[Read more: The Switch From Forward-to-Defenceman is Paying Off for K'Andre Miller]
Mattias Samuelsson – Western Michigan (2018 Round 2 #32, Buffalo)
The dual national decided to play for the United States over Sweden and could be a useful weapon for the Americans. Mattias Samuelsson has a goal and three assists in 12 games this year. The son of former NHLer Kjell Samuelsson, Mattias' lone goal came in an important 2-1 victory over Denver Nov. 22. Samuelsson was on last year's roster, playing in seven games. While on a revenge quest to get the gold the Americans missed out on last year, he will get to have some fun with the multiple Notre Dame players also on the team, as their schools face off back home.
Spencer Stastney – Notre Dame (2018 Round 5 #131, Nashville)
Spencer Stastney impressed so far this year, doubling his goal and assist totals from last year. His two goals and six assists make him third-best among Fighting Irish defensemen. While he will likely miss a couple of games for Notre Dame, he could prove important for the U.S. in the quest for a medal.
Cameron York – Michigan (2019 Round 1 #14, Philadelphia)
An impact player in his debut season for the Wolverines, the Anaheim, Calif. native has four goals and five assists in 14 games, including two multipoint games. Cam York's contributions aren't solely on offence, either. He's a significant part of a stout Michigan defense, which allows just 2.17 goals per game, 14th in Division I. While he's gone, Michigan will need to fill the void while they play in the Great Lakes Invitational.
Forwards
John Beecher – Michigan (2019 Round 1 #30, Boston)
The first-rounder made an impact in his first semester at Michigan, as John Beecher's five goals and four assists have him leading the team in both goals and points, despite playing just 16 of the team's 18 games. Beecher has one power play goal and two multipoint games this season. Like York, he's trading a college tournament for an international one, so Wolverines fans will have a lot to watch this week.
[Read more: John Beecher Could be a Surprise First Round Pick]
Bobby Brink – Denver (2019 Round 2 #34, Philadelphia)
Bobby Brink is second on the Pioneers in points (16), tied for first in goals (seven) and tied for sixth in assists (six). It's a great start for the forward from Minnetonka, Minn., and a lot of his success has been on the power play, as his four goals are tied for 15th nationally. He could be a significant part of what the Americans plan to do on special teams. Brink will miss a big home series against Massachusetts, but it'll be worth it if he brings a medal back to Denver.
[Read more: An In-Depth Breakdown of Bobby Brink's Dynamic Offensive Skill Set]
Cole Caufield – Wisconsin (2019 Round 1 #15, Montreal)
While Canadiens fans are excited about what they're going to get, Badgers fans and Americans are thrilled with what they have now. Cole Caufield is arguably the most talented player on this roster and has the stats to prove it. His 12-8-20 mark in 18 games is second in the nation when comparing points per game (1.11). Caufield leads the Badgers in goals and points. Don't be fooled by his 5-foot 7-inch frame. He's a phenomenal player. Wisconsin is fortunate that he won't be missing any games.
Jack Drury – Harvard (2018 Round 2 #42, Carolina)
Jack Drury is making his second appearance on the WJC roster, playing in seven games last year. He had a great start to his sophomore year, with four goals and six assists in 10 games. Three of the goals came on the power play, and he's on pace to surpass last year's six PPGs in 32 games. His name might be familiar, as he's the son of Ted Drury and nephew of Chris Drury. The rest of the Crimson lineup will need to step up against Quinnipiac and Princeton in his absence.
Parker Ford – Providence (Undrafted)
The freshman has six goals and eight assists in 17 games, including two power play goals. Parker Ford ranks first among Friar freshman and fifth in overall scoring for the team. His contributions are a significant reason why Providence is ranked fifth nationally in total offence, averaging 3.82 goals per game. In order to play in the WJC, Providence will miss his services during two tournaments: the Catamount Cup on Dec. 28-29 and the Ice Vegas Invitational on Jan. 3-4.
Curtis Hall – Yale (2018 Round 4 #119, Boston)
Curtis Hall has six goals and an assist in nine games and is leading the Bulldogs in goals this season. He's been a bright spot on a struggling Yale team and is on pace to easily surpass his 11 points recorded during his freshman campaign. Hall could miss two nonconference games for Yale, and it's likely fans will miss seeing his ability on the ice. Yale's (temporary) loss is the U.S.' gain.
Shane Pinto – North Dakota (2019 Round 2 #32, Ottawa)
The freshman has eight goals and six assists, ranking first on the team in goals and third on the team in points. Shane Pinto's best game was his last game, an 8-2 win against Western Michigan, where Pinto tallied two goals and an assist. While he will miss a couple games against struggling Alabama-Huntsville, North Dakota fans will be excited to cheer on their only American representative in the tournament.
Jacob Pivonka – Notre Dame (2018 Round 4 #103, New York Islanders)
The son of former NHLer Michal Pivonka, Jake Pivonka is showing signs of improvement in his second year at Notre Dame. So far, he has four goals and four assists in 17 games. During his freshman campaign, he had just two goals and eight assists in 40 games. While many people see the WJC as an opportunity for players to have a jump on a big stage, it could help Notre Dame despite not having him for a series against Western Michigan.
Alex Turcotte – Wisconsin (2019 Round 1 #5, Los Angeles)
Alex Turcotte, like his Wisconsin and U.S. teammate Cole Caufield, is having a fantastic start to his year. He has six goals and nine assists, including four power play goals. Turcotte has three multi-point games, including a three-assist effort on Oct. 18 against Minnesota-Duluth, with Caufield scoring on two of those goals. He's so integral to Wisconsin's game, and joining Caufield on a line in the WJC could prove a deadly combination.
Trevor Zegras – Boston University (2019 Round 1 #9, Anaheim)
An assist machine for the Terriers, Trevor Zegras is another in a long line of talented, drafted Boston University freshmen. This year, he has five goals and 12 assists in just 16 games, and is tied for second on the Terriers' roster in assists. Four of those 16 games were multi-point efforts. Zegras likely won't miss much for the Terriers while representing his country, so BU fans can enjoy his performance without worry.
[Read more: Why Trevor Zegras is the NHL Draft's Most Creative Player]
You may also be interested in: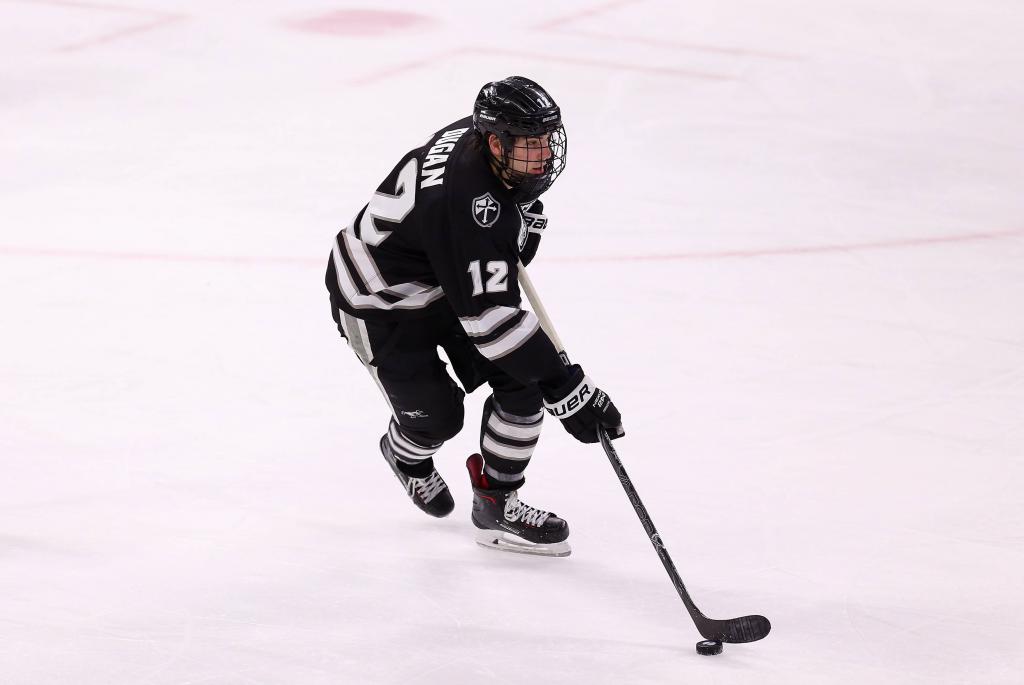 The EliteProspects Rinkside NCAA Entry-Level Contract Watch List for the 2019-20 Season
This article is about: