Features
COHEN: Carolina Hurricanes Forward Andrei Svechnikov's Magical Sophomore Season
Sophomore slumps are common in sports. How many times do we see rookies get hot and then have an off-year? It happens.
But with a certain Carolina Hurricanes star, Andrei Svechnikov, the opposite has occurred. He's gotten better!
The entire world has seen his two lacrosse-style goals, known to college hockey diehards as the 'Michigan'. It's hard enough for a player to have one, and now he has two of them. Try beating an NHL goalie under normal circumstances but he did it twice with that Jedi move. Some have dubbed it "The Svech" — the jury is still out on that.
Here's a look at both of them:
You be the judge: Which Andrei Svechnikov lacrosse goal is better? ?

?️: @timandsid pic.twitter.com/SZhZCWNMe5

— Sportsnet (@Sportsnet) December 19, 2019
The first one was a bit slow and seemingly took a while, but hey, it was his first so that's to be expected. The second one was much faster and he had that extra snap at the end, the 'in your face' finish. If he gets another this season, that could be called a Svech-trick. Let's see how that works out. Nils Höglander has two, but not against NHL calibre goalies, so they don't rank as high. And these two are the only two in the history of the National Hockey League.
Last season, Svechnikov had 20 goals and 37 points — a very respectable rookie season. As an example, Mikko Rantanen had 20 goals and 38 points in his rookie season. Rantanen jumped to 84 points in his sophomore season and it seems like Svechnikov could be on pace for that as well. What they both have in common is they are elite players.
Elite players buck the trends and defy the odds and you can never match up lesser players' growth curve to them because they already started from behind. Talent-wise, you can close the gap with great training and work ethic but there is an eventual ceiling that's reached on that before that of the elite player who had the better building blocks.
In his first 37 games of the 2019-20 campaign, the talented Russian had 16 goals and 37 points. Last season he had 187 shots on net. He's a bigger part of the offence and he will end up around 250 if all goes well. If you shoot more, theoretically more will go in. That's certainly the case on the power play. All five of his power-play goals came in his second season. His shooting percentage is a robust 15.4%. It's not in crazy William Karlsson, unsustainable territory of a few years ago. This is something you can expect from him, give or take a few percent, from now on.
Andrei's older brother, Evgeny Svechnikov, is still in the Detroit Red Wings organization. At 23, he's played in 20 NHL games but has only four points. He has had a harder road, but he did make things easier for his younger brother in a way.
"You know, right now, kind of easy for me because I was with my brother (Evgeny) in the draft and just fun that he was there. I just look to him and how he [took] the step and it's really good for me right now," he said when he was drafted second overall in 2018. "Between junior hockey and the NHL, he told me, like you don't have much space in NHL and like think quick. It will be faster."
Last season, Svechnikov got some playoff experience and life experience at the same time. In Game 3 against the Washington Capitals Alex Ovechkin, his idol challenged the rookie to a fight and after he obliged, he got one-punched out of the playoffs for a few games with a concussion and a mouse under his eye. He returned in the second round, in Game 6, a full 16 days later.
Svechnikov plays on the power play like a seasoned veteran. He is in a position where he can fire a one-timer or make a key pass on the side. He can do both with great ease. The fact that he can't be "figured out" adds fluidity to the Carolina Hurricanes power play. When the opposition is trying to defend him, they can't play him too close and have to give him some space because they just don't know.
What's next for this Young Star? At 19, the world is his oyster. He has size, speed, and great hands. He should start getting Hart votes in the future and I wouldn't rule out a run at the Art Ross at some point in his career. He's a top 20 or better scorer from now for at least the next decade, if not more. He's the guy the Hurricanes dreamed about and now fans can just watch him mature.
You may also be interested in: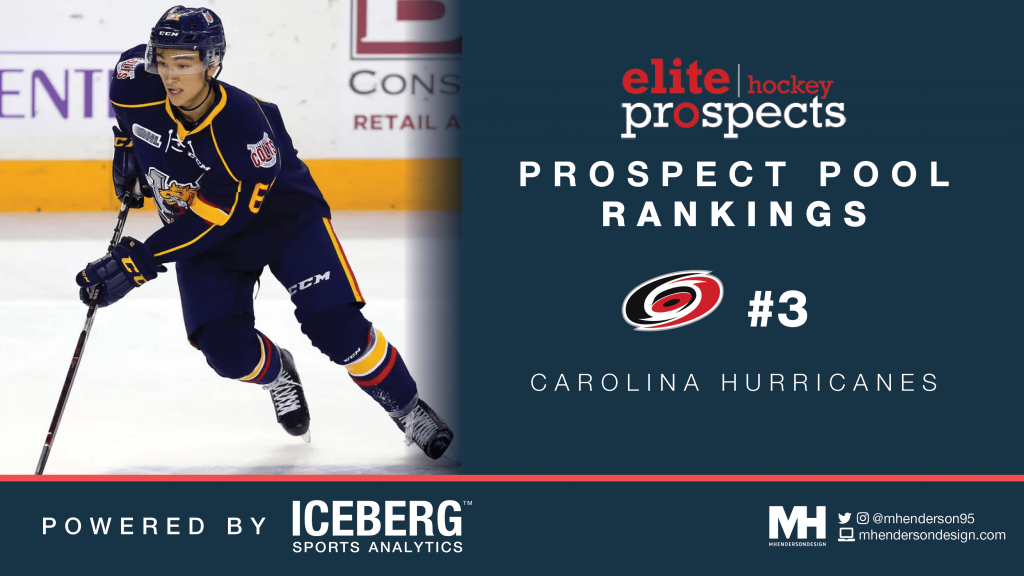 EP Rinkside Prospect Pool Rankings: No. 3 Ranked Carolina Hurricanes
This article is about: