NHL Rookies
AHL PROSPECTS REPORT: Bean continues to grow in Charlotte
Monday is when AHL teams catch up after another hectic weekend on the ice and on the highways.
With two and sometimes three games – plus travel – crunched into a weekend, those teams have earned that rest and step away from the rink. But Monday here is a day to catch up on and assess some of the weekend's best performances across the 31-team AHL.
"HERE YOU'VE GOT TO BE ALL-IN"
Charlotte Checkers head coach Mike Vellucci is not the type to dole out praise easily.
His Checkers have had a bit of a downturn, record-wise, from their dominant first-half pace, although they still hold the AHL lead. But lest the Checkers ever turn complacent in a regular season stretching more than six months and packed with lengthy road trips, Vellucci is more than capable of picking apart details in their team game to reset the dressing-room equilibrium.
However, when the topic turns toward the Charlotte back-end and 20-year-old rookie Jake Bean, Vellucci turns effusive quickly. The parent Carolina Hurricanes landed Bean with the 13th selection of the 2016 NHL Draft, and he is well on his way toward validating that choice.
"His growth trajectory is probably the best I've seen since I've been here," Vellucci said of Bean. "From day one until now."
"He struggled early on with the pace of play. He had played so much in junior and had to play more of a technical game [in the AHL] and get used to the speed. But from game five to game 20 was unbelievable."
Bean's check-all-the-boxes WHL career set him up well for the transition to Charlotte. His first 3 ½ WHL seasons came with his hometown Calgary Hitmen before a deadline move to the Tri-City Americans last season. His second season in Calgary included him leading all WHL defenseman with 24 goals.
Internationally, he twice competed for Canada at the under-20 IIHF World Junior Championship, winning a silver medal in 2017 and following that with a gold medal last season. Last season, he finished with 12-36-48 in 57 regular-season games divided between Calgary and Tri-City. That performance carried into the WHL postseason, where he went on an 18-point tear (1-17-18) in 14 games for Tri-City. He also added one playoff game last season with the Checkers after Tri-City's playoff run ended. The Checkers ended going to the second round of the Calder Cup Playoffs before falling to the Lehigh Valley Phantoms, providing Bean with a bit more experience to take into his summer.
With 10-21-31 in 51 Charlotte contests, Bean is sixth overall in points among AHL defensemen and tops in that same category for rookies at the position. Among rookie blueliners, his 10 tallies tie him with Nic Hague of the Chicago Wolves for the lead, and those 21 helpers put him behind only Mitch Reinke from the San Antonio Rampage and Logan Day of the Bakersfield Condors. His 114 shots put him eighth for defensemen (and tops with his rookie blue-line peers).
Vellucci came to the Carolina organization before the 2014-15 season as the assistant general manager and director of hockey operations for the Hurricanes. Before last season, he added head-coaching duties in Charlotte to his portfolio as well. He is also quite familiar with CHL-trained players after 13 OHL seasons as general manager and head coach for the Plymouth Whalers.
"He's so smart, makes the nice, little plays that if you're just the average fan you're not going to notice," Vellucci said. "Putting up points, running the power play, he has just been on tremendous trajectory, and he is going to be a very good NHLer for a very long time."
Bean already plays a patient, no-panic game that certainly is not a given for many rookie AHL defensemen, regardless of their past accomplishments. A strong first-pass blueliner, he already can control play and slow it at the AHL level.
For all of his patience, Bean also has a dangerous, compact left-hand wrist shot that he can utilize well from either side of the ice, possessing an ability to target pucks through traffic with deceptive movement on them. In his past 11 games, he has accumulated 30 shots on net.
Bean also uses the word 'fortunate' often, whether it is to describe having Vellucci's mentorship, Charlotte's solid veteran base, or having been able to play most of his WHL career in his hometown, where he lived with his parents but was expected to take on the day-to-day work that comes with life as an adult.
Still, he admits that the AHL transition proved to be a significant test.
"I went through a big adjustment period, just in terms of getting comfortable," Bean said. "I think that's big for me in terms of confidence. I got a lot of help in the room. To be in the situation I'm in, I'm pretty lucky, and I'm just trying to take full opportunity of it."
Perhaps his most significant transition has been going from being having to take on 25- and 30-minute nights in WHL. Skating in the AHL means shaving that time-on-ice total but making every shift count in a league stacked with the top graduates of the CHL, NCAA, and European games.
"You're kind of saving your energy the whole game," Bean said of the realities that come with a heavy nightly workload in the WHL.
But it is much different one step away from the NHL. Breaking the habit of pacing his game and workload after four WHL seasons might end up being the top task on Bean's AHL to-do list. Certainly it is something that he identifies quickly as an area of focus.
"We've got guys that can play every situation," Bean said of Charlotte's experienced blue line. "You're not over-doing yourself. When you get out there, you're fresh and ready to go."
"[In the AHL], you've got to be dialed-in all the time or you're going to look silly out there. It's just being dialed-in all the time. Having a hard stick, getting hard in the corners. Doing that day-in and day-out. Everyone can do that one or two nights. So, I think that if I can get that done down here, it's a pretty demanding league. If you want to create, you've got to be aggressive, got to be assertive."
"Here you've got to be all-in."
WITH HONORS
Thanks in part to rookie forward Drake Batherson's hot hands, the Belleville Senators are rolling.
Belleville picked up four wins last week, including a pair of overtime victories in Toronto five days apart. In all, Batherson put up a 6-5-11 week in those four games, earning him the CCM/AHL Player of the Week award, his second time doing so this season. Along with his work on Toronto ice, he added his first pro hat trick in a 6-3 win this past Saturday night against the Laval Rocket on the back end of a home-and-home series.
Batherson's work put him atop the AHL rookie board at 44 points (16-28-44) through 37 games. The parent Ottawa Senators took him in the fourth round of the 2017 NHL Draft. For all of Ottawa's struggles recently, the selection is looking like a steal for the Senators. After a nine-game slide without a point following his December reassignment from Ottawa, Batherson has a five-game goal streak to go with at least a point in nine consecutive games.
Belleville has charged past a crowd of teams in the North Division's bottom tier and moved to within five points of the playoff line.
ELSEWHERE
In most other weeks, Batherson's linemate, Logan Brown, would have been a shoo-in for the award. He amassed 10 points (2-8-10) in the four games, beating the Marlies twice with overtime goals to book-end Belleville's week. Nick Paul returned from Ottawa to set up the line, and it has clicked quickly. Ottawa made Brown the 11th pick in the 2016 NHL Draft. Injuries limited his action for much of his final two OHL seasons, and his AHL career started with a lower-body injury that held him to one game in Belleville's first six weeks of the season. But since then, he has stayed healthy, using his considerable frame to go to the net and grab 33 points (12-21-33) in 36 AHL games.
At long last, the Edmonton Oilers have signs of life in their farm system. Bakersfield continues to storm through the AH and has run a win streak to 12 games after pounding the visiting San Diego Gulls, 7-1, this past Saturday night. All but two Condors skaters recorded at least one point in the win. Forward Joe Gambardella will take a 10-game point streak (11-6-17) into play this week. Defenseman William Lagesson had a three-point second period (1-2-3) as the Condors ripped the game open on five second-period goals in a 14:29 span. In net, Shane Starrett has gone on a 10-0-0 | 1.60 | .941. Bakersfield also pushed aside the San Jose Barracuda for first place in the Pacific Division.
Grand Rapids Griffins goaltender Patrik Rybar had 33 saves in a 4-1 victory against the visiting Wilkes-Barre/Scranton Penguins this past Saturday night. The Griffins are tied with the Rochester Americans for second overall at 63 points and have a 18-5-1-3 home record.
The Lehigh Valley Phantoms sent a pair of prospects to the Philadelphia Flyers over the weekend. Defenseman Philippe Myers earned his first NHL recall after a 9-20-29 performance in 48 games for the Phantoms. The 22-year-old has continued his progress in his second pro season after going undrafted. He won a silver medal for Canada at the WJC in 2017 alongside now-fellow Flyer goaltender Carter Hart. Philadelphia also brought forward Justin Bailey, 23, up from the Phantoms after his hot start in a new organization. Philadelphia acquired him from the Buffalo Sabres organization for forward Taylor Leier on January 17th. He had been playing with Rochester. In need of a fresh start with a new organization, he has put up a 5-2-7 line in 10 games for the Phantoms; before going to Lehigh Valley, he had been 9-11-20 in 37 games for the Amerks. Buffalo originally selected him in the second round of the 2013 NHL Entry Draft.
Phantoms rookie forward Connor Bunnaman returned to the line-up and immediately took on a 3-in-3 weekend. After one assist in his return game, his two-goal afternoon helped the Phantoms earned a two-game split against Hartford on a 5-2 win.
Very little has gone right for the Hartford Wolf Pack this season, but they can point to forward Ville Meskanen as a success story so far. Meskanen has gone 10-19-29 in 51 games for the Wolf Pack, who are tied for last place in the Eastern Conference. The 23-year-old with a potent release signed with the parent New York Rangers after last season, his Liiga work and 24-goal campaign with Ilves Tampere attracting their interest. He has heated up lately even as Hartford's playoff chances have crumbled in recent weeks, and he has 3-7-10 in his past 18 games as he continues to figure out the North American game. The Wolf Pack finally ended a nine-game losing streak (0-7-1-1) this past weekend, pulling out a 2-1 road win at Lehigh Valley.
Strong goaltending continues to power the Manitoba Moose in the Central Division race. They swept the visiting Texas Stars in a two-game Saturday-Sunday set in Winnipeg. In the first game, fourth-year pro Eric Comrie supplied 30 saves for a 3-2 win. The next afternoon, rookie Mikhail Berdin grabbed his first AHL shutout with 34 saves for a 2-0 victory. Though they are last in the division, the Moose are within five points of the Central Division playoff line and part of a five-team cluster chasing fourth place.
A major roster piece for the Tucson Roadrunners is done for the season. Defenseman Kyle Capobianco sustained a season-ending lower-body injury this past Thursday while on recall to the parent Arizona Coyotes, his second NHL game this season. The injury occurred on a hit and subsequent entanglement with Columbus Blue Jackets forward Nick Foligno. The 21-year-old leads Tucson with 32 points (7-25-32) in 40 AHL games and has represented the Roadrunners at the AHL All-Star Classic in each of his first two pro seasons. Arizona made him a 2015 third-round pick. With forward Adam Helewka part of a trade to the Nashville Predators organization last week, the Roadrunners are without their one-two leading scorers this season. This is the second consecutive season that a key Arizona prospect has had a season-ending injury. Last year forward Nick Merkley's season ended in March with a knee injury that kept him out until December.
Cleveland Monsters defenseman Blake Siebenaler is on his way to Wilkes-Barre/Scranton after a trade Monday. The parent Columbus Blue Jackets sent him to the Pittsburgh Penguins for a 2019 conditional pick. Columbus had picked Siebenaler in the third round of the 2014 NHL Draft, but his progress had stalled in his third pro season in Cleveland. The 22-year-old had 1-1-2 in 17 games for the Monsters.
You may also be interested in: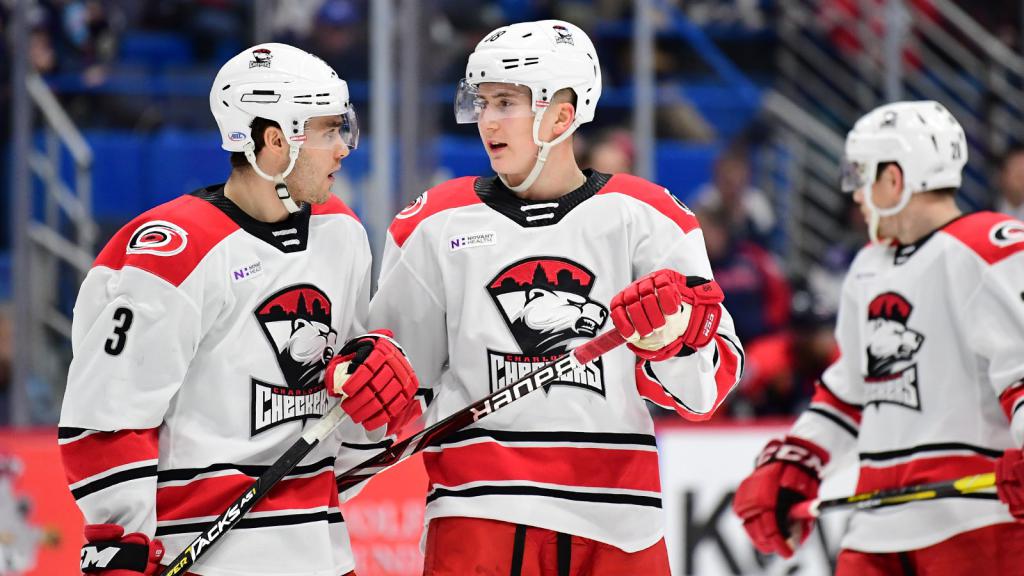 AHL POWER RANKINGS: Stumbling – but Charlotte keeps the "A" in check
This article is about: