NHL Entry Draft 2020
Captain Krebs: "It was definitely a pretty crazy honor to have"
James Patrick knew he'd inevitably place the captaincy in the hands, and on the chest, of Peyton Krebs.
With that, there was no reason to wait.
Instead of making the move next season, Patrick named the 17-year-old as the 23rd captain in franchise history on Dec. 6.
Well earned by the 2019 NHL Draft eligible forward, suggested the Kootenay Ice coach.
"It was just everything he does, how he carries himself, his work ethic, how he prepares…everything he does is about making himself a better player, from diet to sleep habits to off-ice conditioning," said Patrick, who played 1,280 games over 21 seasons with the New York Rangers, Buffalo Sabres and Calgary Flames.
"We just got to the point where you're trying to teach, trying to guide, trying to mentor, trying to help out a lot of young men and you're trying to give advice about this is how we want things done and these are good winning habits, and they're all things that he does. We just got to the point where now is the time to make him captain.
"We knew he was going to be captain for sure next year because of all those things that he does. Instead of keep trying to beg and plead and push older players to do things the right way we just said we're starting with him.
"When you're trying to establish culture…I've never seen a player as driven as focused and trying to get better (as him). It was such an obvious and natural choice. I know it's a lot on a 17-year-old's shoulders, but we just decided now we weren't going to wait any longer.
"The time was now."
The timing makes Krebs the youngest current captain in the Western Hockey League.
"It was definitely a pretty crazy honor to have," said Krebs, who led all rookies in WHL scoring last year with 54 points (17 goals, 37 assists). "There's some great teammates who allow me to be the person I am and person I want to be. I just try to lead by example. It's huge kudos to them for sure. I think I just want to keep working hard and do my thing and that's definitely a huge honor to be the captain.
"But for me, it didn't change anything."
It shouldn't.
What Krebs has done to this point has him talked about as a surefire first round pick — and potential top-10 selection — in a 2019 draft that is ripe with plenty of top prospects in the West.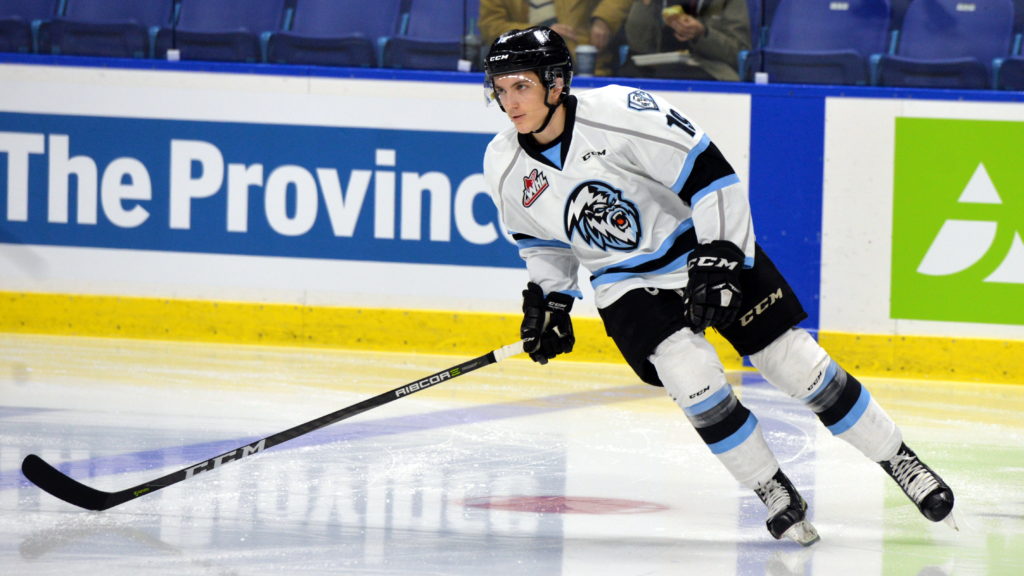 Not that he's so much concerned with how he stacks up.
"I think it's definitely a year you want to put your best foot forward and try to do your best," Krebs said. "You want to play your best every night, but I think you're not going to play your best every night so that's something you have to handle.
"For me, I just try to work my hardest every night. If I know I did that, I can be happy with myself. Definitely your biggest opponent is yourself during these times. I think if you just have the right mindset that if you work your hardest and do your thing everything else will fall in place."
It's a sound approach.
One the first overall pick in the 2016 WHL Bantam Draft has had plenty of success with.
In addition to his captaincy, Krebs leads the Ice with 56 points (16 goals, 40 assists) in 47 games.
All with NHL Draft pressures beating down his back.
"Definitely it's something you want to try to stay away from as much as you can but at the same time you want to try to enjoy it," said Krebs, who won gold with Canada at the Hlinka Gretzky Cup in August. "This year is a lot different from when I was in the Bantam draft because you could see scouts because you were in small rinks.
"Here in the NHL Draft, you're playing in big rinks every night. There's a lot more people. You don't know who is who. That really helps. You can go out there and play your hardest and leave it on the ice.
"If they like you they're going to pick you."
There's plenty to like.
Plenty, it seems, already do.
"I've been amazed," Patrick said. "Almost every game…after every game, 90 percent of the time, he has to meet a scout and do a 10 or 15-minute talk with them. I think he's rolled with it and accepted it. It hasn't changed how he's played.
"We know at every game someone is watching him. Maybe kids are more used to it, with the focus from U16 Hockey Canada, the Ivan Hlinka, U17…even with the (CHL/NHL) Prospects Game…I think it's easy on him because he's so driven."
That drive, Patrick suggested, made Krebs an easy choice as captain with Kootenay.
It'll make him an easy choice on draft day, too.
"He's a skilled player who comes from a real good upbringing, but as a 16-year-old I was shocked at his focus, intensity, work ethic and drive," he said.
"It hasn't changed one bit.
"He's as hard-working as any skilled player that I've ever been around, NHL or junior.
"I don't know how he can't make it in the NHL and be a good player because he will do anything that it takes to get there."
This article is about: