NHL Entry Draft 2019
Ethan Keppen looking to make lasting impression
Ethan Keppen knows he's running out of time to make a lasting impression.
Fortunately for him, though, he's making the most of the skates he has left.
And Keppen, a forward eligible for the 2019 NHL Draft, isn't about to be forgotten.
"Obviously there could be a lot of ups and there could be some downs too, especially for a player going through their draft year," started Keppen, No. 110 in NHL Central Scouting's midterm ranking for the 2019 draft.
"Especially for me.
"For now I have to leave everything on the ice from now on. I have to show these scouts what I can do. There are other players that are going to be going through the draft that will be going far in playoffs. You just look at that and you have to say to yourself, 'hey, you have to leave everything on the ice…'"
The Flint Firebirds of the Ontario Hockey League, Keppen's club, will miss the playoffs by over 50 points.
They won just 14 of 65 games this season.
But Keppen, who has 56 points (28 goals, 28 assists) in those 65 games, gives the organization reason for optimism.
"There is no doubt that with how Ethan's playing, the areas that he really brings to our team, and the direction our team is going, everything kind of aligns at the same time," said Barclay Branch, Flint's general manager.
"That's how we view Ethan.
"He is one of the major building blocks, centerpieces, in our franchise. He's a tremendous leader. He's a great person. He leads every day on the ice and off the ice, by example, and those are the kinds of guys that you want as centerpieces of your franchise. We think that that's what Ethan brings to us. That's how important he is to our organization.
"He's just starting to take off as a player and it couldn't be happening at a better time because it happens at the same time we feel we're taking off as a team."
Keppen has taken off.
The 6-foot-2, 212-pound left wing has 31 points (18 goals, 13 assists) since Jan. 1, and in those 27 games, Keppen has been held off the scoresheet just four times.
The No. 10 pick in the 2017 OHL Priority Selection has been humming along.
"Ethan's recognized the areas of strength in himself," Branch said. "His game is already focused on those areas and what it is and he's highly, highly effective. But it's also a case here that he's 17-years-old.
"I was speaking to our season-ticket holder group a few weeks ago. We were talking about the players that play for our team and it's funny…when you see them walk around and when you see them even on the ice, and you think they're men. But they're boys. That to me describes Ethan in the best ways. He looks in a lot of ways like a man, but he's 17-years-old. That's part of the maturation process, too, for him.
"He's highly-committed and he's figuring it out."
His bullish nature on the ice is showing through.
"I'm a power forward that plays a 200-foot game out there that drives hard up and down the ice with the puck," Keppen described.
"I've always been a big kid. This has always been my game since I was playing rep hockey. I've always been one of the bigger guys, so I always try to take advantage of it.
"That's been going very well for me.
"I bring power up the ice, and that creates a lot of space for my linemates. I'm always hard on the forecheck, always making hits to try to create a battle out there. I'm good at retrieving pucks. That's my offensive game. I'm always trying to play a 200-foot game, which means I try to backcheck very hard. I try to block shots and be a good half-wall player.
"I try to bring a lot of body presence to the game, is probably one of my biggest abilities."
Strong head, too.
Keppen hasn't bowed to any sort of pressure of playing in his draft season.
Even though he is running out of time to showcase his stuff.
"I don't really feel any pressure at all," he admitted. "I just treat everything like a normal game.
"In the back of my head I know there's someone always watching me, but I always feel confident because I know I have a great team and a great coach that will always have my back out there supporting me, especially lately. I've been playing very well because my team has been great at having my back. I haven't really been dealing with any stress lately.
"I just keep it simple and just never think about it, just play my own game out there."
You may also be interested in: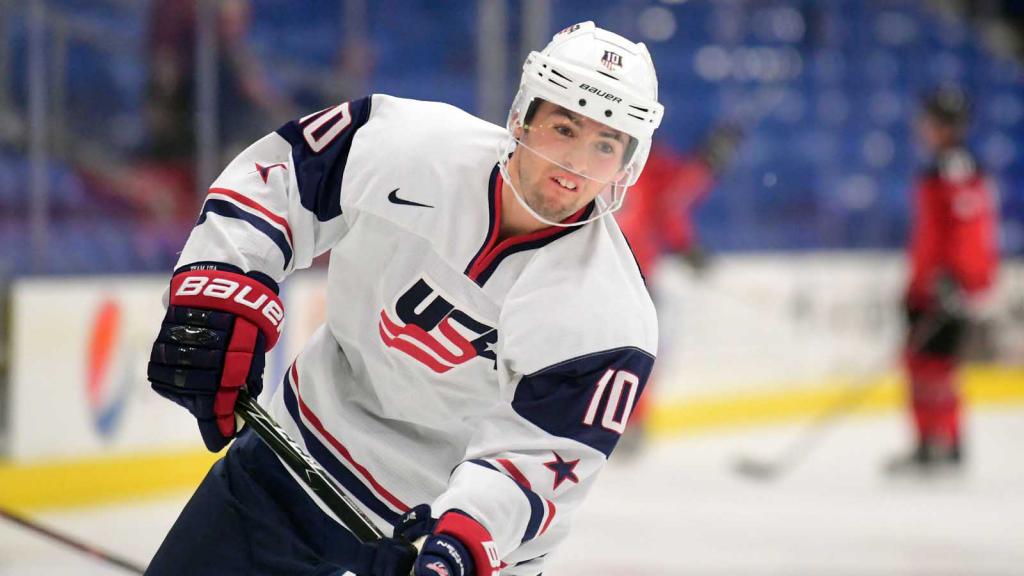 FANTALYTICA: Evan Barratt – A Mid To Late Round Gem
This article is about: