Scouting Reports
Fairbrother, Spence and Lundmark three underrated defenders to watch
Most impact players are found in the first round of the NHL Entry Draft but to truly win at the draft, a team must be able to unearth talent in the later rounds.
There must be value found in players that have seeming slipped through the cracks. Every team will value different things about players and how they might project and thus there will always interesting names in the later rounds that we can look back at and wonder – "How did he fall to there?"
The first step in that process is identifying players that stand out from an underlying and analytical standpoint and then dissecting if the flaws to their games can be overcome.
Here is a couple defenceman for the upcoming 2019 NHL Entry Draft that are ranked quite low but provide some intriguing value. They all have concerns to their game but stand out enough that they may be worth a mid to late round flyer.
Gianni Fairbrother (Everett – WHL)
Ranked as 85th best North American skater in the NHL Central Scouting Service mid-term rankings, Fairbrother improved his two-way play as the season went along.
Ending the regular season with ten goals and twenty-six assists in sixty-four games for the Silvertips, the left handed rear guard was ranked fourth in goals among first time draft eligible WHL defencemen and having seventeen of his twenty-six assists being of the primary variety.
When we use the Prospect Graduation Probabilities System (pGPS) developed by Jeremy Davis from CanucksArmy, which looks at statistically comparable players and adjusts for league and age, we see that Fairbrother well exceeds his ranking: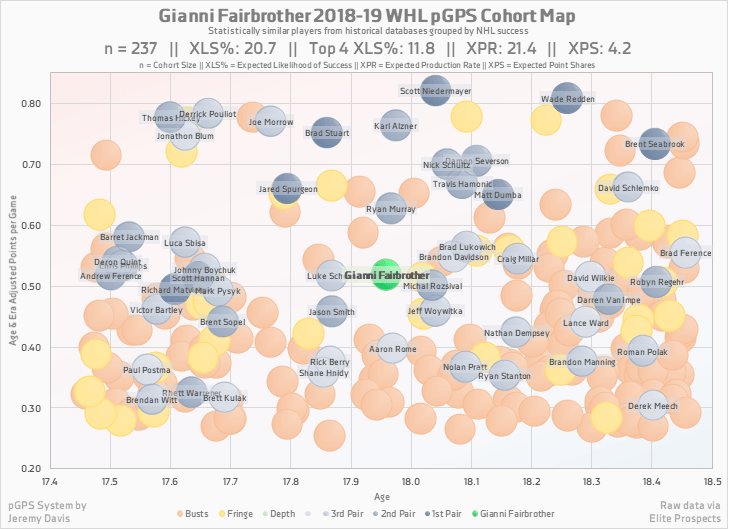 20.7% of his cohorts went onto becoming NHL regulars with an additional 23% being depth or fringe players for their teams. That provides tremendous value at where an 85th ranked N.A. skater is expected to eventually go in the draft
This goal from December 1st against Seattle illustrates his ability to get shots through to cause mayhem and then once he gets the puck back, he adjusts his lane and rips it past the netminder: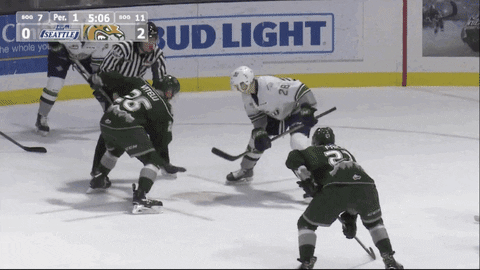 His skating abilities, hockey IQ, and shooting prowess are the main the attributes that stand out about his game. He sees time on Everett's powerplay and penalty kill units and effectively contributes in all three zones. The 6'0" and 195 lbs defender has a physical side to his game as well. Looking to make hits that eliminate the puck carrier while entering the zone and willing to drop the gloves when the situation arises.
If there is one concern, it is that he has been a bit of a drag in goals for percentage for Everett's top offensive players but not enough to not warrant considering him as a late pick.
Jordan Spence (Moncton – QMJHL)
The Cornwall, PEI native led Moncton defencemen scoring, QMJHL rookie defencemen and finished 9th in points among all QMJHL defencemen. All of which led to him being awarded the Raymond-Lagace trophy for being the defensive rookie of the year.
Spence is a smart defenceman who can around the ice with the puck. Seems to constantly have his head up to look for cracks in his opponents' defence and then exploit it through his playmaking abilities.
Using the pGPS analytical tool to determine how his cohorts did, an impressive 17% went onto becoming NHL regulars: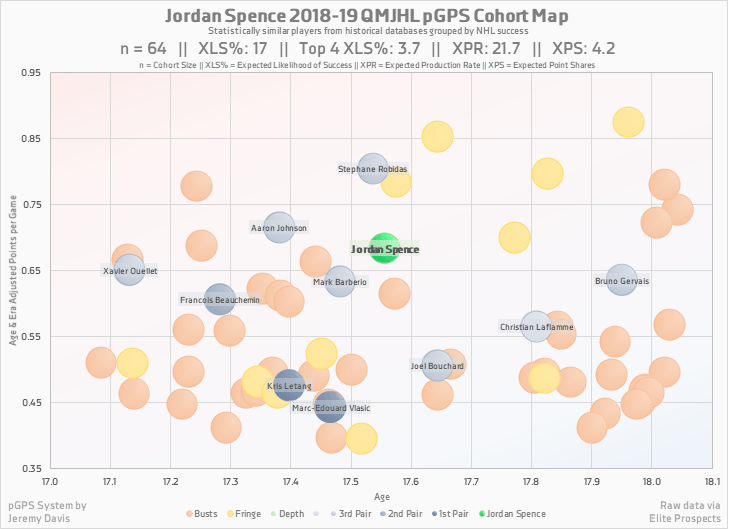 There are some interesting names in there with Marc-Eduard Vlasic and Kris Letang producing at a lower rate at a very similar age.
Another aspect to his game that really stands out was that he generally made everyone he played with better in their goal share: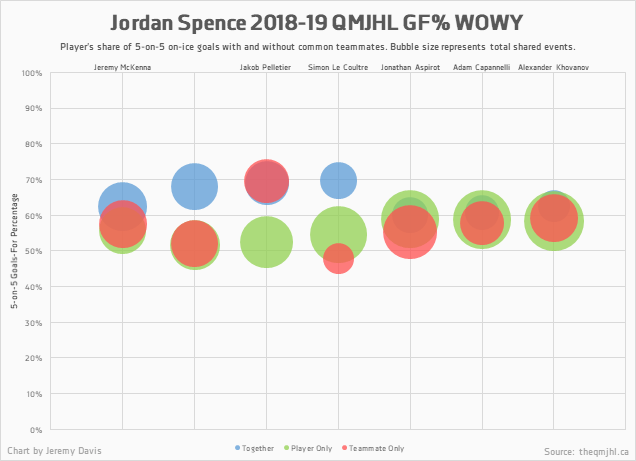 Measuring in at 5'10" and 165 lbs, there will be questions about his ability to defender in professional hockey. But Spence's hockey IQ, puck distribution, and vision lets him thrive in the offensive zone, particularly on the man advantage, and are all attributes that would him to overcome those concerns in the defensive zone.
Spence is a defenceman that we could see go early on the 2nd day of the 2019 NHL Entry Draft despite being ranked as the 70th best North American skater in the NHL CSS mid-term rankings.
Simon Lundmark (Linköping HC – SHL)
Jumping over to Sweden, Simon Lundmark is a defenceman that split his time between the J20 SuperElit and SHL this season and both painted a different picture of what type of player he is.
In his twenty-eight games with Linköping in the Swedish Hockey League, Lundmark posted three assists and appeared to be playing a more conservative role, trying to hold his own in the top league in Sweden.
That limited production provided some with the idea that his offensive upside may be limited but those concerns should be alleviated by his SuperElit production, that saw him put up seventeen points in twenty-five games at that level. Despite playing that few of games, he still led all Linköping HC J20 defencemen in scoring for the 2018-19 season.
He followed that up with one goal and three assists in six playoff games with the J20 team.
Just being able to appear in twenty-eight games during his draft season, and averaging 13:37 of ice time, is an encouraging sign. He generally moves the puck quite well but would rely more on the safe play of glass and out while in the SHL.
Just looking at his limited production in the SHL, an impressive 19.2% of his cohorts went onto becoming NHL regulars.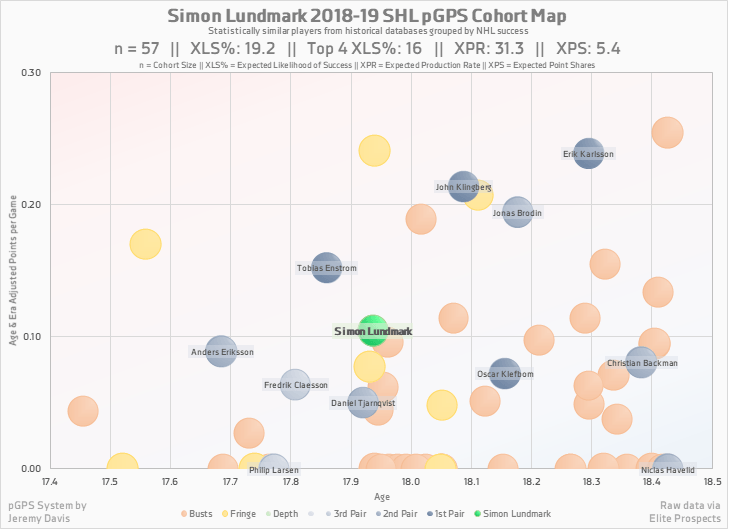 Whoever selects Lundmark will retain his rights for four years before having to make a decision on signing him to an entry level contract and that may be perfect for the young Swede. He has shown offensive chops in the junior levels and was able to hold down a role in the SHL this season.
A little more confidence and a bigger role with Linköping and Lundmark could trend upwards from where he is selected.
We are still over two months away from the 2019 NHL Entry Draft and there will still be some jockeying of position for all the players involved. The three players mentioned above might be ranked higher than some more notable names, for example Lundmark ahead of Anttoni Honka, but aren't generally discussed in many other public rankings or ranked very highly.
However, we can see that all three present intriguing skillsets that with a little patience and development could pay off for whichever team calls their name.
This article is about: