U18 World Juniors
LIST: Ten Players To Watch At The U18 Worlds
It's the final opportunity to showcase.
Outside of a poke and a prod at the NHL Draft Combine in May, the 2019 IIHF World Under-18 Championship will be the last opportunity for eligible prospects for the 2019 NHL Draft to leave a lasting impression on scouts, general managers and executives alike.
And there's no shortage of those with the ability to leave a mark in this year's tournament, running April 18-28 in Örnsköldsvik and Umeå, Sweden.
Dylan Cozens – F – Canada
Cozens, who could be the first Canadian-born forward off the board on draft day, had an impressive year with the Lethbridge Hurricanes of the Western Hockey League. The 6-foot-3 forward amassed 84 points (34 goals, 50 assists) in 68 games after helping Canada to gold at the Hlinka Gretzky Cup last August. Cozens was the WHL's rookie of the year in 2017-18, too.
"Cozens is a talented center who doesn't really fancy subtle skills but is a quiet star in the making," Future Considerations head Western scout Justin Froese said. "He has great vision and is an equally dangerous shooter who can't be dismissed anytime he has the puck. He brings some grit to his game and plays with speed which can be potent when coupled with his skill. He's not a guy who gets you out of your seat, but is consistently effective."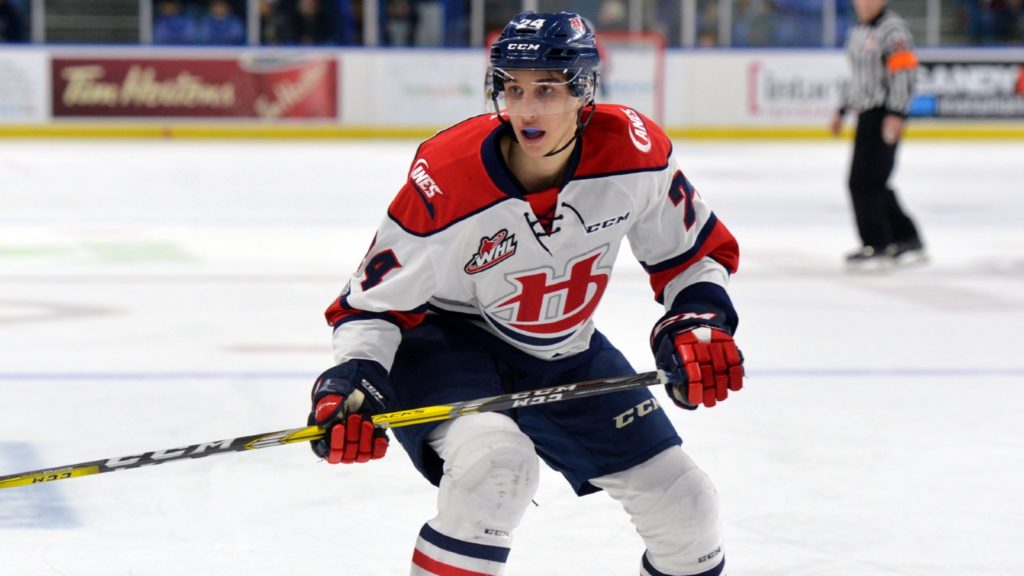 Photo: Doug Westcott
Peyton Krebs – F – Canada
Krebs, another highly regarded Canadian forward, was named captain of the Kootenay Ice of the WHL at just 17-years-old. The burden of the franchise — which will move to Winnipeg this summer, didn't slow the mature forward, who pieced together 68 points (19 goals, 49 assists) on a club that featured just one 20-goal scorer.
"He's a high IQ, cerebral center who has electrifying skill and play creator but also is key ingredient for his team defensively," Froese said. "He plays with high level of drive and is a born leader. His skating doesn't blow you away but is very crafty and excellent at picking his spots. There are lots of layers to his game and consistently elevates his game when under pressure."
Thomas Harley – D – Canada
Harley is one of the sharpest risers over the course of the season when it comes to his NHL Draft stock. He's emerged as a legitimate threat, and near lock, to be selected among the opening 31 picks of the 2019 draft, and some prognosticators have Harley inside of the top half of the first round. The offensive defenseman has done so with a productive season with the Mississauga Steelheads of the Ontario Hockey League, amassing 58 points (11 goals, 47 assists) in 68 games.
"Harley is a big, mobile, puck moving, offensive defenseman," Future Considerations head Eastern scout Dylan Galloway said. "These high-end skills, combined with his ability to be a deadly power play quarterback, make him a force to be reckoned with on the offensive side of the puck. His defensive game needs some work and he needs to put some meat on his bones, but that should come with time, development, and maturity."
Alex Newhook – F – Canada
Newhook is one of the NHL Draft's more polarizing prospects, but there's little to discredit the talent that the center has shown with the Victoria Grizzlies of the British Columbia Hockey League. Newhook, named Vern Dye Memorial Award winner as the BCHL's most valuable player, netted the Brett Hull Award for the BCHL scoring championship with 102 points (38 goals, 64 assists) in just 53 games.
"Newhook is a bit of an enigma," Froese said. "He has the skating ability and smarts to overpower teams he plays against but the drive eludes him at times. Crafty hands and a well-versed passer, Newhook can take over games and isn't afraid to play in the nasty areas of the ice or defensively if the spirit moves him."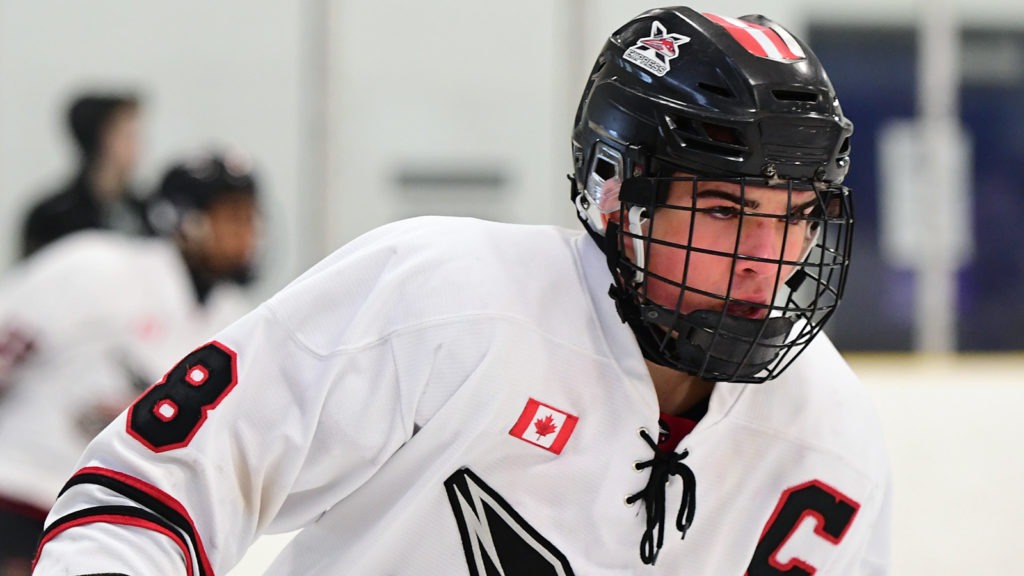 Photo: Dan Hickling / Hickling Images
Ville Heinola – D – Finland
Heinola, who could be the second Finnish-born player selected in the draft behind consensus No. 2 pick Kaapo Kakko, had a standout year as a 17-year-old playing primarily in Finland's top league. Heinola, who chipped in 14 points (two goals, 12 assists) from the blue line with Lukko, also played a part in helping his country to gold at the 2019 World Juniors.
"Heinola has looked really good as the season has progressed," Finnish-based Future Considerations scout Lassi Alanen said. "He is a two-way defenseman who doesn't have any high-end abilities, but is very solid all-around. He has very good mobility and good speed, shows great poise with the puck and evades defenders well."
Vasili Podkolzin – F – Russia
Podkolzin, who will contend as the third overall selection in 2019, already has KHL experience in the form of a three-game stint with SKA St. Petersburg, and time in the VHL with five points (two goals, three assists) in 14 games. Internationally against his peers, Podkolzin has been a standout, too, earning bronze at the Hlinka Gretzky Cup in August and earning his way onto Russia's roster for the 2019 IIHF World Junior Championship.
"Podkolzin is an offensive threat, who really knows how to score goals and create offense," Future Considerations head European scout Dennis Schellenberg said. "He often finds himself in perfect shooting positions, and is able to enter the offensive zone with speed and with direct drive to the net. He's also able to attack the net directly and take the puck to the tough areas."
Philip Broberg – D – Sweden
Broberg could very well find himself as the first Swedish-born skater off the board in 2019, and with good cause. Spending the season primarily with AIK in Allsvenskan, the 17-year-old had nine points (two goals, seven assists) in 41 games. There's more to his game than what the stat line suggests, however. Broberg is considered one of the draft's best defensemen.
"Broberg is among the most interesting defenseman in this year's draft when it comes to upside," Swedish-based Future Considerations scout Christoffer Hedlund said. "is a dangerous threat on the offensive blue line, with his mobility and offensive instincts he doesn't hesitate to make a move when he sees open ice and he can both set up a team mate with a pass or unleash his heavy slap shot if he is given some space."
Victor Söderström – D – Sweden
Söderström's ranking could rival that of Broberg, but for differing reasons. The 18-year-old spent the majority of the season in the Swedish Hockey League with Brynas and didn't disappoint. His seven points (four goals, three assists) in 44 games didn't overwhelm, but that's not the game Söderström is known for.
"He might not be most flashy player among the top-rated defensemen in this year's draft class but it's also a part of what makes him so good," Hedulund said. "He rarely makes any mistakes, consistently does the right thing and is a player that will make players around him better by making good plays. He is already good defensively by SHL-standards and has showed glimpses of intriguing offensive skills as well, which mostly revolves among his mobility, passing abilities and hockey sense."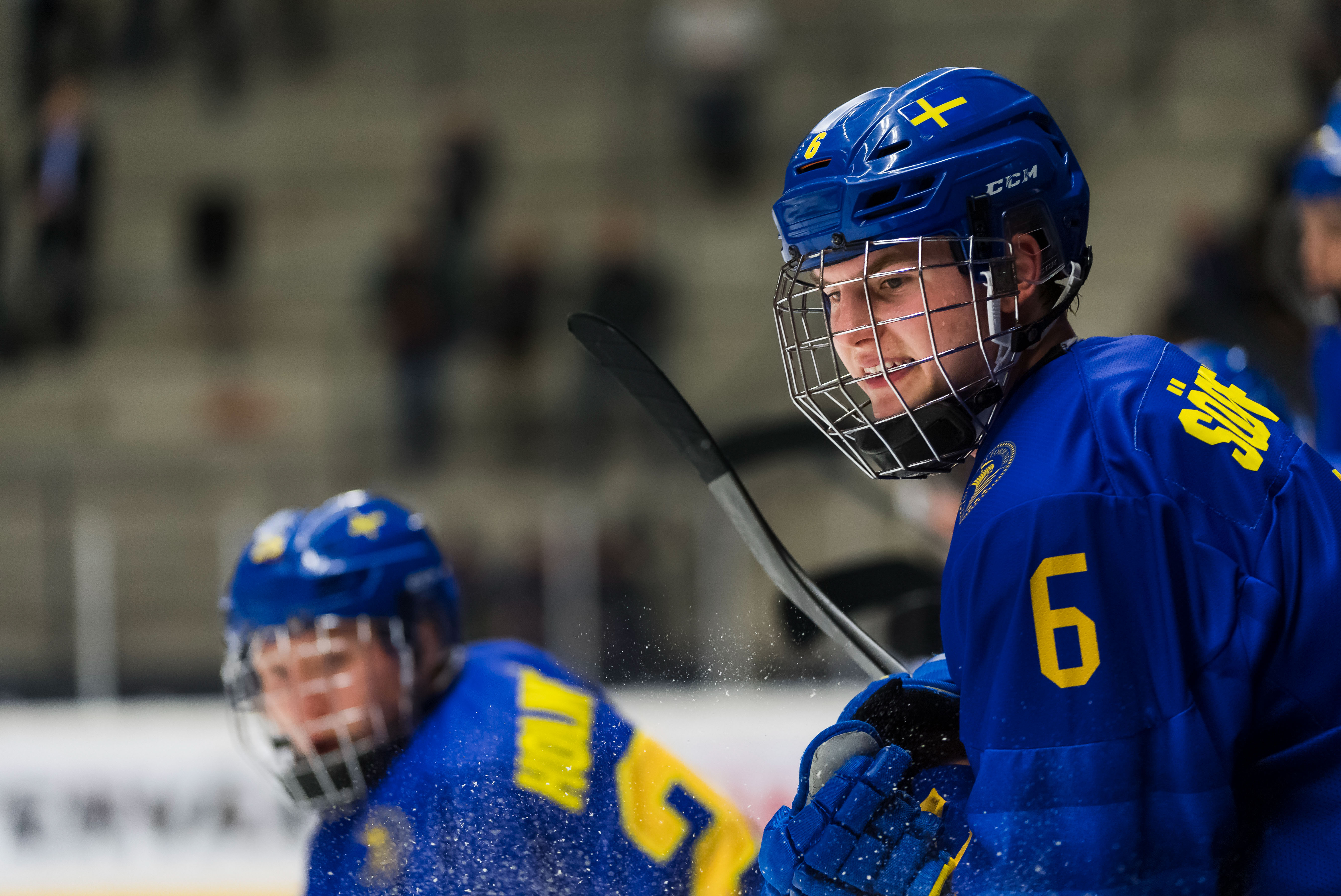 Photo: Jonas Forsberg, Bildbyrån
Cole Caufield – F – USA
Hughes isn't the only American-born record-setter kicking around in the tournament. Caufield is the owner of the NTDP goals record with 112, eclipsing Phil Kessel's mark of 104 established in 2005. Caufield also owns the club's record for most goals in a season with 58, breaking Auston Matthews' mark of 55 in 2015-15.
"He's a dynamic, but small, forward that does everything he can to overcome his shortage in size," Schellenberg said. "Caufield is possesses great top speed and a very quick acceleration and quick steps. He's the type of player that possesses a motor that never breaks and always delivers when hitting the ice, and is an elite goal scorer."
Jack Hughes – F – USA
Hughes had an incredible season to cap what is a record-setting stint with the United States National Team Development Program. The 17-year-old is the owner of the NTDP points record with 208 points (65 goals, 143 assists) over 103 games in two seasons with the Under-17 and Under-18 programs, eclipsing the previous record of Clayton Keller, who amassed 189 points (71 goals, 118 assists) in 123 games.
"He's the most gifted player with the puck of this draft class," Schellenberg said. "It is pure joy watching this center handling the puck and finding those open passing lanes. He takes the puck walking with blazing speed not losing any velocity while having the biscuit on his blade. Tremendous puckhandling skills and ultra-smooth hands allow him to make outstanding plays in tight spaces. He has outstanding puck skills and vision complete his playmaking profile. Hughes is the type of player that keep you on the edge of the seat all game long, the type of player that makes you pay a high ticket price to see him."
This article is about: