U18 World Juniors
Motivated Caufield off to torrid start at U18 Worlds: "I just love when the puck goes in the net"
ÖRNSKÖLDSVIK, SWEDEN — The words that came booming out of the PA system merited a double-take.
"Team USA goal scored by number 13, Goal Caufield"
Did he just say…?
While the Swedish rink announcer at Fjällräven Center might not win any awards for his grasp of the English language, he may have inadvertently stumbled on to a solid goal call.
The skater wearing 13 on the USA U18 national team isn't named Goal Caufield. But he might as well be.
Two games into the 2019 U18 World Junior Championships, Cole Caufield has set the tournament on fire. Aided, but not carried by, his partner in crime Jack Hughes , Caufield has stormed off to take the tournament lead in both points and goals. With seven goals and two assists through two games, he's even outshined Hughes.
"I'll take whatever I can get", he quips when EP Rinkside questions whether his current goal-scoring pace is sustainable.
As Team USA kept the pressure up and refused to let Slovakia get away with anything less than the 12-5 drubbing the game ended up being, it truly was a sight to behold as Caufield and Hughes dodged, dipped, ducked, dove and… dodged their way through a squad of young Slovaks that just didn't have an answer for the American duo.
"Playing with Jack, it just makes things a lot easier. We read off each other quite well."
That's an understatement.
Granted, it's still early days but scoring seven goals in just six periods of hockey forces people to sit up and take notice.
A MEMORABLE GRADUATION
Make no mistake about it, Caufield is motivated.
For Hughes, Caufield and the rest of the American team team, the U18 Worlds in Örnsköldsvik will be the last major tournament they play together. At least as a unit in the US National Team Development Program. Hughes is more than likely off to the NHL and Caufield has committed to the University of Wisconsin for next season.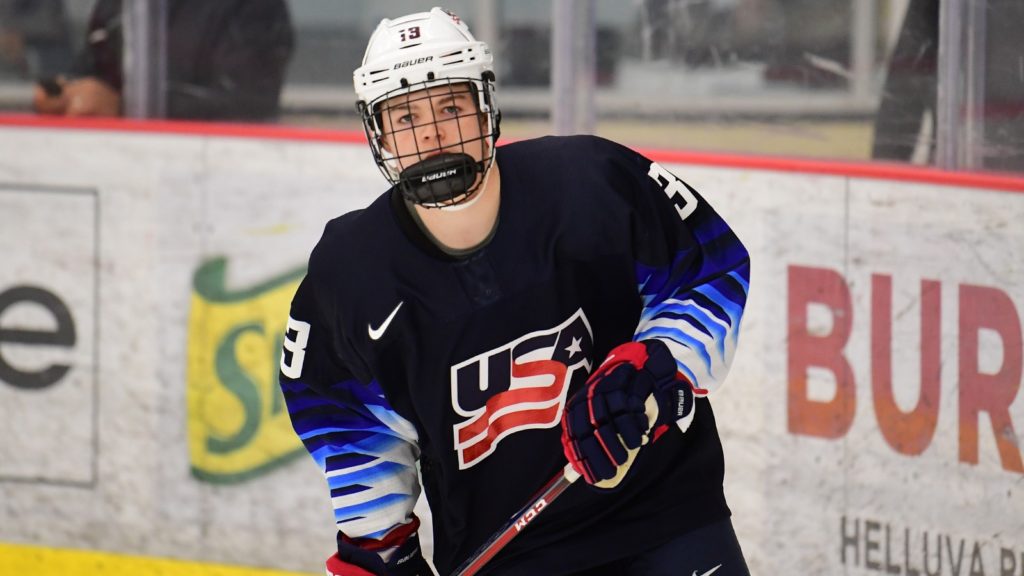 Caufield will play in the NCAA next season. Photo: Dan Hickling.
But considering the talent on display in Team USA, they have every chance to make their "graduation" a memorable one.
"This has been on our minds for the past two years and it's something we've worked hard for. Now that we are here, we're taking every step to make sure we stay in the moment."
As soft-spoken and quiet he is off the ice, Caufield is raucous on the ice. He skates, shoots and dishes the puck with pace and authority. But he rarely keeps it for long.
"I don't have the puck a lot, I think that is actually one of my strengths."
Taken out of context, it's an amusing statement.
But the fact of the matter is that Caufield is at his absolute best when he hands the puck off quickly and immediately skates into position to take advantage of his lethal shot. Of course, having an NHL-level puck carrier in Jack Hughes on your line will help. But Caufield will put the puck in the back of the net whoever he plays with. That's just who he is.
"I am usually able to find the soft spots and get lost a little bit in the eyes of the opponents. That's key, I think, when you're playing with talented players who are able to find you with the puck."
Not that Caufield is a bad passer by any stretch – he just really enjoys shooting the puck.
And if you're currently the best goal scorer of your age group, why not take advantage of that?
A CHANCE TO MAKE HISTORY
Eight years ago, in Germany, another duo proceeded to completely tear the U18 WJC tournament apart. Russian forwards Nikita Kucherov and Mikhail Grigorenko propelled each other to matching top-5 all-time best point finishes for a single U18 WJC. Kucherov currently holds the record with 21 points (11 goals, 10 assists) in seven games.
Another Russian you might have heard of, Alexander Ovechkin, is the current record-holder for most goals in a tournament, lighting the lamp 14 times in seven games back in 2002.
Caufield is about halfway there. On both accounts. While success at the U18 level is by no means a guarantee of future superstardom, any time you can erase a record from Kucherov or Ovechkin you take the chance.
With the 2019 NHL Draft coming up, there really isn't a better time for a player to get hot than now. To be fair, players can still rise and fall at the annual NHL Combine, but the U18 Worlds is the last chance for NHL scouts to see the players about to be drafted go head to head with the best competition available – and with everything at stake.
So far, the player that's been called "the purest goal scorer in the 2019 draft" has risen to the occasion… and then some. While staying in the moment, of course.
"I just love when the puck goes in the net."
You may also be interested in: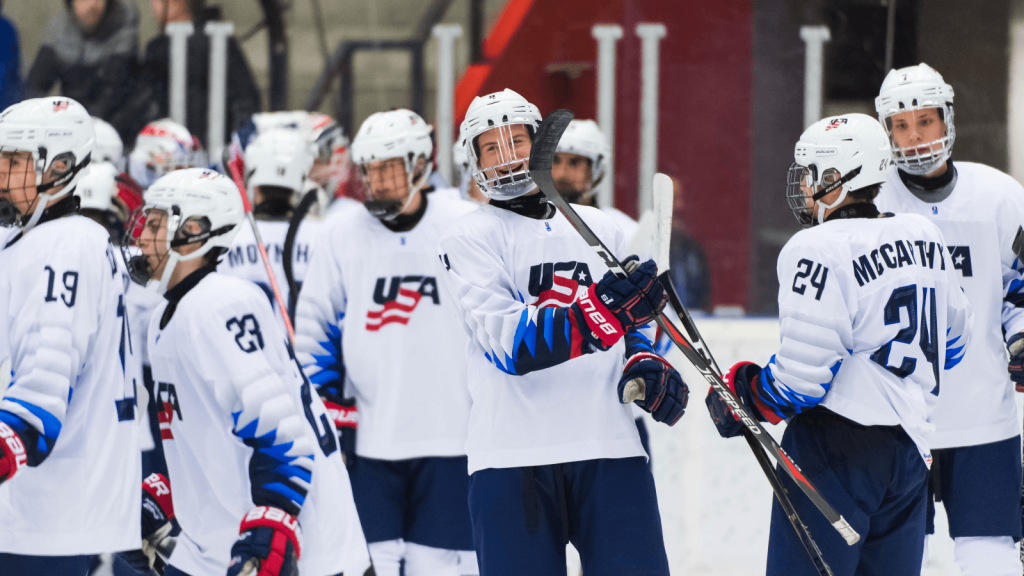 Speed, skill and goal-scoring: The best forward group Team USA has ever seen at the U18's
This article is about: