U18 World Juniors
No I In Team For Broberg: "All I care about is winning the gold medal"
ÖRNSKÖLDSVIK, SWEDEN — You wouldn't notice it from the way he's played, but puck-moving defender Philip Broberg of Sweden has yet to pick up a point at the U18 Worlds.
A head taller than most others whenever he's on the ice, the 6-foot-3, 200-pound defender has stood out in the early going of the tournament. Whether it be confidently skating the puck up the ice while using his size to shield it from opponents, or threading passes high-to-low in the offensive zone to set up teammates for one-timers, Broberg has made his mark.
Except on the scoresheet.
But don't think the 17-year old, projected to be a first-round pick in the 2019 NHL Draft, is letting that get to him.
"I really couldn't care less"
Broberg looks almost puzzled by the question, as if to say: why would him picking up a point or not have any impact on the way he plays the game?
It's not uncommon for offensive defenders or high-scoring forwards to mention "getting that monkey off their back" — meaning getting that first goal or assist — in order to take some pressure off. Especially during international play when the time-frame to get going is considerably shorter than during the season.
Not Broberg, though.
"If we win the game and I don't contribute on the scoresheet… winning is all that matters. All I care about right now is winning the gold medal here with this group and should I happen to move through this tournament without getting a point and we win the gold, that's still a perfect tournament."
The chances of Broberg not picking up a point this tournament are slim. He's just too talented to not break through at some point. Although he'd probably be even more effective if utilized on the top powerplay unit with forward stars Lucas Raymond and Alexander Holtz. Coach Magnus Hävelid currently has Swedish captain Tobias Björnfot as the main defender on the top powerplay unit.
"I AM NOT LOOKING TO DO IT ALL BY MYSELF"
When asked to describe his thought process with the puck on his stick, breaking out of his own zone, Broberg makes it clear it's not his ambition to go end-to-end with the puck himself.
"I want to turn the play around as quickly as I can. First priority is to put the puck on my forwards' sticks and follow the play up. I am not really looking to skate the puck myself through multiple opponents. If I can, I want to dish it off as soon as I can to help our team play fast up the ice."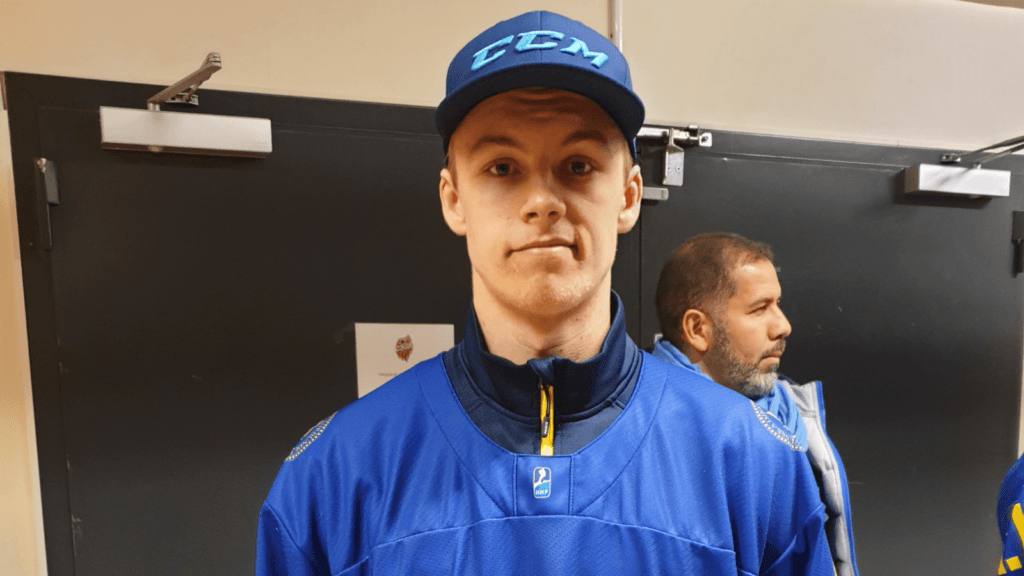 He may not be actively looking for it, but being able to skate the puck up the ice and past opposing forecheckers can come quite in handy, even if it isn't the primary option. Broberg has proven that on multiple occasions, both in this tournament — he's made several successful zone entries against Latvia and USA alike — and throughout the season, regardless of where he's played.
And he's played on a number of different teams.
THREE DIFFERENT LEVELS
Broberg has indeed been busy during the 2018-19 campaign. He's played most of the season with the AIK Men's team in Swedish second-tier league HockeyAllsvenskan. But he's also featured on AIK's U20 squad and even in a playoff game for the U18 squad. Internationally, he took part in the World Junior Championships in Vancouver and Victoria in early 2019 and now the U18 Worlds in Örnsköldsvik.
"Obviously, you notice the difference when playing at these different levels", Broberg admits. "It's a lot more structured in HockeyAllsvenskan whereas in U18 and U20 its more get-up-and-go."
A key aspect in how Broberg adapts to these rapid changes in playing level is that he just… doesn't.
"I can maybe take advantage of my physical strength more here but regardless of level you just got to play your own game. Not start changing too much. It's still hockey, regardless of level. What you got to do is just go out there and have fun and the rest will take care of itself."
An interesting mindset.
But also a mindset that could serve Broberg well when he makes the leap across the puddle known as the Atlantic and plays in North America in the next few years. Ranked in the back half of the first round by many publications – J.D. Burke had the defender ranked 33rd overall in EP Rinkside's own ranking – Broberg will hear his name called early during the draft weekend in Vancouver, this June.
Until then, he's got gold to win. Regardless if that comes with personal accolades or not.
You may also be interested in: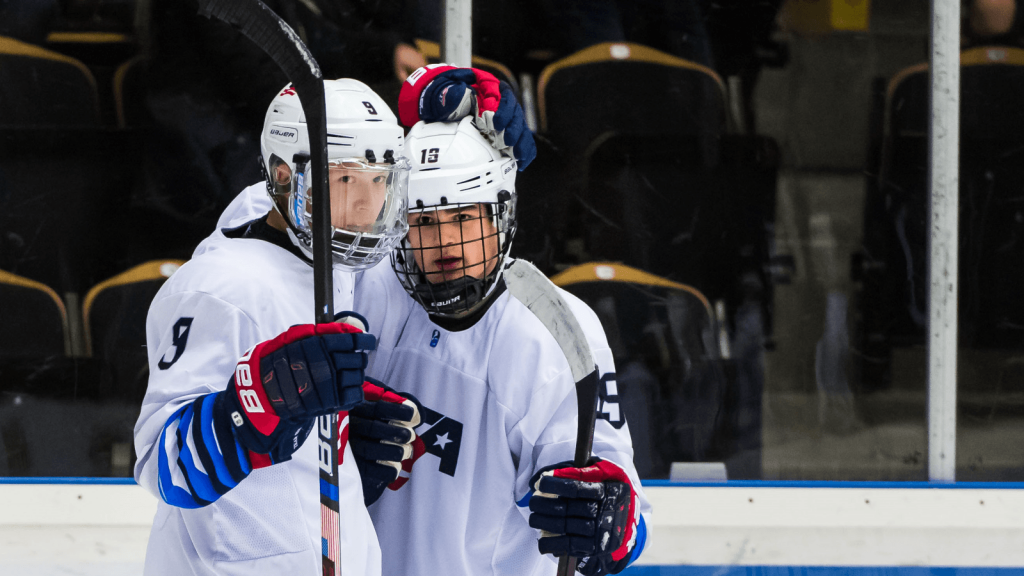 Motivated Caufield off to torrid start at U18 Worlds: "I just love when the puck goes in the net"
This article is about: