U18 World Juniors
COHEN: Who's the Best Power Forward in the 2019 NHL Draft?
For EP Rinkside, Russ Cohen takes a look at some prime candidates for the unofficial title of "Best Power Forward in the 2019 NHL Draft".
At 6-2, 192 pounds this left winger out of Millis, Massachusetts, is from an athletic family. His father Todd played football at the University of Maine. Teams look at the family tree and often like when other family members have an athletic background.
Many love his stickhandling ability and even though he will be a power forward he has the finesse in his game to make fantastic passes. His skating is excellent and he's hard to handle around the net. In the early going of the U18s, he's been lighting up the scoreboard along with his Team USA teammates. In his first two games, he already had seven points. During the season with the NTDP, he had 76 points in 59 games with 31 goals. He was a point-per-game against NCAA opponents. He fits the bill.
At 6-3, 181, there's plenty of room to build on a very talented frame. This pivot has a tremendous wrist shot. He's a shark on the power play and he'll go to the net. Cozens can stickhandle. Once he's passed one defender the defense tries their best as he heads for the net. His one-timer is deadly, and he can roof a backhand going 1-on-1 against most goalies. That's a package that will see him go somewhere in the Top 5.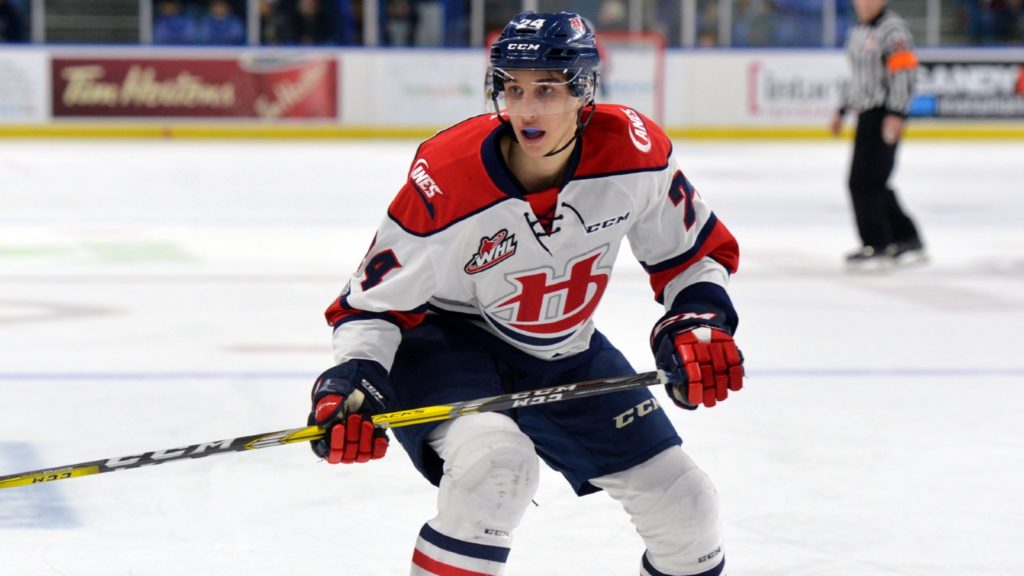 Dylan Cozens. Photo: Doug Westcott.
This 6-1, 190-pound Russian power forward was the first 21st-century player to skate in the KHL this year but has mainly played in the MHL. He may have more speed than the players listed above him. He does everything at top speed and it's very hard to get the puck away from him. He has a lot of tools in the toolbox and he'll battle in the crease and lay the tough hit.
He's jumped around the MHL, but his regular season numbers have been solid, and he's been a point-per-game in the playoffs there. He's one of those players who needs to come over to North America, figure out how to play on the smaller ice and then he'll be extremely dangerous.
At 6-4, 198 pounds this center has been lighting up the "Q" with enough energy to fuel Halifax harbor. His first season in Halifax saw him score at almost a point-per-game clip. In 68 games, he had 30 goals and 63 points. This prospect is already strong, and he'll eventually find his man strength. He has a great wrist shot and he's a beast in the postseason. In 13 games he has 16 goals and 24 points. Halifax is hosting the Memorial Cup, so he'll have a real chance to bring home a championship.
He plays on the penalty kill so he's an offensive weapon that way as well. He has great hands and he can deflect in goals in the crease with great skill. He's a scary good player and a lot of teams will hope he drops to them. He won't drop that far so only 10 or so will have a real shot at him.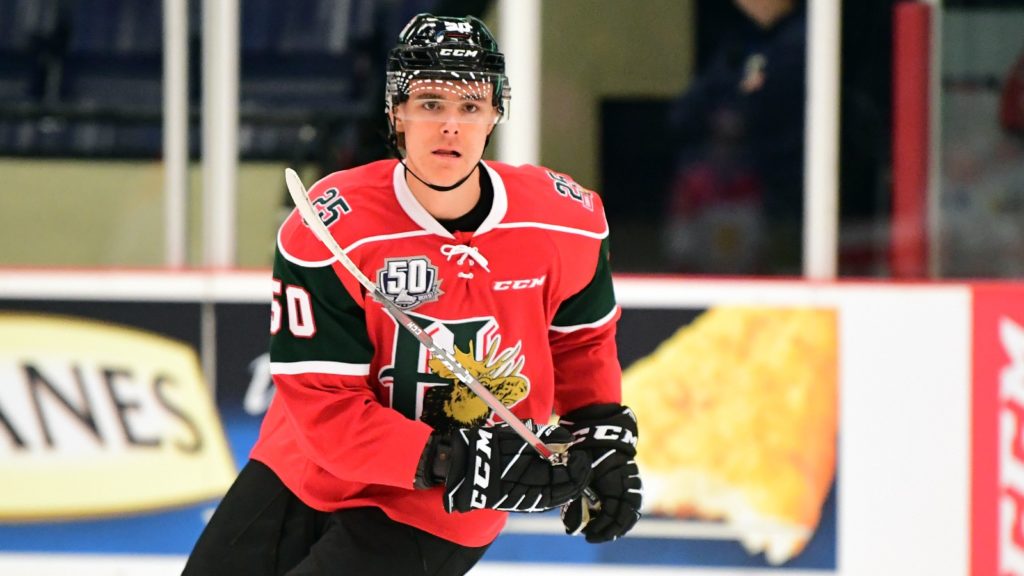 Raphael Lavoie. Photo: Dan Hickling / Hickling Images.
This 6-3, left winger has been tearing up Kelowna this season. At 187 pounds you can look no further than his dad, Adam, who was 6-2, 227 and his brother Cal (6-4, 220, first round pick of the Tampa Bay Lightning in 2017). Both his dad and brother are defenseman, but the frame is the frame so you know he will come in over 200 pounds in the future. That's a virtual guarantee if you pick him. Last season he had 40 points in 50 games. He played on Team Canada's squad in the Hlinka Gretzky Cup and was a part of a gold medal winning team. That looks great on his resume and it builds more character for sure.
That was a building block. This season he's scored 36 goals and had 66 points in 63 games. He digs in the corner and can make a great pass to a player cutting to the net. He can play low next to the goalie and flip in a quick shot. His wrist shot is smooth. He has a nice one-timer and he has some pretty good dekes. He can set a mean screen in the crease. A lot of teams would love to get him late in the first round or sometime in the second round.
*****
I have to give Cozens the nod here. He fits the bill more than anybody in the list. He will definitely have a long successful NHL career and he'll be talked about a lot more between now and June. When he hits the stage in Vancouver, he'll likely go somewhere between 3-5. Many will debate where in that order he'll go but most will have him listed there for good reason.
This article is about: