Scouting Reports
BIECH: Underrated forwards to watch in the NHL draft
A few weeks ago, we looked at some underrated defenceman that could provide some value at this year's NHL Entry Draft and now we turn our attention to the forward ranks.
This year's crop has some interesting names at the top of the draft board that should give a serious boost to prospect pools lucky enough to pick early. The key after that is to find some intriguing players with varying skillsets that can project into an NHL lineup into the future.
With so many eligible players for this draft class, it can be hard to pinpoint who presents the best value at their projected placement. You can combine qualitative and quantitative analysis and make the best-informed decision possible.
That thought process has led to the following three forwards jump off page to me as players that teams should seriously consider on day two of the draft.
Henrik Rybinski (Seattle Thunderbirds – WHL)
Something that sometimes get overlooked is a player's deployment during their draft season and how much that can affect their production and in turn, their draft stock.
A prime example of this is Henrik Rybinski in the Western Hockey League.
The Vancouver born winger was drafted by the Medicine Hat Tigers in the 2016 WHL Bantam Draft and eventually made his way to the WHL for his draft minus one season that saw him score three goals and nine assists in 63 games.
He returned for his NHL draft year this season hoping to take on a bigger role for the Tigers and claw his way up the NHL rankings. He was being deployed in a bottom six role for the Tigers and eventually requested a trade to allow a bigger opportunity. He played in the BCHL while the Tigers worked out a deal and was eventually moved to the Thunderbirds in early January.
He took advantage of a bigger role with Seattle, putting up seven goals and twenty-eight assists in thirty-three games and helped get the Thunderbirds into the postseason. His production started slowly with Seattle but by the end of the season, he was racking up the points, including a five-assist performance against Tri-City on March 13th.
The 6'1" and 170 lbs forward is a tenacious player who uses his quick acceleration and skating to get in on the forecheck. He rarely gives up on a play and when he can obtain the puck from his opponents, he displays some really enticing playmaking abilities that place his teammates in advantageous situations. Here's a nice goal from the March 3rdgame against Tri-City: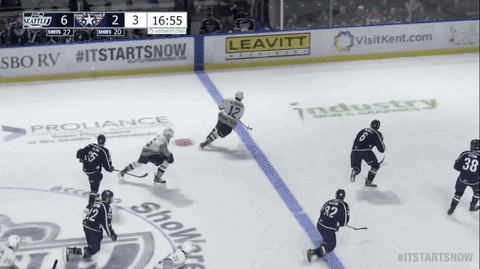 That goal came seven seconds after he made a nice behind the back pass for a primary assist.
Rybinski is responsible in his own end and has some underrated puck skills that allow him to dangle at high speeds.
Combining the production from Medicine Hat and Seattle, Rybinski ended the year with eight goals and thirty-two assists in forty-seven games this season. Using the Prospect Graduation Probabilities System (pGPS) developed by Jeremy Davis, which looks at a player's statistical cohorts through history, Rybinski's success rate among his cohorts far exceeds his 123rdranking among North American Skaters:
Rybinski may not be a player with a high ceiling but does have all the skills that teams are looking for in a third line player.
Alex Beaucage (Rouyn-Noranda Huskies – QMJHL)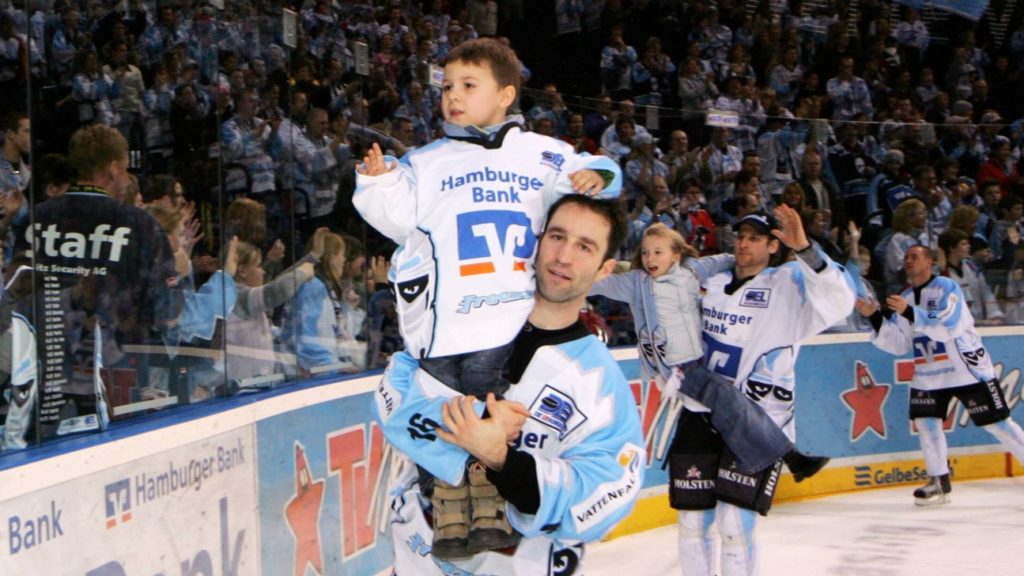 A four-year old Alex Beaucage on the shoulders of his father Marc.
Beaucage was a player who stood out in his draft minus year with thirteen goals and twenty-four assists in fifty-six games last season.
He took another step forward this year putting up thirty-nine goals and forty assists in sixty-eight games and thus is currently ranked as the 51stbest prospect in the EliteProspects draft rankings. He is on a high offensive team with Rouyn-Noranda but that shouldn't take away from what the crafty forward can do.
Beaucage has a complete offensive skillset that balances his finishing and playmaking abilities to give the 6'2" and 190 lbs winger a toolbox that keeps his opponents guessing. If there are a couple of knocks to his game, it's his skating abilities, particularly his two-step quickness, and his strength. But given that he is ranked as the 64thbest North American skater by NHL CSS, there are going to be flaws to his game.
A glimpse into his creativity to create offence can be seen in this play: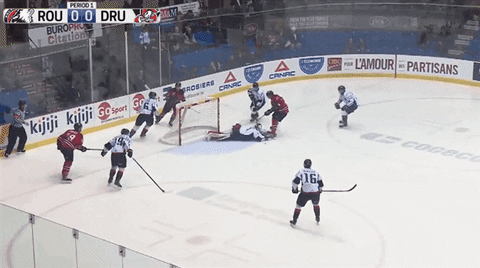 Using the Prospect Graduation Probabilities System (pGPS) again, an impressive 38.9% of his statistically comparable players went onto becoming NHL regulars: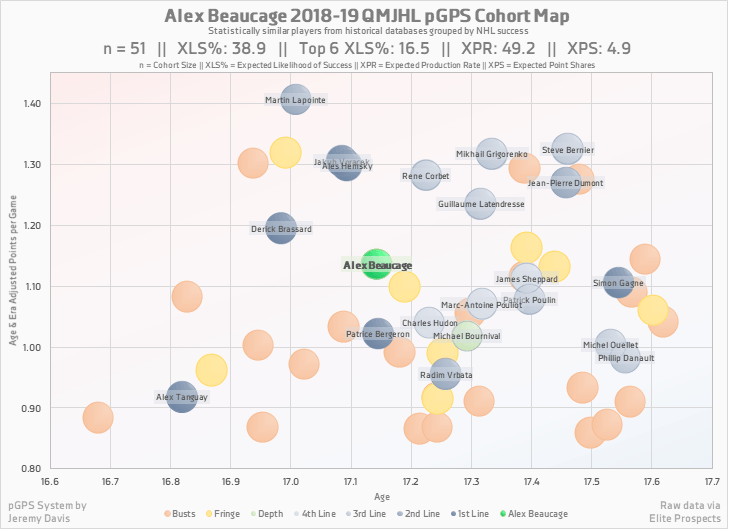 If you look a little deeper, there is a higher number of similar players that would up being depth or fringe players: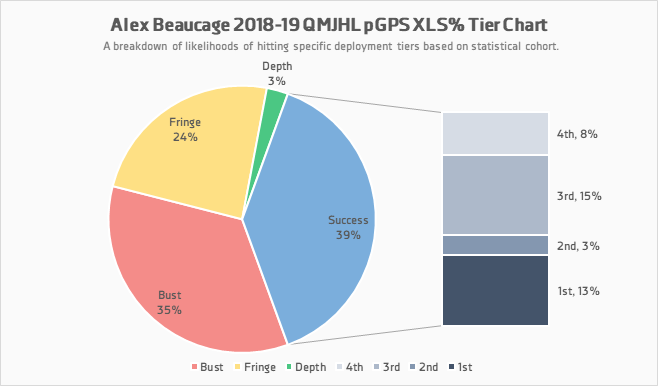 Michael Gildon (USNTDP – USHL)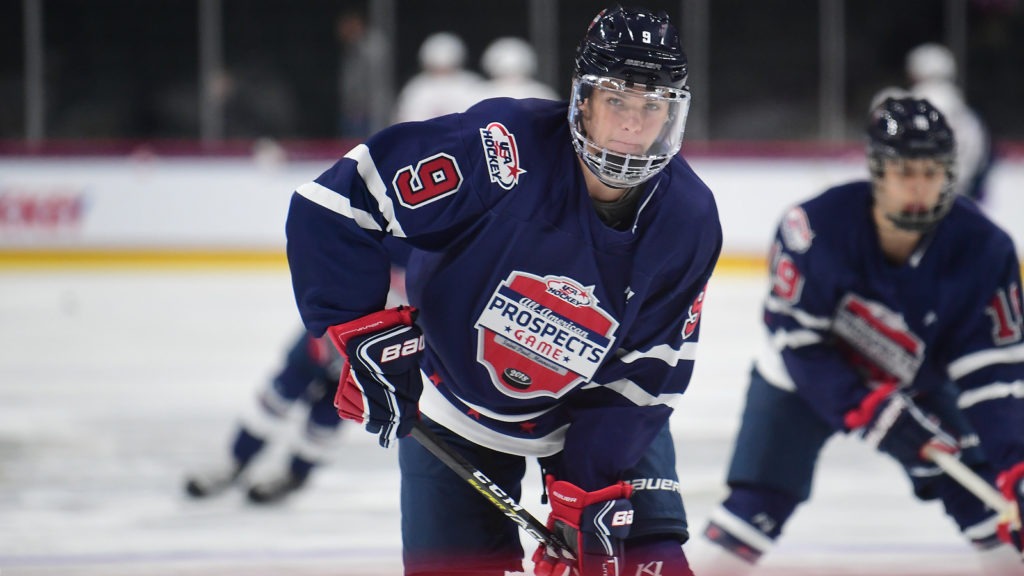 The United States National Development Program is stacked with talent this year.
We could see as many as five players from the program go in the top 10 of the NHL Entry Draft this June and it's fair to believe that there will be very few players to not hear their name called by the end of round seven.
Coming in as the 110thranked North American skater, Michael Gildon is one those players who will ultimately get selected but could very well provide better value than where he goes.
The Plano Texas born winger moved up and down the lineup for the program and was a good complimentary player to someone of the high-end offensive drivers. His point totals to some degree, forty-five points in fifty-eight games, are likely aided due to his time with players like Jack Hughes, Cole Caulfield, and Alex Turcotte. But Gildon is good on the forecheck and puck retrieval and then has the offensive awareness and passing abilities to make things happen.
Based on his production in USHL competition, thirteen goals and sixteen assists in twenty-six games, an extremely high success rate appears among his cohorts: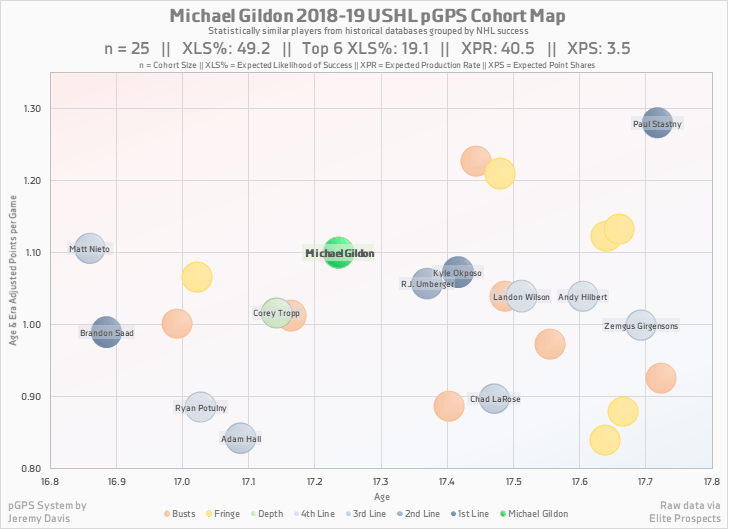 Given that it's a limited sample size of games for him, there has to be some hesitancy about the number but is still a noteworthy number.
Gildon will head to Ohio State University for next season and should have time to build more confidence as an offensive driver for the Buckeyes. It's easy to ignore Gildon because he was generally the third wheel on a line and thus there are some concerns about how much offence he can create on his own. But his production suggest that he can carve out a career.
With some patience and his ability to read off high end offensive players is something to keep in mind, Gildon is a player who stands out as someone who could fly under the radar in his development.
You may also be interested in: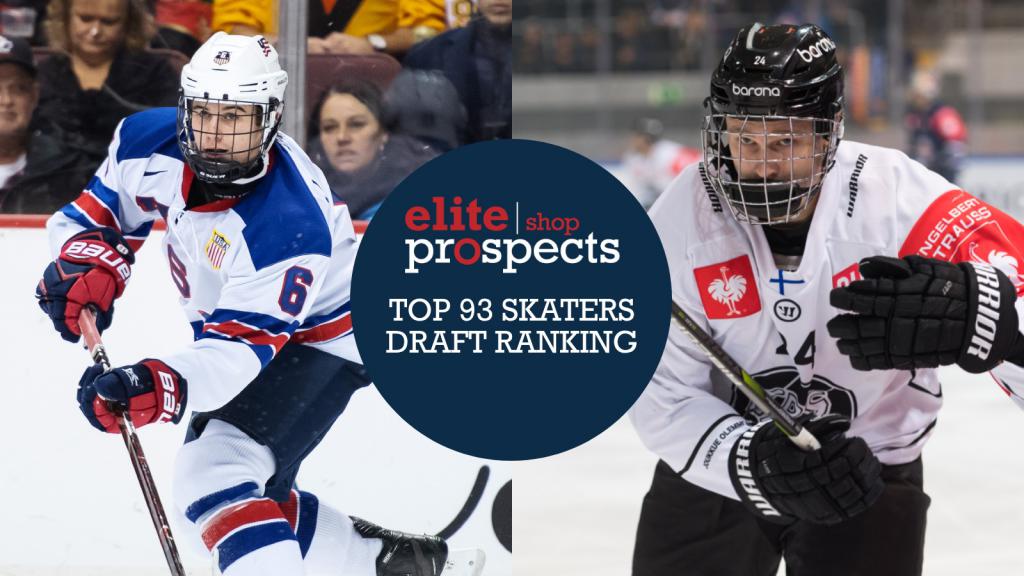 EXCLUSIVE: EliteProspects Top 93 Skaters 2019 NHL Draft Ranking
This article is about: