Scouting Reports
BURKE: What will the New Jersey Devils get from Jeremy Davies?
With the decision to sign Jeremy Davies to an entry-level contract on Wednesday, the New Jersey Devils ensured that the full-to-overflowing pipeline of talent from Northeastern University to the NHL would finally reach their shores.
Adam Gaudette, Dylan Sikura, Matt Benning, and Zach Aston-Reese represent just a handful of the high-end prospects that have graduated in recent years to the NHL. Count Davies among them when the smooth-skating left-shot defenceman makes his debut in the coming days.
How they're at this point is a story unto itself. To say the odds were stacked against the player, and team, alike is an understatement. The average seventh-round pick carries about a five percent chance of developing into a full-time NHL'er. Only compounding matters is the fact that Davies was a draft-plus-one, playing in the USHL, at the time that New Jersey snagged him in 2016.
There wasn't any underlying data to reaffirm the Devils' convictions either. The pGPS (Prospect Graduation Probabilities System) that Jeremy Davis developed for CanucksArmy uses historical, comparable players based on a similarity threshold using points per game, league adjustments, stature, etc. and it only gave Davies a five percent chance of success for his 49 points in 60 games with the Bloomington Thunder in the year that Devils secured his rights.
To the naked eye, Davies brimmed with the qualities necessary to be an impactful defender in the modern NHL. He's an exceptional skater with good defensive instincts, anticipation and the requisite physicality to stand up to the rigours that come with clearing creases and standing up the opposition at the blue line. What Davies lacked for a powerful shot, he more than made up for with his creativity and vision.
If the coaching staff at Northeastern, led by legendary head coach Jim Madigan, could put this package together and refine it, there was every reason to believe that Davies could beat the odds.
Three years, two Beanpot titles, and over one-hundred games, it's clear that the pair were on the same page. Here's a plot of Davies' progress using the same pGPS draft metric that I referenced earlier in this article, charting his likelihood of success. One will note the upward trend in his NHL viability.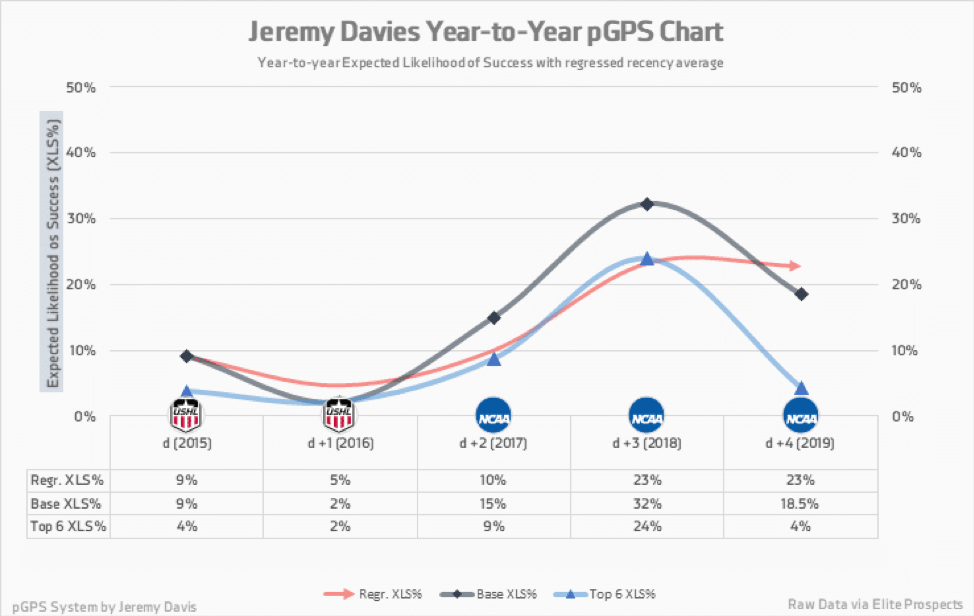 Players like John-Michael Liles, Matt Grzelcyk, and Andy Greene stand out among the 18.5 percent of comparable players that the pGPS metric churns out as successful members of Davies' cohort. It's a rare instance in which the style of the players in question aligns exceedingly well with their statistical profiles.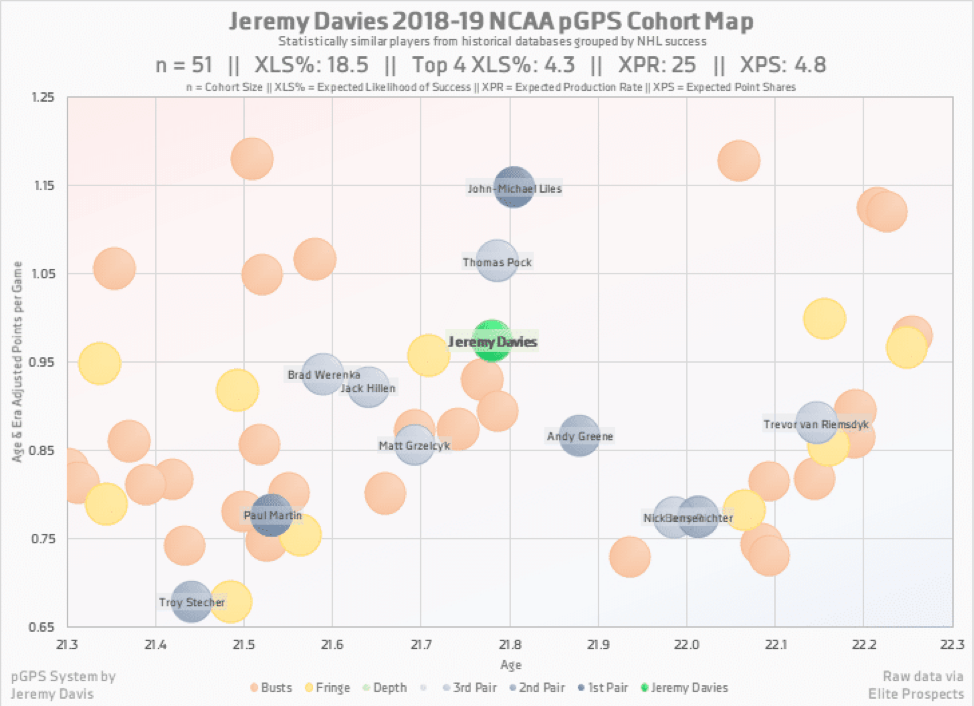 The similarities between Davies and these players are most evident in his ability to carry the puck. It was a hallmark in Greene and Liles' games during their prime, and it's part of what's made Grzelcyk so effective through his first two-plus seasons in the NHL. Based on the nine Northeastern games I've tracked, in concert with nearly 20 other NCAA contests, it's very much so a part of Davies' game as well.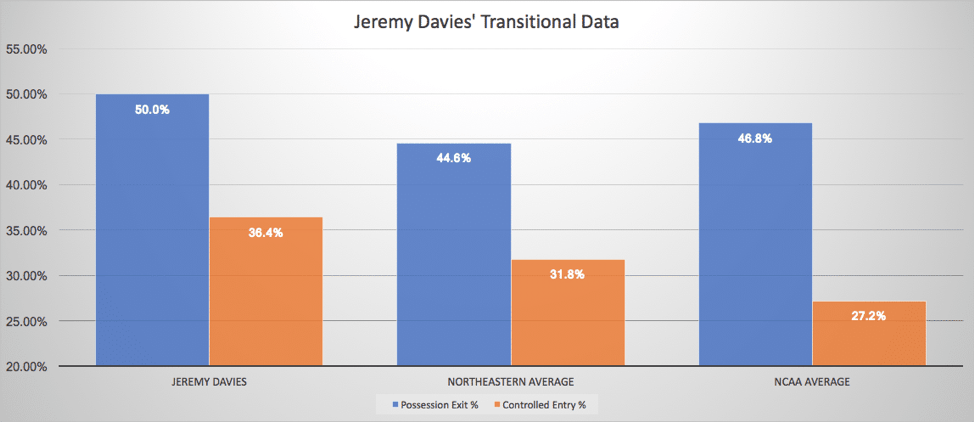 It's Davies' ability to generate speed from a relative standstill, often catching opposing defenders off-guard, that makes him such a threat through the neutral zone. This clip is a perfect example of Davies' doing just that, contorting his body to draw the UMass-Lowell defenders to their right, before making a quick pivot and charging through the gap in coverage that subtle motion created, resulting in a Grade-A scoring chance.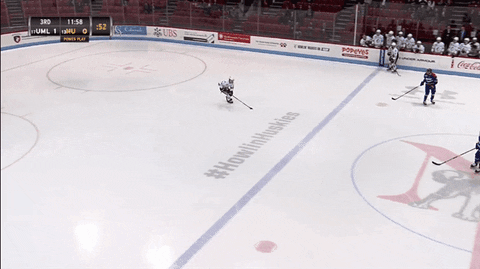 That creativity is evident in Davies' game from the defensive zone as well. It's his confidence with the puck that allows Davies to find controlled exits where only turnovers existed as an option for lesser defenders. Take this play for example, where Davies bounces the puck off of an incoming forechecker's skate and does a pirouette to retrieve it before keying the breakout.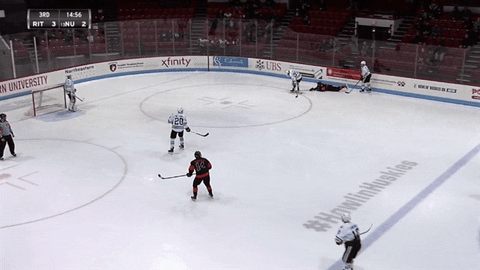 The assumption with players like Davies is often that these skill sets, and his slight stature at just 5-foot-11, don't translate without the puck. Rather, that players like Davies can't defend. That can often prove to be a truism, but count Davies as an exception to the rule. This is a player that defends primarily by having the puck, but without it, Davies can be every bit as dangerous. His penchant for denying the opposition zone-entries and turning the puck immediately up ice is noteworthy in this regard.
This skill shows up in his zone entry denial numbers, where Davies is head-and-shoulders above his teammates at breaking up plays through the neutral zone. Whereas the average on the Northeastern blue line for controlled entry percentage on targetted blue liners is 48 percent, Davies allowed the op                    position to gain the zone with control of the puck on fewer than 40 percent of their attempts.
There is a wealth of research on this topic that suggests a controlled zone entry is worth double the number of shot attempts as one might expect from an uncontrolled entry. While there have been exceptions to the rule in recent years, like the Los Angeles Kings of yesteryear who ran a relentless, fore-checking dump-and-chase system, gaining the zone with control has become an increasingly common feature for modern powerhouses in today's NHL.
Therefore it augurs well for Davies' chances at NHL success, particularly in a system like the one Devils' head coach John Hynes is operating, that these are areas of strength in his game. It's part of the reason why Devils' fans can expect Davies to be a feature of their young, developing blue line for many years to come.
Finding a perfect prospect, with a guaranteed chance at success is a fool's errand, on par with the search for El Dorado. It sounds too good to be true because it is. For all Davies' exceptional qualities, he's no exception to that truism.
For the Devils, a team that took a chance on Davies all those years ago, he doesn't have to be perfect. This is a team in desperate need of increased mobility and scoring punch from the blue line, and there's every reason to believe Davies is up to the task.
This article is about: