Scouting Reports
Video Room: Andreas Johnsson is a Hidden Gem in Toronto
In a league made up increasingly of specialists, Andreas Johnsson's skill set represents the timeless, limitless utility of a Swiss Army Knife.
Though Johnsson is 24-year-olds, the Swedish winger just finished his rookie season with the Toronto Maple Leafs, in which he scored 20 goals, many of which while playing in the bottom half of their lineup. While the increase in offensive output across the NHL this season can make a 20-goal season seem like a less spectacular milestone than usual, it's still no easy feat.
Whereas Johnsson's high shooting percentage (he converted on 15.4 percent of his shots this season) isn't likely to repeat itself, and that could result in some lost production year-over-year, there are so many other tools in his game that he'll still prove capable in a variety of different situations.
Assembling an NHL roster is a lot like putting together a complicated puzzle. Not everyone — or every piece, rather — has to be Auston Matthews. What Johnsson reminds me of, though, is a player that can be the Chris Kunitz to someone's Sidney Crosby — albeit, with better vision. Johnsson's hockey sense offers him effective situational awareness of both the play and of his teammates involved in it. His skating stride is fairly fluid, and he possesses good lateral movement. In fact, there's one moment in a game that I analyzed that didn't make it into the piece which showcases Johnsson's ability to dart through traffic. He's very efficient in the way he moves.
For the record, Toronto Maple Leafs head coach Mike Babcock, this is what you want depth to look like.
On November 24th, the Maple Leafs played the Philadelphia Flyers. Johnsson scored a hat trick in under 11 minutes of ice time. That's called making the most of your opportunities.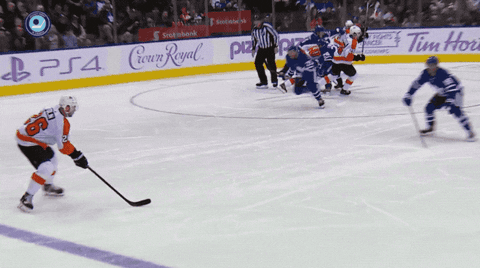 Though Johnsson made a crafty fake on his first goal of the game, we're going to look at his second tally instead. It's such an excellent showcase of his acceleration and how that skill allows him to beat opposing defenders. He blocks Philadelphia Flyers defenceman Christian Folin's shot, but Johnsson is hardly satisfied by that alone — he sees an opportunity and chases down the puck, dashing through both Folin and his teammate Shayne Gostisbehere. Once Johnsson's cleared those two and caught up to the puck, he settles it down, picks his moment to shoot, and scores his second goal of the night.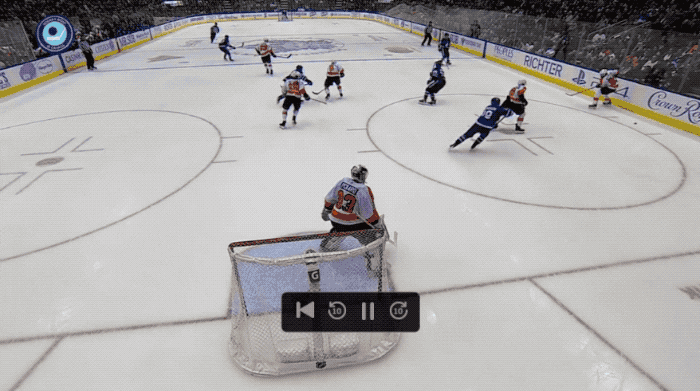 Johnsson didn't just score his goals against the Flyers by crashing the net and tipping someone else's shot (although that's definitely a valid way to do it, and against some opponents is the best strategy). Here, on his third goal, you can see his awareness, skating ability, body positioning, and puck skills all work together. He's hovering by the net initially but sees an opportunity and hoofs it over to the boards where he retrieves the puck. His edgework and body positioning are what allow him to keep it out of reach of the Flyers players coming after him. From there, he finds his opening and slides it five-hole on goaltender Calvin Pickard, just like he did the first two.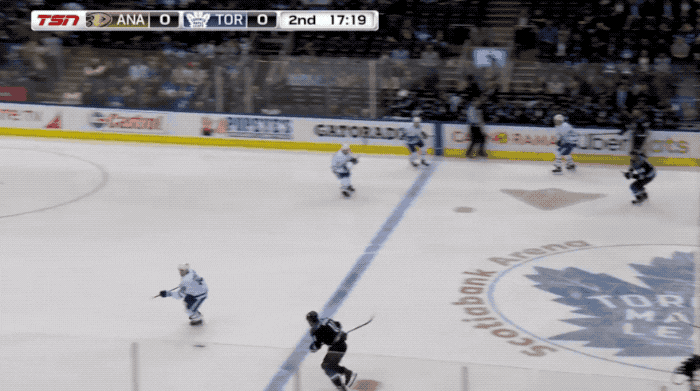 Switching gears to the Maple Leafs February 4th game against the Anaheim Ducks, we have a sequence just before a John Tavares goal. Here Johnsson's skating ability allows him to beat his opponent to the puck in the Leafs end. From there he takes it around behind the net, and though he gets knocked off of it once he's able to get it back, and eventually makes the pass out of his own end and through the neutral zone. Tavares's goal doesn't happen without that moment along the boards where Johnsson is able to get the puck free.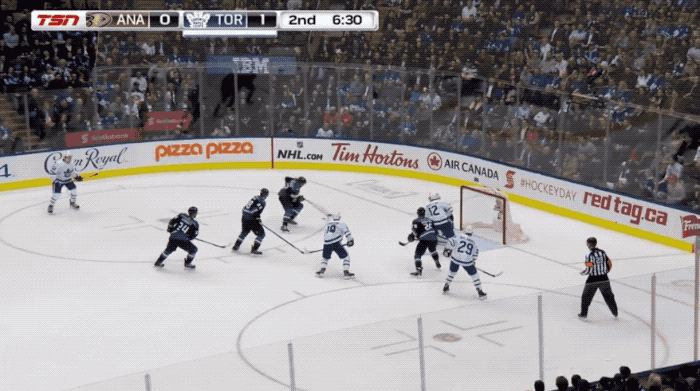 Later in that same game against the Ducks, Johnsson is doing some time on the Leafs' second power play unit. He hovers around the front of the net looking for opportunities, and when he sees one, he pounces. While his initial attempt is blocked (and the penalty expires, so his goal is at even strength), when he gets the puck back a few seconds later off of Jake Muzzin's rebound, he makes a nice move around the Duck screening John Gibson, fakes like he's going to go five-hole, shoots from his backhand and scores. It's a great example of practicing patience and choosing your spot wisely. Given the speed at which today's NHL is played, it's not something that's easy to do correctly unless you can project ahead and slow the game down for yourself to make that decision.
This article is about: