Scouting Reports
BROWN: Why Trevor Zegras is the NHL Draft's Most Creative Player
The United States National Team Development Program was historically strong this season. They broke records with their play, and they'll set new ones at the draft with as many as five players in the discussion as top-ten picks.
Each of those candidates for a top-ten selection is the leading player in at least one skill or attribute for the entire class, too. Jack Hughes as the draft's best prospect; Cole Caufield, its best goal-scorer; Alex Turcotte the best combination of power, speed and finesse; and Matthew Boldy as the most skilled player on the backhand.
This All-Star roster calibre team also has arguably the draft's most creative playmaker in Trevor Zegras.
Zegras makes passes in-game that few players would ever consider, much less complete. Most of the top playmakers in the NHL follow a similar formula — they create lanes. Their passes are deceptive, accurate, and display creativity. And each of those players is capable of adding their own twist.
In this regard, Zegras is no exception — he's a masterful lane creator. It's an art form that can be simple or dazzling; one, however, isn't necessarily better than the other.
Zegras is, for the most part, a flashy player, often using his stickhandling and edge work to open up passing lanes. He's also intelligent, recognizing when a simple diagonal cut is enough to draw defenders in on him. In this clip, Zegras creates a lane for himself with a deft combination of flash and simplicity, then makes a pass into space, leading his target with a pass that is headed where they're going, not where they are, to facilitate an in-stride reception.
Second, Zegras is deceptive. Deception goes hand-in-hand with lane creation — it's a method of lane creation. He often enters a shooting stance before passing, keeping his toes and eyes locked towards the goal as he rips a pass across the slot. This little detail opens a better look for his teammate, as the shooting stance freezes the goaltender and defenders.
The employment of deception is particularly effective on the powerplay, where Zegras would often play off the threat of a shot to pass, vice-versa, or even use the threat of the one pass to set up another.
Zegras is also a strong playmaker from the behind the goal line, which is an inherently deceptive spot from which to pass. Defenders are forced to decide between covering the slot and engaging down low, while goaltenders turn their heads and rely on lateral movement. Essentially, it creates confusion and makes goaltenders guess.
Watch how Zegras uses that dynamic to his advantage. After gaining separation with a clever heel-to-heel speed change, he turns a fake wraparound into a pass headed back the way he came. The result is a tap-in.
Accuracy, it seems obvious enough, is another big one for Zegras. He sends pucks through skates and sticks, routinely hitting targets through layers of traffic. He's accurate on the backhand and forehand, with pressure or in open ice.
Another strong element of Zegras' ability as a playmaker is his creativity. He's the most creative playmaker in the draft. The creativity manifests itself in the clips we've seen already: the passes into space, the backhand passes, and the deception.
Perhaps, Zegras' creativity is most obvious in the twist that he adds: the spin pass. Rarely does a game go by without Zegras trying it at least once. The spin pass is so deceptive because the defender can't read his body positioning or blade to figure out where the pass is going. It also changes the angle of the pass, as he uses the move to open lanes that wouldn't otherwise be available.
The spin pass has its own set of challenges, however. Just as it deceives defenders, Zegras can't see his teammates during the motion, which results in blind passes to no one. He passes with a ton of power, which helps mitigate the risk of a turnover. Sometimes, though, the spin pass needlessly complicates an otherwise simple pass.
Trevor Zegras, you a damn fool for this one. #NHLEntryDraft pic.twitter.com/EJC0YMEEtp

— J.D. Burke (@JDylanBurke) May 26, 2019
This example highlights the creative mind of Zegras well. On the entry, Zegras dangles through a defender by letting the puck roll off his stick. It's so convincing that I'd generally assume it's an accident — but he performs that move too often for that. Then, he feigns a shot with a full-body lean over the puck, serving two purposes. First, the lean makes the fake shot much more convincing. Second, the lean allows Zegras to generate power through his hips to make a smooth, powerful spin around the defenders. He caps it off by uses the spin to make a no-look backhand cross-slot pass into space for his teammate.
The clip also highlights two traits that make me confident that Zegras can bring his creative playmaking to the NHL. First, Zegras made the pass under pressure. He's not a speedster, so it's important that he finds ways to make those passes while being pushed along the boards or knocked down. He often uses the contact to his advantage, turning the tables on aggressive defenders by squeaking out of the pressure and jumping into open ice.
Zegras also makes that pass after something unexpected happens. He made that spin move to avoid pressure, not invite it. Yet, somehow, he still managed turn what would've been a missed opportunity for most into a scoring chance. The upper echelon of the NHL shares this trait. Watch this clip, where Zegras loses the puck off the heel of his stick while surrounded by four defenders. Rather than panic, he reaches back and makes a contortionist-like passes through his legs.
Zegras makes a similar play in this next sequence while shooting. He whiffs on his shot. Most players will corral the shot and try again, but Zegras has the presence of mind to stick lift the defender first, giving him the extra split-second to fire off another shot.
While Zegras is generally pegged as a playmaker, he's also a legitimate shooting threat. In a 14-game sample of Development Program games, he trailed only Jack Hughes in shots from the inner-slot per 60 minutes at 5-on-5, even finishing ahead of 72-goal-scorer Cole Caufield.
It's that Zegras isn't standing around the blue paint that allows him to rack up these chances. He's always moving, using well-timed slot drives and hand-eye coordination to get high-danger looks. Take this sequence, for example. After winning possession and making a gorgeous backhand feed into space, Zegras gets in motion and heads toward the slot. This creates an open lane for Alex Vlasic's shot-pass, and Zegras deflects the pass into the back of the net. It's not a beautiful goal, but it's the type of goal that's scored in today's NHL.
Zegras flashes a dangerous shot from a moderate distance, but he's notably dependent on open ice to full use of it. He's a one-shot player, relying on a quick-release wrister without much pre-shot deception to accompany it. His one-timer, while effective on the powerplay, is rarely used at 5-on-5. Unlocking more shooting diversity could make Zegras a much more effective finisher.
Zegras is also among the most effective draft eligible forwards in transition. He's both a high-volume and highly efficient carrier. Here are three metrics that I use to highlight transition efficiency:
Controlled Entry Rel%: The percentage of entry attempts that are with control (pass or carry) as opposed to uncontrolled (dump-ins, chip-ins, etc.).
Controlled Exit Rel%: The percentage of exit/breakout attempts that are with control as opposed to uncontrolled.
Transition Success Rel%: The percentage of controlled entries and exits that are successful (i.e., the higher the rate, the fewer turnovers).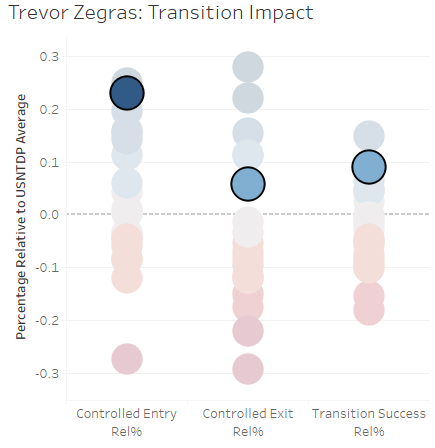 The only real weakness is Zegras' Controlled Exit Percentage, but even so, he's still above team-average. He's second to only Hughes in Controlled Entry Percentage. Suggested by the third column, Zegras, compared to team average, has one of the lowest turnover rates in transition.
Throughout the past two seasons, Zegras' defensive game has notably improved. He brings moderate defensive value at both centre and the wing. He's a dedicated backchecker and puck thief, leading the Development Program in steals on the backcheck in a 14-game sample. He's rarely physical, and often pushed off possessions he should have, but brings enough value in positioning and anticipate.
So, what's the next step for Zegras?
At the risk of the sounding generic, Zegras will need to get stronger and faster. He's thin and occasionally eliminated from the play without much push-back. When he rushes the puck along the boards, he's often stifled easily because he tries to slow the play down, rather than pick it up.
Zegras' skating might improve with added strength. A keen eye might've noticed in the clips that he's elusive, but has a wide stride and lacks separation speed. At times, his stride even looks a bit wobbly. Narrowing and lengthening his stride recovery (i.e., bringing his knee directly under his centre of gravity will driving the leg forward) could help maximize his power generation, and in turn, moderately improve his speed.
However, I'm not convinced that either flaw is significant enough to hold Zegras out of the NHL. Given Zegras' weaknesses, I doubt he's NHL-ready. He has time to hone his craft with Boston University, where I suspect he'll be treating fans to gamely displays of high-end skill.
Zegras is the most creative player in the draft. The sheer variety of plays he makes is unmatched in the draft, even by Jack Hughes and Kaapo Kakko. Of course, he's not Hughes or Kakko — he lacks the pace of Hughes and puck control of Kakko — but Zegras could be a top-three offensive player in the draft class.
You may also be interested in: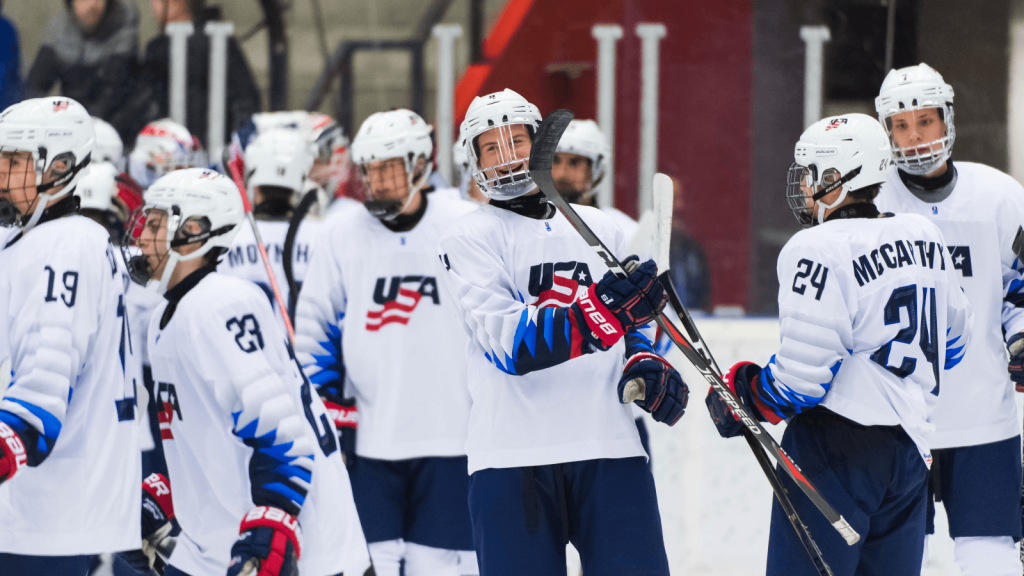 Speed, skill and goal-scoring: The best forward group Team USA has ever seen at the U18's
This article is about: