NHL Prospects
AHL ON THE ROAD: Samsonov's evolution is like "night and day"
Each week, EP Rinkside brings thoughts, observations, issues, and a few opinions for the NHL's top developmental league.
With the first round of the Calder Cup Playoffs complete, eight teams remain. This week will look at the Hershey Bears' possible antidote to slowing down the Charlotte Checkers in the clubs' second-round series.
"NIGHT AND DAY"
"Night and day" is how Hershey Bears head coach Spencer Carbery describes top prospect Ilya Samsonov's evolution through the past seven months.
Samsonov's hoped-for eventual arrival in Washington features a journey directly through the Calder Cup Playoffs with the Bears.
That trail might also provide the Bears with an answer to the Charlotte Checkers' powerhouse offense when the clubs face off in the second round of the postseason starting Friday. Together with sidekick Vitek Vanecek, the Bears have a 1A-1B goaltending duo that they hope can handle a Checkers team that stormed to the regular-season title with 51 wins and 110 points and finished fifth in the AHL at 3.36 goals per game in the regular season.
The Samsonov-Vanecek pairing largely shut down the Bridgeport Sound Tigers in the first round of the Calder Cup Playoffs, a series that the Bears finally pinned down in five games. They combined for a 3-2 | 1.56 | .952 line while facing an average of 37.8 shots per game.
The 22-year-old Samsonov, taken in the first round in the 2015 NHL Draft by the parent Washington Capitals 22nd overall, has been through a crash course this season in player development, AHL-style.
After three standout KHL seasons with Metallurg Magnitogorsk, Washington elected to bring him to Hershey to take the next step toward what all sides hope will be full-time employment in Washington at some point. Last season with Metallurg, he was 12-9-1 | 2.31 | .926, but the AHL offers an NHL-style game and a chance to work closely with Washington personnel on a regular basis. Off the ice, he could grow more familiar with the North American lifestyle and develop his English-language skills.
However, this plan quickly ran into turbulence. With an inexperienced and not-yet cohesive team in front of him, Samsonov fell under early pressure. Hershey ranked 29th in the AHL in goals per game at the season's midpoint, leaving Samsonov minimal margin for error. And while the Bears' 28.6 shots-against per game put them ninth in the AHL, Samsonov's game struggled to match that.
On January 13th, one day after the Bears reached the halfway point of their season, Samsonov had gone 6-11-0 | 3.60 | .866 in 18 games. His save percentage placed last among regular Eastern Conference goaltenders; in fact, throughout the 31-team AHL's list of regular goaltenders, outranked only Jon Gillies (Stockton Heat) and Jeff Glass (San Diego Gulls), who each had a .863 mark at the time.
To the extent that the Bears remained even remotely near the Atlantic Division playoff field stemmed in no small part from Vanecek's first-half play, which brought him a trip to the AHL All-Star Classic as their lone representative.
A quality prospect in his own right, the 23-year-old Vanecek had gone 8-8-2 | 2.80 | .903 in 18 appearances. Washington selected him in the second round of the 2014 NHL Draft, and he bailed the Bears out of several early trouble spots. After an 0-5 start for Hershey, his 40-save win against the Wilkes-Barre/Scranton Penguins on October 17th – part of an early seven-game road trip for the Bears, no less – gave them their first win of the season. Two nights later at Charlotte, his 29 saves helped the Bears earn a point in a shootout loss. He took another start against the Checkers to finish the weekend set there and shut them down for a 2-0 win.
The first outward signs of Samsonov's turnaround sprouted on that January weekend, a critical 3-in-3 set for the Bears. Hershey had fallen into last place in the Atlantic Division, a distant nine points below the playoff line. They had four teams ahead of them in the eight-team division and had just taken a 6-2 pounding on the road by one of those teams, the Springfield Thunderbirds.
But Samsonov's reversal in Hershey has mirrored the Bears' own midseason revival, not so coincidentally.
On January 12th, Samsonov led the Bears to a 3-0 road win against the Lehigh Valley Phantoms, their long-time nemesis. That ended the Bears' nine-game losing streak on Lehigh Valley ice that had extended nearly two years. The following night with Vanecek in net, Hershey pulled out a 5-4 win in a return match with the Phantoms to finish with four of six points for the weekend.
Three nights later, Carbery turned back to Samsonov for a road date with the Binghamton Devils. Samsonov put up his second consecutive shutout, and the Bears scratched out a 1-0 overtime victory. Not so suddenly, the Bears had taken off toward authoring one of the best turnarounds in recent AHL memory. Samsonov's shutout at Lehigh Valley that Saturday night spun off a 17-game point streak (16-0-0-1) for Carbery's Bears, the longest in the storied club's 81-season history.
By the time the Bears wrapped up the regular season at home against the Hartford Wolf Pack on April 14th, they had a playoff berth in hand. That came thanks to a 27-5-4-2 second-half performance, a .789 clip that outpaced even Charlotte (24-9-4-1 for 53 points and a .697 point percentage).
Vanecek's regular season finished 21-10-6 | 2.62 | .907 in 38 contests. More of the same, steady work that he delivered all season.
Samsonov?
His second half looked like this: 19 games and 14-3-2 | 1.87 | .927. That nullified some of the first-half damage his numbers had taken, and he finished 20-14-2 | 2.70 | .898 in 38 games overall.
For Carbery, a rookie AHL head coach, those numbers reflect Samsonov's growth this season.
"I always relate to not as much the stuff on the ice but in and around the [dressing room]," Carbery said of Samsonov after Game 3 against Bridgeport. "Communicating with him now, him learning English, being able now to have a conversation or [something of a] conversation with him. And just comfortably. Just like he's always smiling now. And it was just everything was new to him back in October, and now he just looks like one of the guys."
"He is integrating with the team, loves to be around the guys, and then his game."
Vanecek's easygoing personality made for an easier landing spot for Samsonov as well. Unlike the more common veteran (or less-heralded prospect)-top young prospect goaltending formula found with many AHL clubs, Hershey has two excellent young goaltenders who very well could both end up in Washington at some point. Had there been the wrong mix of goaltending personalities as the losses piled up, Carbery could have had even more problems to handle. But the Samsonov-Vanecek relationship is about supportive competition, not friction.
"Ilya is a really good guy," Vanecek said. "Two young guys, so we're trying to get to Washington and just battle through."
On the ice, Carbery has seen further growth from Samsonov as well.
"What I liked about [Game 3] is when things got a little bit dicey there, he looked completely comfortable," Carbery said. "Didn't need some big saves the strong scenarios handled pucks behind the net, made good plays there. He just looked like it wasn't a pressure situation for him."
That said, nothing Charlotte did in their first-round dispatching of the Providence Bruins indicates that their offense is going away any time soon. They dented Providence for 14 goals in four games, a 3.50 per-game average that ties them for fourth among the AHL's 16 playoff teams.
But Carbery can be, and is, comfortable turning to either goaltender, especially with two back-to-back sets in the opening four games of the series.
Washington's first-round ouster does remove the possibility of losing one of the two on recall to the Capitals. Each goaltender took a start in the most recent Bears-Checkers get-together, a two-game weekend set in Hershey back in February. Vanecek locked down a 3-2 shootout win in the first game, blanking all five Charlotte shootout attempts. Then it was Samsonov's turn, and he produced a 29-save 2-1 victory the next night.
Carbery alternated between Samsonov and Vanecek against Bridgeport. Samsonov took starts in Games 1 and 3, and the deciding fifth game. Vanecek's critical 39-save shutout in Game 2 allowed the Bears to get a split at Bridgeport and avoid facing elimination before having even played one home playoff game.
"I think it's a weapon," Carbery said. "The rest element of it….and then the pushing-one-another element. I think those are two important factors when you have two guys that are really obviously high-level goaltenders, and both are pushing one another to try to get that next game."
You may also be interested in: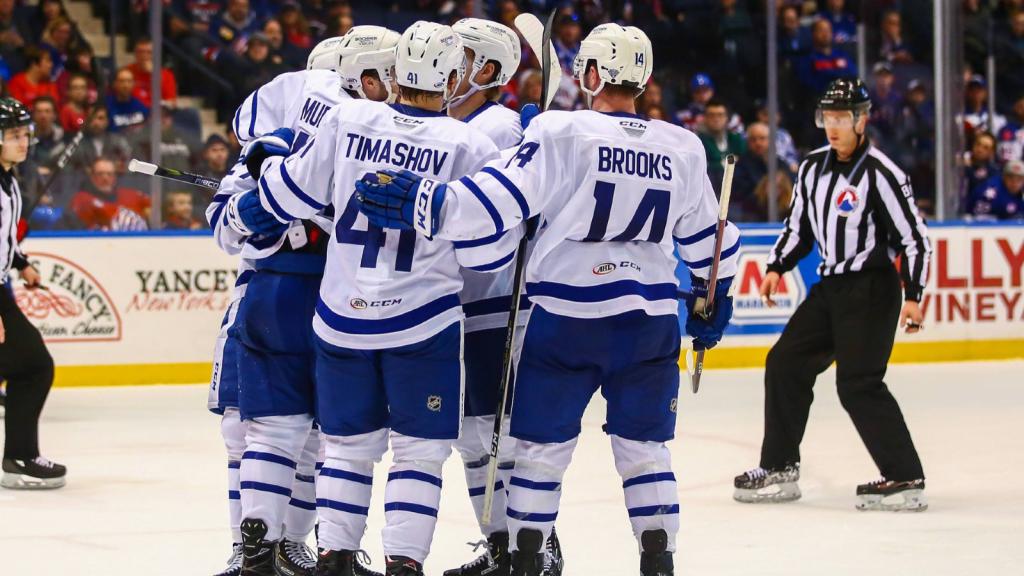 AHL SECOND-ROUND PREVIEW: Playoff field down to eight
This article is about: