World Juniors 2019
BURKE: What are the Ottawa Senators Getting in Newly Signed Centre Josh Norris?
The Ottawa Senators took another step forward with their rebuild earlier this week when they agreed to terms on a three-year entry-level contract with Josh Norris.
Norris, 20, was on course to return to the University of Michigan for his junior season after a shoulder injury sustained playing for Team USA at the World Junior Hockey Championship cut his season short at 17 games for the Wolverines.
Instead, Norris will join a crowded Belleville Senators roster that's full-to-overflowing with future NHL talent.
The question now for most Sens fans is: what exactly are they getting in Norris? The centre prospect's only played 24 games since joining Ottawa's system, much of them on a middling Wolverines team that probably didn't get a lot of air time in Southern Ontario.
When the market last checked in on Norris, Senators general manager Pierre Dorion led with the friendship he shared with Brady Tkachuk — weird flex, but okay. There's so much more to Norris' game though. Let's dig in.
What makes Norris such an interesting prospect is that there isn't any one particular facet of his game that is high-end, much less elite, and yet the sum of all his parts adds up to make for a tantalizing prospect all the same.
If one were to pigeonhole Norris' game, it probably best fits in the mould of a two-way centre. His defensive zone reads and positioning are decidedly above average, as is his competitiveness. At 6-foot-1, Norris can hang in there physically and is an active contributor to puck battles and retrievals below the hashmarks.
In transition, Norris was a leading member of the Wolverines neutral zone attack, be it in frequency or efficiency. This chart shows that Norris executed successful zone entries with control of the puck on a gaudy 67 percent of his attempts, almost a full ten points ahead of his next closest teammate, Will Lockwood.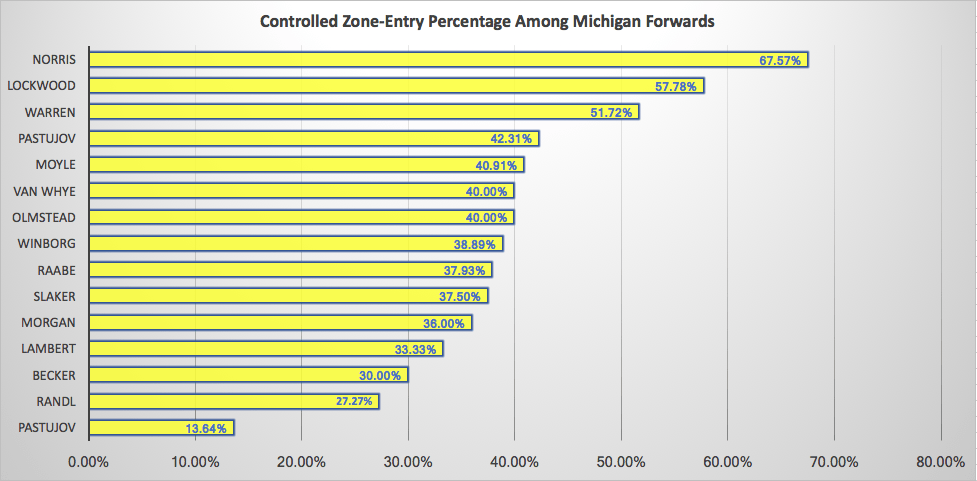 Even outside the context of Michigan, Norris was a downright dominant neutral zone puck-carrier relative to the entire set of NCAA forwards that I've tracked this season, over a sample of 40-plus games that spanned four teams.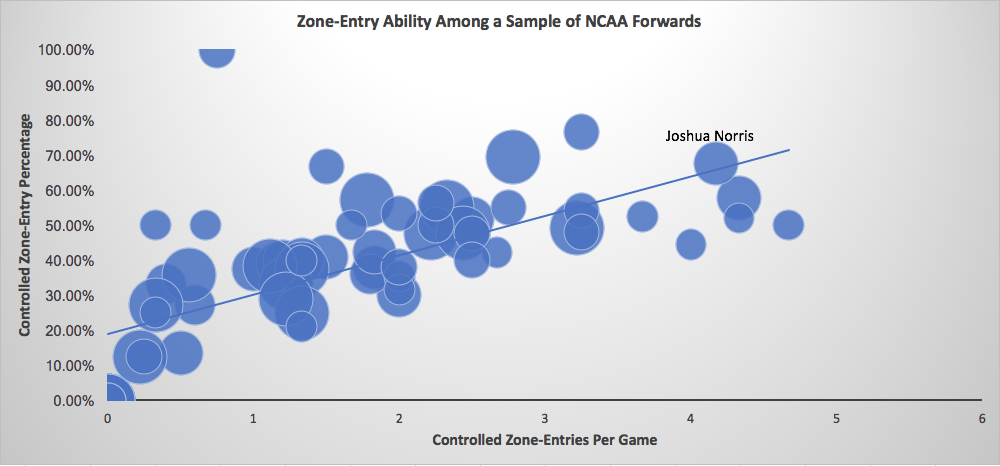 Generally, I would rely upon neutral zone numbers like the ones I've drawn on to highlight the pace with which a skater plays. Norris' skating is an above average feature of his game, no doubt, but he's hardly putting defenders on their heels. Instead, Norris uses his hockey sense to create space for himself, changing speeds and angles, anticipating shifting defensive coverage, and exploiting the time and space that his patience affords him.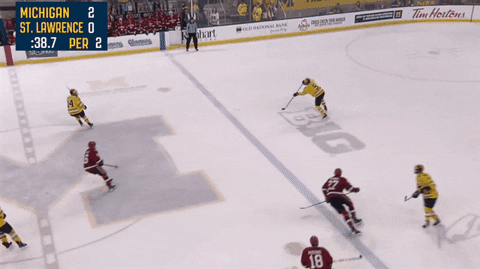 From the confines of the offensive zone, Norris takes a playmakers stance. Norris' five shot assists are tied for the lead among Michigan forwards, be it by raw totals or on a per game basis in the series of Wolverines games I'd tracked.
What makes Norris such an efficient distributor is his constant surveyal of the offensive zone, with and without the puck. You'll never find Norris guilty of puck-watching. When he's getting to loose pucks, Norris is performing shoulder checks and assessing his options, making for instant passing plays once he's secured the bag, as they say — where the bag, in this case, is the puck.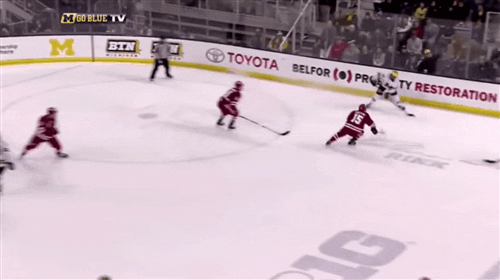 And, as the sage DJ Khaled so reassuringly puts it… another one.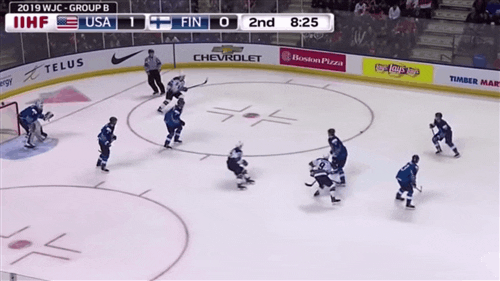 As the relatively even goal-assist split might suggest on Norris' stat line (18 goals and 24 assists over a 21-game NCAA career), he's hardly a one-trick pony in the offensive zone. Norris is wholly capable of putting the puck in the net himself and doesn't shy away from opportunities to do just that.
The most frequently used tools in Norris' toolbox that make this possible are a plus-shot and the anticipation to find openings with which to use it. A significant chunk of Norris' goals last season were of the one-timer variety.
When he's carrying the puck, though, Norris is a bit of a throwback as a triggerman. Often Norris will show wrist shot, only to snap a quick-release snap shot past the unsuspecting goaltender.
Using the pGPS (Prospect Graduation Probabilities System) draft metrics developed by Next Gen Hockey's co-founder Jeremy Davis, we can see that Norris' production augurs well for a sustained, long-term NHL career. The pGPS system uses players that share a statistical and stature based profile historically to determine a player's likelihood of success. Based on Norris' last season with Michigan, he has a 37.9 percent chance of developing into a full-time NHL'er, with an expected production of about 45 points per 82-game season.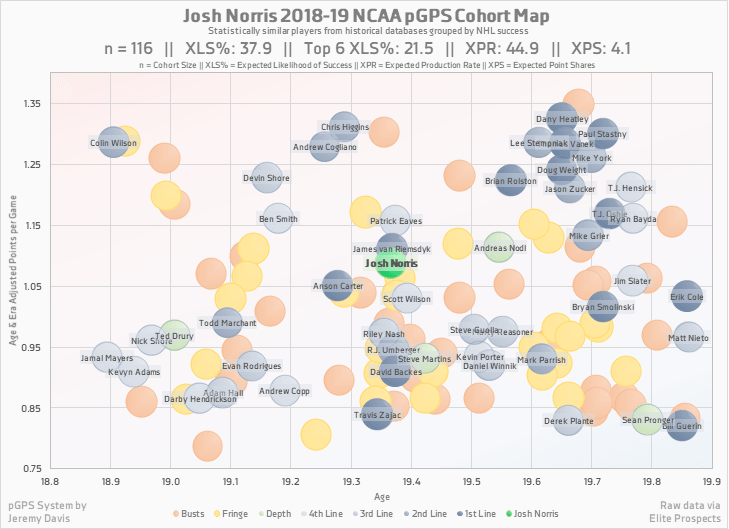 Based on the pGPS output for Norris' career, there's about a ten percent chance of the newly signed Senators centre developing into a first line forward.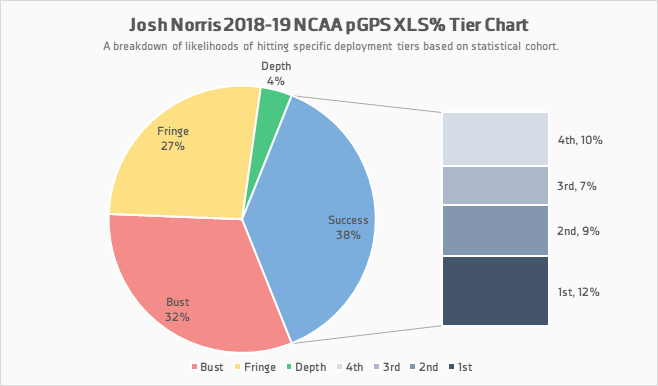 The outlook for Norris is decidedly positive, assuming a full recovery from the shoulder injury that forced him under the knife in January — which is a safe assumption, given that Michigan Daily hockey beat writer Bailey Johnson reported that Norris' health would be the most significant factor in determining whether he goes pro next season or not.
Still, it's hard not to be a little bit perplexed by the timing of this decision. Generally, when a player with Norris' pedigree leaves college, it's right at the end of their season, in exchange for NHL games that will burn a year of their contract.
When one considers that Norris hadn't necessarily dominated the NCAA to a point where there was nothing left to learn, with the prospect of going pro as one recovers from a severe injury, it just gets all the more interesting.
Clearly, the Senators felt comfortable with Norris' ability to continue his development as a member of the Belleville Senators next season. With the wealth of high-end prospects set to call Belleville their home next season, maybe there's something to it. That team is likely to thrive, and teams aren't shy about wanting their prospects playing big minutes in a winning environment.
If the Sens get this right, and Norris does his part, there's a reliable middle-six centre in the making.
You may also be interested in: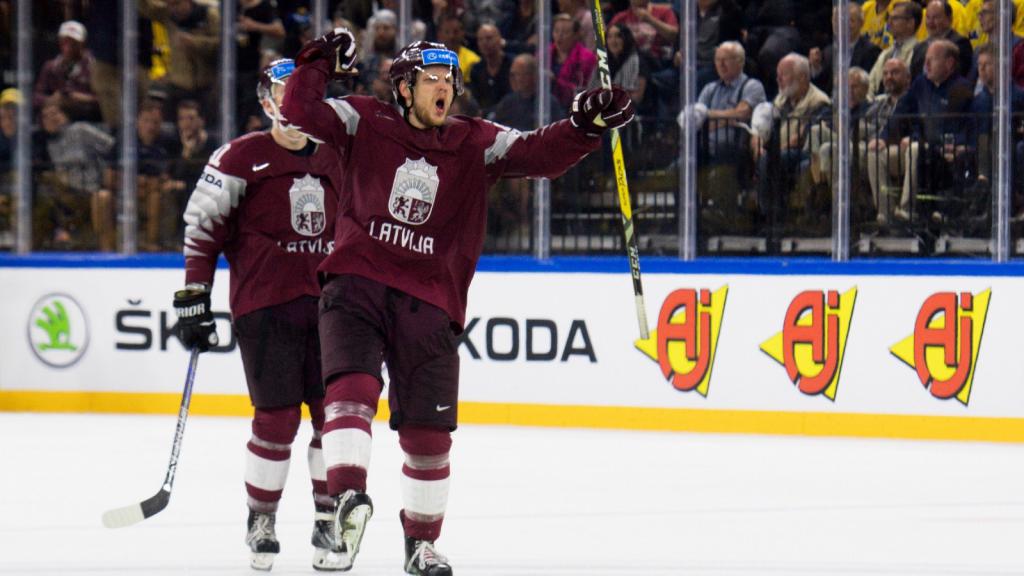 IIHF WC: Balcers' hot start no fluke: "He's a magician with the puck"
This article is about: