Scouting Reports
BLOG: Broberg or Söderström?
Hello there!
With both the J18- and J20-seasons here in Sweden finished, and thus no more games to go to or write about, the blog will shift focus for the remaining time left before the draft in June. During this time the updates will be about Swedish players, with deep dives on some of the most interesting prospects for the upcoming drafts. What would be a more interesting start than to compare two of the 2019 NHL Entry Draft's most talked about defensemen, Victor Söderström and Philip Broberg?
They can be called puck moving, two-way defenseman with good skating abilities, but if we look closer to how they play we will notice how different they are, both when it comes to style, what abilities that stand out in their game and their weaknesses. Because of that I will split this comparison up in different categories and compare the two players in each of them. Let's start!
Skating
Both Broberg and Söderström are excellent skaters, but their main strengths are different skating abilities. Broberg is a fantastic north-south skater, that quickly can reach high speed to challenge his opponents, but he isn't as agile as he is fast and can struggle to make use of his high top speed when opponents cut off the lane he is skating in. Broberg's top speed will be among the best of the whole draft class, including forwards. When he is skating at lower speed Broberg can clearly make better use of his agility to avoid defenders, but he will mostly go full speed when he starts or joins the rush. Söderström, on the other hand, doesn't have has high top speed as Broberg does, nor does he have the same power or drive in his skating that Broberg has, but he has great edge work, moves around smoothly on the ice and is agile enough to make quick turns to avoid a hit or to get around traffic when he carries the puck. Their skating technique differs quite a lot; when Söderström takes his strides, it can look close to effortless, compared to Broberg's strong powerful strides. Both Söderström and Broberg has very good balance, which helps them to be strong on the puck, and is another aspect to add to their other already impressive puck-moving abilities. Broberg's balance comes more from raw strength and good use of his big body, while Söderström's comes from a low center of gravity and width between his skates. Their lateral movement along the offensive blue line is above average for their age, with a slight edge to Söderström over Broberg. But Broberg is more active than Söderström is while playing in the offensive zone, he doesn't only move along the blue line instead he plays a very mobile game where he utilizes all of his skating abilities to move around in the offensive zone, to change positions or to head towards the net.
Philip Broberg utökar till 4-2 för Småkronorna. #HlinkaGretzkyCup pic.twitter.com/vunApw36FH

— Anton Johansson (@antonj85) August 6, 2018
Söderström is techniqually better at skating backwards while defending in the neutral zone, and around the defensive blue line, and he is quicker than Broberg to turn and shift from backwards to forward once an opposing forward is trying to challenge on either side with speed. Söderström is also a more active skater than Broberg is while defending, and since he is in motion, he is hard to beat by simply skating around on the outside. Broberg can get into trouble in similar situations because he isn't moving his feet enough while defending, which gives him less time to adjust to the attacking player. Söderström's mobility in his own zone helps him cover large chunks of the ice, even though he doesn't have the largest frame or longest stick and is one of the main components in his overall strong defensive game.
Hockey sense
Hockey sense could be the area where the difference between the two players are the largest. Söderström is very mature and smart, he can look like a 35-year-old veteran on the ice at times, making excellent decisions and he rarely puts himself or his team mates in bad situations with the puck. He seems to always have a clever solution to the situation he is in and will stay calm and composed in the most stressful situations. He adapts to his surroundings and the rare times he makes a mistake he seems to quickly learn from it and adjusts his game to hinder the same thing from happening again. Söderström will consistently move his head while defending, which helps him to make good reads in the defensive zone, he has a great understanding to what is going on around him and can anticipate what his opponents will do to try to beat him.
Broberg doesn't, by any means, have terrible hockey sense, but it is a weakness in his offensive game. He can make the same mistake several situations in a row and will often try to do the same thing with the puck repeatedly, even when it is obvious that his opponents have figured out what he wants to do and what he is trying to accomplish. He often tries to move the puck on the outside to beat his opponent with his high top speed before heading towards the net, when teams learn his patterns and adjusts accordingly, he doesn't adapt to it and instead goes straight into the defenders before losing the puck, over and over again. It's one of the reasons he hasn't been close to as dominant against men as he is when he is playing against U18- or U20-competition. Even at U20-level there is a significant difference on how often his rushes succeeds compared to U18, because of how much faster his opponents adjusts and prepares for the way he rushes the puck. If he would learn from past situations, adapt and look for other solutions he would become a much more efficient, and less predictable, offensive catalyst when he moves the puck. Defensively Broberg has shown good vision without the puck and can make smart reads to intercept passes but he doesn't have the same defensive awareness as Söderström does and can be taken by surprise because he isn't fully aware what is happening around him, which is one of the reasons his positioning while defending isn't always on point.  
Offensive game
Broberg's and Söderström's offensive game differs quite a bit, Broberg is a very straight-forward player, that will drive the play and try to make things happen on his own, while Söderström is more a finesse player, that doesn't always drive the play himself but rather make smart plays to help his team mates generate offense. The difference in their mindset is noticeable, Broberg has great offensive instincts, oozes confidence when he has the puck on his stick and sees potential opportunities to create scoring chances from anywhere on the ice. Söderström can also look very confident with the puck but he doesn't have the same offensive mentality and plays a much safer game, too safe in some situations where he could have made better use of his offensive abilities than he let himself do. Both players like to join the rush and to help their team create odd man advantages while turning the play but Broberg does so more frequently and is more actively looking to do so than Söderström does. In the offensive zone Broberg moves around quite freely and can go quite deep into the zone even when he doesn't have the puck, while Söderström will often not go further down than the high slot to find open ice and rather moves along the blue line than deeper into the offensive zone. Broberg has an advantage due to his rather large frame, which he doesn't hesitate to use when he carries the puck up. He is excellent at protecting the puck with his body and once he has gathered some speed, he knows how to utilize his body to help himself generate offense. Söderström doesn't have the same size-advantage and must rely on his skating abilities and puck handling to keep the puck from his opponents. He has a harder time than Broberg does to protect and keep the puck if the opponents manage to get physical contact.
Philip Broberg ger Sverige ledningen över Kanada, assisterad av Karl Henriksson och Simon Holmström. #U18Worlds #2019NHLDraft pic.twitter.com/9NATu88k5V

— Anton Johansson (@antonj85) April 27, 2019
Passing abilities is among the most important offensive abilities for most defensemen, the ability to quickly start the transition game from their own end is crucial to many team's offensive build up. Both Söderström and Broberg have strong first passes, Broberg's is harder while Söderström's is slightly more accurate. It's a very good complement to their already well-developed puck-moving skills and it makes them quite diverse in how they can help their team start their offensive game from their own zone.
Felix Dahlgren kvitterade för AIK 1-1, assisterad av Philip Broberg och Oliver Horrsell. #J20gifs #J20SEForts #AIKJ20 #FHCJ20 pic.twitter.com/zMaGf27eRT

— Anton Johansson (@antonj85) January 28, 2018
They are also great short-range passers in the offensive zone, with good vision and the ability to spot passing lanes before receiving the puck, and they can make quick, smart plays to create scoring chances for their team mates. Broberg is more actively looking to make a deciding pass, and doesn't hesitate to make a high risk play if he sees an opportunity while Söderström is a bit more composed with the puck and rather waits for a passing lane to open before trying to set up a team mate instead of making a risky play that may cause a turnover. Broberg is more prone to making mistakes while making a play but Söderström can be too hesitant instead, if they both would learn a bit from the other, they would find a close to perfect middle-ground.
Victor Söderström hittar Samuel Solem kvitterade till 2-2. #J20gifs #J20SENorra #ModoJ20 #BIFJ20 pic.twitter.com/RtzyUjNZRz

— Anton Johansson (@antonj85) September 21, 2018
Shooting is another important offensive tool for a defenseman. Broberg is more eager too shoot the puck than Söderström is, and he doesn't hesitate to unleash a slap- or wrist-shot if he has the chance to do so. Söderström rather waits and handles to puck in an attempt to find a way to get the puck through traffic and doesn't naturally shoot once he receives a pass on the blue line unless it's an obvious scoring chance. If he cannot shoot directly, Broberg doesn't just throw the puck away, he can handle the puck and with quick lateral movements open up space for himself to fire off a shot past the blocking forward, just like Söderström can.
Victor Söderström träffar ribban i powerplay. #U18Worlds #2019NHLDraft pic.twitter.com/YtxKL77gdH

— Anton Johansson (@antonj85) April 23, 2019
Broberg has a slightly better slapshot from the point than Söderström has, it's more powerful and at least equally as accurate. Söderström's slapshot is far from bad, and he is techniqually skilled enough to fire a one-time slap shot of a bouncing puck, but his slapshot could use more power and isn't as well-developed as his wrist shot is. Neither player prefers shooting slapshots, they rather shoot a wrist shot if they have time to aim and to handle the puck. As mentioned above Söderström's wrist shot is very well-developed for his age, it has a quick release and can find open net through traffic from far out, but just as with his slap shot there's room for improvement when it comes to sheer power. Broberg's wrist shot is a notch better than Söderström's, he usually has a bit longer wind up time when he shoots but if he is given some time and space to aim, he can beat a goaltender from quite far out and will find small areas of the net through traffic. When he is closer to the net Broberg can shoot quicker than from far out and has the ability to beat a goaltender with a quick and well-placed wrist shot from the area around the net.
Philip Broberg skjuter 1-0 till Småkronorna mot Ryssland. #HlinkaGretzkyCup pic.twitter.com/QiS9BiHaQ7

— Anton Johansson (@antonj85) August 10, 2018
Puck handling is an aspect where Söderström shines, he has fantastic control of the puck and can knock down and handle a sloppy pass from a team mate without much trouble and, as previously mention, he can shoot a well-placed shot from a less than perfect pass. When he has the puck in his possession, he handles it very well and rarely makes any mistakes where the puck slides off his stick. Söderström has quite soft hands and he can smoothly elude an opposing player with his stickhandling while keeping the puck glued to his stick. A knock of Söderström's game is that he doesn't use his puck skills enough to his advantage, there are games where he will make amazing plays to show off how well he handles the puck only to not try something similar until several games later.
Wow! Awesome moves from Victor Söderström, then he hit the post.https://t.co/vi6gKdpkY2#BIF #2019NHLDraft pic.twitter.com/exzd9D0Nzy

— Eliteprospects (@eliteprospects) October 14, 2018
Broberg isn't on the same level as a puck handler as Söderström is and can at times make simple mistakes when he handles the puck or lose the puck because he doesn't handle it well enough to complete what his head wants him to do. When he keeps it simple, utilizes his skating and frame to get past opponents he can handle the puck well enough not to lose it but with some improvement to his puck skills he could make even better use of the main strengths of his game and he would become a more diverse threat that would be harder for defenders to handle and predict.
Creativity is another aspect where the difference between Broberg and Söderström is quite notable. As mentioned earlier Broberg is a very straight-forward player, he will carry the puck zone-to-zone with great speed, force his way past a defender, set up his team mates with hard passes and unleash a heavy shot but he does it all in a quite simple way and rarely makes plays that will catch his opponents off guard, he doesn't completely lack creativeness but it is an area that he would benefit a lot from as a player if he improved, even if the improvement was marginally. While being far from an extremely creative defenseman prospect like Rasmus Dahlin or Adam Boqvist, Söderström still can make an unexpected play to get past a defender, or forechecking forward, 1-on-1 or find a creative way to set up a team mate, he clearly plays with more flair and creativity to his puck possession game than Broberg does.
Sweet moves from Brynäs prospect Victor Söderström. #BIF #2019NHLDraft pic.twitter.com/yZNfJxnl5T

— Eliteprospects (@eliteprospects) October 14, 2018
Defensive game
The way Broberg and Söderström plays in the defensive zone, and what their strengths are while defending differs quite a bit. Söderström's style revolves a lot around his smartness and awareness, and how well he can anticipate what his opponents will do. Broberg is more active physically and rather than hinder his opponents from acting by anticipating plays he is the one to react to what his opponents tries do, he will pin opponents to the boards when they try to get past him or show them away from the slot with his upper body strength when they are trying to conquer the area around the crease. One's style revolves more around acting, and the other's more around reacting. Around the crease Broberg is a strong presence, and he can already win battles and fend of players while playing against men in HockeyAllsvenskan. For Söderström it is the other way around, the area around his own net is his weakness while playing in his own zone, since Söderström doesn't have the size nor strength that Broberg does. Bigger and stronger opponents can show him away and win the "inside" against him, which can lead to a goal from a rebound or a redirected shot. Due to his smartness Söderström often finds good solutions to handle the situations in front of his own net, he either works efficiently with his stick or position himself in a way that he has a decent chance at finding a loose puck first or prevent a puck from getting redirected, even if he loses the physical battle. But it's still an area that he must improve.
Both players works well with their sticks defensively, they cut off angles, can intercept passes and poke the puck loose from an opponent or when there's a board battle going on. Broberg has excellent reach, which helps him to cover large chunks of the ice and he can surprise an opponent that is trying to protect the puck when he makes a pokecheck. Söderström doesn't have the same reach with his stick and body but he uses his mobility in a smart and active way to cover ice, there have been times where he has tried too much in his attempt to move around to cover ice, and left dangerous scoring areas unattended but it is a quite rare occurrence. Söderström is more efficient at using his stick when trying to control the gap between himself and his opponent as they enter the defensive blue line, he works very well with his stick when he is forcing the opponent do as he wants rather than what they want. Broberg doesn't have bad gap control but it is a notch worse than Söderström's, and he could improve the range he keeps between himself, his stick and the attacking opponent to better control the situation. Both Broberg and Söderström can play quite physical once they steer their opponents towards the boards and neither of them hesitates when it comes to throwing a hit or trying to pin the attacking player up against the boards. Due to his size and strength Broberg is the more efficient of the two when it comes to how well they succeed in situations that involves physical play along the boards but Söderström handles it surprisingly well for his size, even against men in the SHL.
Victor Söderström, 17 år ? #twittpuck #SHL @Brynas @Vsoderstrom65 pic.twitter.com/XjLKsOo9YS

— C More Sport (@cmoresport) January 12, 2019
Summary
Philip Broberg and Victor Söderström are two very intriguing prospects and depending on what you value as a person you will prefer one over the other. Broberg is rawer as a prospect, he lacks much of the polish that Söderström already has, but on the other hand there's an enormous upside to his game if he reaches close to his full potential. Broberg is more of a long-term project, that will need time to grow and learn how to use his tools, but if he does that the team that drafted him will feel like they hit the jackpot. Söderström seems like a safer bet, with a higher "floor" but he doesn't consistently show the game breaking ability that Broberg does, if he can make those glimpses of brilliance become a recurrent part of his game he should become a true impact player for the team that drafts him.
That's it for me, for this time. I hope you enjoyed the comparison, and thanks a lot for reading!
You may also be interested in: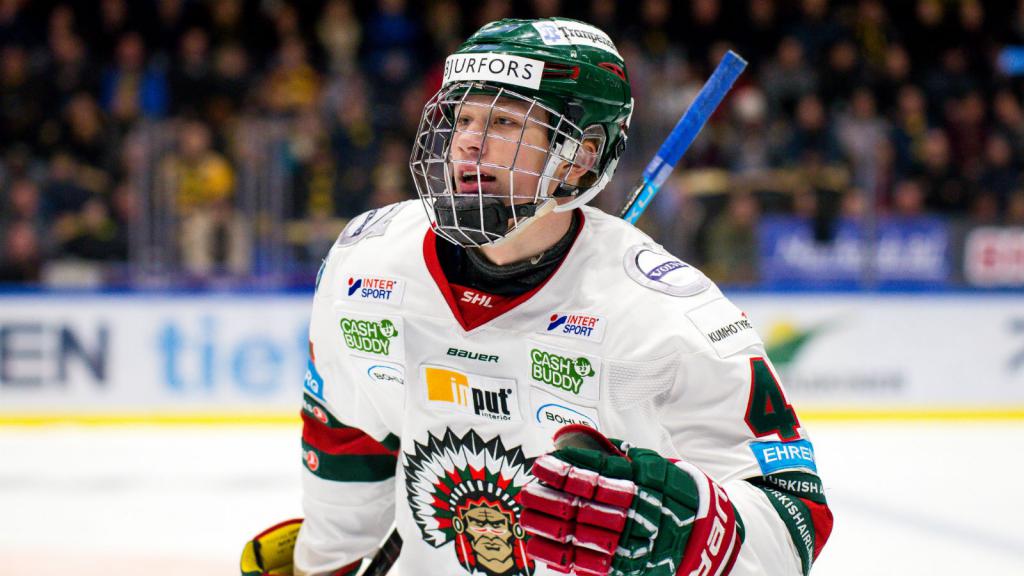 BLOG: 2019 eligibles and NHL prospects leading the way in Swedish J20 Playoffs
This article is about: